Domestic services resume in Assam
8 flights land as skies open, rain woes loom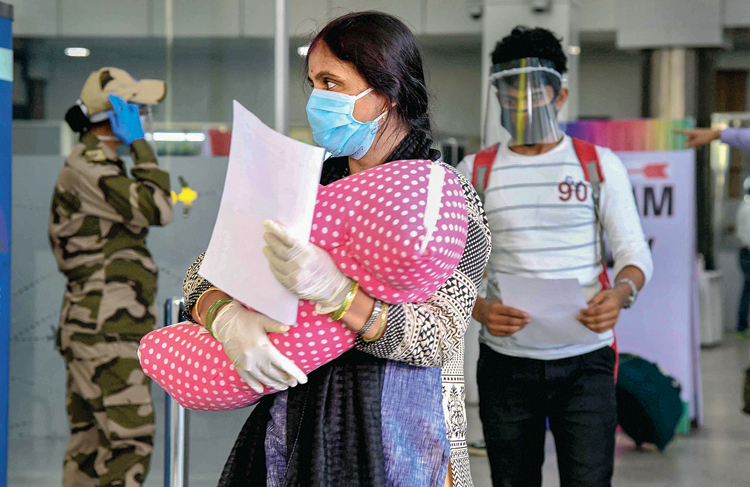 ---
|
Guwahati
|
Published 25.05.20, 08:13 PM
---
Eight commercial domestic flights landed at the Lokapriya Gopinath Bordoloi International Airport with 686 passengers on board on Monday, as the skies opened up somewhat in the country after almost two months.

Four flights were from Delhi, one each from Bangalore and Chennai and two from Imphal, a source said.
The first flight, an IndiGo aircraft from Delhi, landed at 9am with 162 passengers. All the passengers were taken to a private hotel for medical screening. The process was followed for passengers of the other flights as well. The screening was going on till the filing of this report but persons who completed it were sent to institutional quarantine in accordance with Covid norms. However, pregnant woman, children below 10 and elderly persons above 75 had the option of home quarantine.
Sanjeev Jindal, regional executive director, Airports Authority of India, said all essential and mandatory arrangements in the wake of the pandemic were in place.
He said wearing masks was a must for all entrants at the airport. "Sanitisers for passengers and disinfectants for luggage are the new normal at the airport. Almost contact-less entry of passengers was ensured on the first day of air travel during the coronavirus pandemic," he added.
Till May 27, only two airports, the LGBI Airport in Guwahati and Imphal in Manipur, have been re-opened in the Northeast for commercial passenger flights.
Jindal said airports in the region have maximum direct connectivity with Calcutta and since the airport in Calcutta is not operating, other airports in the region will resume services from May 28.
"The AAI is fully prepared to operate commercial flights from all its NER airports and we are hopeful that the rest will re-operate from May 28 with one-third of their capacity as per the directives of the ministry the of civil aviation," he added.
The region witnessed lesser flights than the 32 scheduled because of the closure of the airport in Calcutta and partial as well as restricted opening of other airports in the country.
Health minister Himanta Biswa Sarma, along with his officials, took stock of the entire medical screening and preparedness for arrival of passengers at the LGBI Airport.
"Separate counters were set up for screening of arrivals for different districts and states by the paramedics and a team of doctors," Jindal said.
A source in the airport said although there were 686 arrivals, only half the number flew from Assam. Once the airport in Calcutta starts operating, 2,000 to 4,000 passengers are expected at LGBI airport.
Sarma had earlier said that since there will be a massive number of arrivals at the airport, it will take at least 24 hours to screen each passenger which will be a major challenge. He said people would be quarantined in institutions at government cost but if anyone wants to be quarantined at the Vivanta, Radisson Blu or Novotel in Guwahati, then the cost of quarantine will have to be borne by the occupant.