Call for independent green leaf panel in Guwahati
The stakeholders suggested that minimum green leaf price be fixed uniformly for both Assam and Bengal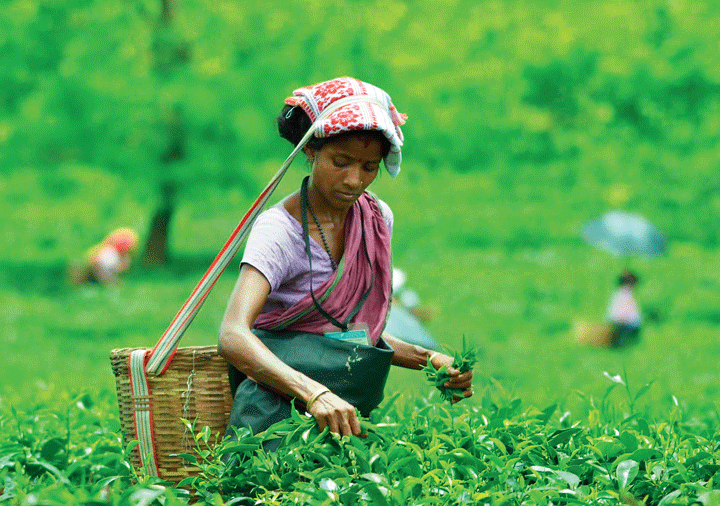 A woman plucks leaves in an Assam tea garden
Telegraph Picture
---
Guwahati
|
Published 24.10.19, 07:38 PM
|
---
The stakeholders of the tea industry have called for engaging an independent committee or a reputed government agency to study in detail all the necessary aspects and fix a minimum price of green leaf.
The Tea Board of India office called for a meeting of stakeholders of the tea industry recently to work on the modalities to fix green leaf price.
"We are looking for a domain expert in this line who can help us fix a minimum green leaf price," a tea board official said.
Industry officials said the issue of fixing a minimum green leaf price cropped up as the share of small tea-growers in tea production has increased. It is now almost equal.
However, the cost structures of the two segments are totally different, putting the organised sector at a distinct disadvantage over the small growers in terms of cost.
"There has to be a level-playing field for the two segments and it is necessary that minimum price of green leaf should be fixed. Apart from creating a level-playing field, it will also help the small growers to realise better revenue for their produce. This will also automatically address the issue of quality," a tea industry official said.
The stakeholders also suggested that minimum green leaf price be fixed uniformly for both Assam and Bengal.
The representatives of small tea-growers' associations say the minimum price of green leaf should be between Rs 25 and Rs 30 a kg and the quality should be determined by the Tea Research Association.
An office-bearer of the All Bodoland Small Tea Growers' Association said setting up mega factories had led to overall deterioration of green leaf quality in the region. "Due to refusal to accept green leaf by some local estate factories especially in the Udalguri area, they have to supply leaf to factories beyond 100km radius which leads to deterioration of quality of leaf during transportation," he added.
Another one said definition of quality of green leaf should be determined by the Tea Research Association. "The quality of made tea depends on primarily green leaf quality. If better price is fetched for made tea, they have no objection to offering better price for green leaf," a representative of Bought Leaf Manufacturers' Association said.
A tea producer said made tea price can be improved by raising the overall quality standard of green leaf.
"A monitoring mechanism should be put in place for supply of green leaf. The green leaf is supplied beyond permissible factory operational hours and suppliers are forcing the manufacturers to receive green leaf despite its poor quality. If the price of the green leaf goes up, the price of tea will automatically increase in the auction," he said.