Assam braces for flood rerun
Met department warns of heavy rain for five days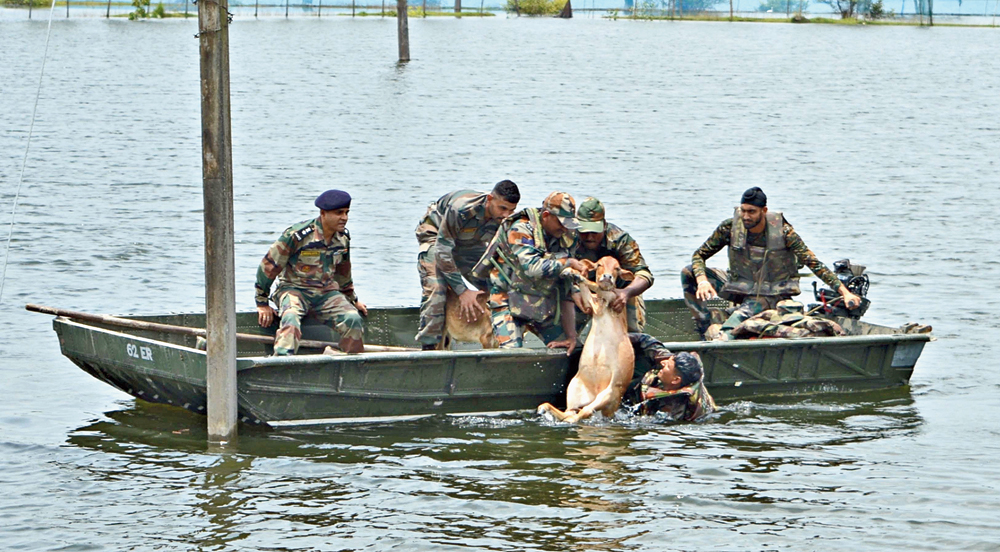 ---
|
Guwahati
|
Published 24.07.19, 06:48 PM
---
The flood scenario in several lower Assam districts worsened on Wednesday following heavy overnight rainfall. The meteorological department has sounded an alert for heavy rain over the next five days.
The death toll mounted to 75 with reports of six more persons dying on Wednesday, three in Morigaon district and one each in Nalbari, Barpeta and Dhubri. Altogether 20 districts remained affected with 34,82,170 people reeling under its impact. At present, 200,525 people have taken refuge in 933 relief camps.
To add to the dire situation, neighbouring Bhutan will release excess water from Kurichu dam, about 30km from Barpeta Road in Assam, at 3am on Thursday. The dam's water will directly impact the level of Beki, Manas, Pagladia, Kaldia and Pohumara rivers, affecting lower Assam districts such as Nalbari, Baksa, Barpeta, Chirang, Kokrajhar and Bongaigaon.
The army has been called out for rescue operations in Baksa, Nalbari and Barpeta districts. Over 2,000 people have been evacuated.
The lower Assam districts of Kokrajhar received overnight rainfall of 122.4mm while Gossaingaon in Kokrajhar district received 271.6mm, Barpeta 83.4mm, Dhubri 37.8mm, Bongaigaon 102mm and Kajalgaon in Chirang 131mm.
Review meeting
The state government held a review meeting on the flood situation with senior cabinet minister Himanta Biswa Sarma in the chair.
Sarma later tweeted, "Held a Flood Damage Review meeting with senior officials of various departments in presence of my Cabinet colleagues. In addition to ensuring that relief & temporary repair work are done in full swing, we will now focus on Permanent Restoration of damaged infra. #AssamFloods."
His second tweet said, "We will earmark sufficient budget to take up Permanent Restoration of the embankments, reconstruction of roads, culverts, public health centres, irrigation canals, water supply schemes etc. to ensure that they are flood-proof and do not get impacted in future. #AssamFloods."
The rising waters of the Pahumara in Pathsala under Bajali subdivision in Barpeta district completely submerged the surrounding areas.
Just as Kokrajhar was trying to get back to its feet, it has hit by a fresh wave of floods last night.
Kamal Kishore Nath, district project officer of District Disaster Management Authority, said: "The heavy rainfall in Bhutan and Kokrajhar district have increased the water levels of seven major rivers affecting the five revenue circle of the district. JD Road or state highway 14, which connects Kokrajhar town with NH27, was submerged on Wednesday."
The Brahmaputra continued to flow above the danger mark at Neematighat in Jorhat district and Dhubri, the Jia Bharali in Sonitpur, the Puthimari in Kamrup, Manas in Barpeta, Beki in Barpeta, Gaurang in Kokrajhar and Sankosh in Dhubri district.
Rail traffic: The continuous rain and the worsening flood situation lower Assam districts, which damaged railway tracks in Alipurduar division, has forced the Northeast Frontier Railway (NFR) to reroute various trains plying via Alipurduar.
The trains with no stoppage between New Cooch Behar and New Bongaigaon have been diverted via Dhubri and Intercity trains have been cancelled.
At Kaziranga, however, floodwaters were receding. Altogether 205 animals have been killed so far, including 18 rhinos and one elephant.