BJP legislators appeal for safeguards
They asked the CM to allay the masses' fears over the legislation which has been dubbed "anti-Assam, anti-Northeast"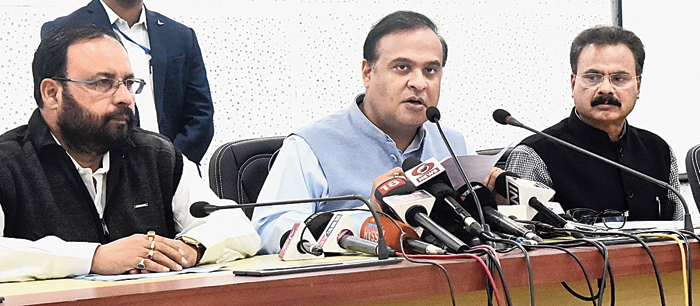 BJP MLAs address the news conference in Guwahati on Saturday
Picture by UB Photos
---
Guwahati
|
Published 21.12.19, 07:16 PM
|
---
Assam BJP legislators urged the state government to ask the Centre to safeguard the Assamese language even if it involved amending the Constitution, as people of Assam are afraid of its bleak future.
This decision was taken at a legislature party meeting on Saturday that came two days after a group of party MLAs, rattled by the protests, met the chief minister and asked him to reach out directly to the masses and allay their fears over the legislation which has been dubbed by protesters as "anti-Assam, anti-Northeast".
"We exchanged views regarding the current situation in the state. People are worried that Assamese culture will be destroyed and there is misinformation that Assam will be ruled by foreigners. In order to demolish the people's fears, we requested him to implement Clause 6 of the Assam Accord urgently," senior BJP leader and Sootea MLA Padma Hazarika told reporters here after the four-hour meeting here.
The Assam Accord was signed after the six-year Assam Agitation and Clause 6 envisages constitutional, legislative and administrative measures to safeguard, protect, preserve and promote cultural, social and linguistic identities and heritage of the Assamese people.
Hazarika also said the government should grant Scheduled Tribe status to six communities in Assam as soon as possible to fulfil their long-pending demands.
"We should respect those who are protesting democratically against the Act and urge that the government should act strongly against those who "are attacking the MLAs in a planned manner" he said.
"The CAA is now sub judice. It is in Supreme Court and we will agree to whatever the court decides. But we also know there is apprehension and fear over the legislation which the government needs to address and allay the fears that our culture, identity, land and language are at threat. We urge the Assam government to ask the Centre to safeguard the Assamese language even if it needs to amend the Constitution," Hazarika said.
On Saturday, the MLAs were tightlipped, saying that senior leaders have been asked to brief the media.
When asked what the discussion was about, a few of them said that they conveyed the tension in their respective areas where elected representatives from the ruling party or their aides were targeted for the party's support to the legislation. They wanted the government to ensure their security by reaching out to the masses and clarifying doubts.
One of them also said that education minister Siddhartha Bhattacharya was not present and that they had asked government to reach out to ASHA, Anganwadi, midday-meal workers and teachers, among others, and look into their issues.
The meeting discussed the current situation of the state and other issues. "Held a meeting in presence of @BJP4Assam president Shri @RanjeetkrDass, ministerial colleagues, MLAs and MPs in Guwahati. Deliberated on the present situation in Assam and development roadmap for the state," Sonowal tweeted.