Rahul Gandhi's '6-hour' promise on tea wage hike
The Congress leader also announced other welfare measures for the community which has been largely backing the ruling BJP since the 2014 Lok Sabha polls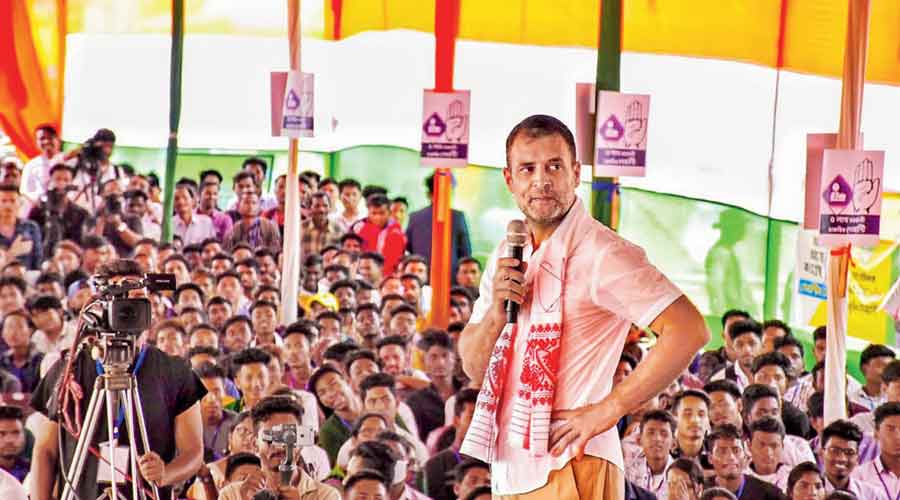 Rahul Gandhi interacts with students at Lahowal in Assam's Dibrugarh district on Friday
Telegraph picture
---
Guwahati
|
Published 20.03.21, 12:32 AM
|
---
Congress leader Rahul Gandhi on Friday asserted that the daily wage of tea garden workers will be increased to Rs 365 within six hours of his party coming to power in Assam.
Criticising the BJP-led government for not fulfilling its promise of raising the daily wage of garden workers to Rs 351, Rahul said at an election rally at Doomdooma in Upper Assam: "I have not come here to waste your time. I am not like Narendra Modiji. Mujhe jhooth bolne ki aadat nahin hai (I don't have the habit of telling lies). Listen carefully, we will raise your daily wage to Rs 365 within six hours of our government coming to power... We had similarly waived farmer loans in Chhattisgarh within six hours of our party coming to power there. This is our guarantee...we will give you Rs 365 a day irrespective what people say."
Rahul made the announcement at two back-to-back events in Upper Assam — first at an interaction with tea community people in Chabua, one part of which falls in Tinsukia district and the other in Dibrugarh district, and then at the rally at Doomdooma, around 40km away in adjoining Tinsukia district, reflecting the party's repeated bid to win over the tea/Adivasi community which plays a decisive role in about 42 of the 126 Assembly seats in the state. Assam will have three-phase polls on March 27, April 1 and 6.
At Chabua, he told the tea community people that the hike was not a gift but their right and that tea workers in Kerala were getting Rs 380 a day. Garden workers in Assam presently get Rs 167 a day.
Though the BJP-led government hiked the daily wage to Rs 217 recently, the decision has been challenged in the high court.
Rahul also urged the tea garden management not to be worried about the hike. "We will implement the hike with government support," he said.
Besides announcing the time-bound implementation of the daily wage, the Congress leader also announced other welfare measures for the tea community which has been largely backing the ruling BJP since the 2014 Lok Sabha polls.
These included a special tea ministry to address the grievances/problems of the community, free coaching for competitive examinations, land rights, recruitment of special teachers to teach the Sadri language in tea garden schools, special mobile health clinics and opportunities for self-employment. More welfare measures are likely to be announced in the party's manifesto to be released by Rahul in Guwahati on Saturday.
The outreach also saw Rahul and Chhattisgarh chief minister Bhupesh Baghel also had lunch with tea garden workers at Dinjoy tea estate in Chabua. The meal consisted of rice, dal, mixed vegetables and aloo ki sabji, an aide of Baghel said.
At his first poll rally in Assam on February 14 in Sivasagar district, Rahul had announced the proposed wage hike. It was subsequently included in the Congress's five pre-poll guarantees announced by Priyanka Gandhi at a rally in Tezpur on March 2. Like Rahul, Priyanka had tea with garden workers and learnt how to pluck tea leaves in a garden in Biswanath district.
The guarantees, reiterated by Rahul on Friday, included not allowing the implementation of the contentious Citizenship (Amendment) Act in Assam, 200 units of free power per household, Rs 2,000 per month to housewives and five lakh government jobs in five years if the party is voted to power.Rahul, who attacked the ruling BJP and its alleged policy of helping a few corporates at the cost of the poor, farmers, small traders and mazdoors (labourers), said that the ensuing election was very important. "This election is about saving your culture, history and language. That is why the people of Assam will vote for our mahajot (grand alliance) so that it wins the polls convincingly," he said.
The Congress has stitched up a 10-party alliance to take on the well-entrenched BJP, which, according to Rahul, was trying to run Assam from Nagpur where the RSS headquarters is located. "But we will run our government from Assam," he said. Besides reaching out to the tea/Adivasi community, Rahul also tried to connect with the youth of the state by holding an hour-long interaction with students at Lahowal in Dibrugarh district. The interaction was his first programme of the day.
He attacked the BJP and Prime Minister Modi in his answers, urging the youths to join and actively participate in politics and stand up for what is right. Rahul said the BJP only promotes hatred to create division in the society and no religion teaches one to hate others, adding that peace was important for development .
He told the students that the Congress has guaranteed five lakh jobs if voted to power.
Rahul's visit to Chabua and Doomdooma underlined the ties of his family with Assam. His great-grandfather Jawaharlal Nehru had stayed in the Dinjoy tea estate bungalow in 1936. Moreover, Doomdooma Nagar Khelpathar, where Rahul addressed the massive rally on Friday, had seen his great-grandfather in 1962 and his grandmother Indira Gandhi in 1971 address rallies, a Doomdooma resident said.