Adventure sports at Assam State Zoo and Botanical Garden
Pact signed with Assam Mountaineering Association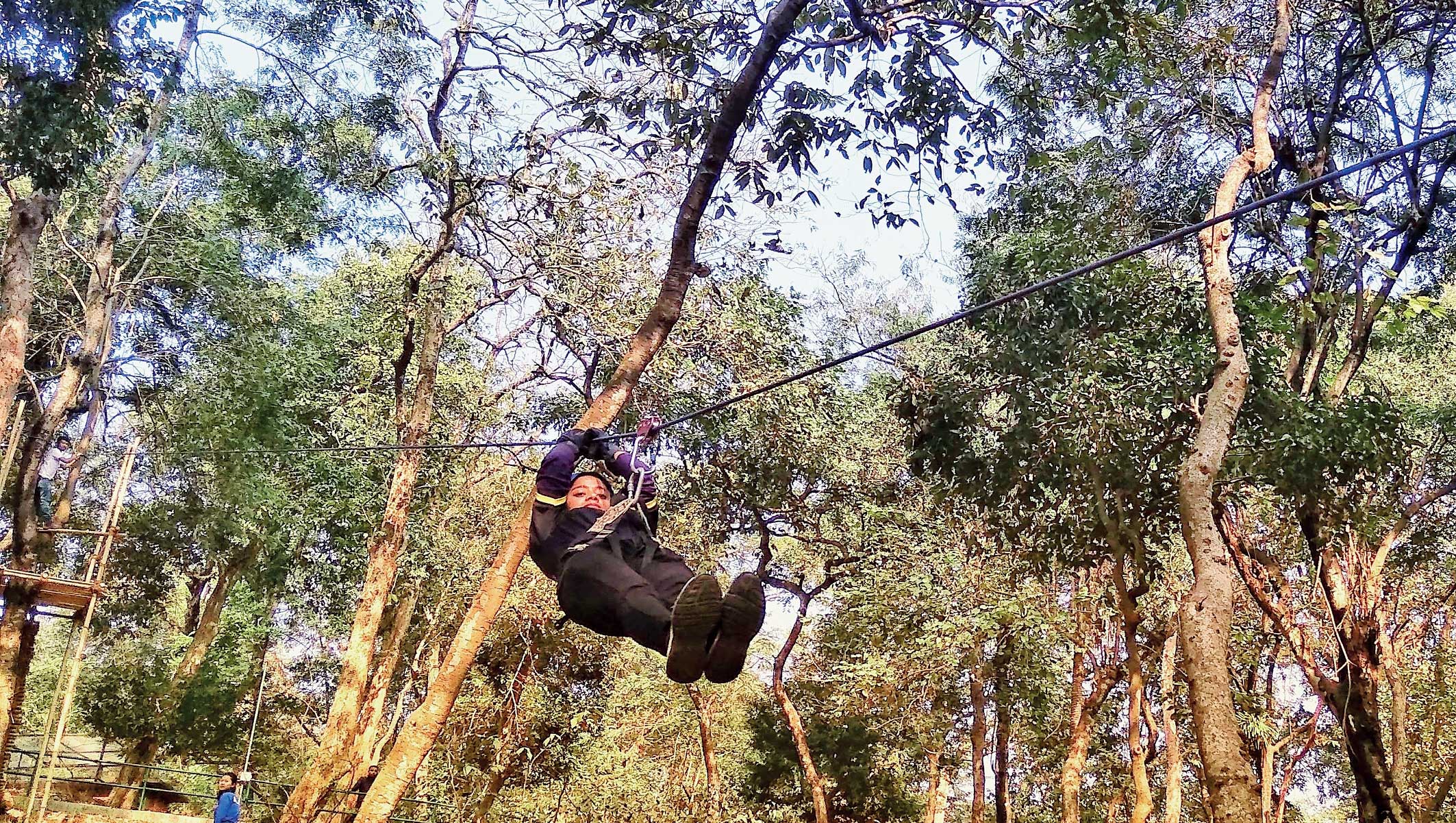 A visitor on a zipline ride at the state zoo.
Picture by Hiranya Barman
---
Guwahati
|
Published 23.02.20, 07:29 PM
|
---
Adventure sports facilities are being set up on the premises of the Assam State Zoo and Botanical Garden on Sunday.
The installation of the adventure sport facilities is the result of a memorandum of understanding signed between the zoo authorities and Assam Mountaineering Association (AMA) recently.
The zoo divisional forests officer (DFO) Tejas Mariswamy also wrote to the principal chief conservator of forests to start eco-tourism activities at Hengerabari reserve forest under the state zoo.
Mariswamy and the association's general secretary, Manash Barooah, signed the MoU.
Professionals engaged in setting up the facilities said the remaining work will be completed within a week's time.
Officials of the association are hopeful that the various activities are set to draw the crowds in large numbers.
Trekking in Hengerabari reserve forest, day and night camping, rock climbing (natural or artificial), rappelling and ziplining are some of the activities set to roll out initially.
The signatory of the MoU agreed that 60 per cent of the collected money will be used by the association to meet the expense of the experts, for repair and replacement of equipment and other such expenditures.
The zoo authorities will generate revenue from the remaining 40 per cent of the collected money.
The association shall depute sufficient numbers of experts and experienced manpower to conduct the regular activities.
Regular equipment will also be provided by the association in case of training courses and competitions.
The technical agency will arrange additional equipment whenever necessary.