Actor Manisha Koirala leads cancer walk in Guwahati
Manisha, a cancer survivor herself, praised the work being done by the Deepsikha Foundation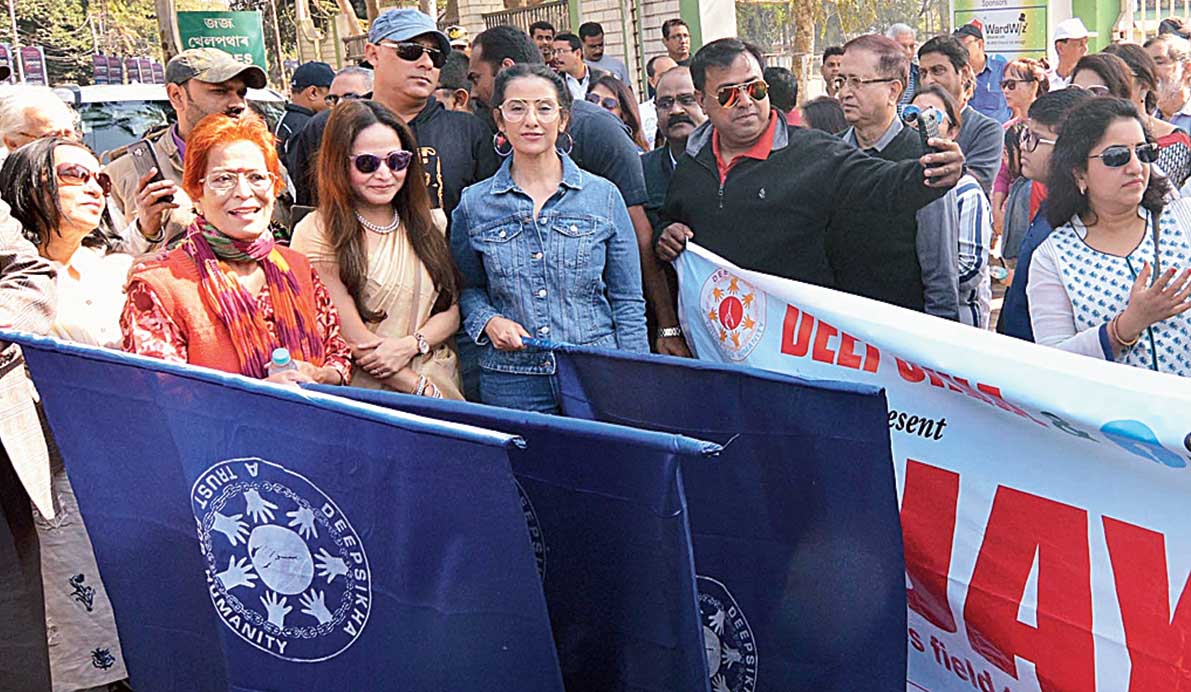 Actresses Manisha Koirala and Zerifa Wahid flag off the walk in Guwahati on Sunday.
Picture by UB Photos
---
Guwahati
|
Published 10.02.19, 06:53 PM
|
---
Bollywood actress and cancer survivor Manisha Koirala led the Deepsikha Foundation's Vijay — Walk Against Tobacco and Cancer from Judges Field to Cotton University on Sunday.
Besides Manisha, nearly 50 people, including Deepsikha's goodwill ambassador and Assamese actress Zerifa Wahid, producer Sahnab Alam, the organisation's founder chairman Devasish Sarma and its patrons Ashok Sarawgi and Mumbai-based Kailash Gidwania took part in the 1km walk.
Manisha addressed the students of Cotton College who gathered in front of their institute, dressed in their finest traditional attire, for Saraswati Puja.
"Deepsikha Foundation is doing tremendous work in fighting the cancer menace. I am doing my bit to spread the message that tobacco is harmful and should be avoided. Cancer is a lifestyle disease and healthy habits help prevent it. We should join hands to spread the message that awareness is the key to cancer prevention," she said.
Manisha's book, Healed, on her fight against cancer and struggle to return to healthy life was made available for sale at the college, the ongoing Brahmaputra Literary Festival and also at Tochi Raina's concert at Deepsikha's fundraiser Preetir Enajori on Saturday evening.
Proceeds from the book's sale would go towards Deepsikha's work for cancer care and awareness, the actress said. Manisha dedicated her book to the cancer patients of the Northeast at the Brahmaputra Literary Festival and participated in a discussion on her book and her personal struggle against the disease at the fest on Sunday evening.
The actress, who was diagnosed with ovarian cancer and underwent treatment in the US, emerged triumphant after a long and painful struggle.
Deepsikha runs a hospice for terminally-ill cancer patients at Mirza, a home for cancer-afflicted children at Six Mile here and conducts awareness camps in interior areas of the state and the region.
Two more facilities for cancer patients are coming up at Titabor town near Jorhat and Dibrugarh.
The organisation also operates seven properties for accommodation of cancer patients and their relatives in Mumbai, besides ambulance, transport, hearse services and a help desk at Tata Memorial hospital there. The organisation is funded by philanthropic individuals and companies.