AASU, BJP clash in Chabua, one hurt
Anti-CAA protesters show Ranjeet Kumar Dass black flags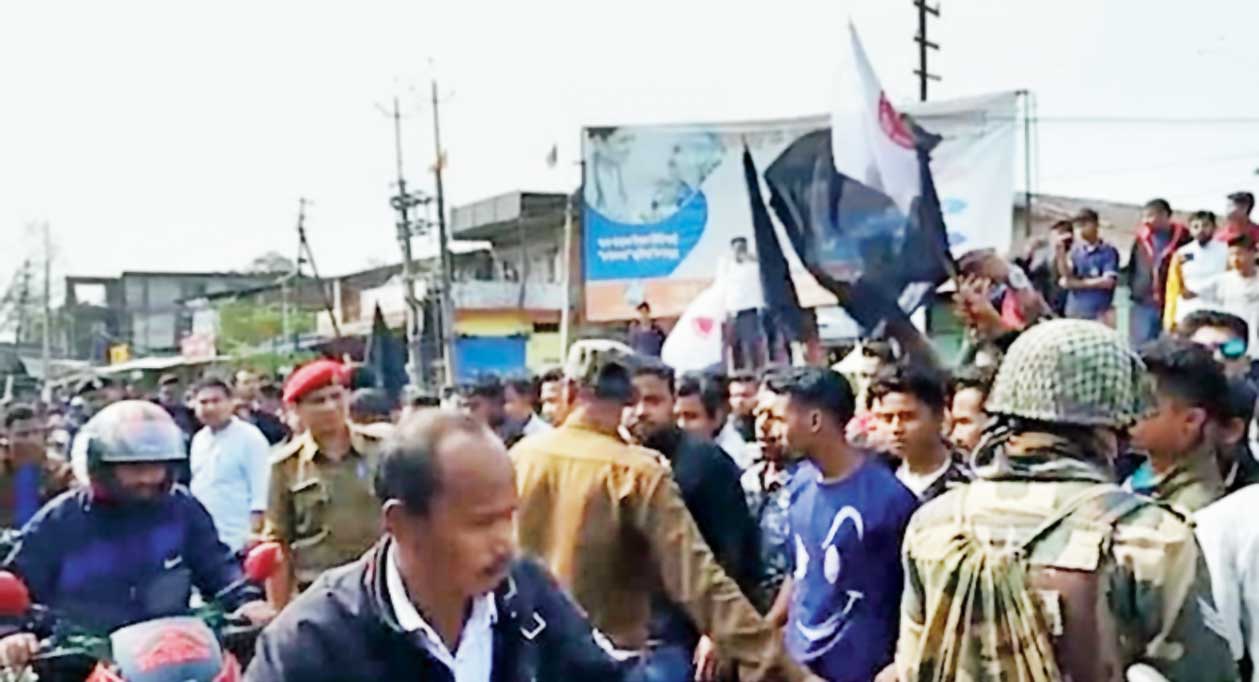 All Assam Students Union activists wave black flags at state BJP president Ranjeet Kumar Dass's convoy at Chabua in Dibrugarh district on Thursday.
Picture by Avik Chakraborty
---
Dibrugarh
|
Published 20.02.20, 07:03 PM
|
---
Members of the All Assam Students' Union and the BJP clashed at Chabua in Dibrugarh district on Thursday after the AASU waved black flags at state BJP president Ranjeet Kumar Dass, raised slogans and burnt his effigy in protest against the Citizenship (Amendment) Act.
One AASU member was injured in the clash while seven were later detained.
Dass and Chabua MLA Binod Hazarika were on their way to attend a party meeting at Chabua when around 1,000 AASU members stopped the convoy in the heart of Chabua town.
The protesters rushed towards Dass's convoy, waving black flags and raising slogans like "BJP go back, Ranjeet Dass murdabad, CAA aami namanu (I will not accept CAA)" and "Jai aai Axom (Glory to mother Assam)". A few AASU members also burnt an effigy of Dass on the road. Amid the protest, a scuffle broke out between AASU and BJP members. This further enraged the protesters who refused to clear the road.
Surrounded by AASU members, Dass was confined inside his car for nearly half an hour as the police struggled to clear the road.
As the situation threatened to spiral out of control, state BJP spokesperson Subhash Dutta alighted from his vehicle and requested the protesters with folded hands to let them go. Finally, the convoy was able to pass through the barricade of protesters with the help of security forces.
The police later detained Dibrugarh district AASU adviser Likhon Baruah and six other members.
In protest against their detention, the AASU's Dibrugarh University unit blocked National Highway 37 in front of the university for nearly 30 minutes in the afternoon.
AASU Dibrugarh district president Sankar Jyoti Baruah said, "We condemn the detention of AASU members and demand their immediate release. The government is trying to suppress our democratic movement against CAA. The protest will go on till the Act is withdrawn. Chief minister Sarbananda Sonowal, ministers, MLAs and other BJP leaders will be greeted with black flags wherever they go. This is to remind them of their betrayal of the people. The people of Assam will never accept CAA."
After the Citizenship Amendment Bill was passed in Parliament on December 11, 2019, Dass has been shown black flags by anti-CAA protesters at several places in Upper Assam, including Dibrugarh, Jorhat, Sivasagar and Tinsukia. He was shown black flags at Chabua in December last year when he had gone to meet the Chabua legislator. Hazarika's house was burnt during the anti-CAA protest.
Sonowal, his cabinet ministers and MLAs have also faced the wrath of the anti-CAA brigade.
Widespread protests have swept the state since the CAA came into being with people fearing that their land, identity and culture will be at stake if illegal immigrants from neighbouring Bangladesh are made legal residents.
CAA allows religiously persecuted members of six non-Muslim communities from three neighbouring Islamic countries to get Indian citizenship if they had entered India before 2015.
Chabua, Sonowal's native town, has witnessed huge anti-CAA protests.
Many protesters were arrested for engaging in violence and vandalism.