Did you think Pretty Woman's fire escape serenade was just dreamy? Were you beaming ear to ear when Brian (Tom Cruise) recited his poem to Jordan (Elizabeth Shue) at the end of Cocktail? Do you like to watch '90s Bollywood rom-coms after a difficult day?
If you answered yes to any of the above, you're definitely a hopeless romantic. 
This Valentine's Day, take a cue from some iconic romantic flicks and go for a classic date experience with your significant other. My Kolkata curates an itinerary filled with adorable, lovey-dovey activities that will have you updating your Instagram feed all day!
Let's get the ball rolling…
Morning rendezvous: A tram ride around Kolkata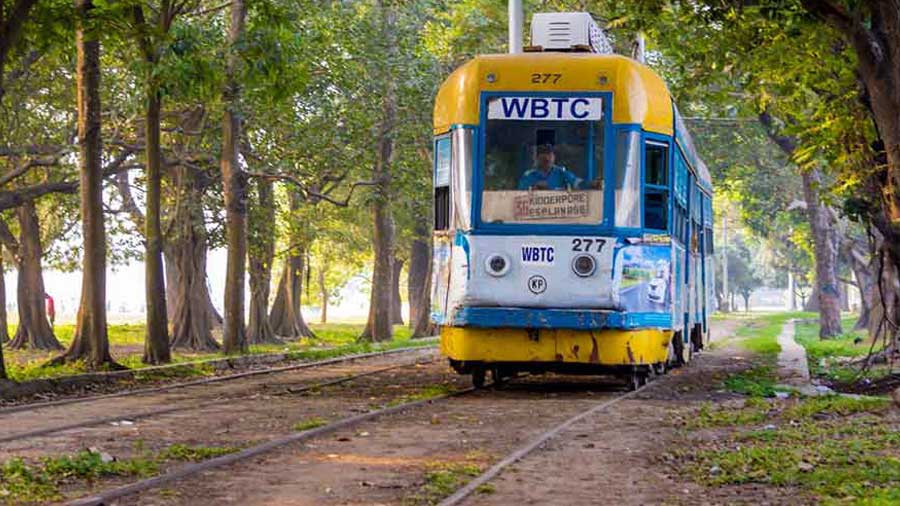 The Esplanade to Kidderpore route is kinds of picturesque
TT archives
Chemistry can bloom when you're on the move. Remember Geet (Kareena Kapoor) and Aditya's (Shahid Kapoor) train-ride banter on Jab We Met? Or Harry (Billy Crystal) and Sally's (Meg Ryan) incredible road trip in When Harry Met Sally? Romance on wheels is ever-so-exciting!
Hop on to one of Kolkata's heritage tramcars for a romantic ride. Take your pick when it comes to the route – there are seven iconic routes that you can choose from. We recommend the one that begins at the Esplanade tram depot and culminates in Kidderpore. As you sit back and catch up with each other, you'll pass Fort William's colossal gates, Victoria Memorial in all its majesty and acres of the Maidan abuzz with excitement.
Mid-morning bite: A cute brunch date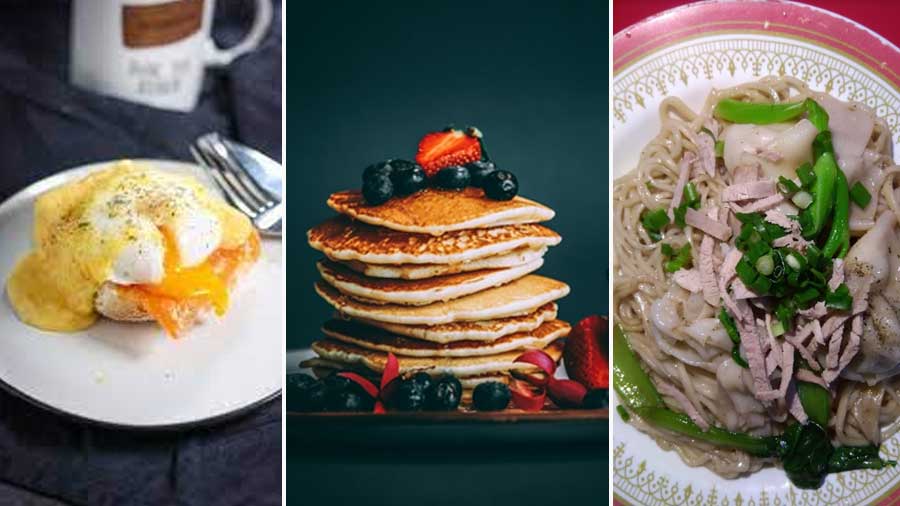 Eggs Benedict, pancakes or singhara chow? Take your pick
TT archives
For your next stop, hop on to Peter Kavinskey's (Noah Centineo) bandwagon. He raised the bar in To All The Boys I've Loved Before with his charming pocket spins and cute hand-written notes. But schlepping across town to buy Lara Jean (Lana Condor) her favourite Korean yoghurt was what bagged him major brownie points.
If you're looking to live up to the precedent Kavinskey set, skip the age-old kochuri-torkari combination and opt for something a little out-of-the-box. Calcutta Deli offers old-school Chinese delicacies such as singhara chow and pork baos, Hugo & Finn whips up delectable Eggs Benedict with Onion Jam, and Uncle Peter's Pancakes is famous for its classic American Pancakes that are topped off with generous dollops of butter and maple syrup. 
Psst: Don't forget to pocket spin your partner before you sit down!
Afternoon escapade: Out and about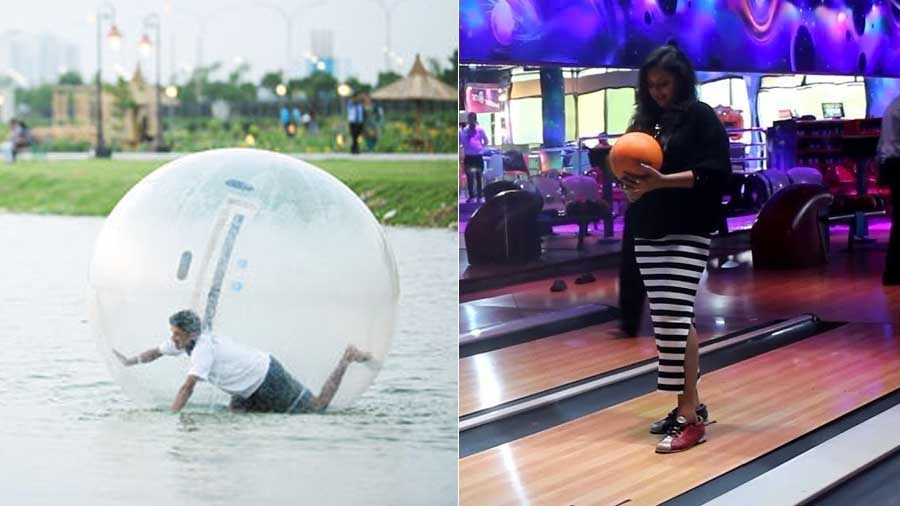 Zorbing at Eco Park and bowling at Nicco Park
Step into some sunlight for a breezy conversation. Draw inspiration from Tom (Joseph Gordon-Levitt) and Summer (Zooey Deschanel) in 500 Days of Summer and spend a lazy afternoon on the greens outside Victoria Memorial. Or take a stroll through College Street to bond over some books, like Joe (Tom Hanks) and Kathleen (Meg Ryan) in You've Got Mail. Tell them how J.K. Rowling baptised you a Potterhead, or how Khaled Hosseini made you cry for days on end! 
You could always follow Love, Simon's Simon Spier (Nick Robinson) and Bram Greenfeld (Keiynan Lonsdale) and opt for some fun, new-age adventures such as water zorbing in Eco Park or bowling at Nicco Super Bowl. Eco Park also offers kayaking, duo-cycling, high-speed boat riding and rifle shooting while Nicco Super Bowl also has a host of indoor activities from snooker and ice hockey to a gaming arcade, so take your pick. 
Twilight trysts: Sunset at Prinsep Ghat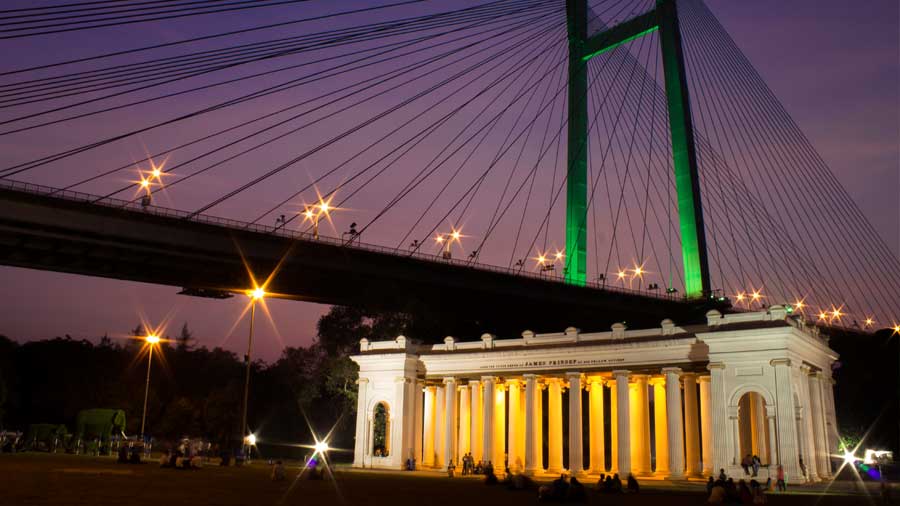 Sunsets at Prinsep Ghat are synonymous with romance in Kolkata
Moinak/Wikimedia Commons
Go for a sunset waltz on the banks of the Ganga at Prinsep Ghat, before you jump on a dinghy for a boat ride to recreate Noah (Ryan Gosling) and Allie's (Rachel McAdams) famously romantic rowboat scene from The Notebook.
Sunsets at Prinsep Ghat are synonymous with romance in Kolkata, so make sure you don't miss out on this one.
Evening shenanigans: Movie or karaoke?
A movie date never gets old. If it was good enough for Grease's Danny (John Travolta) and Sandy (Olivia Newton-John) and The Wedding Planner's Mary (Jennifer Lopez) and Steve (Matthew McConaughey), it's good enough for us. Kolkata may not have an outdoor or drive-in theatre yet, but we have our very own Nandan, and it really doesn't get better than that here.
If you're not up for a movie, gear up for some good ol' karaoke like the squad from Mama Mia! Choose between Monkey Bar, The Irish House and 10 Downing street for a night of the golden oldies and 2000's pop-punk.
Wind down with a trip down memory lane!
If you're planning something like Henry's (Adam Sandler) video montage in 50 First Dates, your date is bound to end on a high note. However, if you're completely knocked out after this fun-packed day, wind down with an evening of stargazing and takeout. Joel (Jim Carey) and Clementine (Kate Winslet) sure did make it look charming in Eternal Sunshine of the Spotless Mind.