Dharmatala, or Esplanade, has many monikers. However, having been a busy commercial area that grew with the hold of the British in Raj-era Calcutta, it is also one of the city's historic centres.
Walking from Esplanade crossing to Moulali crossing, and along the bylanes to connected roads such as S.N Banerjee Road, one comes across many landmarks with a rich history.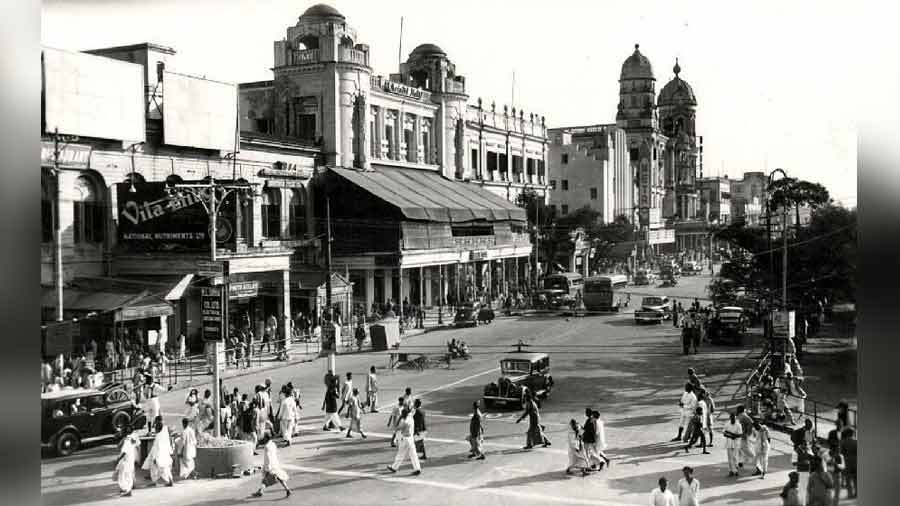 Dharmatala has been the commercial centre of the city since the colonial era
Wikimedia Commons
Going by the accounts of journalist, researcher and writer of Paschim Banger Sanskriti, Binoy Ghosh, Dharmatala was named after the Dharmaraj temple that stands on S.N Banerjee Road near Taltala. 
The Dharmaraj or Dharma Thakur temple has been the site of worship for the Dom and Hari communities for several years and houses a deity made of black stone with no discernible shape.
Stately architectural gems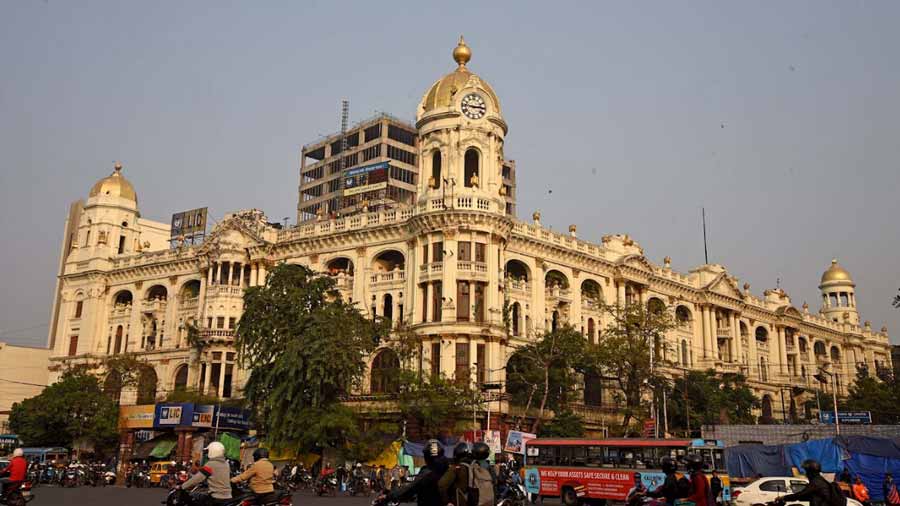 The Metropolitan building is one of the most photographed landmarks of Dharmatala
Amit Datta
Esplanade crossing on Chowringhee Road has many prominent architectural gems. The most photographed is the Metropolitan Building that once housed one of three British-era department stores. The neo-Baroque structure sports domes, a clock tower, Corinthian columns and recessed arched windows.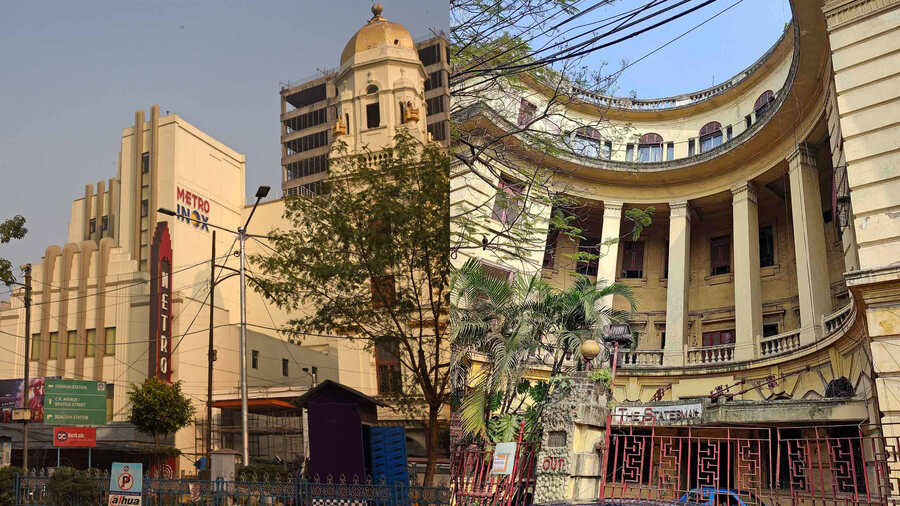 (Left) The revamped art deco-style Metro Cinema and (right) the Statesman House
Amit Datta
The art nouveau-style Esplanade Mansion and the Foreign and Military Secretariat building stand on Esplanade Row (East), while right next to Metropolitan Building is the now revamped art deco-style Metro cinema. Further along, near the junction of Central Avenue and Bentinck Street, one can see the British-era structures of Victoria House, now the offices of CESC and Statesman House, which is still the address of one of the country's oldest newspapers, The Statesman.
Long-standing sentinel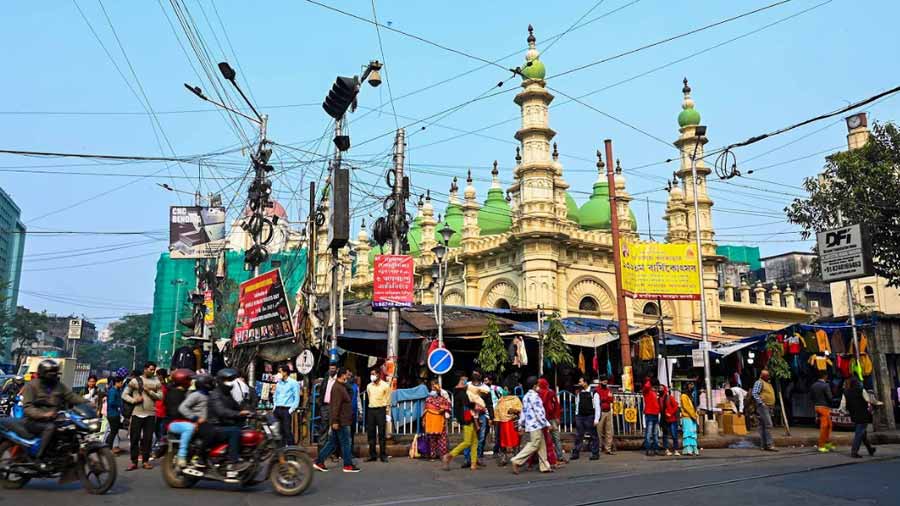 The Tipu Sultan mosque at Dharmatala has an identical counterpart on South Kolkata's Prince Anwar Shah Road
Amitabha Gupta
As one enters Lenin Sarani, the first prominent landmark to draw attention is the Tipu Sultan mosque, built in 1842 by the sultan's youngest son Prince Ghulam Mohammed. The structure's 16 domes and four turrets cut a noteworthy sight on the busy intersection. The prince also built a similarly designed mosque near Prince Anwar Shah Road in memory of his father.
Often overlooked is a small memorial, a piece of heritage that stands close to the mosque. The commemorative structure has lost its decoration, has a crack running through it and stands close to the tram tracks. However, it has a twin that can be seen at Fairlie Place, the Eastern Railways headquarters in B.B.D. Bagh.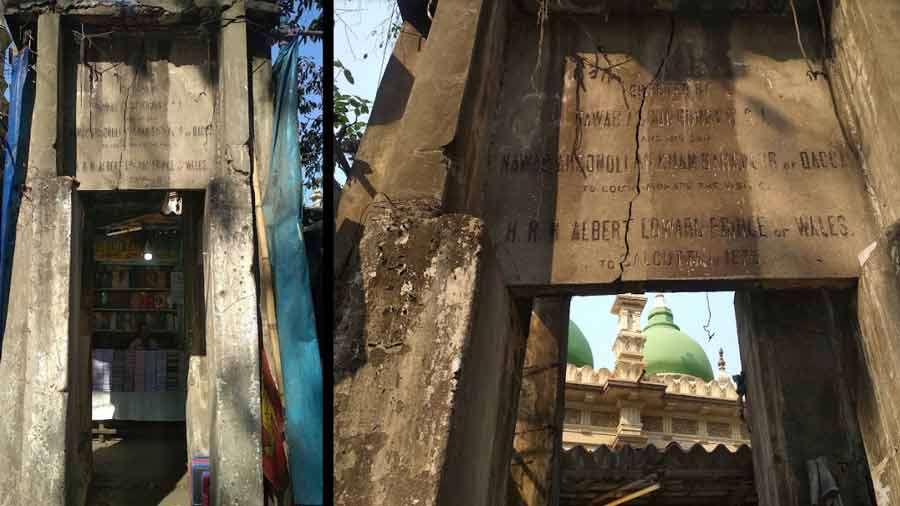 The small and damaged memorial erected for the visit of HRH Prince Albert Edward of Wales to Calcutta in 1875
Amitabha Gupta
Once-popular old haunts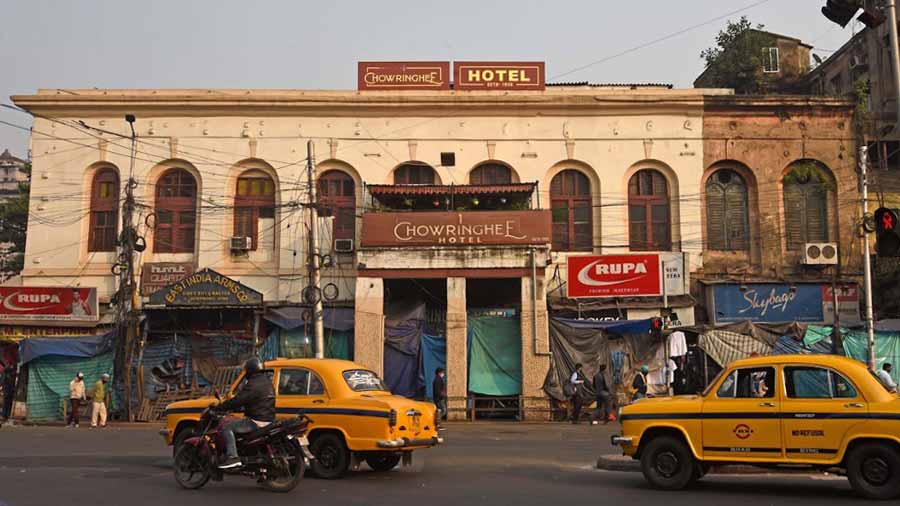 The Chowringhee Hotel opened in 1897
Amit Datta
Standing on the junction of Dharmatala Street and Chowringhee Road is the Chowringhee Hotel, which was once the previous location of Hotel Bristol, opened by P. Magre in 1897. Bristol ultimately shifted to the premises next door, but shut down in the 1950s and at present all that remains is a dilapidated facade.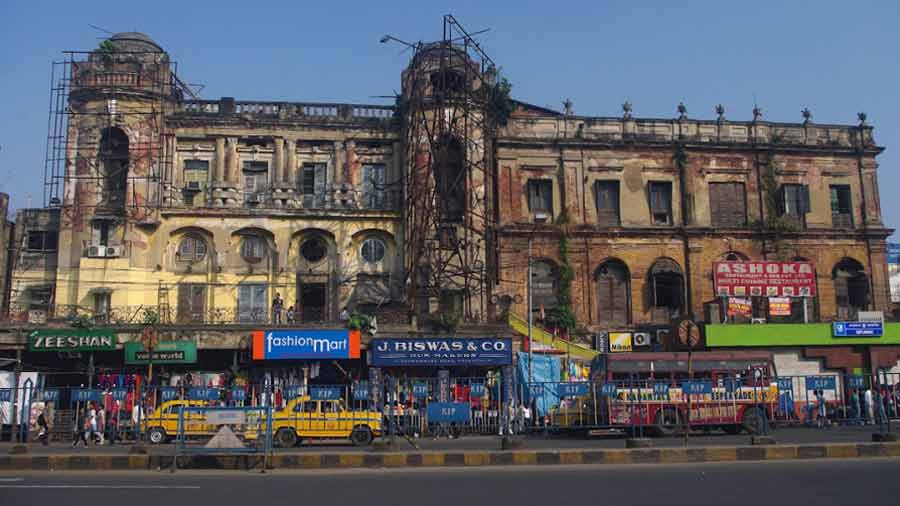 All that remains of the Bristol Hotel is its dilapidated facade
Amitabha Gupta
Motilal Sil Street, popularly known as Metro Gali, a bylane off Dharmatala Street is known for numerous stores selling camera equipment. Also in this lane is Shaw's Bar, which is known to sell liquor at cheapest prices. It was nicknamed Chota Bristol as it stood to the back of the Hotel Bristol.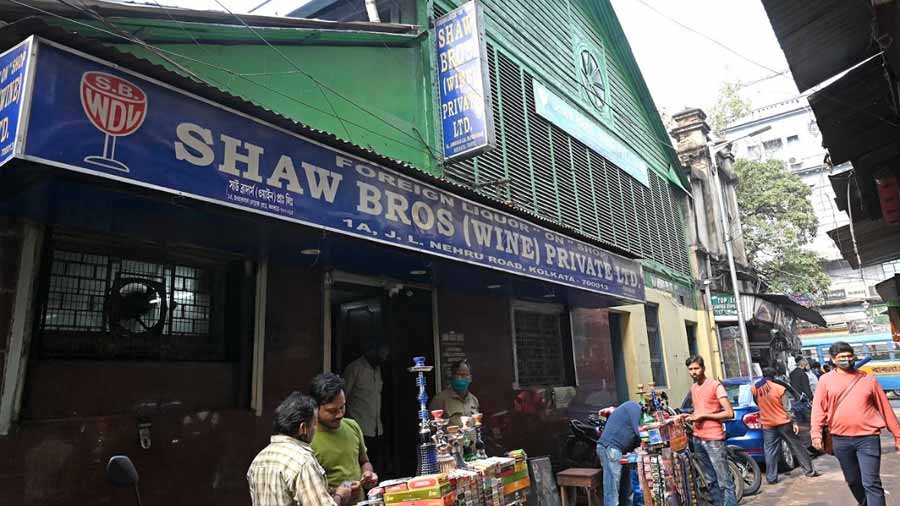 Shaw's Bar
Amit Datta
Church bells
Further down the street is the Sacred Heart Church. The Roman Catholic church was built for the Portuguese community by Mrs. Pascoa Baretto De Souza, widow of Thomas De Souza, who was an opulent merchant of the city.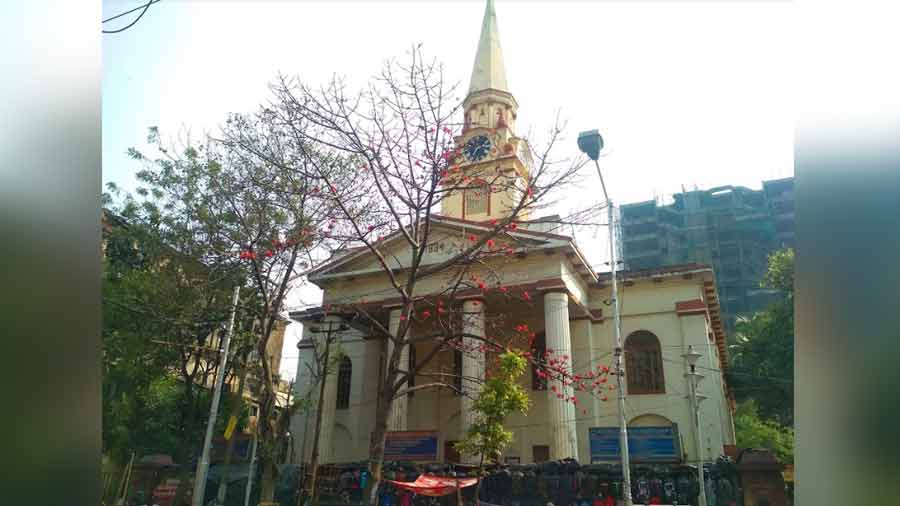 Sacred Heart Church
Amitabha Gupta
The foundation stone was laid on February 12, 1832, and the church was consecrated on March 30, 1834. Mrs. De Souza had vowed to construct a church if her son Lewis was spared capital punishment for shooting and killing a gentleman. Lewis was eventually let off with a penalty and Mrs. De Souza fulfilled her vow. The church was renovated in the early 1970s.
The highs and lows of theatre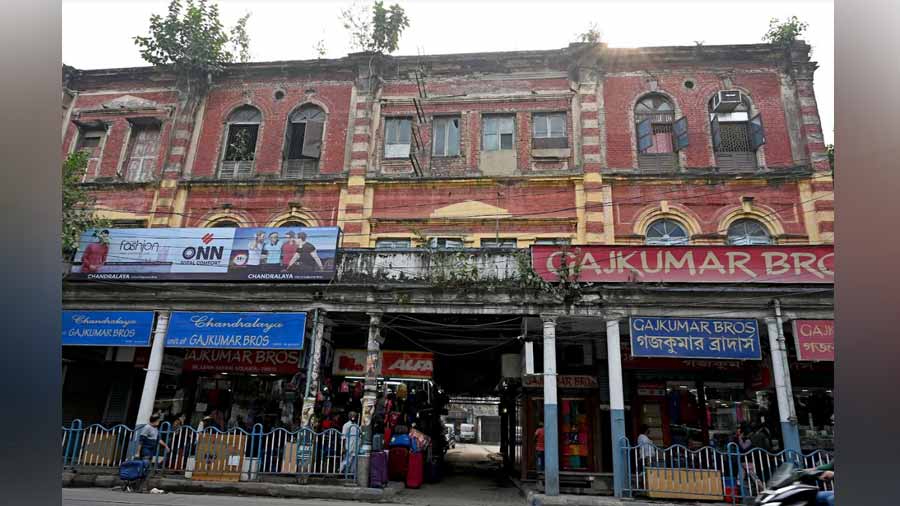 Opera House cinema building
Amit Datta
Ahead of the church is a large mansion with house numbers five and six. The inner courtyard of the mansion hides a surprise — an abandoned cinema hall. 
It is difficult to believe that 5, Dharmatala Street was the address of the office of a pioneer of film production in India, J.F. Madan. He is credited for the establishment of some of Kolkata's finest cinema halls, most of which don't exist anymore, including Crown Cinema Hall (later Uttara Cinema), Bijou Theatre (Regal Cinema), and Madan Theatre and Palace of Varieties (later Elite Cinema). He built Elphinstone Picture Palace in 1907 which later earned the credit to become the first Asian cinema to be equipped with permanent sound facilities. It was later sold off as Minerva Cinema and ultimately named Chaplin Cinema before being demolished in 2013.
The gems of S.N. Banerjee Road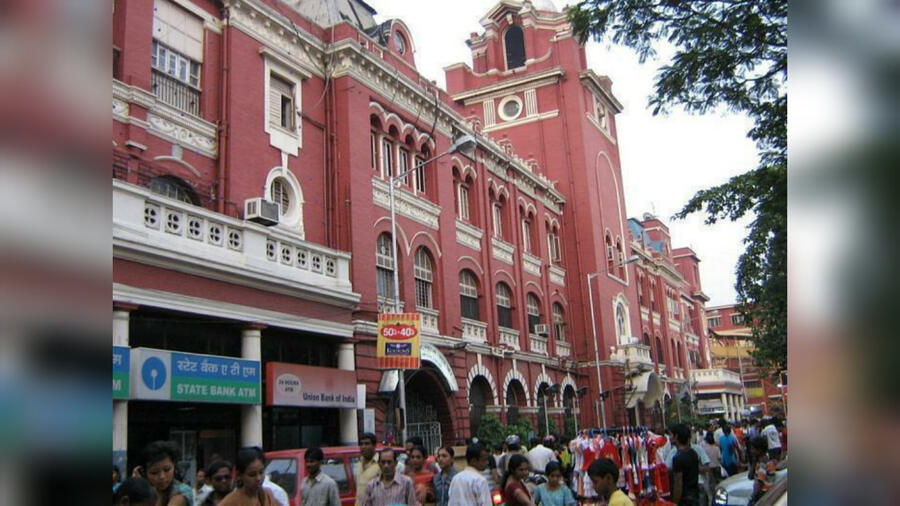 Calcutta Municipal Corporation building
Wikimedia Commons
Down the street is Loreto Day School, which was built in 1879. On the right is Grant Street, named after Sir John Peter Grant, who was Lieutenant Governor of Bengal from 1859 to 1862. He was known for his stand on the oppression of indigo farmers and for pressurising the magistrates to protect their rights.
Grant Street leads to Janbazar Street, later christened Corporation Street (probably after the Calcutta Municipal Corporation building that stands here), and finally renamed Surendranath Banerjee Street or S.N. Banerjee Street in 1926. Banerjee was a famous politician, academician and co-founder of Indian National Congress. Under his advice, Calcutta Municipal Act of 1923, made provisions for the annual mayoral elections in Kolkata and the enfranchisement of women.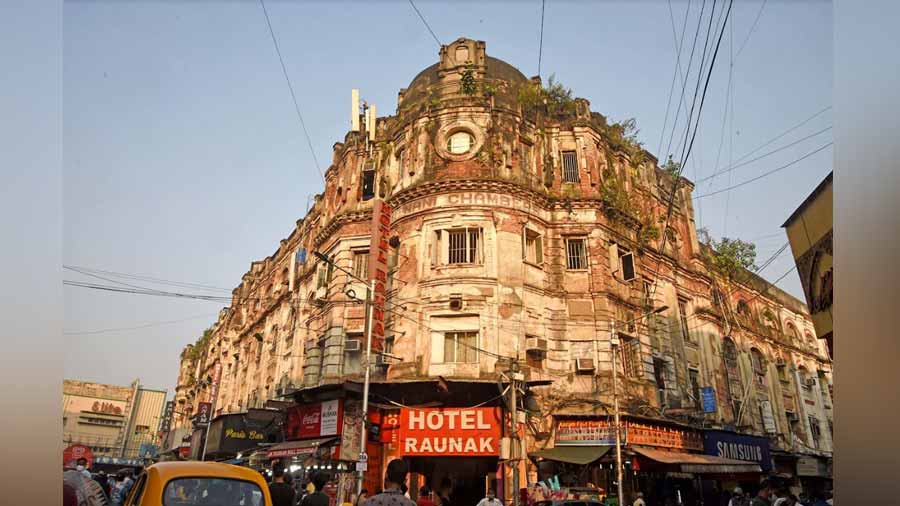 Futani Chambers
Amit Datta
Just after the corporation building is the huge but almost crumbling Futani Chambers, previously known as Hindustan Building. The longest serving Chief Minister of West Bengal, Jyoti Basu, spent three years of his childhood in this building. His parents, Dr. Nishikanta Basu and Hemalata Basu, were among the 120 tenants rented by Futnani.
Passing by the New Market Police Station, a curious onlooker may blink twice before reading the signage, which reads "POLICE SECTION HOVSE." The letter "U" was not used in the English language early on and old Latin words used the letter "V" for upper case and "u" for lower case.
A dip into non-colonial history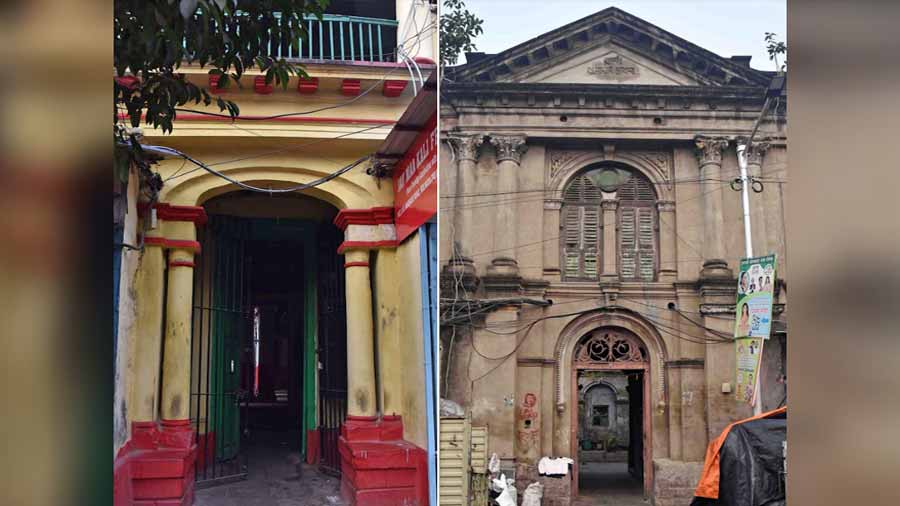 Rani Rashmoni's house on S.N. Banerjee Road
Suvendu Das
The most famous landmarks on S.N. Banerjee road are the two houses of Rani Rashmoni. The larger mansion, which houses the kacharibari or courthouse of the family, is at the junction of S.N. Banerjee Road and Free School Street, part of which is called Rani Rashmoni Road. It was constructed in 1805 by her father-in-law Pritiram Das. The other house named Rani Rashmoni Bhawan is on the opposite side of S.N. Banerjee Road.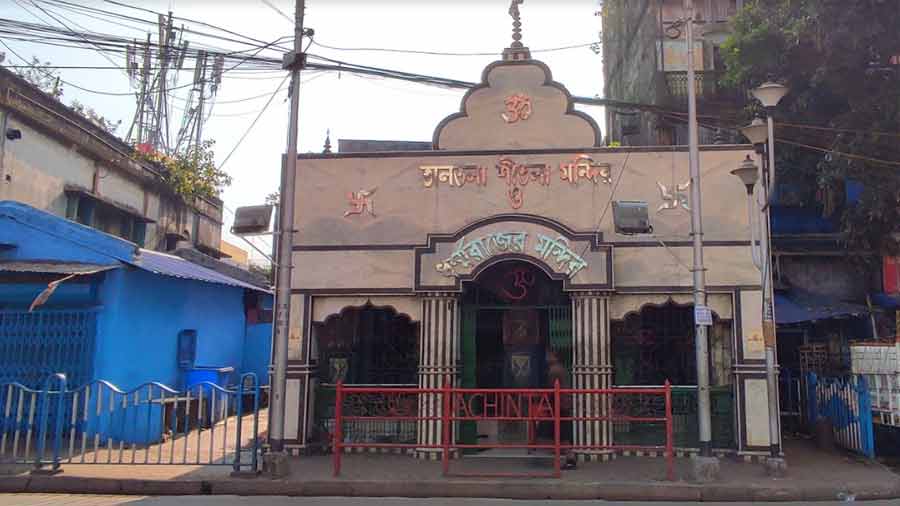 Dharmatala was possibly named after the Dharmaraj or Dharma Thakur temple on S.N. Banerjee road
Amitabha Gupta
Further down the road, near the now extinct Lotus cinema in the Taltala area stands the temple of Dharmaraj, who shares the shrine with Goddess Shitala. It is also in a house in this localility, at 3/4C Taltala Lane, that Kaji Najrul Islam wrote his famous poem Bidrohi. A plaque has been installed close to that house celebrating 100 years of the poet's birth.
Missions and missionaries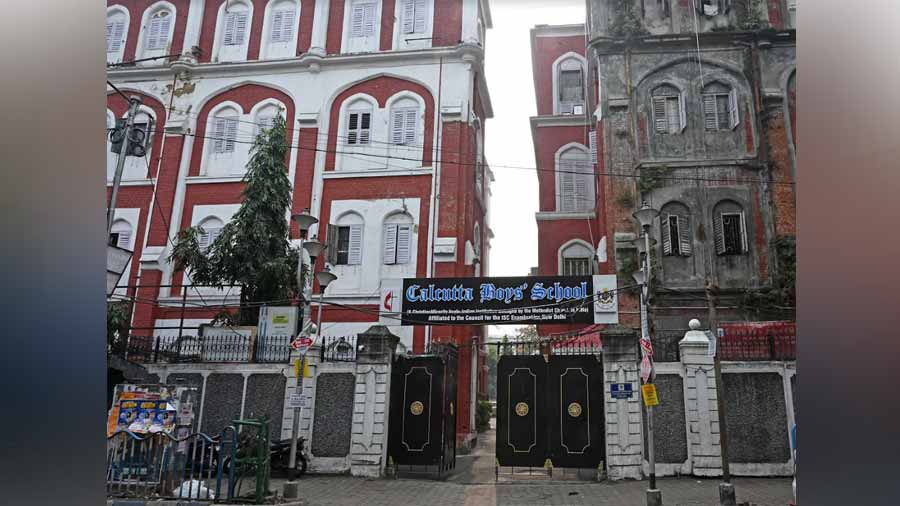 The Calcutta Boys' School
Amit Datta
A small bylane opposite the Dharmaraj temple leads to Motts Lane, which was the location for the first Calcutta Boys' School, established in 1877 by Bishop James Mills Thoburn for providing education to Anglo-Indian and Jewish students. Later, after being financed by Whiteway & Laidley, it was shifted to the present location on S.N. Banerjee Road.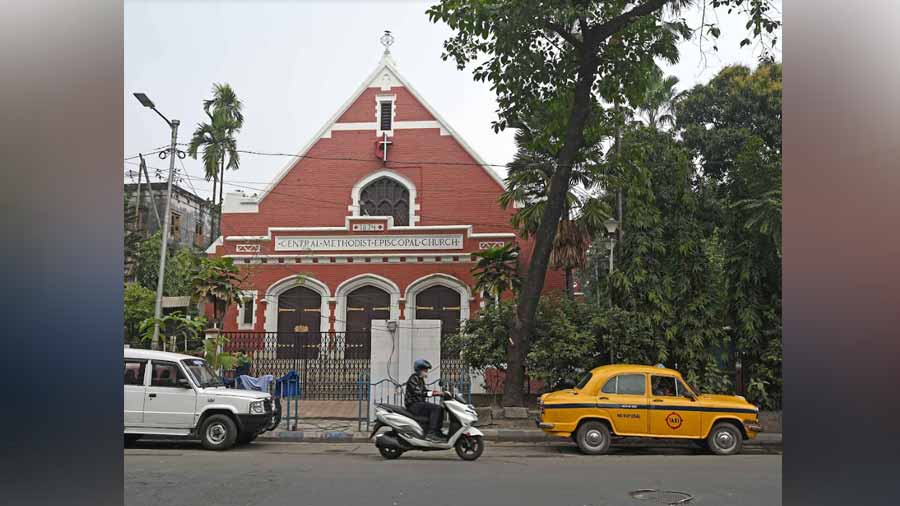 The Central Methodist Episcopal Church, established in 1923
Amit Datta
James Mills Thoburn (1836–1922) was an American bishop of the Methodist Episcopal Church best known for his missionary work in India. The Thoburn Memorial Methodist Church located on Dharmatala Street near Subodh Mallick Square, which seats 1,500, is one of the largest churches in Kolkata. Other churches that grace this road are the Central Methodist Episcopal Church, established in 1923, and the Union Chapel that was built in 1821 by the London Missionary Society.
The magic of Mirror Street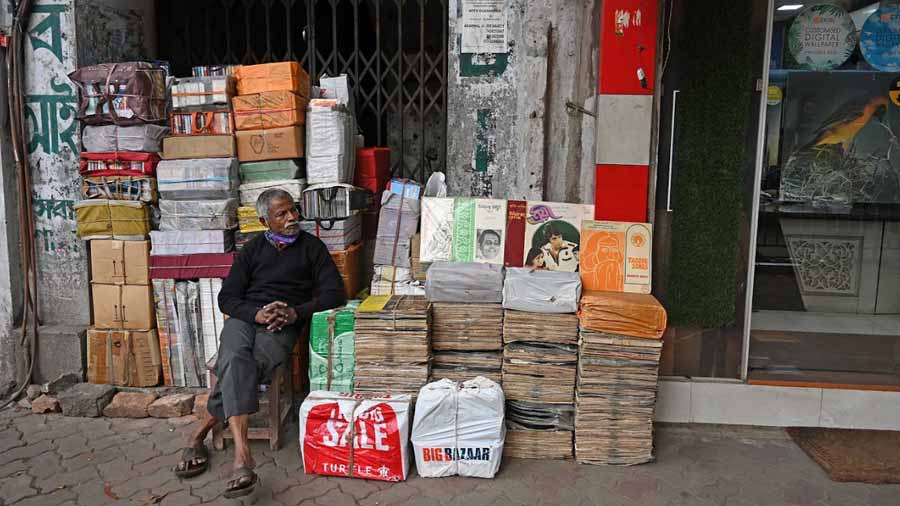 Shops selling old vinyl records close to Raja Subodh Mallick Square
Amit Datta
Around this church, close to Raja Subodh Mallick Square, the streets had several shops selling vinyl records, but it has reduced to only a handful in recent years. 
The part of Motts lane, which can be reached from Dharmaraj Temple, has been renamed Indian Mirror Street. A number of old mansions line this narrow lane. One of them, at 8, Indian Mirror Street, shot to fame when actor Sanjay Dutt visited the house as this was the birthplace of his mother Nargis. Born on June 1, 1929, as Fatima Rashid, the actress lived here with her mother, Allahabad-based singer Jaddanbai, who introduced her to cinema as child actress Baby Rani. Jaddanbai later shifted to Beleghata and left for Mumbai around 1933-34.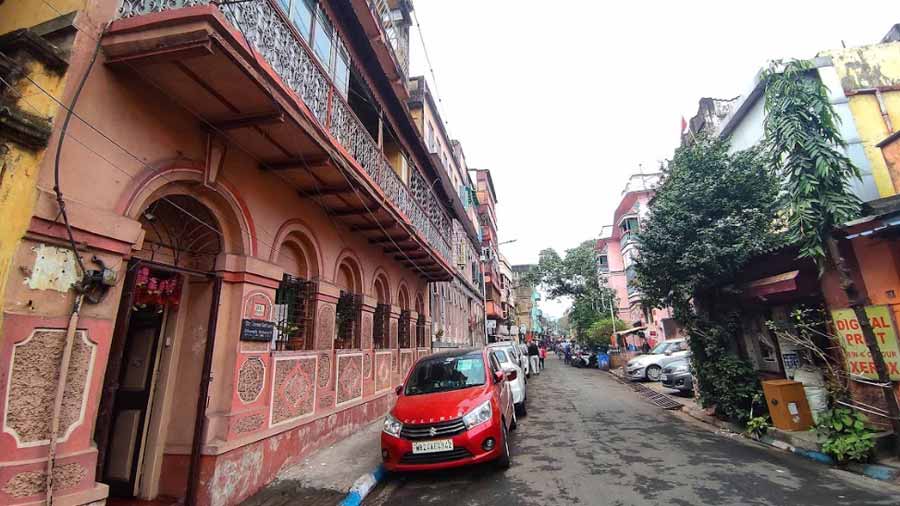 A number of old mansions line this narrow lane named Indian Mirror Street
Amit Datta
At 24, Motts Lane (presently renumbered as 52A Indian Mirror Street), stood a house named Arya Kutir, which was the residence of High Court solicitor and attorney Narendra Nath Sen, who was the editor of the Indian Mirror. The fortnightly newspaper was started by Keshab Chandra Sen in 1861 with financial assistance from Debendranath Tagore. Manmohan Ghose, the first practising barrister of Indian origin, was the first editor. In 1863, Narendra Nath Sen became the editor and then in 1870 the sole proprietor of the paper. At present, the arched gate of the house has been given a heritage tag by the KMC.
Stories in crumbling stone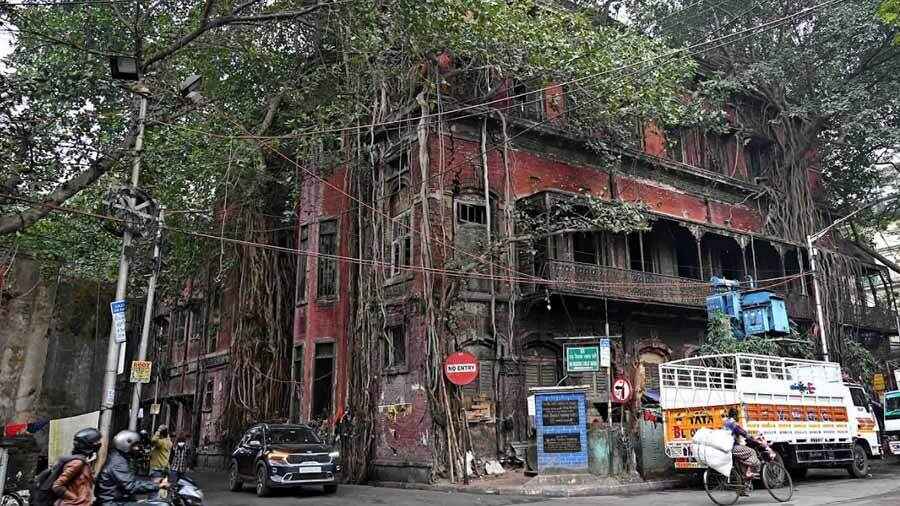 The house of Raja Subodh Mallick
Amit Datta
Indian Mirror Street merges into Dharmatala Street at Subodh Mallick Square, named after Bengali nationalist, industrialist and philanthropist Raja Subodh Mallick. Subodh Mallick was a co-founder of the Bengal National College, which later developed into Jadavpur University. He also financed nationalist publications of Sri Aurobindo Ghosh including Bande Mataram, whose offices were located in adjoining Creek Row.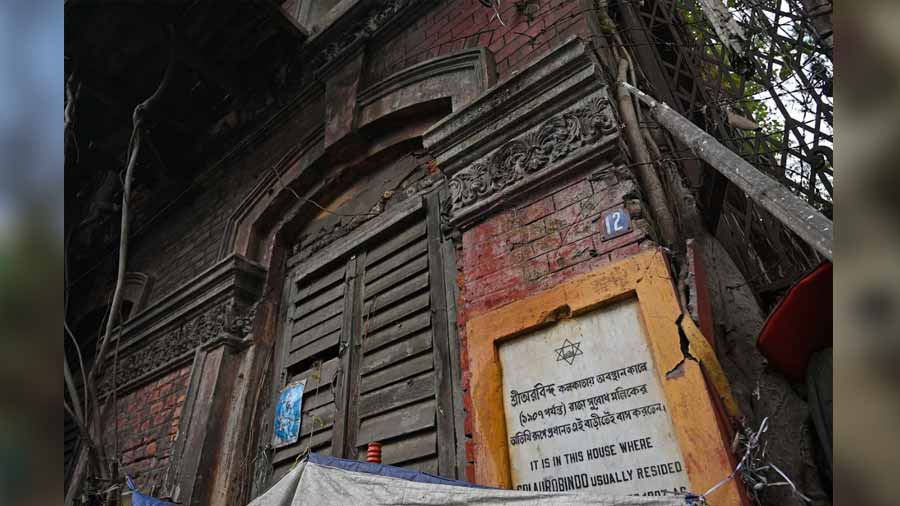 A plaque on the facade of Raja Subodh Mallick's mansion documents Sri Aurobindo's stay in the house
Amit Datta
At one end of the square, his once-beautiful mansion stands in shambles. The house was declared a heritage structure in 1998, but no restoration has been done due to legal difficulties. This house was where Sri Aurobindo lived under the care of Subodh Mallick for a considerable period of time.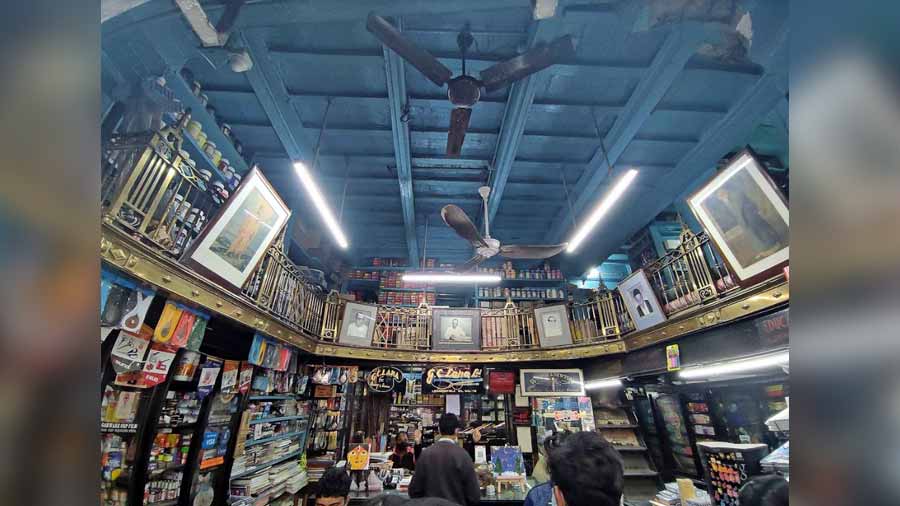 A walk through Esplanade uncovers the multi-layered history of the city
Amit Datta
There are many landmarks and hidden gems along this route that traces the diverse and multilayered history of the city.
Details: Break Free Trails conducts a Dharmatala Street trail. To book a city walk with them, drop a message on Facebook or Instagram.