durga-puja
First look at top Pujas in the city
While we might still be living in a pandemic, there is no dearth of innovation in the idols and pandals
By
Vedant Karia
| Published 07.10.21, 11:10 PM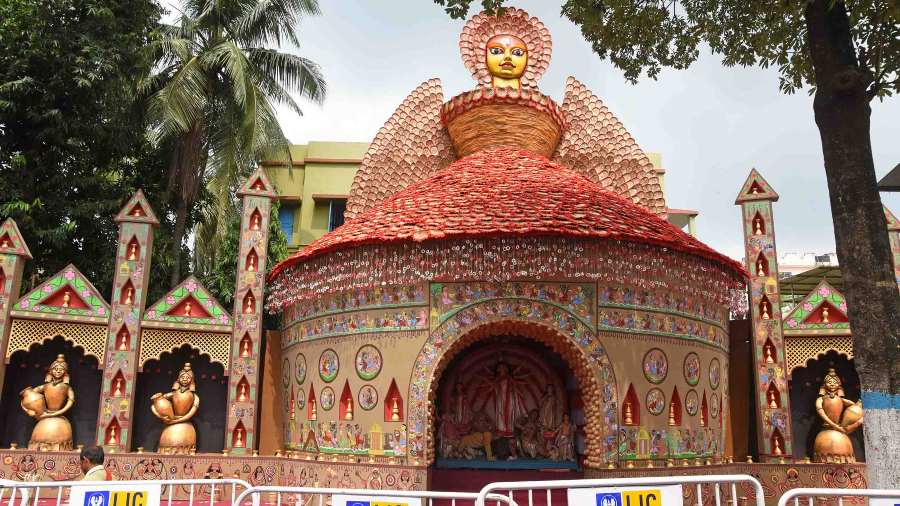 With their theme, 'maa's touch', 41 PALLY CLUB has recognised the need for a warm embrace during these trying times. The pandal is decorated with materials that reflect a mom's loving nature, like hand fans and shakha pola. Their attention isn't just limited to aesthetics, as all materials used are biodegradable.
Amit Datta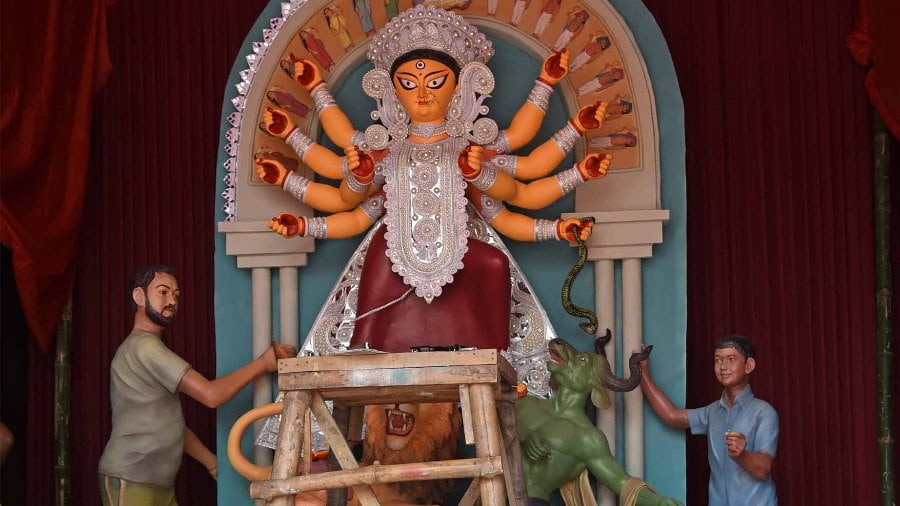 AJEYA SANGHATI has decided to recreate the thrill of childhood pujas. The protima has been kept on a trolley, with excited locals around it. It's watercolour base pays homage to the pujo editions of local magazines that would arrive in each para.
Amit Datta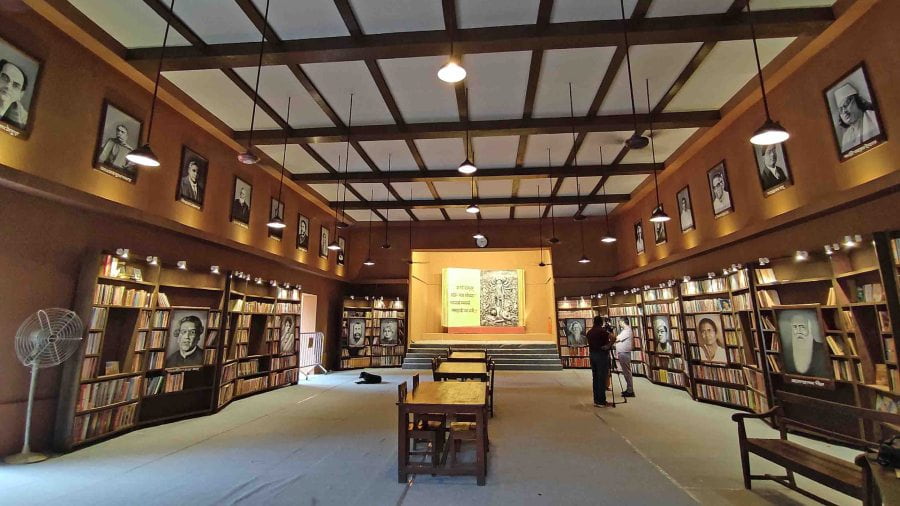 BABUBAGAN is celebrating 200 years of the Bengal Renaissance by creating a pandal that looks like a stack of books propped atop one another. Inside is a library with over 3000 books by accomplished Bengalis, from Swami Vivekananda to Rabindranath Tagore. The protima also blesses devotees from the pages of a book.
Amit Datta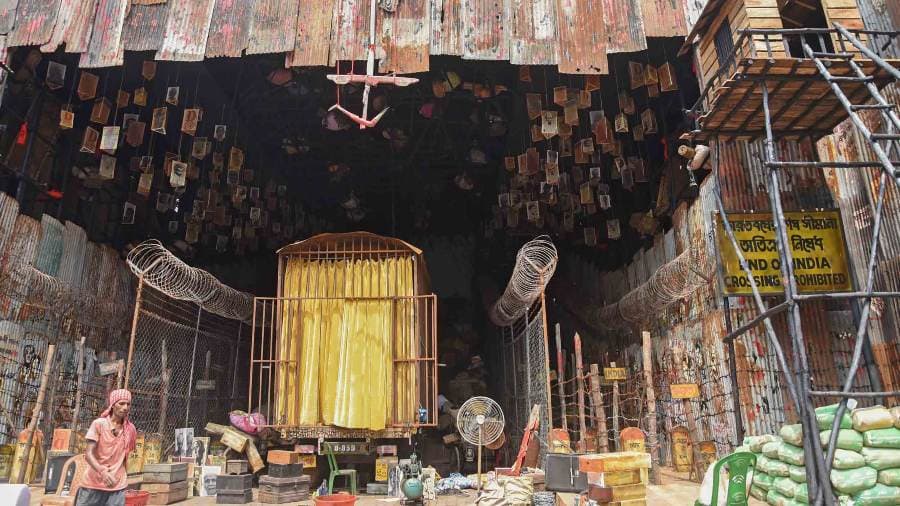 BARISHA CLUB has chronicled the struggles of refugees during the partition of Bengal. The pandal has touched upon the pain and strife endured by those who had to leave their homes through barbed wires, multiple milestones and forgotten suitcases.
Amit Datta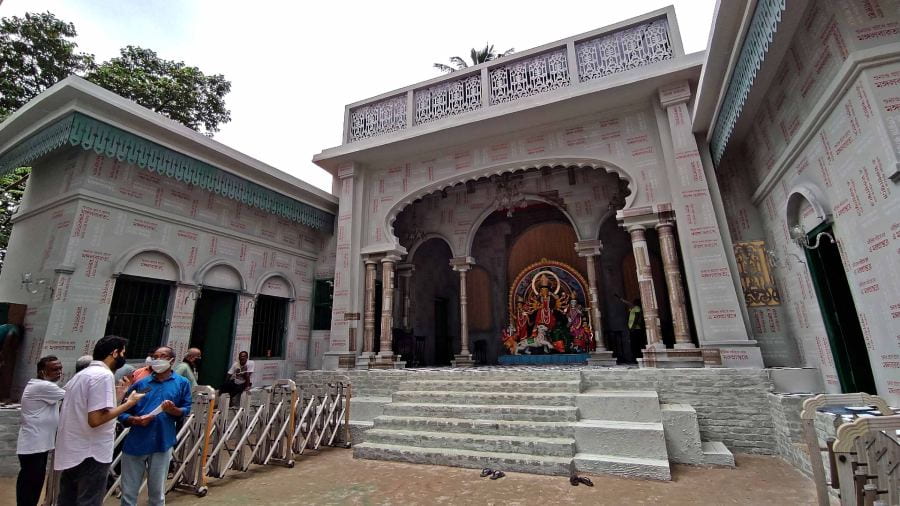 BEHALA NUTAN DAL has brought elegance to simplicity through their Rajbari-style puja. The puja is dedicated to those we lost in the pandemic. It ensures that we carry their memories as we move forward. The walls are embellished with verses from Tagore's Sokatore Oi Kadiche Sokole, leaving devotees with much to think about.
Amit Datta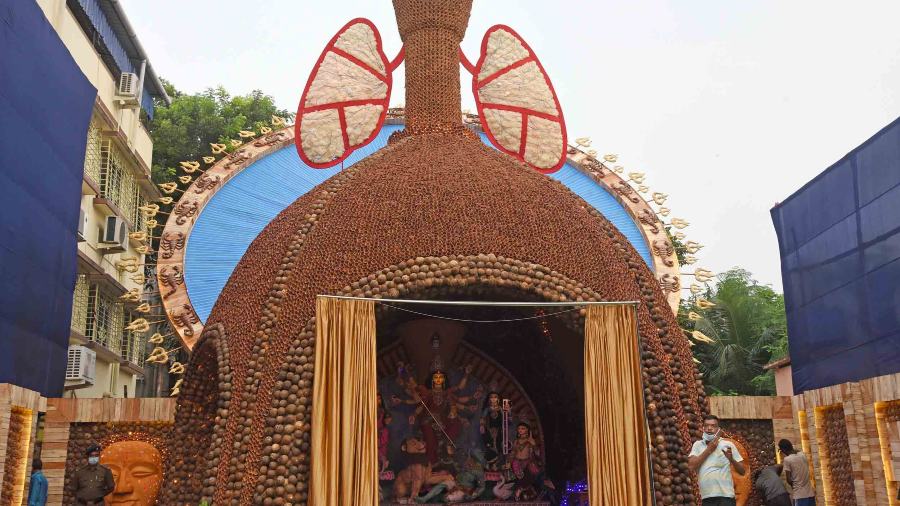 BOSEPUKUR SITALA MANDIR DURGOTSAB has warned devotees against smoking, terming it as the worst 'taan' in life. The pandal has integrated the message in every corner, with the top part embodying lungs and hookah coals being used at the mandap.
Amit Datta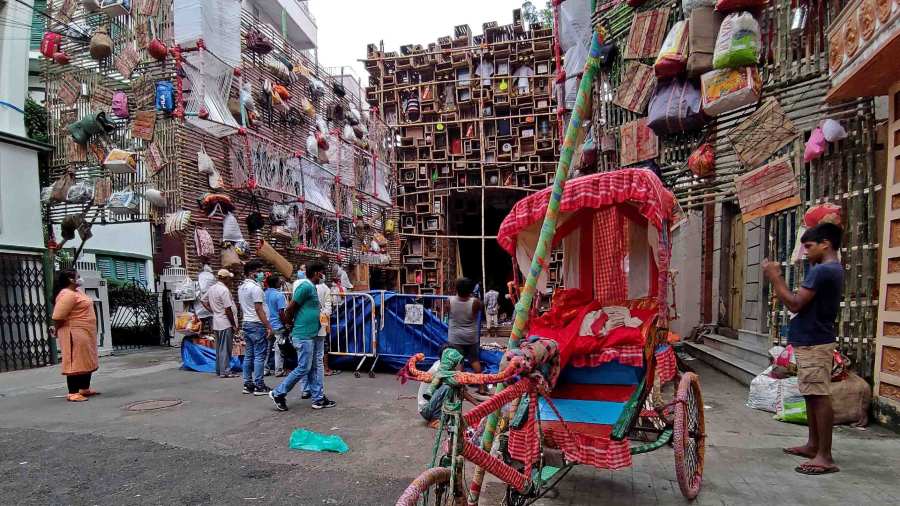 SHIBMANDIR has transported devotees to the time the lockdown was first announced. The pandal shines with its detailing, using computers to show how many were stuck at home and bags to show how others were tragically displaced from theirs.
Amit Datta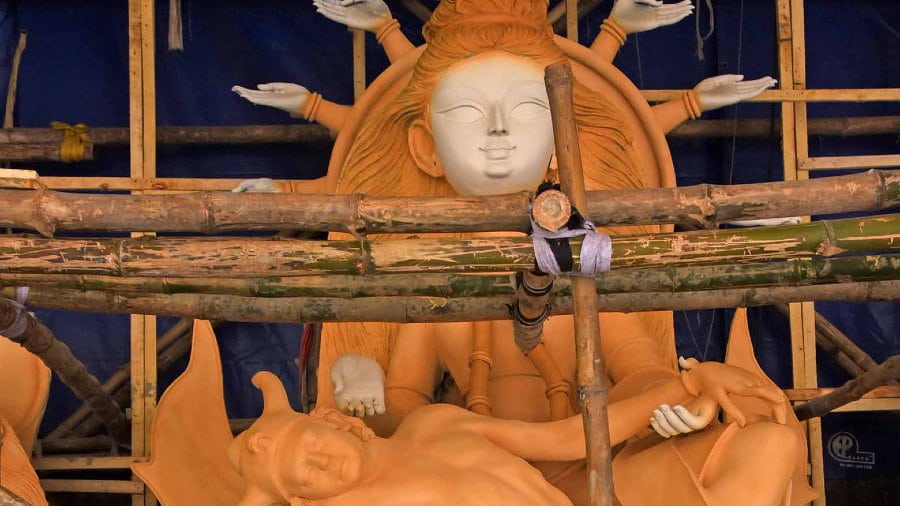 The pandal at TRIDHARA AKALBODHON is a soothing sight from a distance, using only mellow colours. The pandal pays homage to the lives lost in the past year and its walls carry names of both celebrities and local residents who passed away. Children are seated on the lap of all the idols. This is how the Puja beckons the divine to protect the most vulnerable from the pandemic.
Amit Datta