There is something about meeting Zorawar Kalra — founder and director of Massive Restaurants Pvt Ltd. He has this infectious energy that rubs off on you when you meet him. He is never calm, he's not the type who would be seen relaxing and taking things slow. Instead, he is raring to go and is always eyeing the next big thing while probably basking in the success of a present venture. On a recent whirlwind trip to the city for an event organised by NRAI Kolkata Chapter at Ozora, The Telegraph caught up with the passionate restaurateur about his plans for Kolkata and what's keeping him busy. Excerpts.
Welcome back to Kolkata! What is the first thing you did after reaching?
The first thing I did after reaching Kolkata was to visit Farzi Cafe Kolkata. We are all set to launch a brand new cocktail and food menu. It's going to be 25 new super cutting-edge cocktails and 40 new dishes from Farzis around the world. I am very excited about it.
Farzi Cafe Kolkata has recently turned one. How has your experience been?
It's been a fantastic year. Farzi Cafe now is in nine countries and by the end of August it would be 10 as we are opening in the US in Seattle, near the headquarters of Amazon.
Kolkata has given us immense joy and I understand now why it used to be my father's favourite city! I would always ask him, 'Dad which is your favourite city? Delhi, Bombay…' and he would always say Kolkata. I love Kolkata the most too because it is very academic, sophisticated society and that's why I came here with Pa Pa Ya first and it has been receiving so much love!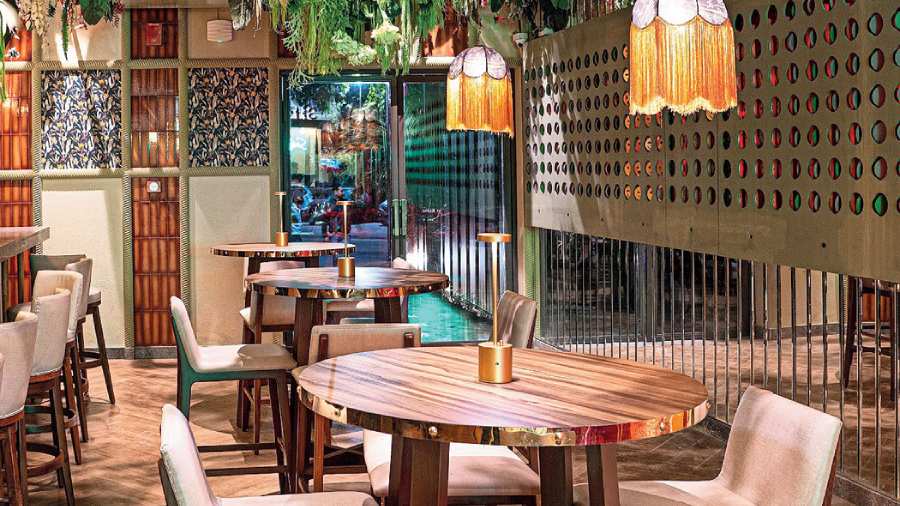 Younion's Delhi outlet
Does that mean you will bring your other brands too?
Yes, overall I have been very happy with the city. Till now I have seen six sites, I am definitely very keen on getting my cloud kitchens here… Louis Burger for sure! We are targeting this year for sure.
Second I want to get Younion!
Why is Younion your pick?
I think the city is young and vibrant and Younion is the brand with a young wavelength. It just opened in Delhi and is doing very well! And I feel it's the right time to pan it out here. Then according to my study of the place demography-wise I feel Younion is tailormade for Kolkata. It's a brand for the millennials and when they get older it will focus on GenZ. After that what will come I don't know (laughs).
The array of drinks served there and the unique way of presenting some of them. Kalra says he wants more of his restaurant brands in Calcutta and Younion is next in line.
You recently visited Farzi Cafe London for the first time after its launch…
Yes! It has been getting a very good response and it's doing better than pre-Covid.
Talking about better business than pre-Covid… you had predicted the same when we spoke to you last July...
One thing is for sure that you have to be cautious. You cannot be like it never existed. Covid exists, it's a reality and we have to live with it. We have to be cautiously optimistic. I am not a doctor, but I think if we get the boosters there is not going to be anything major. Eventually there will be total herd immunity and it will be like a cold.
When you look back, what is your learning from the pandemic?
It has taught me to make the most of the opportunity from every situation. Many give up but I am not that person. I am very busy, like I am always on call, mails and messages but during the first few days of the pandemic there was no call, no email and it never happened and it made me feel uneasy. I am a very uneasy person and I can't stay still. My attention span is limited, and I had nothing to do and I felt aimless.
It was like a forced holiday, but instead of wasting time I did things that I couldn't do earlier as I was constantly running. So I used this time and came up with 10 business ideas. Cloud kitchen was one! Pre-pandemic I never had any interest in cloud kitchens, I wanted to do something with burgers but it was to be in a restaurant format. Pizzas I have been obsessed about a long time but I wasn't going to open a delivery thing. But I opened Louis Burger and Slyce now! Then I acquired many locations because I always knew that the industry is going to be robust.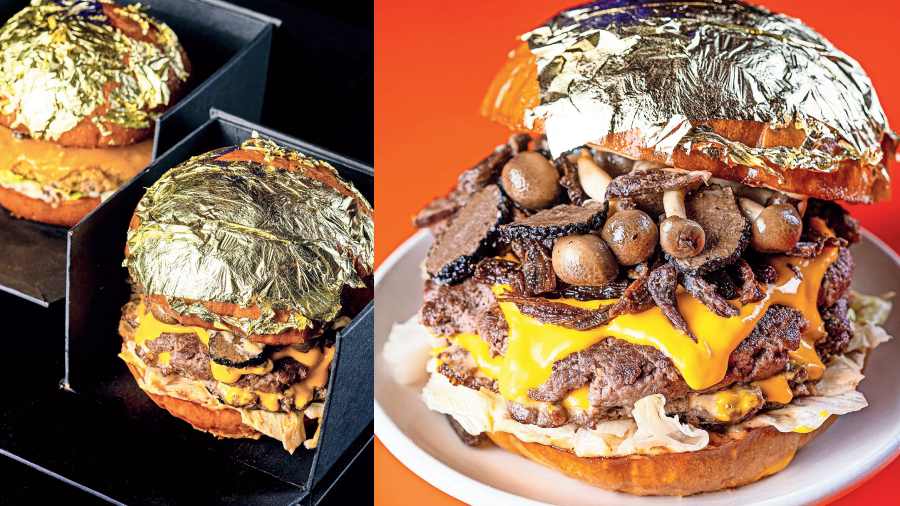 Kalra is scouting locations in Calcutta to set up cloud kitchen Louis Burger. Its signature items include the Louis Grand Royale (top) and The Limited Edition Burgers (above)
With Louis Burger and Slyce in your kitty now, tell us what's an ideal burger and pizza according to you?
My God! (Thinks) A vision of my vision of a perfect pizza or burger, I would say burger has to have the most soft bun, low density, the mayo has to be the world's best Japanese mayo, the cheese has to be matured cheddar, the lettuce has to be green and the custom sauce has to be personalised. That's what Louis Burger offers.
Slyce pizza is only running in Bombay and it's growing 70 per cent a week! So it's crazy and it's reaching a level where people are saying why should they pay equal or more for a substandard product when they can get an artisanal handmade pizza at the same or lower prices with better ingredients.
How is it feasible to offer great product at cheaper pricing?
We have done it through engineering, cost analysis, keeping ourselves lean. We will never be pricing ourselves at a higher range. I think great food should be accessible, for all for my cloud business. I am not having to build a restaurant here, am saving a lot of money, and that savings should be put into the products.
Moving on to a different topic altogether, we hear you are all set to shake a leg in Jhalak Dikhhla Jaa 10! How much of a dancer are you? Have you ever gotten a chance to take dancing lessons?
(Smiles) I am not a dancer and neither have I ever taken any professional lessons. I am totally out of my comfort zone and my element. This is a challenge and I have always loved to take challenges. I go and test out new frontiers but I am obviously concerned about my performance because I am a very competitive person. I will give my best shot and I hope my journey is entertaining for the audience and they like the effort.