Sandeep 'Lalu' Yadav, a talented golfer from Kolkata, put on a great show at Kolkata Amateur 2022, the eighth leg of the Indian Golf Union's (IGU) Eastern India Amateur Golf Feeder Tour held at Tollygunge Club from July 14 to 15, eventually winning by one stroke. 
Yadav shot six-over-par in the combined round of both days, finishing on 146 and clinching the championship title.  
At the summit, just behind Yadav, it was a three-way tie between three of Kolkata's leading seeds — Tapash Sardar, Gurshaan Singh Grewal and Ribhav Verma, who all shot a seven-over-par 147, but it was Sardar who prevailed and sealed second place on the countback.
Yadav is a regular on IGU's main tour and one of the best golfers from eastern India. He was one shot behind round one leader Verma, but played a remarkable final-day round of two-over-par to surpass the other amateur golfers on the leaderboard. 
Kolkata's S.K. Rafick won the mid-amateur title with a score of 12-over-par 152, followed by Amit Kumar Saraogi who shot 164.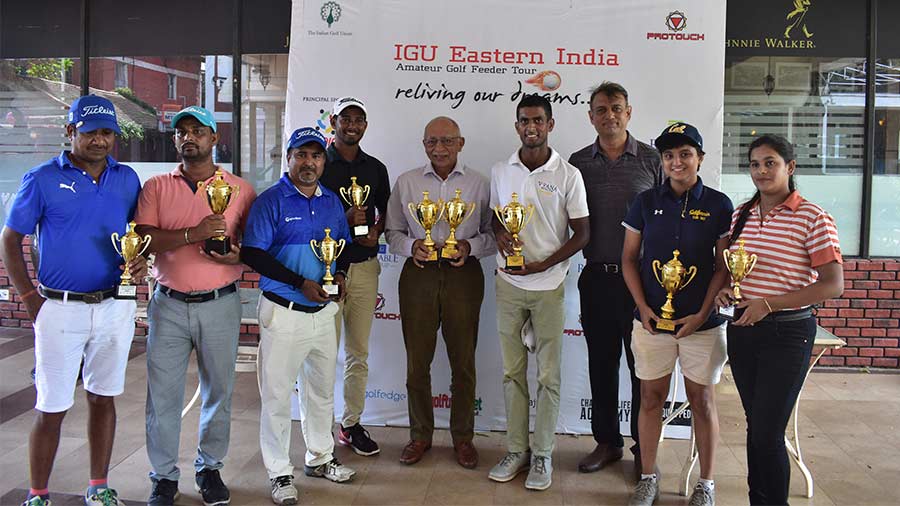 The different category winners at Kolkata Amateur 2022
Protouch Sports
Ashit Luthra won both the senior and super-senior titles after shooting a 20-over-par 160. Another top senior amateur, Kuo Thai Chiang, finished second among the seniors. Subroto Kundu finished second among the super-seniors, shooting 189. 
Nikita Biswas won the ladies' title after shooting 159, followed by Adreeja Ghosh on 187.
Kolkata Amateur is sponsored by Medica and the Reliable Group and managed by Protouch Sports.