Bangaldeshi ilish machh and rice for Rs 270.
Katla machh thali for Rs 200.
Indian football fans in Qatar are spicing up their World Cup action with traditional delicacies of West Bengal, which, many are surprised to learn, are cheaper in the Gulf country compared with Kolkata. 
The fans and employees of some of the restaurants said that not just Bengalis, fans from other countries, too, are tasting fish, rice and kebabs at Indian and Bangladeshi restaurants.
Diptangshu Mondal, a Kolkatan who is in Qatar to watch a few World Cup matches, was eating in the food court near his accommodation at the fan village near Lusail Stadium, where Saudi Arabia had shocked Argentina.
"I was eating in the food court set up at the fan village. Today, I decided to explore the city and search for an Indian restaurant," Diptangshu, who runs a publishing house on College Street in north Kolkata, said on Thursday.
He took a Metro and went to the City Center mall, four stations away from where he is staying, where he ate at an Indian restaurant named Tandoor. He had rice, daal, mixed sabzi and chicken.
"I was delighted to see a group of Japanese fans, some wearing their national team jersey, eating there," he said.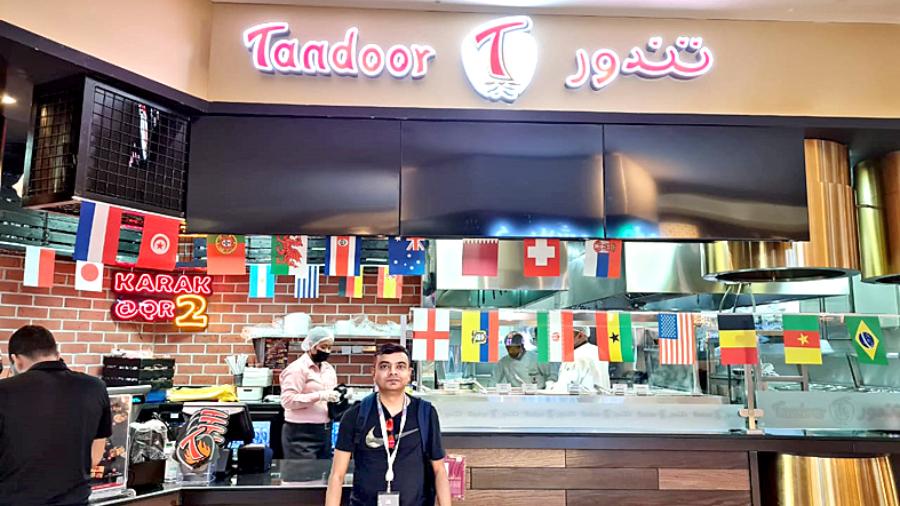 Diptangshu Mondal at Tandoor, a restaurant in Doha.
Picture by Diptangshu Mondal
Mangesh, the chef at Tandoor in City Center, said: "Our business has doubled during the World Cup. We are having many European fans dining here. They are mainly eating mixed grill kebabs and kebab platters."
Software professional Souvik Biswas and his three friends were eating at two Bangaldeshi restaurants, Gharoa and Al Baraka, situated adjacent to each other, at Al Rayyan in Doha.
"The food is incredibly cheap and good. We had illish from Bangladesh for only 12 Qatar riyals (Rs 270)," he said. "There was a group of Japanese fans eating fish and rice."
Souvik and his friends celebrated Japan's shock victory against Germany by eating ilish at Gharoa on Wednesday night.
A Katla machh thali at the restaurant costs Rs 200.
Tour operators said many fans were apprehensive about the cost of food when they were planning their trip.
"Unlike those who go on leisure tours, many football fans go on limited budget trips for World Cup. Several of them had expressed apprehensions about the cost of eating in Qatar," said Avijit Das, director, Hermes Voyages Pvt Ltd.
"We had told them about the food courts and makeshift stalls set up for the World Cup. Many of them explored these Indian, Bangladeshi and Pakistani restaurants and were surprised by the cheap prices."
According to Das, Qatari biriyani was also a hit among Bengalis. Even betel leaves, served in packets, are available there.
"There are a few who do not bother about food, but others, particularly couples and those who have gone with children, were worried about the food prices," he said.