They travelled more than 3,700km from Kolkata to Qatar to watch Lionel Messi score and Argentina win their first match in the 2022 World Cup.
But the two Kolkatans, diehard fans of Messi, were crestfallen like millions of others as they watched Argentina's shock 2-1 loss to Saudi Arabia at Lusail Iconic Stadium on Tuesday.
Souvik Biswas and Diptangshu Mondal had got tickets of only one match of Argentina. And like many others, they had expected an easy win against Saudi Arabia.
Now, they are only hoping that the shock defeat would bring out the best in Messi and the rest of the Argentine squad in the remaining two group matches. However, Souvik and Diptangshu, who travelled separately, will have to be content watching those matches on television.
"I have come all the way to Qatar only to watch Messi score and Argentina win against Saudi Arabia. Messi did score but from penalty. And the only field goal was discarded because he was offside. On top of that was the defeat," Souvik told The Telegraph over the phone after coming out of Lusail stadium. 
Souvik had watched Messi play in the 2016 Copa América Centenario, held in the US. He was then living in Phoenix, Arizona.
"That match, too, Argentina had lost. But that was Copa America and I had travelled from one city to another. This time it was the World Cup, probably Messi's last as player, and I travelled from Calcutta to Qatar," said Souvik, who will watch the Germany-Japan match on Wednesday before returning.
Like thousands of other Argentina fans, Souvik and his friends quietly left the stadium, watching Saudi supporters celebrate.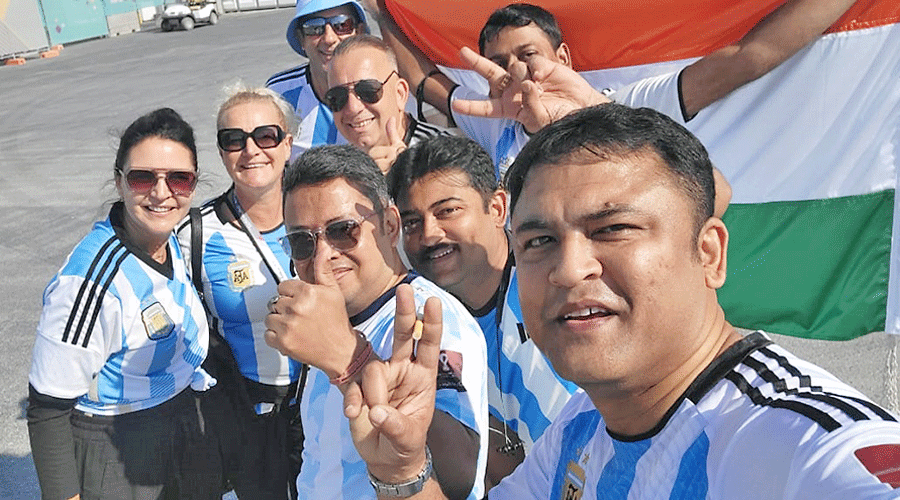 Souvik Biswas (right) with friends outside Lusail Iconic Stadium on Tuesday.
Souvik Biswas
"A group of Saudi supporters, wearing the green jersey and carrying their national flag, was shouting in Arabic. I asked one of them what they were saying. The man said they were saying, 'Messi, you could not beat us'," said Souvik, a software professional.
Inside the stadium, he was with three other friends from Kolkata at level 4, donning Argentina's jersey but carrying India's flag.
"The atmosphere was electric. There were Argentina and Saudi Arabia fans sitting together. Some of the Saudi fans saw us carrying India's flag and came up to us," recounted Souvik.
"Like you, we love Messi, too. But, we love our country more. So we want to win," a Saudi supporter told the group from India.
After the match, Souvik spoke to some of the Argentine nationals. "Like us, they hoped that the defeat would bring out the best in their team," he said.
Diptangshu, who runs a book publishing company on College Street in north Kolkata, was sitting in the part of the gallery in front of which Messi was taking the penalty kick.
"It was dream come true to watch Messi score from the stands. But in the end, I was devastated," Diptangshu said after the match. He saw a group of Saudi fans singing and playing music on a stage outside the stadium.
"Some Argentine nationals were discussing Saudi Arabia's Fifa ranking and that of Argentina," he said.
Diptangshu's attention is now focussed on his other favourite, Neymar. He will watch Brazil play against Serbia on Friday. He will also watch Wednesday's Germany-Japan faceoff from the stands.
"If Neymar scores and Brazil wins, that would be some consolation," he said.