Photogallery Of The Week
In pics: Solar Eclipse, festivities and more from Kolkata's weekly news
A quick look at the week that was for Kolkata
By
My Kolkata Web Desk
| Published 30.10.22, 07:59 PM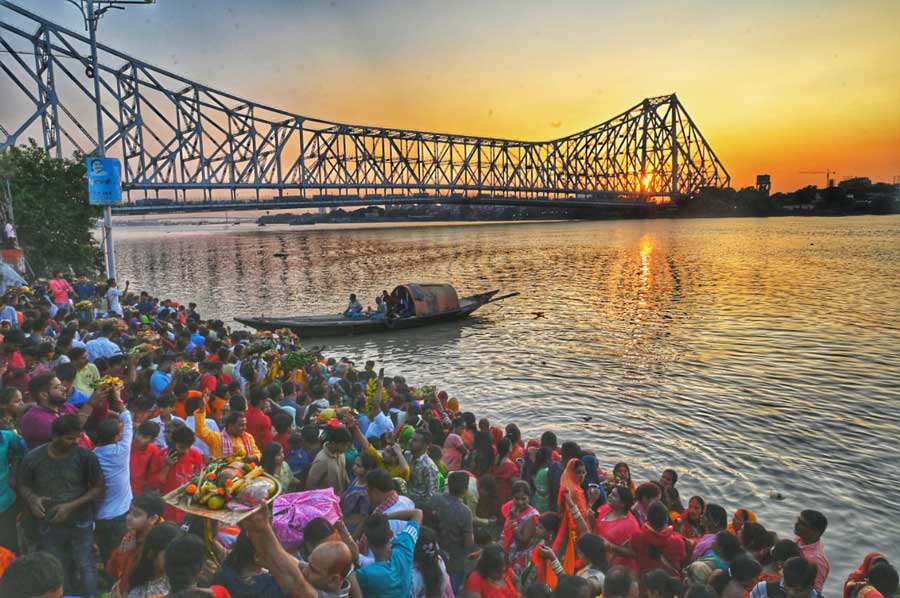 Devotees gathered in numbers at Jagannath Ghat on Sunday to perform Chhath Puja.
Amit Datta/My Kolkata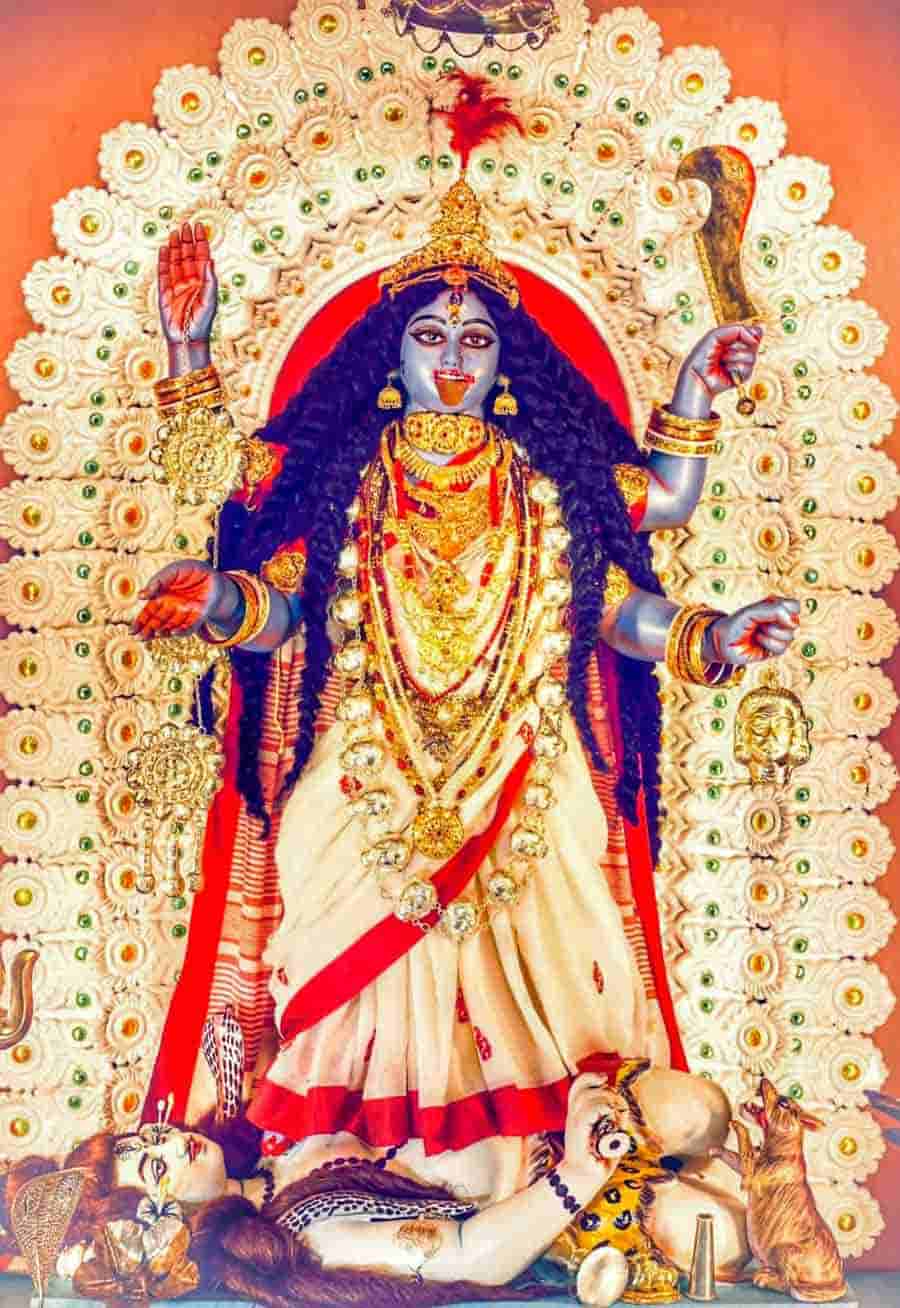 An idol of goddess Kali at chief minister Mamata Banerjee's home on Harish Chatterjee Street. Kali Puja has been conducted at her home for the last four decades. Banerjee, who fasts during the day and prepares the 'bhog' (offering to the goddess), plays host to scores of guests, including VVIPs, cabinet colleagues, politicians and common people
My Kolkata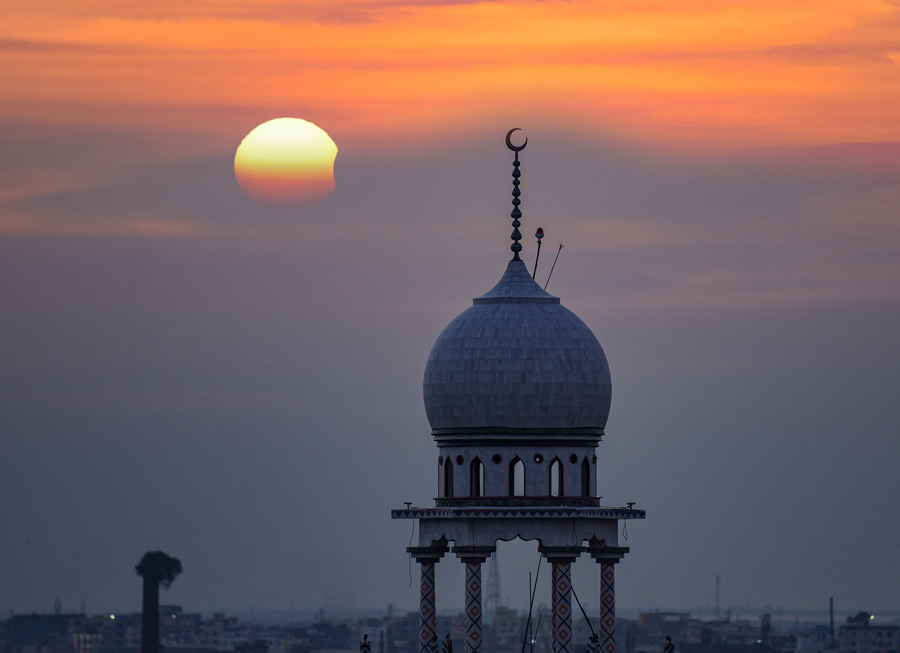 The partial solar eclipse on October 25, Tuesday, marked the last solar eclipse of the year. People in Kolkata and other parts of West Bengal had a chance to witness the eclipse for 12 minutes. The next solar eclipse will be visible from India on August 2, 2027. It will be a total solar eclipse
Amit Datta/My Kolkata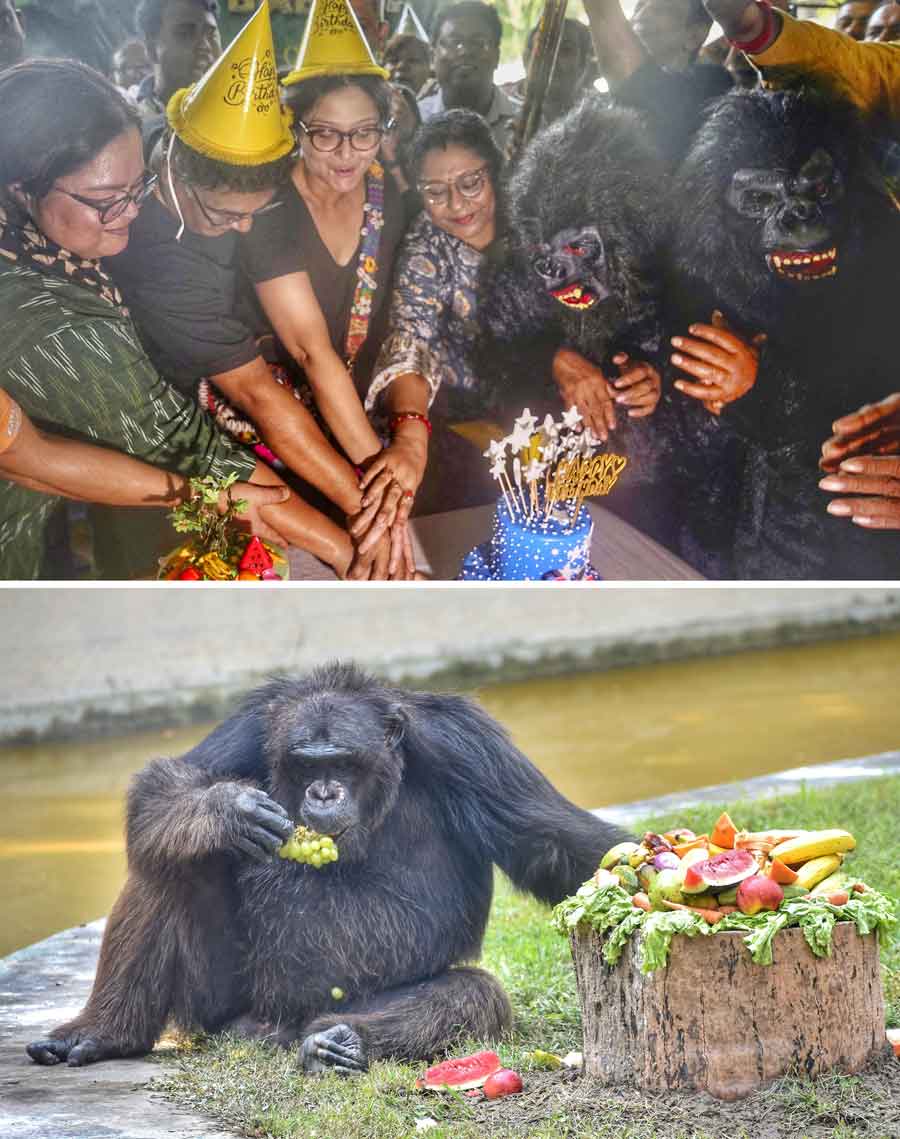 Alipore zoo celebrated the 34th birthday of Babu the chimpanzee on Wednesday, October 26. Babu was served his favourite fruits inside his enclosure. Compere and actor Mir and actresses Sohini Sengupta and Swastika Mukherjee took part in a cake-cutting ceremony. A signature board was installed in front of the enclosure for visitors to write short messages wishing Babu 'happy birthday'
Ashim Paul/My Kolkata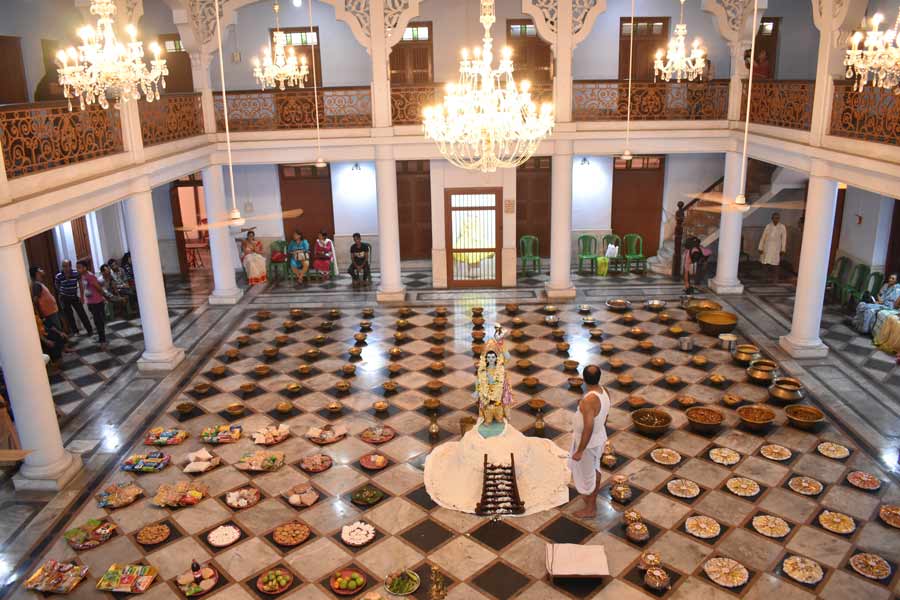 A glimpse of the 82-year-old Govardhan Puja at Nababrindabon on Wednesday. Govardhan Puja is usually celebrated the day after Diwali. This year, because of the solar eclipse on October 25, the puja was observed on October 26. Lavish 'chhappan bhog prasad' was served. According to Hindu mythology, Lord Krishna, with his little finger, had lifted Govardhan 'parvat' (hill) to provide shelter to the residents of Vrindavan to protect them from heavy rainfall. On this occasion, devotees also perform Annakut Puja
My Kolkata
Usha Uthup poses with actor Dev at the launch of her upcoming song 'Mon manche na amar' at Trincas, Park Street, on Wednesday, October 26
Soumyajit Dey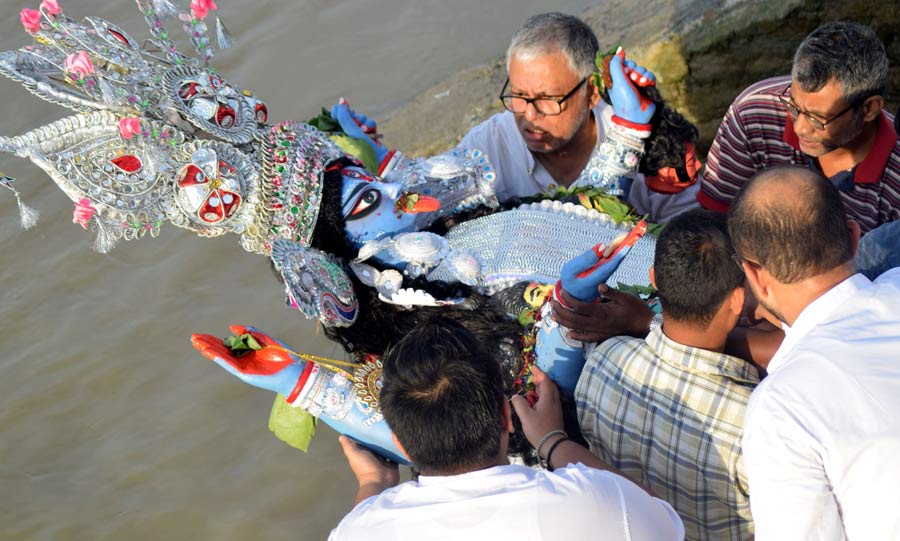 An idol of goddess Kali being immersed at Babughat on Wednesday
Ashim Paul/My Kolkata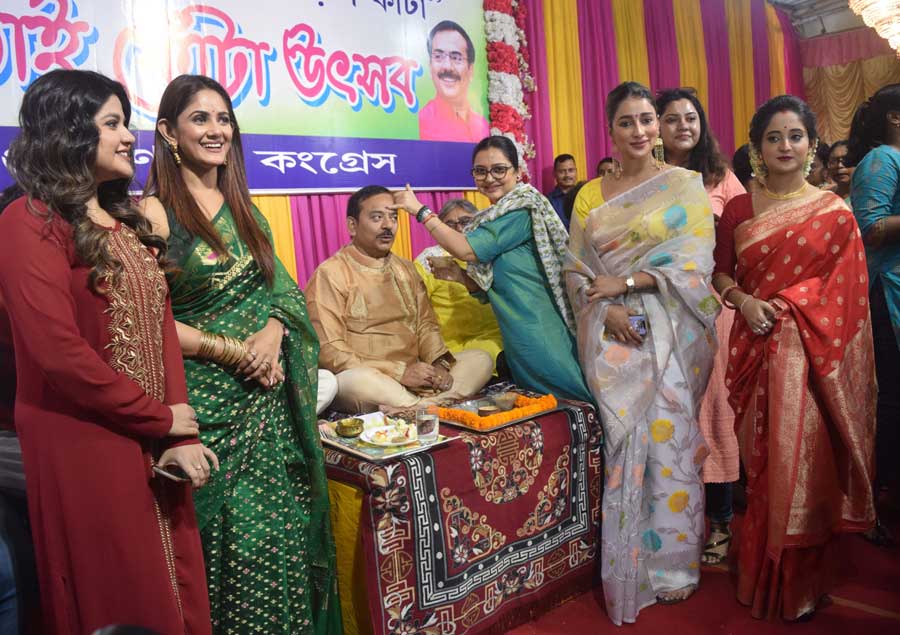 Actress June Malia gives 'bhai phota' to West Bengal minister for sports and youth affairs Aroop Biswas on Thursday, October 27, at Nabanir old-age home in Bansdroni. Also seen are actresses Trina Saha and Sayantika Banerjee.
Ashim Paul/My Kolkata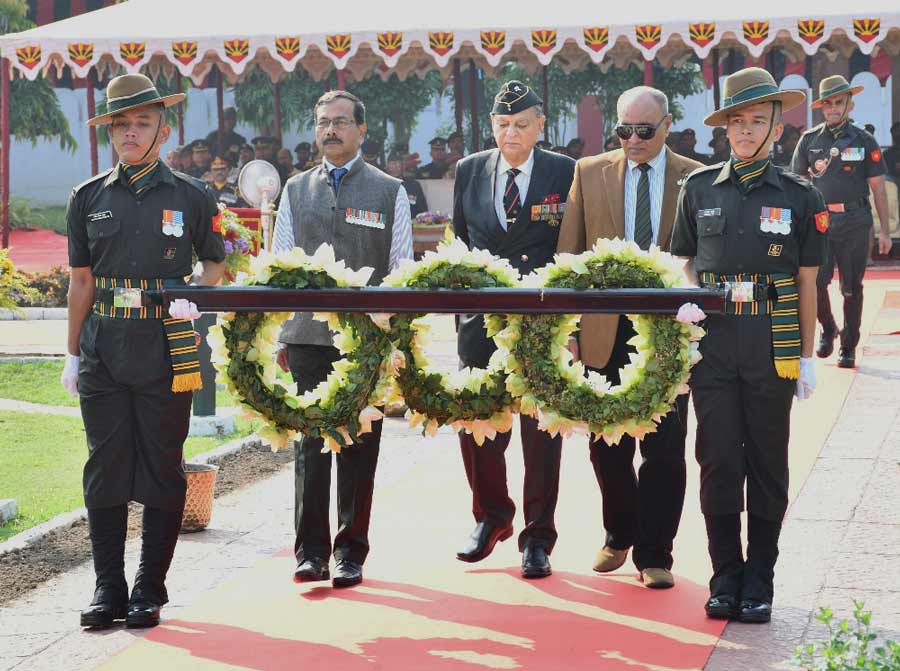 A 'wreath laying' ceremony was held at Vijay Smarak, Fort William, to honour the bravehearts of the Infantry. Infantry Day is celebrated annually on October 27 to mark the landing of first Indian infantry soldiers in Jammu and Kashmir who took part in an action for defending Indian territory from Pakistani invaders. This year marked the 75th anniversary of Infantry Day and to celebrate the day, the Indian Army has organised special bike rallies across all cardinal directions.
Suvendu Das/My Kolkata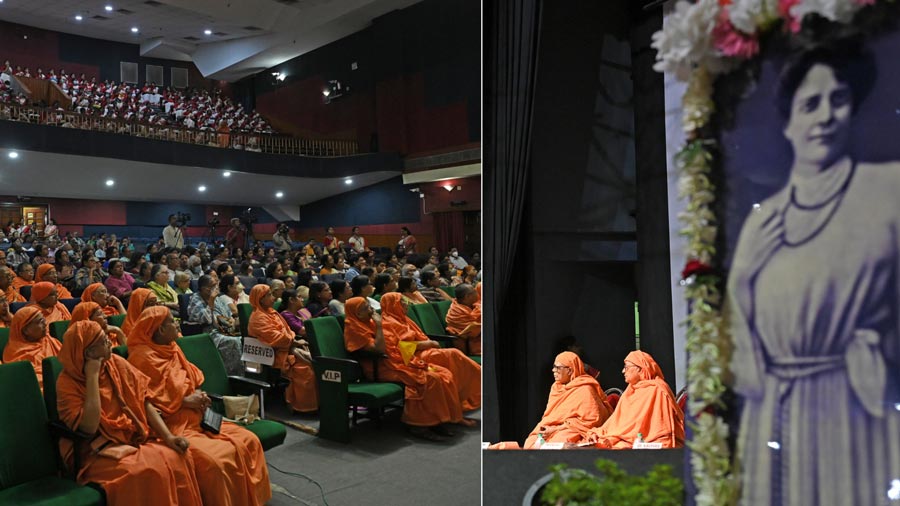 Sister Nivedita's 155th birth anniversary was celebrated at Phanibhushan Vidya Binode Yatra Mancha, Bagbazar, on Friday, October 28. Born Margaret Elizabeth Noble on October 28, 1867 (Sister Nibedita) was an Irish teacher, author, social activist and school founder. She met Swami Vivekananda in 1895 in London and travelled to Kolkata in 1898. Swami Vivekanada gave her the name Nivedita (meaning
Ashim Paul/My Kolkata