The police top brass has asked cops to install scanning apps on their smartphones and carry out random checks by scanning QR codes on fireworks packets to ascertain whether they are green fireworks or not.
According to court guidelines, only green firecrackers that produce up to 90 decibel sound at 5 metres from the point of explosion can be lit between 8pm and 10pm on Diwali.
The Telegraph prepares a list of how to tell green firecrackers from fake ones.
How to identify green firecrackers?
The identification can be done by scanning the QR code printed on the packet. How to scan a QR code? A QR code can be scanned with a scanner app installed on a smartphone.
What to expect after scanning the code?
On scanning a QR code, a certificate should be generated mentioning the name and nature of the firework; details such as name and address of the manufacturer, chemical composition of the firework and the percentage of each chemical in the firework; and percentage of reduction in emission, a police officer said. The certificate should be on the letterhead of CSIR-NEERI with the official seal of the authorised signatory of CSIR-NEERI.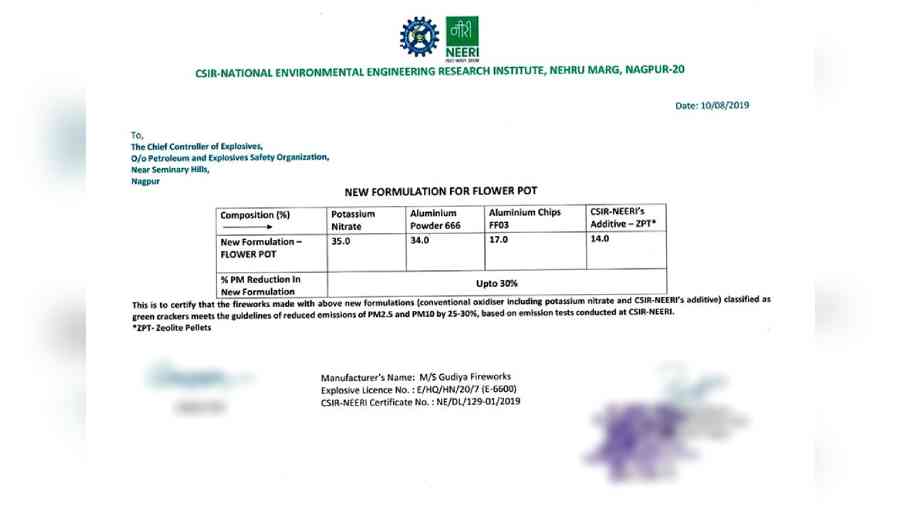 This is what a genuine green firework certificate looks like. Signatures have been blurred on request
What if the certificate is not generated?
"If the CSIR-NEERI certificate is not generated, chances are the box does not contain green firecrackers.... It is for the people to check before buying firecrackers whether they are green or not because selling and buying illegal crackers are a crime," said a senior officer at Lalbazar.
What if I burst firecrackers that are not "green"?
Section 9(b)(1)(b) of the Explosives Act state the manufacture, possession and sale of banned firecrackers can land the offender in jail for up to three years. The offender can also be fined up to Rs 5,000. "If we find anyone bursting banned crackers, the items will be seized and the person can be detained for the night or arrested, depending upon the quantity of banned fireworks found in his or her possession," said an officer.
Where to get green firecrackers from?
The police are encouraging Diwali revelers to buy firecrackers only from Bazi Bazars, government-authorised retail markets of fireworks. Only approved fireworks are supposed to be sold from these markets.
However, several police officers The Telegraph spoke to said that it was practically difficult to check the veracity of an entire lot of firecrackers by scanning QR codes on all boxes of the same brand.