Fake green fireworks have flooded retail markets in Kolkata, this newspaper found during a survey across the city. Calcutta High Court has directed that "no firecrackers other than the green crackers bearing QR code would be sold in the Bazi Bazar". Bazi Bazars are authorised retail markets of fireworks.
Across the city, The Telegraph found firecrackers without any QR code or with fake codes. This newspaper got hold of four types of fake green fireworks — two manufactured locally and the other two procured from Sivakasi in Tamil Nadu, as mentioned on the boxes. The boxes of the locally manufactured fireworks did not have any QR code. The ones that seemed to be from Sivakasi bore invalid QR codes, as revealed during a scan by an app made by NEERI.
"We have been told that these are original green fireworks," said a trader doing business from his residence in south Kolkata, which was found to be chock-a-block with fireworks from Sivakasi.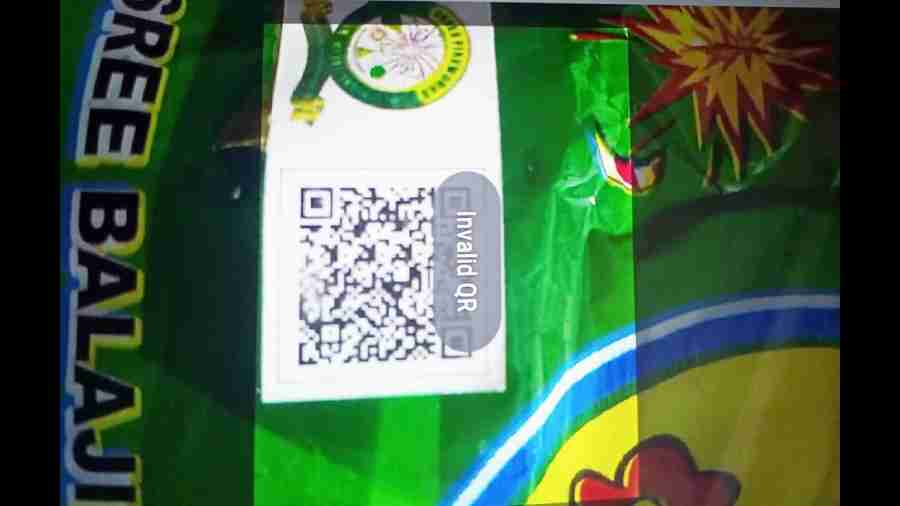 "We have bought these from local wholesalers," said the trader. The young trader, scheduled to go to Bazi Bazaar in Kalikapur, admitted that such fireworks have long been flooding retail markets.
"We have been receiving information from Kolkata, Howrah, Hooghly and elsewhere in the state that illegal fireworks with fake QR codes have spread all over and are also being sold online, in defiance of a Supreme Court order. The state pollution control board and police should have been more careful," said Naba Dutta of Sabuj Mancha, a platform for environment activists.
On Wednesday, Sabuj Mancha showcased fake green fireworks sourced from various parts of the state. "We have obtained 15 fireworks samples from Kolkata, Howrah, Hooghly and North 24-Parganas, many of which do not have mandatory the QR code. Others, mainly from Sivakasi, as mentioned on the packets, are being sold with invalid QR codes," said Dutta.
"Whatever fireworks we have seen are mostly fake with false QR codes," said a WBPCB official who refused to be identified. Senior scientists from NEERI, which researches on environment, said the agency did not provide any QR code and that it was the responsibility of the manufacturers to create QR codes with appropriate documents. "Clearly there is a faux pas, as the initial thought was that NEERI creates these QR codes," a police officer said.
West Bengal Pollution Control Board (WBPCB) chairman Kalyan Rudra said on Wednesday: "Till October 18, more than 3,650kg of illegal fireworks were seized by six police commisionerates in the state, nearly 80 per cent of them from Howrah and Kolkata."