By noon, a roadside eatery in the BBD Bag area in central Kolkata serves lunch to 30 people. By noon on Wednesday, the stall had barely fed five. This was not an isolated case. The scorching heat has affected small roadside businesses across the city.
Very few people can be spotted on roads and small eateries seem to be bearing the brunt of the sun.
The book market on College Street, hawkers at Gariahat to the Ramazan market on Zakaria Street, business has taken a beating everywhere in the city.
Arun Sasmal, who runs a popular eatery in Government Place East, one of the busiest points in the city during office or business hours, serves lunch to a large number of office-goers as well as flying customers daily.
"I start serving lunch at 11.30am. Within the first hour, at least 30 people are done with eating. But today, I have barely had five customers," Sasmal told The Telegraph around 12.30pm.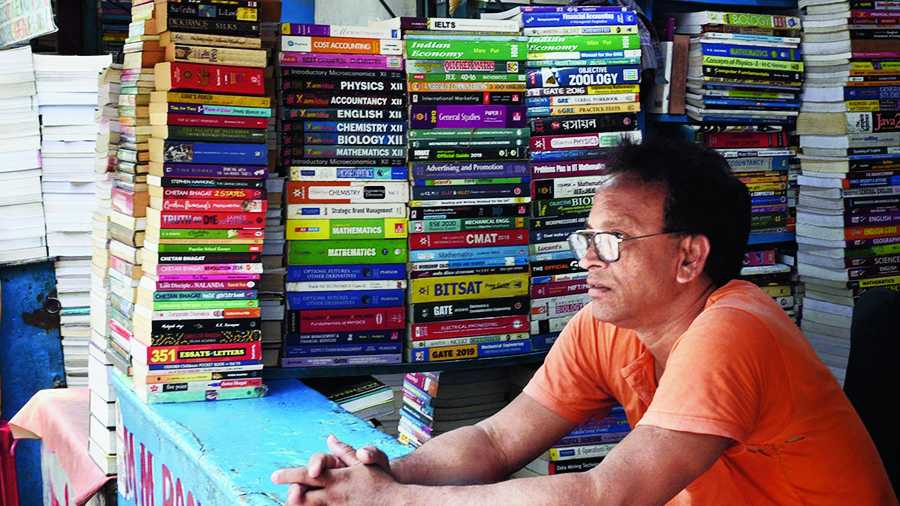 A book stall owner on College Street waits for buyers.
Pradip Sanyal
Rajesh Chaurasia, owner of Iceberg, a popular fast food centre at Golpark, spoke in the same vein. "I have hardly sold any food for lunch. The demand is only for chilled water bottles, soft drinks and lassi. I have run out of lassi," he said.
His outlet is popular among the working population that come to the Gariahat-Golpark area, such as employees at retail stores and bank staff.  When The Telegraph visited his stall around 4pm on Tuesday, a couple of women were waiting for rolls.
"Rolls and noodles are in demand only after sundown," said Chaurasia. Usually, on weekdays, people have to wait for placing orders during the lunch hour.
Jitendra Pandit, who sells phuchkas and alu dum behind Vivekananda Park on Southern Avenue, has been witnessing a change in the footfall pattern over the past few days — people are coming only after 8pm.
"Earlier, the rush started at 6pm. But since Sunday, people are not coming before 8pm," said Pandit.The slump was not confined to small eateries.
College Street wore a deserted look on Wednesday afternoon. Men idling at bookstores read newspapers and played cards. Some of them dozed off.
Sariful Islam Mondal, an employee at a store near Presidency University, was yet to make bouni (day's first sale) around 1pm on Wednesday. He sells engineering and medical books and science text books of classes VI to XII.
"April used to be a busy month, at least before Covid. I sold at least a dozen books every day. For the past three days, the figure has been dismal," he said.
Mohammad Ashfaq, who sells kebabs on Zakaria Street during Ramazan, said the footfall had been "comparatively lower" for the past three-four days. The hawkers' market at Gariahat was also far less crowded. The bargaining bouts and jostling for space on the pavements, typical of Gariahat hawkers' den, has been missing.
"People are suffocating. Ours is a clogged area which people are avoiding for the past few days," said Bappa Das, who sells trinkets and imitation jewellery.
Malls and plexes seemed to beat the slump.
"We had close to 90,000 visitors on Sunday. Monday and Tuesday were not as crowded but the start of the week is generally slow. The footfall was nothing unusual," said an official of South City Mall.
"Sunday saw a very robust footfall. Monday and Tuesday were like the usual," said Amitava Guha Thakurta, regional director, INOX Leisure Ltd.