Several private schools have decided to move classes online till the summer break and some others will make a decision in the next few days.
Many of the private schools that don't want to go online said they would continue with in-person classes and not suspend lessons till the summer break.
The summer vacation in government and government-aided schools has been advanced because of the heat spell and will start on May 2, the education department announced on Wednesday. The vacation will continue till June 15.
The summer vacation in many private schools starts in the second week of May. The heads of several schools said they did not want to give up on teaching time when there was the alternative of online classes.
The La Martiniere schools, Loreto Convent Entally, Birla High School and Sushila Birla Girls' School have decided to conduct online classes from next week.
"Children are suffering in the heat. The schools have decided to hold online classes from next week," said Supriyo Dhar, secretary of the La Martiniere schools.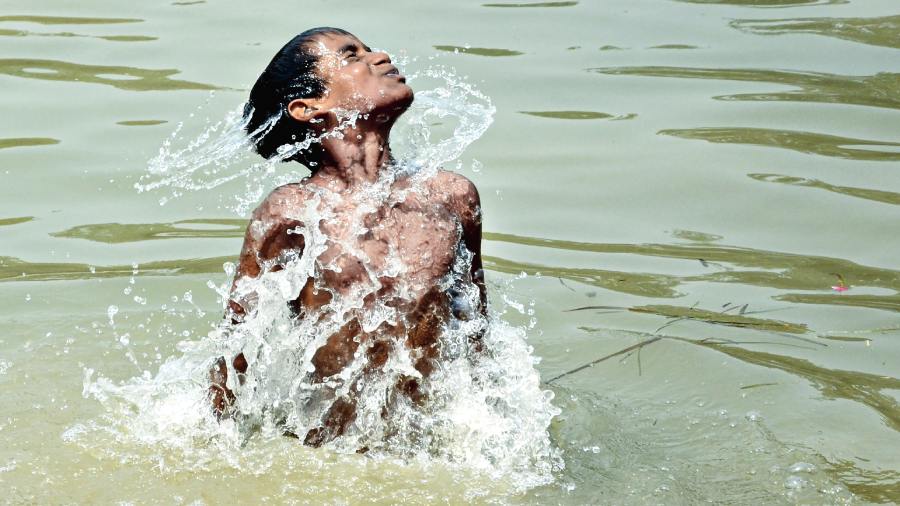 A boy takes a dip in a canal on the outskirts of Amritsar to get some relief from the heat wave. After the hottest March in a century, many states are recording temperatures that are several degrees above normal.
PTI picture
Loreto Convent Entally, however, will have in-person classes for IX, XI and XII and an hour in the morning for the Nursery section, a school official said. "We need the blackboard for subjects like math and geography... We are using this time to address learning gaps," said principal Jessica Gomes Surana.
At Birla High School, which is a venue for CBSE board exams, classes VI to IX had already moved online. From next week, the junior sections will move online, too.
"We have 1,000 candidates coming to our school, so we had online classes for seniors. From next week, Nursery to Class V will also be online," said principal Loveleen Saigal.
Many children were falling sick in school because of the heat.
But some schools have decided to continue with in-person classes with shorter durations.
St James' School, The Heritage School and South City International School do not want to move online and will disperse early.
"We have already changed the timings and students are getting off early as a precaution against the heat. We do not want to keep switching from offline to online," said Terence Ireland, principal of St James' School.
The Heritage School that had online classes on Thursday and Friday will resume in-person classes again from Monday.
"There is a lot of uncertainty. Hopefully, the temperature will go down in a few days. Parents and children want to attend in-person classes," said principal Seema Sapru.
Modern High School for Girls, St Xavier's Collegiate School and South Point want to wait for a few more days before taking a decision, the authorities said.
Modern High is holding online classes for VI to XII on Friday and Nursery to Class V have been given off.
"We will inform parents on Sunday whether we will have online or in-person classes," said principal Damayanti Mukherjee.
Since the new session started in April, St Xavier's Collegiate School has been following shorter hours, the authorities said.
"School is getting over at 10.30am till Class VIII and at 11am for the senior classes. If needed, we will change the timings for the seniors. We are studying the situation and the chief minister's recommendation also has to be considered," said principal Father M Thamacin Arulappan.