Residents are finally ready to put memories of the pandemic behind them and embrace festivities. Durga puja showed the way and now Diwali seems all set to light up the twin townships.
Traders across sectors are satisfied with sales thus far and are optimistic about the final weekend before the big night. Most say sales figures are adding up to pre-pandemic times or in some cases even exceeding them.
Sparkling again
The jewellery market is abuzz this season. "Business is certainly looking up from what it was last year. This time people are not afraid to spend. Even if there is a price rise issue, customers are willing to spend. They just want to let their hair down and indulge," says Kavita Jalan of Jalan's Glint and Glitters in City Centre.
Dhanteras, on the eve of Diwali, plays an important role in boosting sales. "People mostly buy silver during Dhanteras as it is considered auspicious to do so. We expect them to buy a lot of silver utensils, diyas, coins and Laxmi-Ganesh statues. But it does not always have to be silver. They also buy gold, platinum or even copper," added Jalan.
The gold and diamond market is also doing brisk business before Diwali. A spokeswoman at Caratlane in City Centre said: "Everything was down for the last two years but this time people are shopping for Diwali as well as the wedding season that begins in November. At our store, we mostly have gold and diamond jewellery which is lightweight and preferred for everyday wear. Mangalsutras, two tier chains with sleek pendants are selling like hot cakes. Even earrings and finger rings are doing really well."
Customers are also not shying away from heavy jewellery. "Everything from gold chains and bangles to heavy duty sitahars are doing well in the run-up to Diwali," said a spokesman at PC Chandra Jewellers at Ultadanga crossing.
Under lightweight jewellery, rings and bracelets are hot buys. "Since most stores offer Dhanteras discount on making charges, many customers wait for this time of the year to make gold purchases. The queues at the cash counter are almost hour-long at our store since last weekend," he said.
Furnishing stores
Since Diwali is associated with cleaning and decorating the home, new furnishings are selling too.
"This year our sales have doubled; which is a good thing as after the last two years people of our industry were on the verge of committing suicide," sighs Shailesh Agrawal of Fabworld in City Centre.
Sales of their bed and bath linens such as bed sheets, covers, blankets and towels along with curtain cloth and upholstery fabric have hit the roof. "Prices are stable too. Cotton is the only fabric that sees frequent price hikes. All other fabric have risen only about 25 per cent in the last 20 years. Customers, too, began purchasing this year from around Durga puja and are peaking now. The pandemic hasn't ended but after getting vaccinated people aren't fearing it as much and are stepping out in big numbers for Diwali shopping," said Agrawal.
Skipper at Ultadanga is also witnessing record sales over the last couple of weeks. "Our customers are mostly buying new curtains and sofa covers. Others are getting new upholstery done. Sales have seen an upward rise and we have done better than pre-pandemic times in some cases," said a spokesman there.
Dry fruits
Prices of dry fruits, that had risen disproportionately last Diwali due to issues of supply chain from Afghanistan, which was then in turmoil, have been stable this year.
"We have dry fruit packets priced between Rs 250 and Rs 5,000 that one can customise with fruits, chocolate, juices etc," said Vijay Jain, one of the workers at Bhikharam Chandmal outside City Centre. "The fastest selling packets are in the Rs 250-500 price bracket."
At Bhagyalakshmi in Kankurgachhi¸ gift trays have always sold well this season. "Our trays of assorted dry fruits and sweets sell for minimum Rs 1,000 and this year people are clearly more open to celebrating Diwali with pomp and show," said Ashok Kaneriwal of the store. "Hope the market remains this robust even after the festive season."
CB Block's Parampara is recording more corporate orders this year. "Last year people did the bare minimum but this time corporate orders have doubled. The market for exotic dry fruits is niche but it has its share of loyal customers who have surfaced again," said a spokesperson.
Gupta Brothers, near the swimming pool, has been doing brisk business this week. "We have received orders from corporates, both in the city and outside. We have customised trays starting at Rs 450 comprising assorted sweets that will last two or three days. We also make trays with snacks and perishable items. In most cases, people come to us for sweets of different flavours," said one of the staff members.
Crackers
A share of the market for firecrackers seems to have shifted online. "Items like rockets, rangmashal and tubri cost almost 30 per cent less online than they do at a physical store. Plus we can order them any time of the year and don't have to brave the crowd in markets. For those of us who have no time to shop outside, these portals are a blessing," said Sushmita Hazra, a resident of Lake Town.
Specific sites like fireworks2home.com, rathnaafireworks.in as well as general shopping sites like flipkart.com, amazon.com, captainboom.com, dhamakastore.com and others are offering crackers. Not only are the crackers cheaper online but one can also return them if they happen to be damp.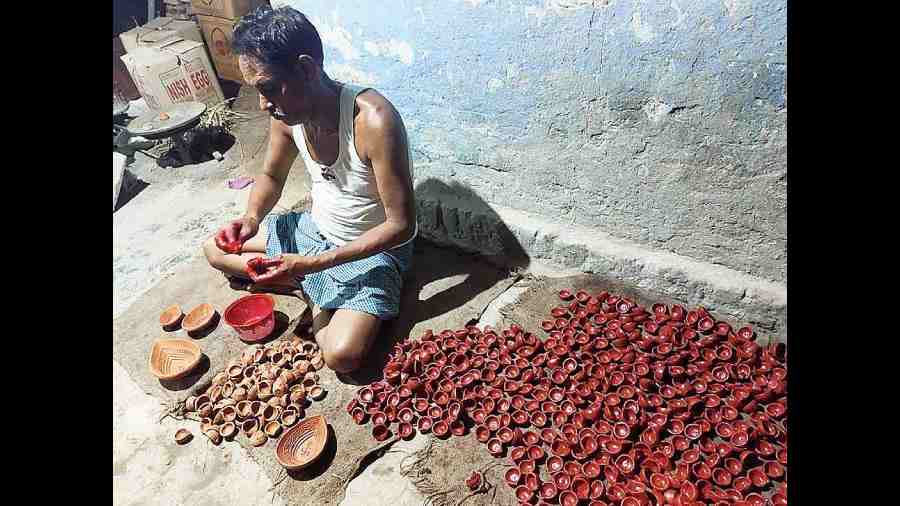 An artisan makes diyas in Ultadanga.
Sudeshna Banerjee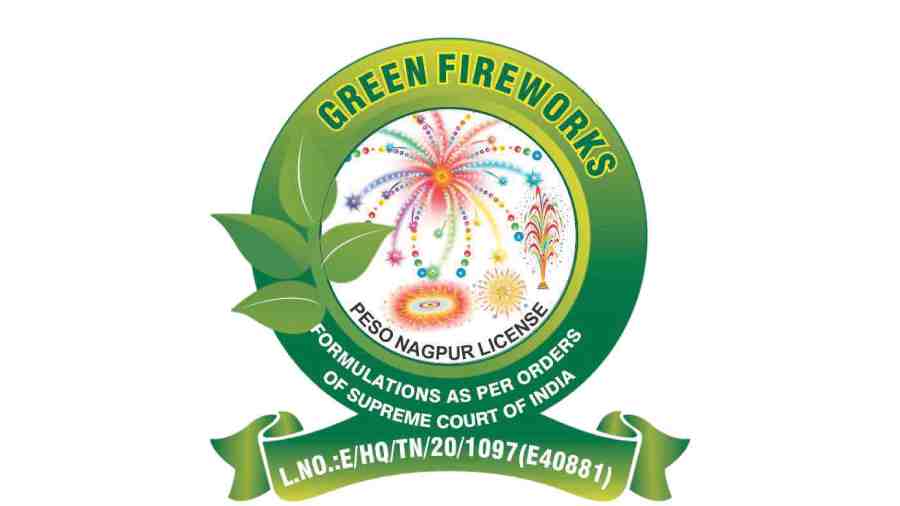 One of the logos that green crackers carry
However, not everybody likes buying them online. "I take my kids to buy crackers and they enjoy the experience. The shops are all full of lights and it is a wonderful feeling," said Arpita Arora of Bangur Avenue.
Ramesh Siwan, who sets up makeshift firecracker stalls every year during Diwali at Lake Town and Bangur Avenue, said customers are asking for crackers that cause less air and noise pollution. "This, even though others judge a cracker's quality by the amount of noise it makes," he shrugs. "Tubris, rangmashal, chocolate bombs are very much in demand."
Jiten Pawar, another shop owner at Bangur Avenue market, said that besides Diwali, firecrackers have traditionally sold the most before Dussehra. "But nowadays people want to burst crackers during IPL as well as the wedding season. That is why most of them are shopping online as we don't stock crackers round the year. But during Diwali crackers have a huge market both online and offline."
The catch however is whether the crackers available will be "green", as directed by the high court. The only legal crackers this year will be those bearing QR codes.
But the ground reality is different. "All our supplies come from Burrabazar where only a handful of green crackers is sold in bulk," said Siwan. "Even at our stalls here, not all crackers are green. But people don't care. They buy whatever is available. Few ask about green crackers."
"We are not sure what green crackers are. In some cases only the packaging is green. How does one know whether they fit the bill of being environment friendly? I have sold green crackers with genuine logos but also many other boxes that bear no green logo or QR code," he confessed.
Lights
Diyas and lamps, especially the ones with neon shades, are quite in this season. Though most people opt for blinking bulbs in a variety of shapes and sizes, the neon haze is quite a rage.
"Every year people want something new. This year some people want traditional tuni bulbs while others want fancy Chinese bulbs. But earthen lamps are also selling well," said Sidhu Jana, a vendor selling lamps on a makeshift stall in Bangur Avenue and Lake Town. "Most customers look for fancy lights shaped like stars or dolls. I have to keep all kinds ready. The younger customers are willing to try new things."
Dilip Projapoti has returned to his Muchipara hutment in Ultadanga after spending two Diwalis in his Bihar village. "This year, I have made 50,000 small earthen diyas and about 500 of the bigger die-cast diyas. While the bigger ones were made to order, I will set up stall on the pavement to sell the small ones, at 70p to Re 1 each," he said, claiming that there was more punya (virtue) in burning clay diyas than in lighting electric lights. "That is why businessmen light these large Rs 10 diyas and place them on their tijoris on Diwali night."
Additional reporting by Brinda Sarkar and Sudeshna Banerjee