A Honda City, allegedly driven by a 33-year-old man who had consumed alcohol, rammed into two roadside stalls in Jadavpur, killing a man on the spot and injuring six persons, on Saturday night.
Police said Rahul Banerjee, who lives in Bangalore and came to Kolkata on December 26 to visit his ailing grandmother at their Lake Gardens home in south Kolkata, was driving in an intoxicated state.
He was allegedly not carrying a driving licence.
"Rahul Banerjee was on his way to drop a friend and his wife to their Garia home on the southern fringes when the accident occurred. The car involved in the accident is registered in the name of a relative of Banerjee, who is a retired professor," an officer said.
"A breathalyser test and blood tests have revealed traces of alcohol in his (Banerjee's) blood much higher than the permissible limit," said deputy commissioner-II (traffic) V. Atul. 
The man who died was Thomas Somi Karmakar, 50, a father of two. He was a resident of Chittaranjan Colony in Jadavpur.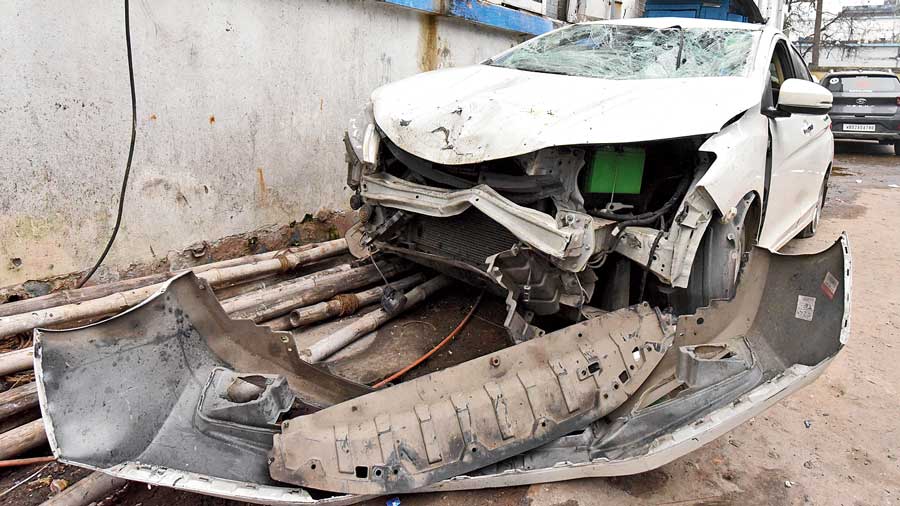 The mangled Honda City.
Gautam Bose
Banerjee has purportedly told cops that he earlier worked for a mobile phone manufacturing company in Bangalore and later initiated a start-up. He had plans to return to Bangalore next week.
He has been booked under IPC sections related to rash and negligent driving, drink driving and culpable homicide not amounting to murder (part -II), which deals with the offence of having knowledge of consequence of one's action.
Which means, according to the prosecution, Banerjee knew that driving in an intoxicated state could lead to fatal consequences.
If convicted for culpable homicide not amounting to murder (part -II), Banerjee can be sentenced to 10 years' in jail.
He has been remanded in police custody till January 29.
On Saturday, Banerjee's friend visited him at his Lake Gardens home. From there the two went to Esplanade around 5pm to pick up the friend's wife.
The three returned to Lake Gardens and a drinking session started around 8pm, Banerjee has apparently told the cops.
Around 10pm, Banerjee was driving the Honda City to drop the couple home when he rammed into a roadside tea stall and a food stall.
An eyewitness said he and several others were chatting in front of the tea stall when the car, which was moving from Jadavpur towards Garia, rammed into the stall, injuring several people, including the owner and his wife.
Banerjee was taken to Jadavpur police station where he was arrested.
Seven persons, including Karmakar, were injured. Karmakar was declared dead at Baghajatin State General Hospital. Of the remaining six, 45-year-old Bankim Banik, who suffered critical injuries on his head, was taken to SSKM Hospital.
The other five - Anish Pal, 24, Sohini Banik, 13, Swapan Roy, 55, his wife Padma Roy, 45, and Krishna Gopal Ghosh, 55 - were taken to Baghajatin State General Hospital, and from there shifted to two hospitals.
An official said Sohini complained of problems in vision. Doctors advised a CT scan of her brain but the report did not show any abnormality.
"It seems she was battling the effects of general trauma. We conducted a CT scan to rule out any injury," said Susanta Guha, general manager of Iris Multispeciality Hospital in Ganguly Bagan, where she was treated.
Anish Pal, 24, from Purba Bardhaman district, was admitted to AMRI Hospitals, Dhakuria. "He fractured his left leg and will undergo surgery on Wednesday. He is stable and is in the general ward," said an official of AMRI.
Local councillor Mitali Banerjee said the girl was returning from tuition with her uncle, Bankim Banik, when she met with the accident.
Swapan Roy suffered a hairline fracture in a toe. He also complained of shoulder pain. "We administered him first aid and advised orthopaedic consultation," Guha said.
Padma Roy did not require any tests. "None needed admission. All required emergency care only," Guha said.