A 60-year-old pedestrian died after a car driven by a woman in her late-20s hit her after crashing into a scooty-borne delivery executive of an e-commerce platform in Salt Lake on Sunday afternoon.
Police said Geeta Shaw, the victim, was declared dead at the NRS Medical College and Hospital in Sealdah, central Kolkata. Officers were yet to find out details of Shaw.
Varsha Dugar, 29, who was at the wheel, has been arrested.
"Dugar, a resident of AH Block in Salt Lake, has been charged under various IPC sections, including 279 (rash driving) and 304A (causing death due to negligence)," said an officer of the Bidhannagar police commissionerate.
The blue Ford Ecosport that Dugar was driving is registered in the name of her father, Shanti Lal Dugar, officers said.
The car was moving towards Baisakhi from the tank number 7 crossing on Kestopur Canalside Road when Dugar allegedly lost control.
She first rammed into the Scooty of Duttabad resident Arijit Mondal, a delivery executive, who had pulled over on the left and was checking the map on his smartphone for directions, said Prakash Bhattacharya, a resident of SA Block, who saw the accident while walking down a pavement on the stretch.
The car then veered right and hit Shaw, who was flung up into the air.
"The woman was walking towards the No. 7 footbridge (which connects Kestopur's Samarpally with Salt Lake) when the car hit her," Bhattacharya said.
Another eyewitness said the impact of the crash was such that an eyeball of Shaw got dislodged and landed on the road.
The vehicle then crashed into a lamp post before coming to a stop.
Dugar stepped out unscathed, eyewitnesses said.
Bhattacharya said the eyewitnesses immediately called up the police, who took Shaw to hospital.
Mondal suffered multiple injuries on his leg and was taken to Manipal Hospital in Salt Lake.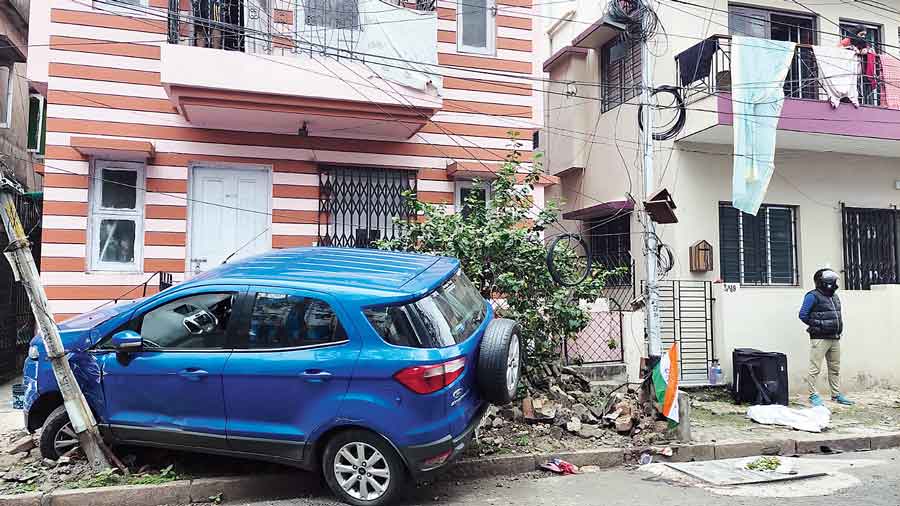 The blue Ford Ecosport after the accident on Sunday.
Debasmita Bhattacharjee
The cops then towed the vehicle away to Bidhannagar East police station, where Dugar, who works for a private firm, was arrested.
An investigating officer said Dugar told them during questioning that she got startled suddenly spotting the Scooty and lost control of her vehicle.
"I lost my nerves when I spotted the Scooty and before I realised anything, I crashed into the two-wheeler and hit the elderly woman," the officer quoted Dugar as saying.
Another officer from the commissionerate's traffic wing said the Kestopur Canalside Road has scant traffic throughout the day.
"Because of thin traffic, motorists tend to drive down the road at high speed. This vehicle, too, was being driven at quite a high speed as the impact left the lamp post, which has a cemented base, completely bent. The front of the car was also damaged badly," said the officer.