Rahul Banerjee, 33, who was at the wheel of the Honda City that killed a pedestrian and injured six others in Jadavpur in south Kolkata, has apparently left his driving licence in Bangalore, where he works, police said. 
He allegedly failed to show even a soft copy of the licence to the police, a basic requisite for driving.
Police sources said one of Banerjee's relatives is expected to come from Bangalore to Kolkata carrying his driving licence and also submit the documents of the car. The car is registered in the name of a relative of Banerjee.
According to rules, anyone at the wheel should have a valid driving licence in his or her possession.
Even if the person is not carrying the licence while driving, he or she should be able to produce either a photocopy or a soft copy of the document, preferably through Digilocker, if a police officer asks for it. Digilocker is an online service by the central government for every Aadhaar card-holder to store documents like the driving licence, vehicle registration papers and academic documents.
Deputy commissioner (traffic), south, Atul V., who is monitoring the probe said Banerjee had failed to produce a driving licence or any copy of it till Monday afternoon.
Another officer involved in the probe said even if Banerjee managed to show a driving licence, that would not dilute the charges against him. "Even if he produces a driving licence, it would not change the nature of the offence he has committed…. If he fails to show his driving licence, it may result in aggravated charges against and shift the liability of compensation (for the deceased and the injured) to the owner of the car."
The Telegraph could not contact any member of the Banerjee family to seek their version on Banerjee's driving licence.
Banerjee has been charged with culpable homicide not amounting to murder (Part II), and rash and negligent driving. If convicted, he can be jailed for up to 10 years.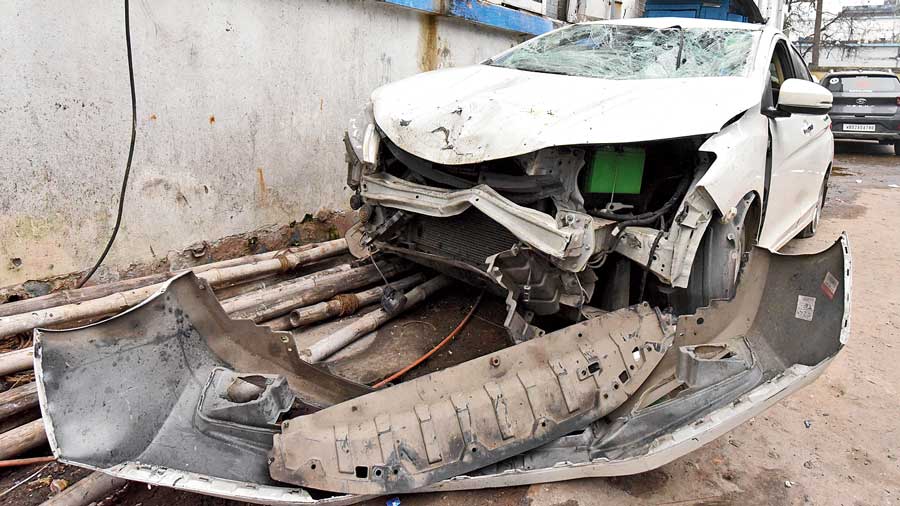 The mangled Honda City.
File photograph
Salt Lake car crash driver gets bail
A Salt Lake court on Monday granted bail to Varsha Dugar, 29, who was at the wheel of a car that knocked down a 60-year-old woman who died later.
Dugar has been charged with rash driving and causing death due to negligence.
Her lawyer told the court that Dugar had lost control of the vehicle and she had no intention of causing harm.
The public prosecutor did not oppose the bail plea.