Jadavpur girl Sarbori Biswas was having breakfast in her flat on Sunday "when something shaped like a drone" came flying close to the kitchen window and exploded with "a very loud noise".
She ran for her life with shoes in hand to the ground floor of their building in Ukraine's Kharkiv.
A student of Kharkiv National Medical University, Sarbori said they had no option but to stay in their flat on the third floor of the building in Vulytsya Krymska, a locality in Kharkiv, because it was too risky to venture out to a safer place.
Street fights are going on between Ukrainian and Russian soldiers in the area where Sarbori stays, across the Ukrainian Military Centre, she said.
She spoke of frequent explosions near her apartment and the wail of sirens.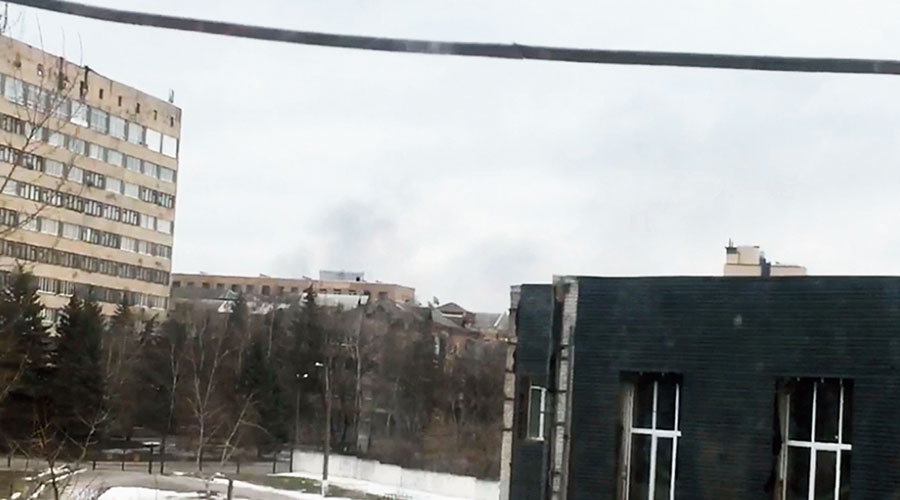 Smoke billows out at a distance, as seen from the window of the flat
Sarbori, who graduated in life science from Presidency University in 2020, left home to pursue the six-year MBBS programme at Kharkiv National Medical University.
"There was a whistling sound preceding back-to-back explosions on Sunday," Sarbori said.
Her friend Surbhi Singh, from Thrissur in Kerala, said that after they reached the ground floor, they lay on the floor with their heads down.
"The temperature is sub-zero here. But after the first explosions, we did not have the time to put the jacket on. We were shivering as we lay down," said Surbhi.
"Our building does have a basement. But one has to go around the street to reach the basement. Amid the sounds of relentless shelling, we could not take that risk."
Sarbori and Surbhi share their flat with Anjali Yadav and Sourav Kumar Yadav, who are from Punjab and pursuing the same course at the university.
Sarbori shared a video clip shot on her phone to show what life has been like for these medical students. Two armed men in uniform are seen taking position in a corner of the military training centre. They appear to take aim at distant targets.
Smoke billows from a distance and heavy explosions and sirens can be heard in the neighbourhood blanketed by snow. Sarbori said each time the siren went off, they could see a flurry of activity at the military centre.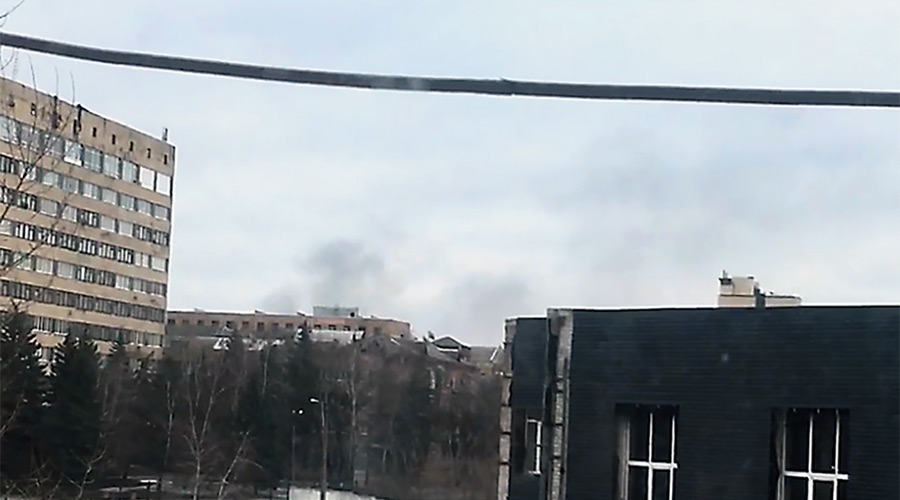 Smoke billows out at a distance, as seen from the window of the flat
"Trucks roll out in large numbers… probably taking Ukrainian fighters to the battle. Intense fights are going on in Derzhprom and Istrochyni Muzei, the two city centres. They (Ukrainians) are putting up a valiant fight to protect the (country's) second largest city," said Sarbori, a Carmel High School alumna.
Staying in the flat is risky, she knows. "But it would be far more dangerous to venture out to the nearby Metro station (where many people have gathered to escape the bombings)," she said.
When Russia invaded Ukraine on February 24, all of them headed to Naukova Metro station to take shelter. They spent the first two days at the station, a 15-minute walk from their flat.
On Saturday night they returned to their flat to collect food and had planned to leave for the station the next morning.
"As the Russians entered Kharkiv at the crack of dawn, we had to abandon the plan to walk to the station," said Surbhi.
Food supply has become erratic and prices are soaring.
"We are in touch with the Indian embassy to know about the evacuation plans. Reaching the Russian border will take about one-and-a-half hours. The Indian embassy is in talks with Russia to find out whether we could leave Ukraine through the Russian border," Sarbori said.