Several students from Kolkata are among the 1,500 Indian students stranded in Ukraine's Vinnytsia, a town about 200km south-west of the capital city, Kyiv, during the Russian invasion.
Priyanshi Pal, a resident of Mukundapur in Kolkata who is now a fourth-year medical student at the Vinnytsia National Medical University, is one of them. She described to My Kolkata how for two days since the war started, she and her friends have been listening out for sirens and scampering to bunkers to take shelter from shells.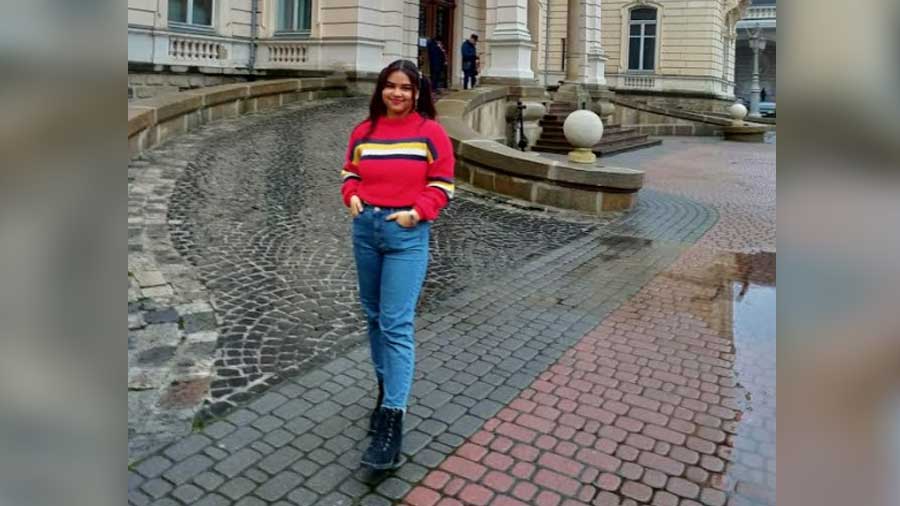 Priyanshi Pal
"The university has instructed us to head for the nearest bunker as soon as we hear the sirens. Since yesterday, the sirens have gone off three to four times. I am heading to the bunker even as I am talking to you now," Priyanshi told My Kolkata over the phone on Friday (February 25) afternoon. 
As soon as they hear the siren, the students pack essentials like their passport, university ID and water bottles, and head to the nearest bunker. The bunkers are cramped underground fortified structures, built during World War II. Apart from Ukrainians, people from Egyptian students were in the bunker that Priyanshi was in. At least 10 of Priyanshi's batchmates are from Kolkata.
"We are urging the Indian government to evacuate us as soon as possible. Kyiv is already under Russian control and the army does not differentiate between military people and civilians. There are reports of civilian casualty," Priyanshi said.
"The suddenness with which the conflict escalated" appears to have caught residents of the town off guard. In the days leading to the war, Priyanshi and her friends took it easy. This is the usual war of words between Russia and Ukraine, like what goes on between "your country India and Pakistan", a resident had told Priyanshi. 
Some Indian students, however, played it safe and returned when flights were still available. Since the university did not allow students to continue their studies online, Priyanshi stayed back, hoping things would settle down in a few days after the customary war of words.
But now she finds herself stuck.
"Martial law has been imposed. So, we cannot go out. We cannot go to Kyiv. Flights are cancelled and we are stranded." She and her friends had initially planned to go to Kyiv and take one of the evacuation flights. But Air India could operate only one such flight. 
The Indian embassy has advised those who have been left behind to stay put and await further instructions. Priyanshi told My Kolkata that evacuation by land is likely to start on Saturday (February 26).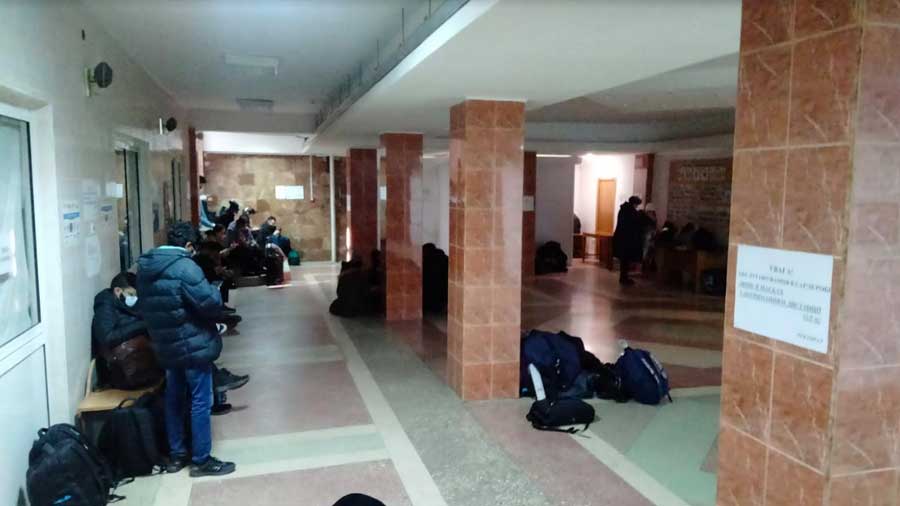 A bomb shelter at the Vinnytsia National Medical University
Priyanshi Pal
In a February 25 advisory, the Indian embassy said it was facilitating evacuation through two border-crossing points — Chop-Zahony on the Hungarian border and Porubne-Siret on the Romanian border. Indian nationals, especially students, are advised to depart "first in an organized manner, in coordination with teams from Ministry of External Affairs". The advisory said once these routes became operational, Indian nationals "travelling by their own arrangement for transport" should remain in touch with helpline numbers set up at respective checkpoints. Students were also advised to remain in touch with student contractors "for orderly movement".
However, it is the 600km journey from Vinnytsia to Chop or the 315km journey to Porubne that is proving to be the problem. Private transport operators are charging exorbitant rates for the journey, with no assurance of safe passage. "It is not safe to travel alone or in small groups. So we are trying to form groups of at least 50 people to travel by road," said Priyanshi. Unconfirmed reports of Indian students falling prey to shelling at the eastern province of Kharkhiv has added to the anxiety.
As of Friday (February 25) morning, the phone lines and Internet facilities are working in Vinnytsia, located in the central part of Ukraine. Priyanshi received money that her family could transfer, but the banking service was sporadic and was not available in the past 48 hours. It is not clear whether evacuees will be able to exchange their money for US dollars, as advised by Indian Embassy.
(Sourabh Sen is a freelance journalist writing on politics, human rights and security)