In a bid to cut down on the decibel count and get rid of the blaring loudspeakers which shatter the calm and peace, the organisers of New Town Sarbojanin Durga Puja are trekking the extra mile to go green and present an environment-friendly Puja in their smart city.
The Puja organisers have rented DJI Inspire Series Industrial drones. While one drone will be used exclusively for announcements, a couple of drones will be pressed into service for photography and videography of the Puja.
"All important updates and Puja-related information will be announced through this drone attached with speaker. Before the Puja, this drone will play five to six pre-recorded messages at important junctions and marketplaces," said Samaresh Das, secretary of the Puja.
During the five-day festivities, important updates like Puja timings, bhog distribution and details of cultural events will be announced through the drone. "These bigger drones usually have a range of five to eight km and will be operated from the Puja premises," said Nairit Datta Gupta, photographer and spokesperson of the Puja.
The organisers have earmarked Rs 7,000 to Rs 8,000 per day for these drones.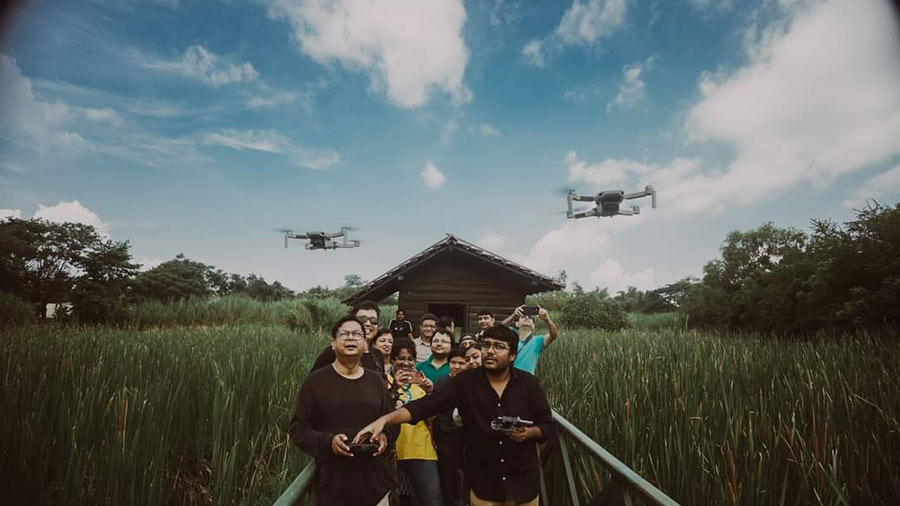 The organisers flying the drones
Nairit Datta Gupta
Drone rules
Nano unmanned aircraft system: weighing less than or equal to 250 grams (no permits required)
You are required to ensure that you do not fly any nano drone beyond 50 ft (15m) Above Ground Level (AGL).
Also, you will need permits, even for nano drones, if you fly in controlled airspaces like airports or other sensitive facilities.
Also, places are categorised as green, yellow and red zones. Since New Town falls under the green zone, no permission is required.
Getting rid of blaring loudspeakers
Mentioning the reason behind such an initiative, Nairit said, "Rajarhat New Town is a huge area and if we want to 'reach' everyone, we would have to install hundreds of loudspeakers. This would create immense sound pollution. Besides, these battery-operated drones would be environment friendly," he added.
According to environmentalist Biswajit Roychowdhury, ''The idea is unique and is expected to reduce sound pollution. Since this drone will not remain static, the impact will not be harmful. However, the organisers will have to adhere to the permissible limit. In case of static loudspeakers, announcements go on all day, but that is not likely to happen in this case," he added.