For the last two years, Durga Puja was hugely impacted by the COVID pandemic globally.
With the nightmare almost over, puja organisers all over are planning a bigger and better puja.
Back to their usual venue
During the pandemic, Durga Puja organisers had to opt for an open-air venue due to the COVID protocol. "But this year, we have booked an enclosed auditorium with a kitchen, hall and other facilities. It is much better in every way," said Ipsita Lahiri, an organiser of Netherlands-based Puja, Holland-e-Hoichoi. The Ireland Durgotsav Committee and Frankfurt Adi Sarbojanin have similar plans. "We might have to wear masks if it is mandatory, however, there are no other restrictions. There's no need to produce the vaccine certificate. There are no strictures against mass gatherings too," said Tridib Chatterjee from Frankfurt Adi Sarbojanin.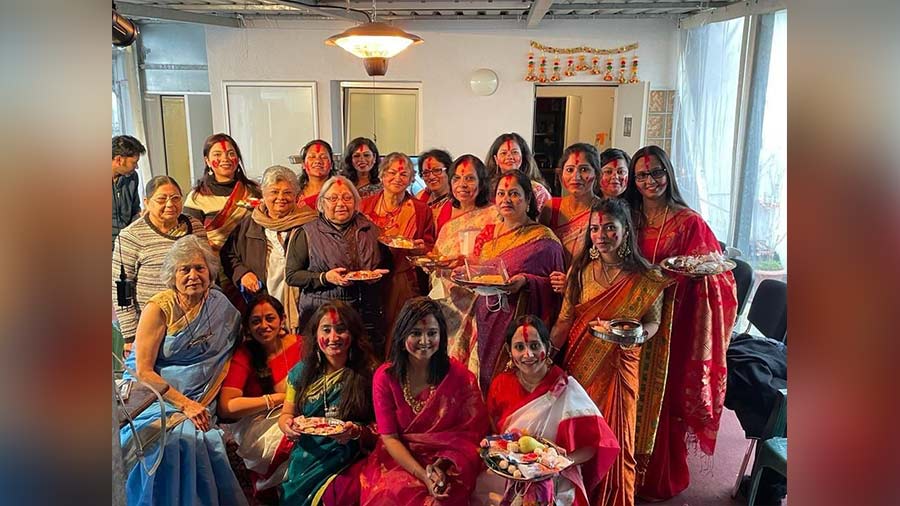 Frankfurt Adi Sarbojanin members pose for a group photograph after Sindoor Khela last year
Photograph: Tridib Chatterjee
Celebrating Bijaya Sammilani like before
Most puja organisers have booked musicians and singers from India. Holland-e-Hoichoi is hosting a concert by Anjan Dutta and the Agomoni Cultural Association of Durham, Canada, has invited a singer from Mumbai. "It feels great. We feel normal," said Prince Banerjee, an organiser of the Durham Puja committee.
Similarly, the organisers have also planned grand Bijaya Sammilani celebrations. Camden Durga Puja, one of the biggest in London, will have a post-Puja gathering with food, music and adda. "We have been doing the same for years, but due to the pandemic, we had to restrict the gathering. This year, we are celebrating Unesco's heritage tag for Durga Puja and Bijaya Sammilani as well," said Dr Ananda Gupta, an organiser.
Not necessarily a weekend Puja
Most of the pujas abroad will follow the almanac and conduct all the rituals like Kumari Puja etc. While most of the pujas globally are known for their limited weekend celebrations, Camden and Ireland's Durgotsav Committees have chartered out their plans. "We will have Kumari Puja, Kalabou Snan and other rituals following the guidelines. We are importing all puja items from India and the UK," said Pramit Roy from Ireland. Meanwhile, Netherlands and Canada's Pujas will be held on the weekend. While Canada will celebrate Durga Puja on September 24 and 25 while the Netherlands is having it a week later.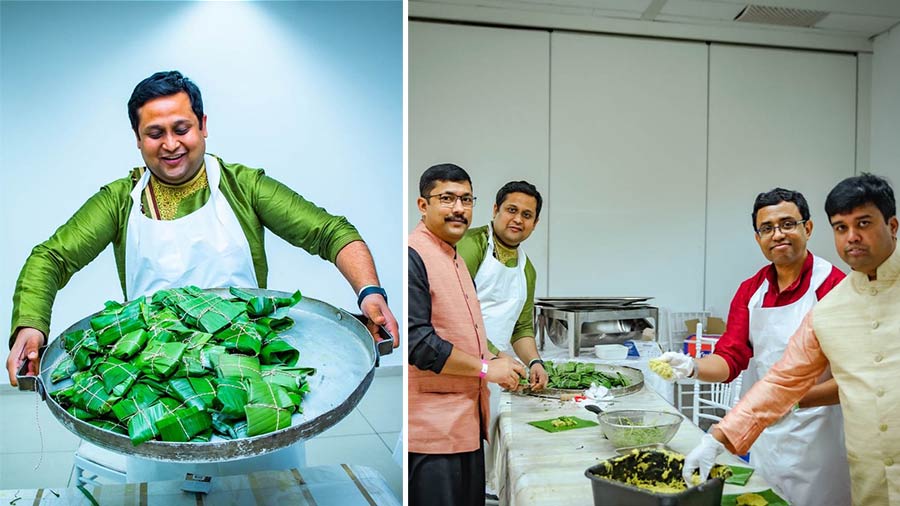 Members of Holland-e-Hoichoi preparing a feast last year
Photograph: Ipsita Lahiri
Puja food
Wherever you are, Durga Puja and authentic Bengali cuisine always go hand-in-hand. Holland-e-Hoichoi's menu includes macher matha diye dal, chicken dakbanglo, ilish, pomfret, and mutton curry. "We don't get enchor or mocha here in the Netherlands and hence are importing the same from the UK. We can't afford to miss the Puja feast," said Ipsita.
Camden Puja will have Kolkata biryani, fish fry and several Indian and Chinese dishes. "There will be a spread of Kolkata street food, including rolls, phuchka and churmur. We have planned it meticulously and will not disappoint anyone," said Dr Gupta from London.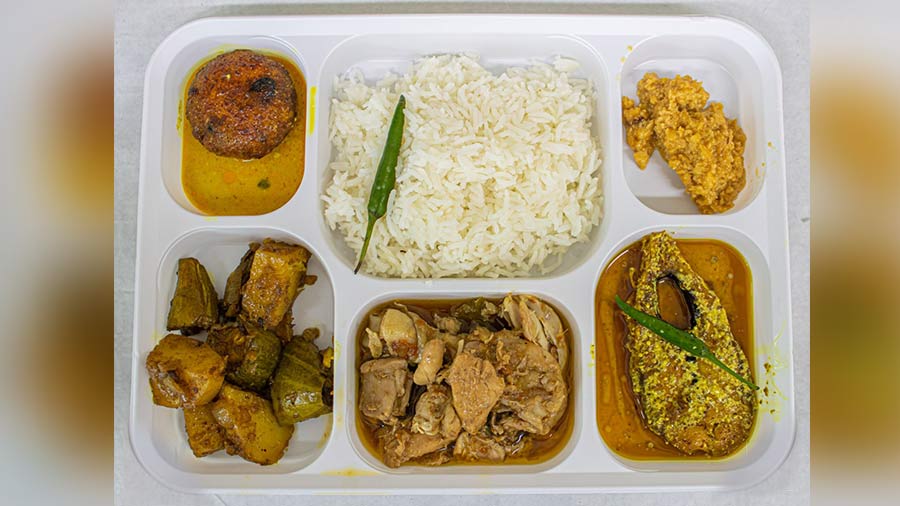 Holland-e-Hoichoi's puja spread last year.
Photograph: Ipsita Lahiri
Meanwhile, Ireland and Canada Puja organisers have decided on a vegetarian menu for all the five days. However, mutton and basanti pulao will be served on Bijaya Dashami and Bijaya Sammilani.