The construction of a skywalk leading to the Kali temple in Kalighat in south Kolkata has begun with piling work at the two nodes of the project, two-and-a-half months after the foundation was laid.
"We have started test piling, which is the basic step before any project takes off. The test piling is being carried out at two ends — at the SP Mukherjee end and near Kalighat police station," said a Kolkata Municipal Corporation (KMC) engineer supervising the project.
Both spots have been cordoned off with guardrails.
While the main structure of the skywalk will come up on Kali Temple Road, from its intersection with Shyama Prasad Mukherjee Road, an arm will move towards the Kalighat fire station.
The length of the main trunk will be around 430 metres, while the arm will be 50-metre long. The width of the skywalk will be 10.5 metres. "The cost of the project is around Rs 80 crore," an engineer said.
The test piling will help structural experts assess the load-bearing capacity of the ground before deciding on the depths of the pillars that will support the skywalk.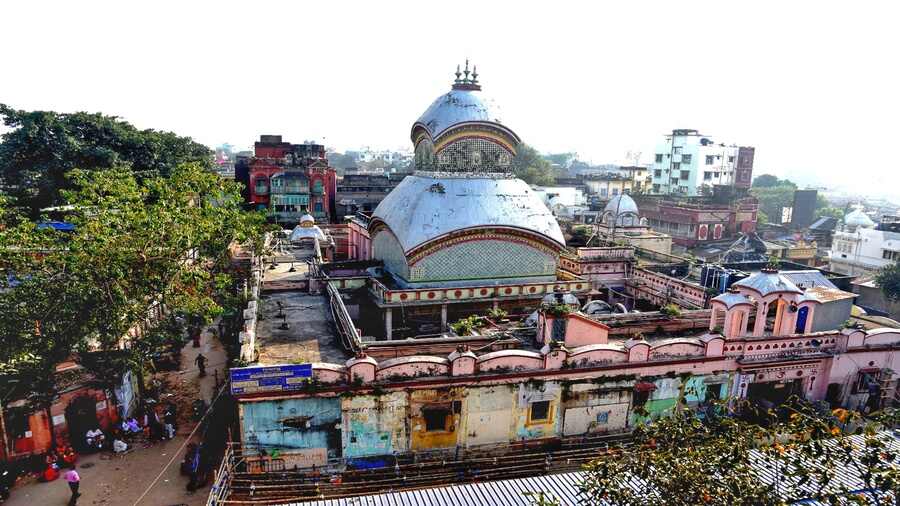 The Kalighat temple
My Kolkata
The piers will come up near the kerbs of Kali Temple Road.
The temple drew around 40,000 devotees on an average every day before the Covid pandemic struck.
The project was mired in several challenges, including rehabilitation of hawkers who line either side of Kali Temple Road.
"We have decided to rehabilitate 175 hawkers. They have been shifted to Hazra Park. A shopping complex is being built at the site of the old 'Hawkers Corner', where the hawkers will be permanently rehabilitated," said Debasish Kumar, mayoral council member in charge of parks and gardens.