Pets
Chance for Corgi, Fox Terrier, Beagle, Golden Retriever, Labradors to pose in Salt Lake
Despite a fashion show being called off as precaution, dogs make the best of a festive outing
By
Showli Chakraborty
| Published 21.01.22, 12:45 PM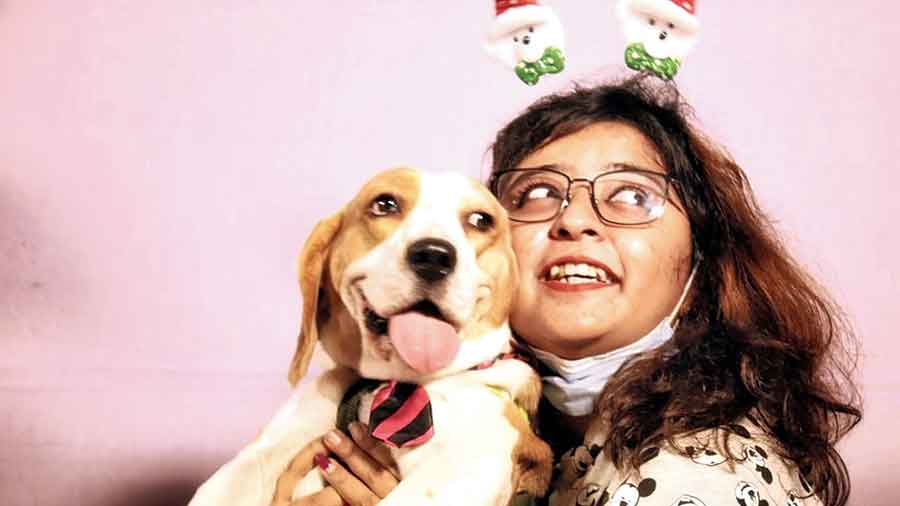 "Pet Pleasure is a shop we started in the middle of the lockdown. A lot of people were looking for pet stores then and we decided there was a need for a good neighbourhood shop. It is run by my family and both my parents are animal lovers. Apart from pet accessories and food we also have services like dry bath, nail cutting, etc," said Sulagna Das, owner of the store, posing with a Beagle.
"Last year we had a go-as-you-like for pets in the festive season. But this time it was just a photo shoot, since we wanted to keep things minimal. Our customers are really close to our heart and so are their children and pets. We have this small community of pet parents that binds us together," said Sulagna Das, who runs the store. Her family lives in Karunamoyee.
Keeping with the Christmas cheer, most guests were dressed in red and white. They enjoyed coffee and muffins and browsed pet accessories, biscuits and bones for their furry friends. Dog collars and coats flew off the shelves.
Though some of the dogs were mischievous, most behaved like perfect ladies and gentlemen, always walking in tow with their owners. Those with slight mischief up their collars looked to barge into the cookie jars and some even tried to jump onto the photographer's camera.
There were a variety of breeds that had come over — Corgi, Fox Terrier, Beagle, Golden Retriever, Labrador etc.
"The pets really enjoyed themselves. They loved posing and socialising with others. It was a good day out for them," said Anupam Gupta, who had come with his dog and his family.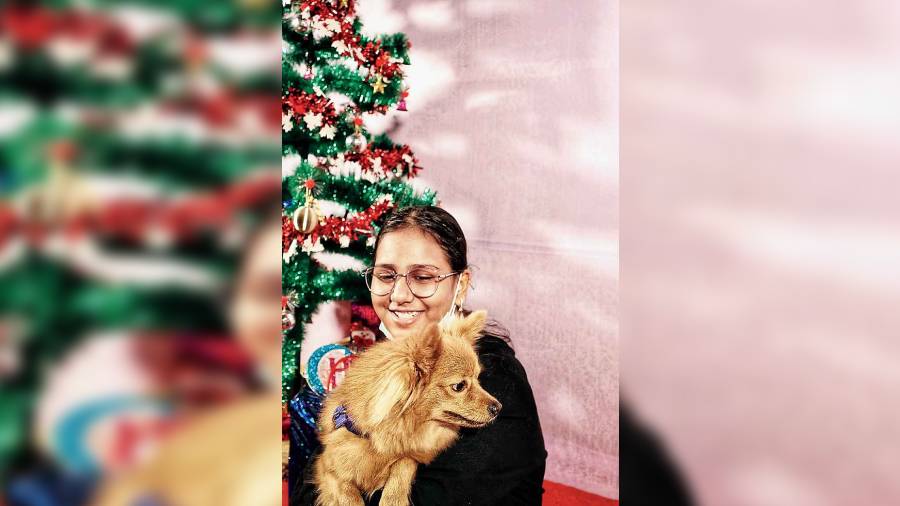 "Gingloo doesn't mean anything but it sounds cute so I chose the name my Pomeranian," smiled Teerna Datta, a Class VII student of Loreto House. "My dad gave me Gingloo on my birthday during the first lockdown as I used to feel lonely without my friends. Now he's my best friend," she said.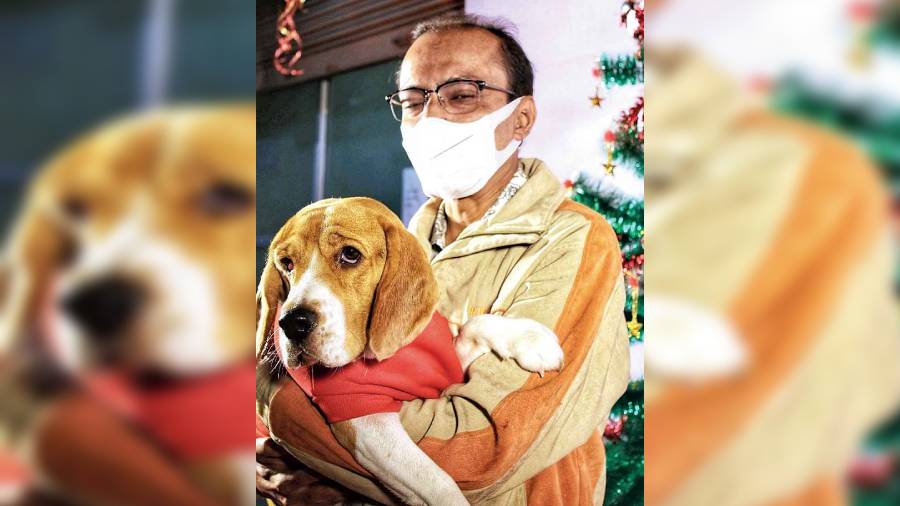 Souvik Basu, a resident of BL Block, was at the store with his Beagle Kuttush. "Kuttush is enthusiastic about everything. He's also well-mannered and loves to go out. He enjoys coming here once in a while because he knows we will buy goodies for him at the store," smiled Basu.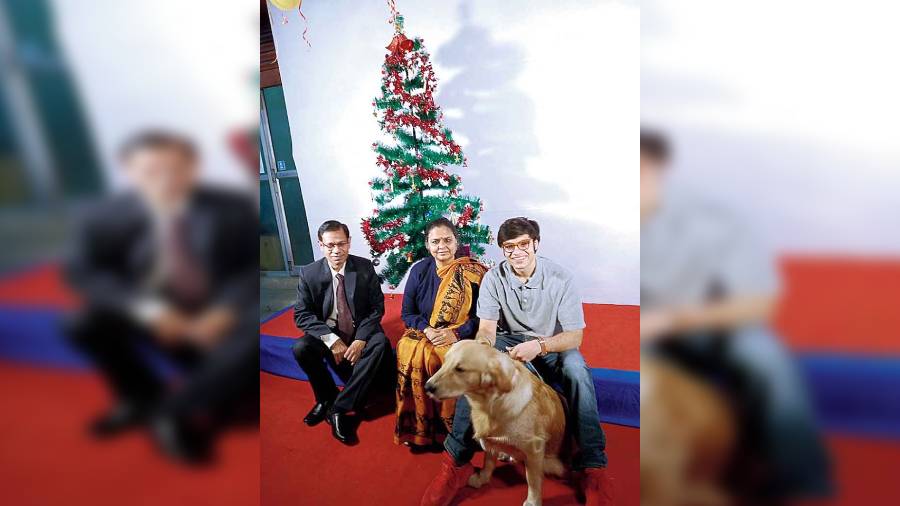 "Our pet is called Tej Pratap Gupta. His pet name is Tejo and he is a 10-month-old Golden Retriever," said Mridu Gupta, who came to the store with her husband and son. The vegetarian Tejo loves to gorge on curd, khichdi and papayas and for Christmas had been treated to an eggless cake.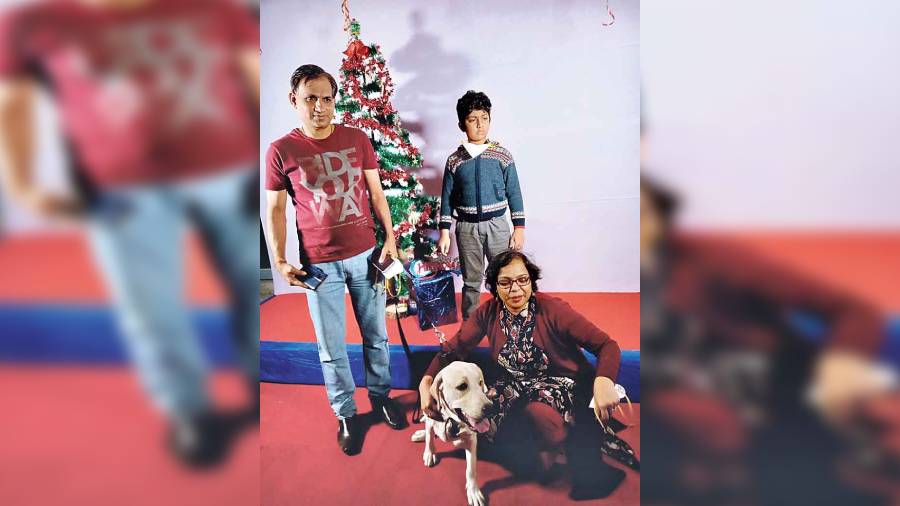 "Mine is a Labrador who is eight months old. We fondly call him Krish," said Namrata, a Sector V resident who had come with her family. "This is a lovely place for pet services, especially if you are new with pets. They have guided me in many ways when it comes to pet care and pet grooming methods," she added.