A 74-year-old resident of Durga Pituri Lane and his 76-year-old sister had been shifting homes since cracks developed in their 150-year-old ancestral home in August 2019.
Ashoke Dutta and Sandhya Dutta, and their mother Srimati, who died this year at 95, had stayed three-and-a-half months in a hotel in central Kolkata, one-and-a-half months at a relative's house in Rajpur, on the southern fringes of the city, and 18 months in a rented apartment off Ganesh Chandra Avenue.
They finally returned home in September last year.
The elderly siblings have not yet moved out of their home this time, unlike many others from the neighbourhood, but are scared that they might have to do so, too, because cracks have started reappearing on their walls.
There are several such families in Durga Pituri Lane who are spending anxious moments.
The siblings after shifting back to 6A Durga Pituri Lane in September found that their ancestral house had been robbed, said Ashoke.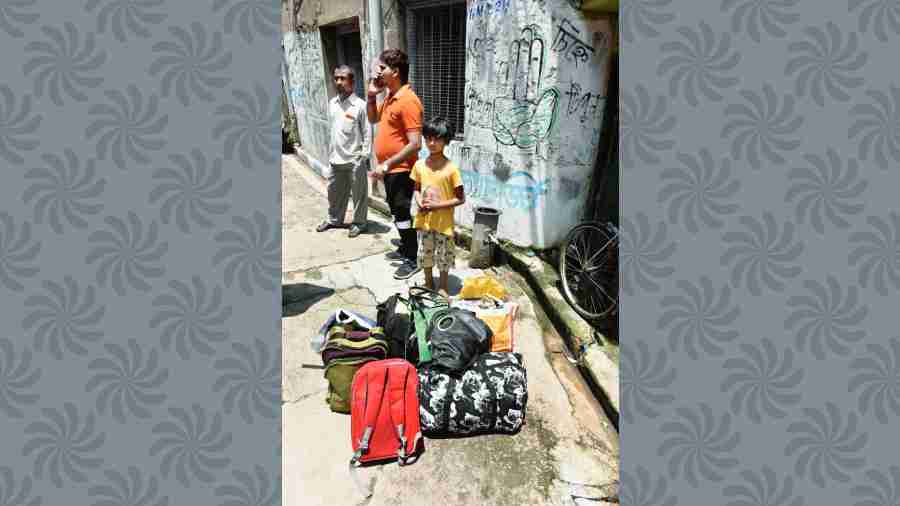 People wait with their belongings in Durga Pituri Lane on Thursday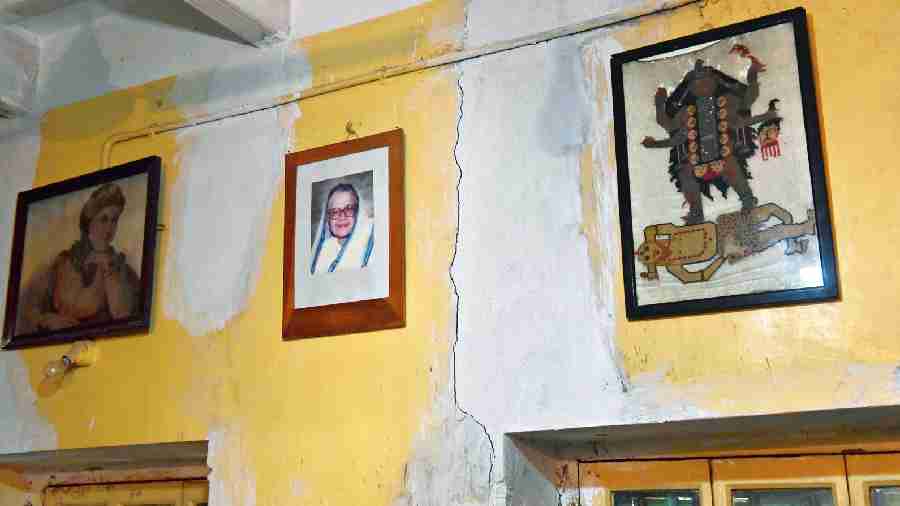 A cracked wall of a house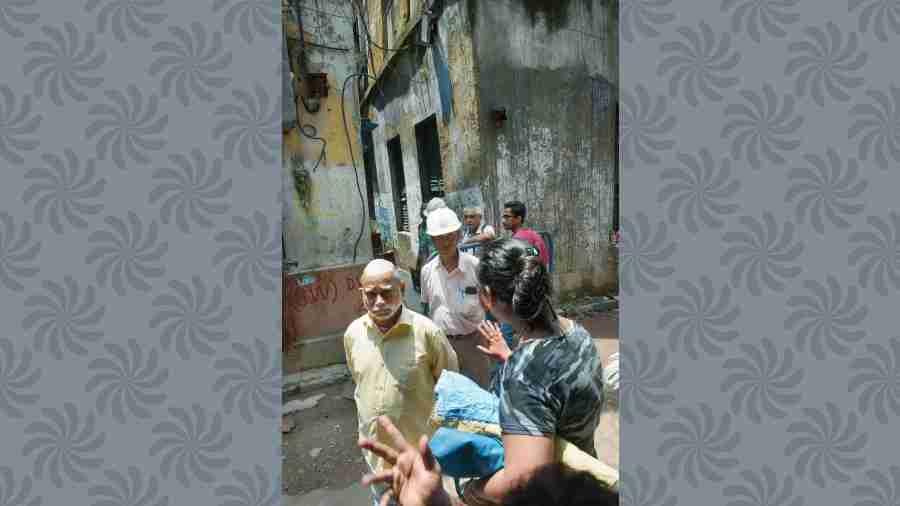 Residents speak to KMRC officials on Thursday.
Pictures by Bishwarup Dutta
"Last time we were given just eight minutes to vacate our home. It was difficult because of our age. This time they have not told us anything, but we have packed our things because we fear we may be asked to move any time," he said.
In September 2019, he said, the family was put up in a hotel in central Kolkata. "After three-and-a-half months, one fine morning we were suddenly asked to leave or submit an application before Metro officials to get our stay extended. It was beneath our dignity to stay like that, so we immediately shifted to a relative's house in Rajpur," he recounted.
After staying for one-and-a-half months in Rajpur, the family moved to a rented flat in a housing complex off Ganesh Chandra Avenue in central Kolkata.
"My mother found it difficult to adjust to life in an apartment because she was used to staying in a standalone three-storey house. So we shifted back home," Ashoke said.
Amita Pal, also a resident of Durga Pituri Lane, had lost husband Arun while staying at a hotel arranged by the Kolkata Metro Rail Corporation (KMRC), implementing agency of East-West Metro, in 2019.
On Thursday, she dreaded the thought of having to leave her house again, this time only with her daughter. Cracks have appeared on the same spots where they had nearly three years ago but the Metro authorities have not yet told her to leave her rented apartment.
"We couldn't catch a wink last night after a small chunk fell from the roof of one of our rooms on the first floor. In the morning we spotted cracks on the walls," Amita said.
"Many families have moved out from Durga Pituri Lane. But without any word from the Metro officials, I don,t know what to do with my daughter."
A KMRC engineer at the spot, who was overseeing the evacuation of families, said only those whose houses have been severely affected were being asked to evacuate.
"We will revisit the houses where cracks were not big to understand whether those families need to move out as well. But as of now, they don't have to," the engineer said.