Residents displaced from their homes in Durga Pituri Lane in central Kolkata's Bowbazar said on Thursday they had noticed tell-tale signs of subsidence at least two days back and sought help from the Kolkata Metro Rail Corporation (KMRC), implementing agency of East-West Metro.
But no one from the agency turned up, the residents alleged.
A KMRC official, however, denied the allegation. "We have one engineer posted there every day from 10am to 7pm. We had not received any such complaint till Wednesday night," he said.
The residents this newspaper spoke to said they were alerted on Tuesday following the appearance of cracks on the surface of the narrow lane, resulting in the sinking of manhole covers.
Many of the dislodged residents said the local councillor and police asked them to move out after cracks appeared on the walls of their houses on Wednesday night.
It was only then, they said, that KMRC officials turned up.
"Over the last two days we could feel something was going wrong. Small cracks started appearing on the road surface. Many residents had a strange sense of low-intensity vibration inside their rooms. In many houses, the concrete started to peel off all of a sudden," said Amal Das, who runs three gold fabrication units in Durga Pituri Lane.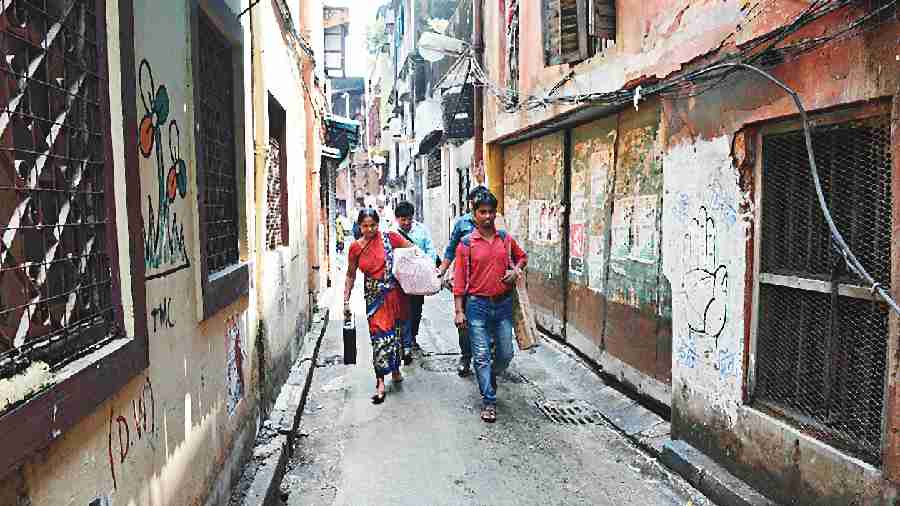 "A few of us called up KMRC engineers. But no one bothered to visit the spot or address our concerns."
Das said he had to close his shops for several months after the first accident in August 2019.
Durga Pituri Lane was among several locations across a small patch of Bowbazar that had witnessed subsidence in August 2019, which forced the authorities to evacuate more than 250 people.
The fear of rerun of the 2019 accident prompted some of the residents to call up KMRC engineers in desperation.
"Bricks were coming off from the walls. Loose sand started trickling down," said Asim Kumar Sinha, a resident of 1/4 Durga Pituri Lane.
"On Wednesday night, cracks appeared on the floors of our homes. We realised subsidence had started all over again."
Till Thursday night, 110 people had to be shifted out. The police said they had been accommodated in two hotels in central Kolkata.
Biswajit Thakur was among those who had not moved out of his house on Wednesday night, when police went around armed with loud hailers requesting everyone in the affected buildings to leave. He did so the next morning.
"In 2019, we had to stay in a hotel for three months till engineers declared that the house was fit to live in. What does the fit certificate mean if the house develops cracks again?" Thakur wondered.
A KMRC official said the fitness certificates were provided to the residents of affected houses "after following due diligence".
"We have to find out whether there was any fault in the certificates," he said.