Indismart Hotel, Sector V
When: April 15, noon to 4pm; 7-11pm (tables by reservation only)
Pocket pinch: Rs 1,199
What: The Bengali buffet spread will serve everything from authentic Katla Machher Kalia to Kucho Chingri diye Echor Masala but the chefs — Wahab and Bidyut — are sure it's the Mutton Biryani and Chicken Chaanp that will prove to be the most popular. "Bengalis cannot imagine a feast without biryani these days," smiles Wahab, promising a superb dum biryani.
On the drinks and snacks menu they have dishes like Aam Pora Shorbot and Narkeli Mochar Chop but again, the chefs' money is on Phuchka! "This is another snack no one can resist," chef Wahab laughs, adding that the live counter will serve phuchkas with three kinds of flavoured water — tamarind, mint and an Oriental one flavoured with lemon grass.
For dessert, do try the Mishti Doi, Mouri Malpua and Kamala Bhog among the options.
Resto speak: "Recent sales figures are proof that things are back to normal after the pandemic and we stuck to a more or less authentic Bengali platter as on festive days, customers crave a taste of familiarity," says group general manager Biswarup Biswas.
Karim's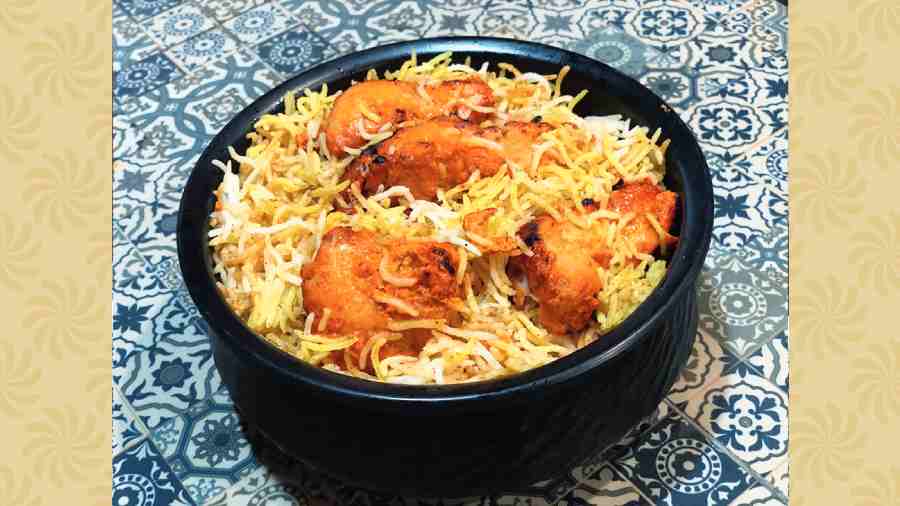 Fish Tikka Biryani
Sourced by the correspondent
When: Till April 17, noon to midnight
Pocket pinch: Rs 620 for the Bengali-Mughlai thali 
What: Does your mind want to celebrate with Bengali food today but your heart crave biryani? Go for the Bengali-Mughlai thali at Karim's that offers Basanti Pulao with Mutton Bhuna. "The sweet pulao and spicy onion-based mutton combination works well," says Souvik Mukherjee, who runs the outlet. A chicken option will also be available along with paraphernalia like aam pora shorbot and chutney. 
With this festival the restaurant is also introducing some dishes on its permanent menu, like Fish Tikka Biriyani which is bhekti tikka cooked in the biriyani rice. Chicken Tikka Biryani is prepared in the similar way. Mutton Boti Biryani will have chunks of boneless mutton in the biriyani and Mutton Raan Biryani (Rs  760).
"This portion is so generous that we have announced a contest over it. Anyone who can finish the dish by himself will get a spot prize and a 10 per cent discount on their next visit," laughs Mukherjee. And given how popular their kebabs are, a Baadshah Kebab Platter is being introduced with two pieces each of two different kinds of fish, chicken and mutton kebabs.
Resto speak: "It's been six months since we opened our outlet and we've seen how demand surges on festive days. Mutton is what we are best known for but since Bengalis also crave fish we decided to introduce some fish items this time," says Mukherjee.
Gallery 67, Ultadanga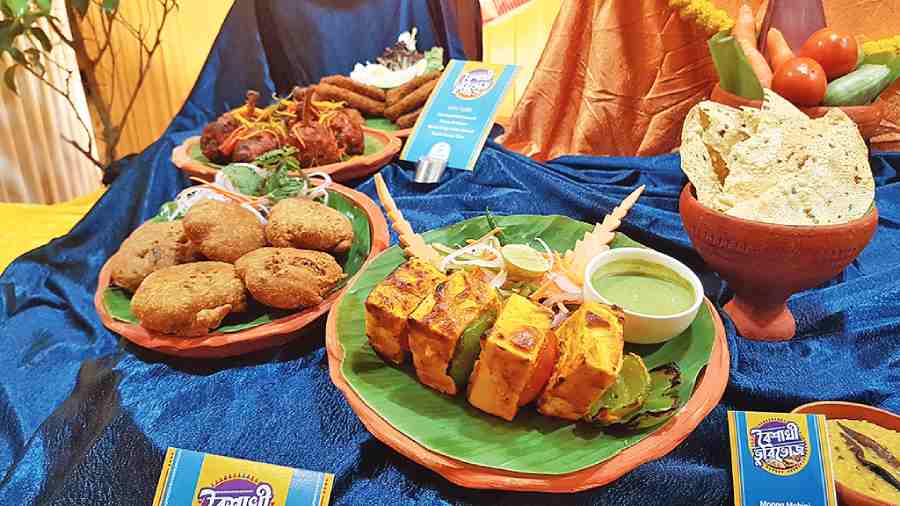 Kesar Paneer Tikka
Brinda Sarkar
When: April 15 to 17; 12.30 to 3.30pm, 7.30 to 10.30pm (tables by reservation only)
Pocket pinch: Rs 839
What: Expect heritage recipes like Thakur Barir Shuktoni, that is prepared with unlikely ingredients like coconut, posto and radhuni spices. The spicy Dhakai Bhuna Murgi will have thick gravy made of cashews and char magaj. "Another rare dish on offer is the Deshi Murgir Surua, where the bones of the chicken will be cooked till they dissolve in a light broth. Coriander, ginger, garam masala and the meat itself is added later to this preparation," says executive chef Sujan Sarkar. 
Besides Bengali cuisine, there are some must-have dishes like biryani from the Mughlai kitchen and Drums of Heaven from the Chinese one.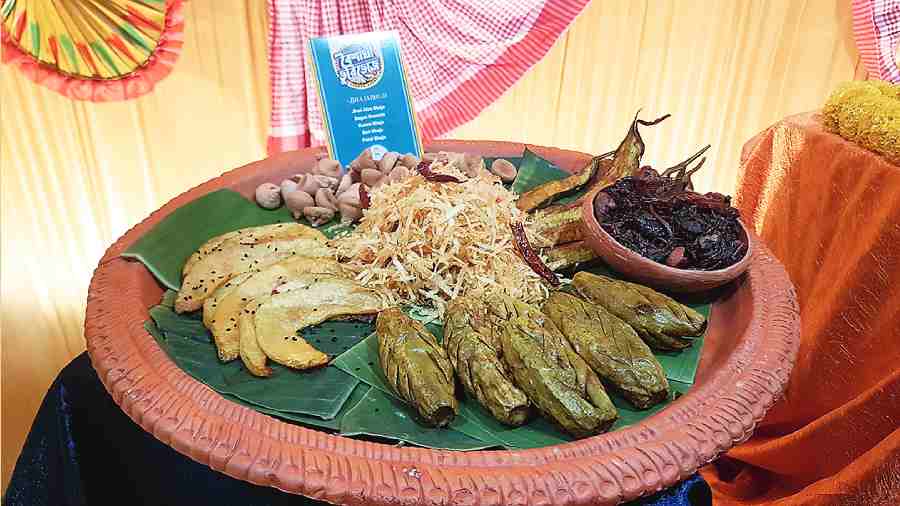 A platter of fries
Brinda Sarkar
Restospeak: "We are a transit hotel and get lots of business travellers. The Japanese and Chinese ones, particularly, would keep requesting us for local delicacies," says general manager Subhasis Das, adding that this is their first Poila Baisakh buffet spread since they opened in 2019. The "67" in the hotel's name, by the way, is a reference to its plot number — 67 Bagmari Road. "We've kept our prices affordable so not just families but also students can feast with us."
Spice It, ibis Kolkata Rajarhat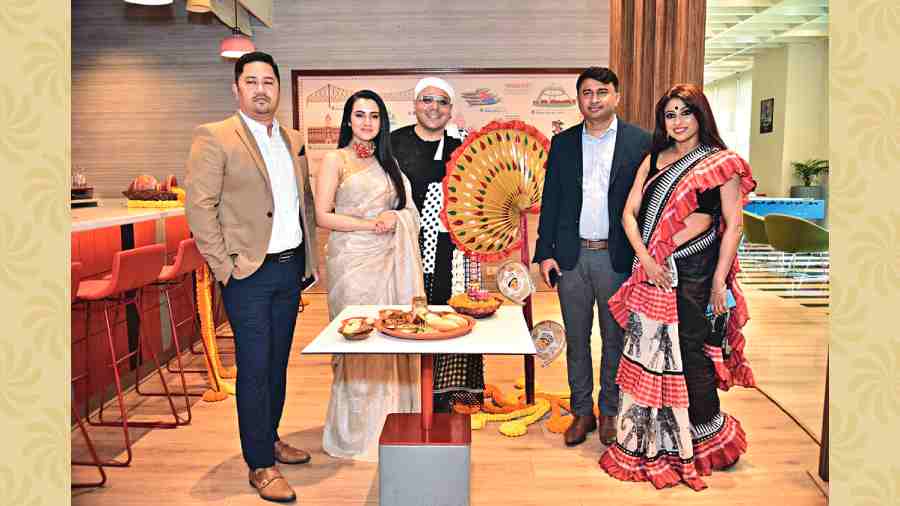 Actress Falaque Rashid Roy and designer Indroneel Mukherjee (second and third from left) at the festival
When: April 14-16; 12:30pm to 3pm, 7pm to 11pm
Pocket Pinch: Rs 945
What: The festive thali here showcases the best of local food. "We have prepared age-old recipes that are unique to Bengal and which many residents may not even have known about," says executive chef Pradeep Kumar Thakur.
For starters they have Mochar Chop and Gondhoraj Tawa Chicken, which is boneless chicken marinated in gondharaj lemon and cooked in an open fire on the tawa. The thali also offers Lau Shaak, bottle gourd prepared with panch phoran and mustard, flavored with ghee. "Such items are both unique to Bengal and also very nutritious," explained Thakur.  The menu then veers to favourites like Kasha Mangsho, Prawn Malai Curry and Dhokar Dalna.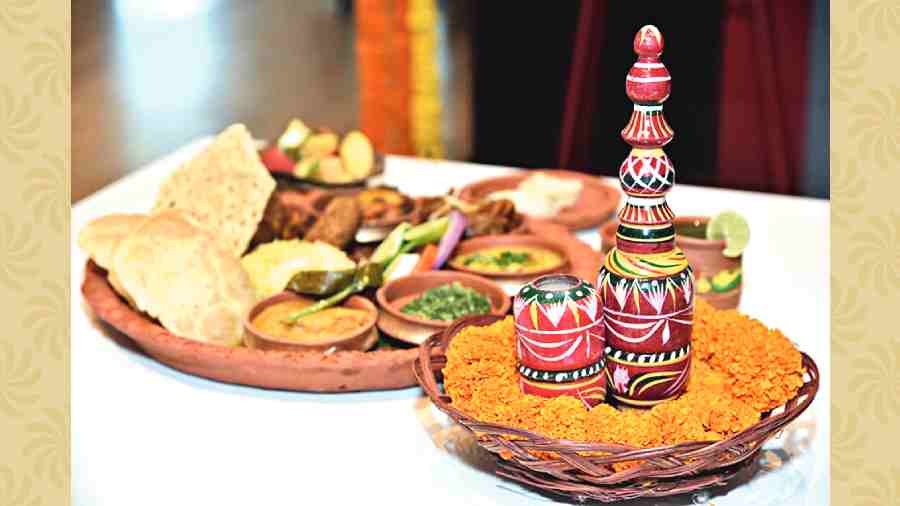 Restospeak: "With Covid restrictions getting relaxed, people have started going out. Last month we saw an increase in our occupancy. On festive occasions customers seek traditional feasts and this was the perfect occasion to organise something elaborate," said Ajit Jose, general manager of the hotel.
Shatadipa Bhattacharya
The Sojourn, KB Block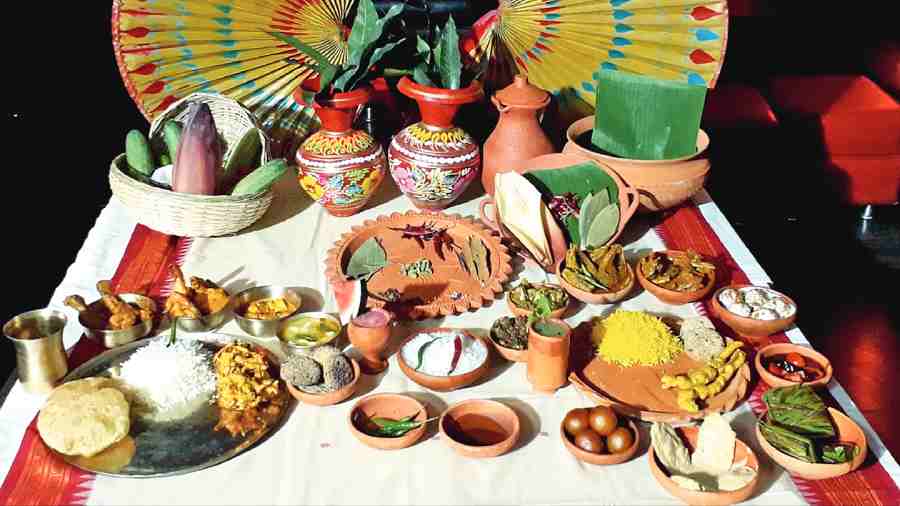 Dishes laid out at The Sojourn.
Picture by Shatadipa Bhattacharya
When: April 15; 12.30pm to 4.30pm, 6.30pm to 10.30pm for buffet. A la carte menu will be available through the weekend.
Pocket Pinch: Rs 1,365
What: The Poila Baisakh Mahabhoj Buffet will offer a bouquet of 33 items, curated from both east and West Bengal. So there is Chepa Shutki — "sheel ey bata" dried fish cooked with onion, ginger and garlic — and Chingri Kofta Malai Curry, which is fried tiger prawn balls cooked in coconut gravy. Choi Jhal Mangsho, a delicacy from Khulna, Bangladesh, is cooked in earthen pots but only after the mutton is marinated in stems of the choi plant.
Kheemar Dahi Vada is a recipe out of Thakurbari and has marinated minced meat balls fried and served with curd and tamarind sauce. Ilish Begun, Tel Jhol, Machh Chochchori, Mourala Machher Ambal are all on offer.
The menu also has Panta Bhat, two varieties of bhorta and desserts ranging from Chhanar Paturi and Natorer Kachagolla to Chitoi Pitha and Patishapta.
Resto speak: "The younger generation is more aware of New Year celebrations than Naba Barsha rituals, so we have tried to familiarise them with our traditions through food," said Piku Bhattacherjee, revenue and finance manager, The Sojourn. "Also, family members have come closer to one another over the last two years so we have taken care to offer items senior citizens would enjoy but are difficult to prepare at home," she said.
Shatadipa Bhattacharya