It's no mystery that the whole country has been, and still is, dancing to the tunes of Bhuban Badyakar's Kacha Badam, which reached dizzying heights on social media. The dance challenge crossed Indian shores, and the world too got on the Kacha Badam bandwagon. And now, a group of Kolkata's top restaurateurs have joined in on the fun!
The Kolkata Restaurant Owners group is a community of 111 members that came together five years ago. The group meets at the city's many eateries and as witnessed by the video of their annual picnic at Vedic Village on February 23, they sure know how to hold a good dance party too.
"We danced to Tumpa Shona on our last picnic. This time, Kancha Badam was the obvious choice. It was great fun to let loose and just enjoy ourselves!" shared Ishani Priyadarshini, owner of Surfiré The Coastal Café. 
The dance challenge video was uploaded on Facebook by the owner of Tak Heng and Calcutta Stories Deli and Cafe, Prithvish Chakravarti.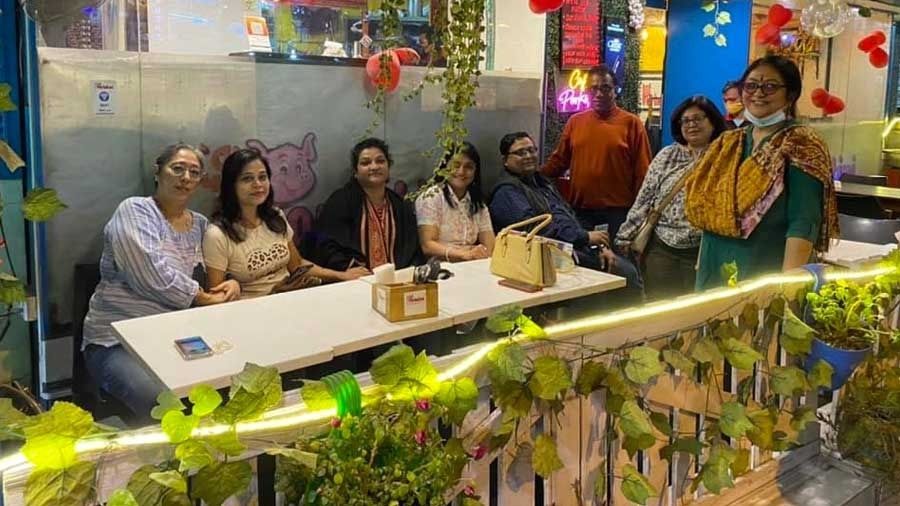 The restaurateurs' group at a previous outing
@Ishani Priyadarshini/Facebook
"The F&B industry is quite stressful, so this was a way for us all to get together and make memories. It is a great way to relax as well and dancing to the trend was so much fun," said Prithvish Chakravarti.
The picnic was attended by the likes of Doma Wang, owner of Blue Poppy Thakali and Boma Asian Bakery, Indrajit De Sarkar of Haan 'D' Biryani and Rajroop 'Pablo' Bhaduri, owner of Cafe Drifter, among others.
"While on the picnic, we forgot the pain and frustration of the last two years and bonded over antakshari and charades. The idea about a video on the Kacha Badam song came about then and I enjoyed it thoroughly. It is a really peppy number and being a Bengali song, it touches my heart," said Wang.