By now the whole world has danced to the groovy beats of "badam badam, kacha badam," from the 'Kacha Badam Challenge', which has celebrities and social media stars from India and the world dancing to it. The singer also performed Kolkata's Someplace Else, The Park, on Friday and had the crowd grooving to his tunes.
However, peanut-seller-turned-internet-sensation Bhuban Badyakar's journey goes beyond his viral hit. "I have faced enough hardships in my life, but how my life has taken this turn is beyond me," says the man. In a recent interview with My Kolkata the singer opened up about his life, instant fame, feeling accepted and more.
Humble beginnings and a whole new world
Hailing from a small village near Lakshminarayanpur in Birbhum district, West Bengal, life for the singer looks a little different now than it used to. Discontinuing his education early in life to support his family meant that he had to work odd jobs from a young age. "But I was always a singer," he says.
With an ever-present smile and almost childlike excitement, Badyakar talks about how a new world has opened up to him since his song started trending on YouTube. "It makes me so happy to see people recording things to my song, and some have danced with me as well. I got to wear fancy accessories for the music video [with Haryanvi singer Amit Dhull] as well, and that was such a joy," he says with a trademark chuckle.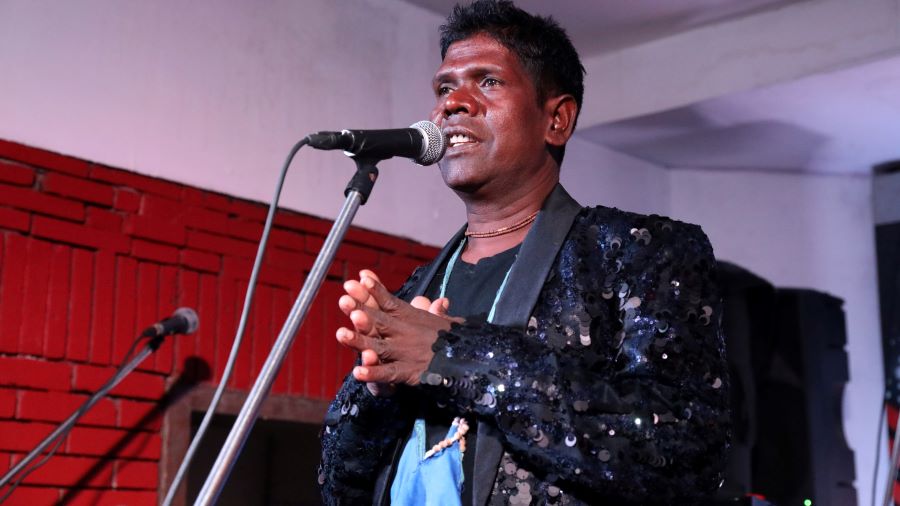 Bhuban Badyakar performing at Someplace Else, The Park, in Kolkata
Arijit Sen
His family – a wife and son – are overjoyed as well. "But she (his wife) gets sad when I leave home and my son worries about where I am staying and how I am navigating things," the singer says.
A song that was strung together as a means to sell his wares better, has brought him unmitigated recognition, and for the shy Badyakar, it is all attributed to the kindness of people and the blessings of god. "My parents must have done some good in life and I was blessed by them, which is why god turned a kind eye to me," he says.
'I have sung songs my entire life'
Talking about music, Badyakar mentions being a disciple of Baul singer Gostho Gopal Das, and what Baul music means to him. "I was a Baul singer, I sang spiritual songs. I have sung songs my entire life." For the uninitiated, Baul is a tradition of spiritual music and follows a guru-shishya tradition that lives through an oral lineage. He also performed the Baul song at Someplace Else to roaring applause.
He's working on a new composition and hums half-formed lines before saying he'll sing it properly once it is ready. It's a song about leaving home for a new world, and homecoming.
"Now that I have been brought here, to the world and all of you, I'd like to believe that god will keep me well. I'd like to remain as an artist with you all. I don't know how to write so maybe you guys will write 'Bhuban Badyakar, artist'."