Corrective exercise is a technique that leverages an understanding of anatomy, kinesiology and biomechanics to address and fix movement compensations and imbalances to improve the overall quality of movement during workouts and in everyday life. Corrective exercise is used to help and determine the root cause of imbalances and faulty movement patterns that lead to issues with posture, balance and total body coordination.
How are therapeutic or corrective exercises different from those performed at the gym or fitness/wellness centre?
Although general exercises are beneficial for overall health and well-being and should always be encouraged for all, therapeutic exercises are specific and delivered by a healthcare provider. Therapeutic exercises are exercises to correct and improve movement and functional deficits and impairments related to disease or injuries that could be associated with symptoms such as pain, swelling and fatigue. The latest research encourages healthcare providers to use therapeutic exercises as the main intervention strategy and in many cases the first intervention for all musculoskeletal conditions, including joint, muscle problems, chronic back pain and so on.
Most people who join a gym may have a fitness or performance or even a cosmetic goal. Very few people have the goal and objective of prevention of traumatic clinical pathologies in future as the primary agenda when they join a gym. That exercise can act as a preventive to both musculoskeletal and metabolic diseases is not popular knowledge.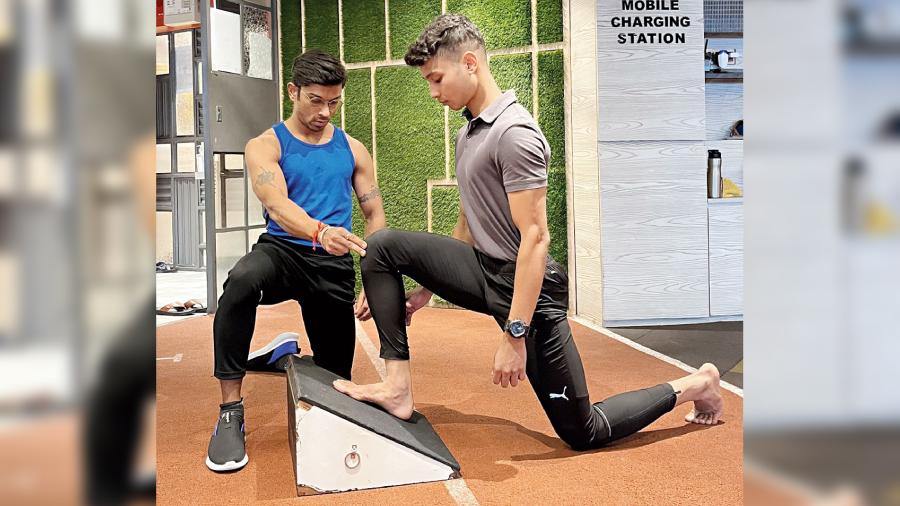 The Soleus (Calf) Stretch on the Ramp. Here, Raj Dutta has fellow trainer Joshua put his foot on the ramp and trying to drive the knee six to 10cm beyond the toes
The future of physical therapy:
All over the world, more and more therapists are embracing active movement therapy and increasingly abandoning passive/assisted manipulation machine-based therapeutic modalities. In fact, therapeutic exercises are recommended in many cases even before the consideration of diagnostic imaging, surgery and the use of opioids in the case of chronic pain. Providers are strongly encouraged to use modalities and manual therapy only to facilitate an appropriate intense therapeutic exercise programme. This means that if your rehab provider spends most of your visit's time on passive interventions you will not achieve optimal outcomes.
Raj Dutta, Strength and Conditioning coach and Corrective exercise coach from National Association Of Sports And Medicine, San Francisco, has years of experience rehabilitating both athletes and general population. He shares his mantra on therapeutic exercise: "The health and fitness industry has only recently recognised the trend toward non-functional living. Health and fitness professionals are now noticing a decrease in the physical functionality of their clients and athletes and are beginning to address it.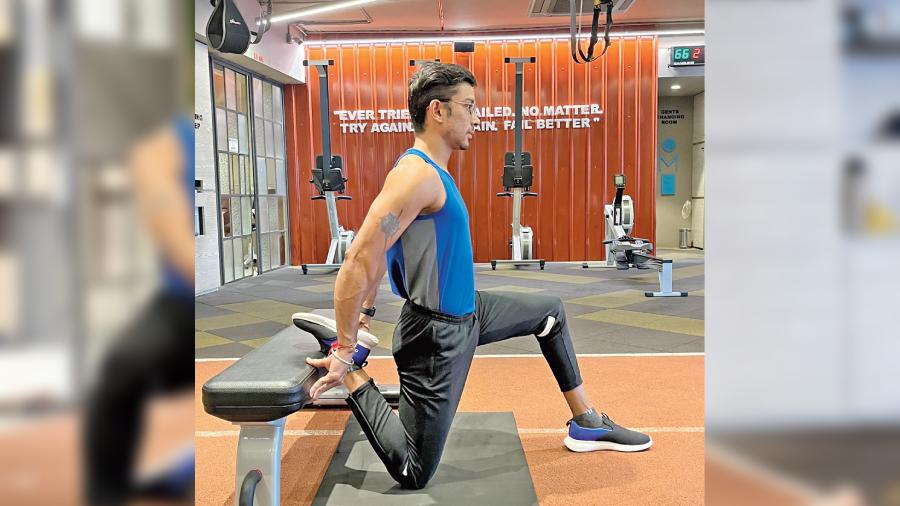 The Bench Hip flexor Stretch: Rectus Femoris and Psoas muscles stretch with the help of a bench. Hold each stretch for at least 20-30 seconds for best results
"This is a new state of training, in which the client has been physically molded by furniture, gravity, and inactivity. The continual decrease in everyday activity has contributed to many of the postural dysfunctions. Today's client is not ready to begin physical activity at the same level that a typical client could 20 years ago. Therefore, today's training programmes cannot stay the same as programmes of the past.
"The new mindset in fitness should cater to creating programmes that address functional activity as part of a safe program designed especially for each individual person. In other words, training programs must consider each person, their environment, and the tasks that will be performed. It will also be importance to address any potential muscle imbalances and movement deficiencies that one may possess to improve function and decrease the risk of injury. This is best achieved by introducing an integrated approach to programme design."
Raj Dutta picks his two critical corrective moves. First, the Soleus (Calf) Stretch on the Ramp. The foot is our first point of contact with the ground and restricted mobility in the ankle leads to upstream compensations in superior joints. For good foot mechanics, the ankle needs to achieve 16 to 20 degrees of movement (dorsiflexion). Put your foot on a ramp and try to drive the knee six to 10cm beyond the toes. Second, we have Bench Hip flexor stretch. Raj mirrors Dr V. Janda's opinion that the hip flexors are possibly the most dysfunctional muscles in the whole body and that chronically facilitated hip muscles are the most common cause of mechanical low back pain.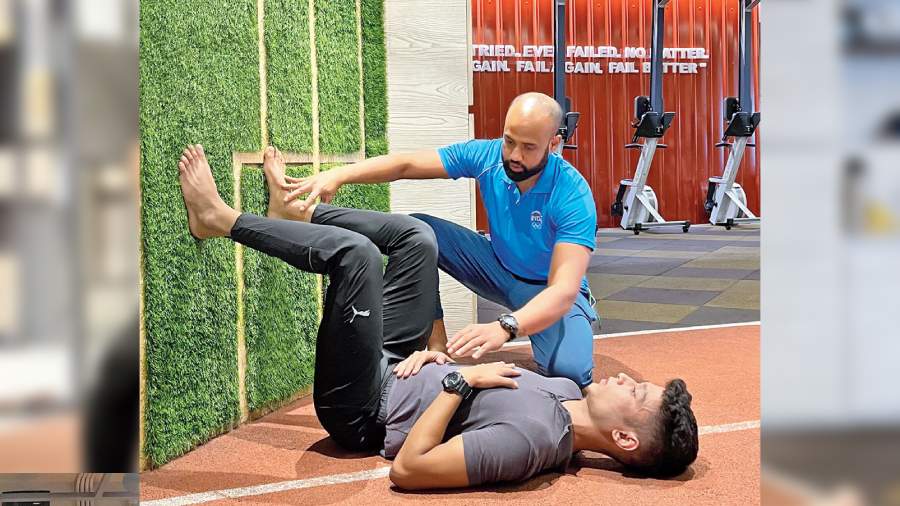 Box breathing is great both for maximum force generation as well as injury prevention
Kazi Kiron is a strength and conditioning coach who has studied high-performance sports. He believes that health comes before fitness and performance. Only a select few will achieve fitness and only the elite will achieve high performance, but health is something all can attain with good movement and good lifestyle. He rubbishes the "no pain, no gain" approach and believes that "if you are in pain then you can't move to your highest potentials". If anyone wants to get healthy, then one should have a holistic approach with a training programme. Training shouldn't look like punishment. First, fix major dysfunctions and imbalances in the body; after that, aspire towards fitness and performance goals".
Kazi has two favourite functional movements. First, Dead Bug with Thoracic extension. One of the great challenges of the human spine system is to segmentalise the function of each vertebra. In this case, the  objective is to extend the thoracic spine while keeping the lumbar spine either neutral or in flexion. Learning to control this movement helps in avoiding low back and shoulder pain in future. Second, box breathing. It is a form of diaphragmatic breathing that is used to synchronise movement stability for your upcoming movement. It activates the core and helps to use the Valsalva Manoeuvre for heavylifting. This is great both for maximum force generation as well as injury prevention.
Ranadeep Moitra is a strength and conditioning specialist and corrective exercise coach