Do you suddenly feel hungry when Monica's lavish Thanksgiving spread comes up on the screen in season 5 of Friends? Doesn't Joey chomping on a whole turkey make you wish that you too could get a piece of that? Thanksgiving might be a western holiday, but thanks to the American shows and movies we so passionately binge-watch, we cannot deny that we are fascinated by the festival and if given a scope, would love to celebrate the day (read gorge on the classic Thanksgiving dishes!). Guess what? There's nothing stopping you!
On Thanksgiving, which is an annual national holiday in the United States and Canada and has been celebrated by the people since the 16th century, family members and friends get together for a traditional Thanksgiving dinner that includes certain special dishes that you too can make at home. If you have always dreamt of having a Thanksgiving feast, bookmark these recipes and cook up a storm in your kitchen!
Whole turkey roast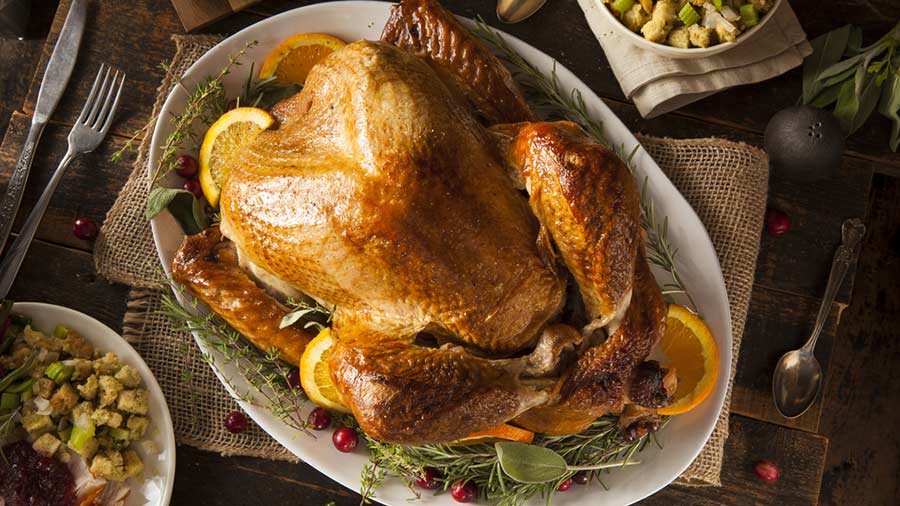 Is Thanksgiving even complete without turkey? Here's how you can prepare that perfectly roasted, juicy turkey to enjoy with some wine on Thanksgiving dinner with your fam.
Ingredients
Whole turkey: 1.5kg to 2kg
Lemon: 2 big
Onions: 1-2 big
Rosemary: 2 tablespoons 
Thyme: 2 tablespoons 
Sage: ¹/2 tablespoon
Butter (unsalted): 100gm
Black pepper: 1 teaspoon 
Garlic cloves: 7-8 pieces
Parsley: 1 tablespoon
Aluminium foil 
Method 
Take a whole turkey and make sure the inside is hollow and clean. Remove excess water by dabbing with a paper towel
Prepare the herb butter by mixing the melted butter, garlic paste, salt, pepper, freshly chopped rosemary, thyme, parsley and half a tablespoon of freshly chopped sage 
Tuck your fingers in between the skin and meat and gently spread the herb butter
Tuck the wings underneath the turkey and put it on the roasting pan
Season the inside of the turkey with salt and pepper. Stuff it with quartered lemons, onion and herbs. Brush the entire turkey with the herb butter generously
Now set the oven to 325°F and roast for about 30 minutes 
After half an hour, take a fork and check if the turkey is cooked. The skin should be crisp and the meat tender. If required, you can put it back in the oven for another 15 minutes
Once done, brush it with another round of herb butter and cover the tray with aluminium foil. Remove the foil after 15 minutes. Your roasted turkey is ready to be served!
Tips 
Marinating the turkey in lime juice will make the meat tender 
The dish can be prepared in a convection microwave as well. It should take around two hours if you are choosing this method
Where to get Turkey in Kolkata? 
New Market: The meat section in Hogg Market sells hens and ducks all year round. Turkey is available from November to January. One can place orders beforehand to ensure that it does not go out of stock. 
Online: You can buy turkey online from Big Basket and Kolkata Meat
Shops: Spencer's meat section has whole turkeys. You will also find it at Haringhata shops.
Classic mashed potatoes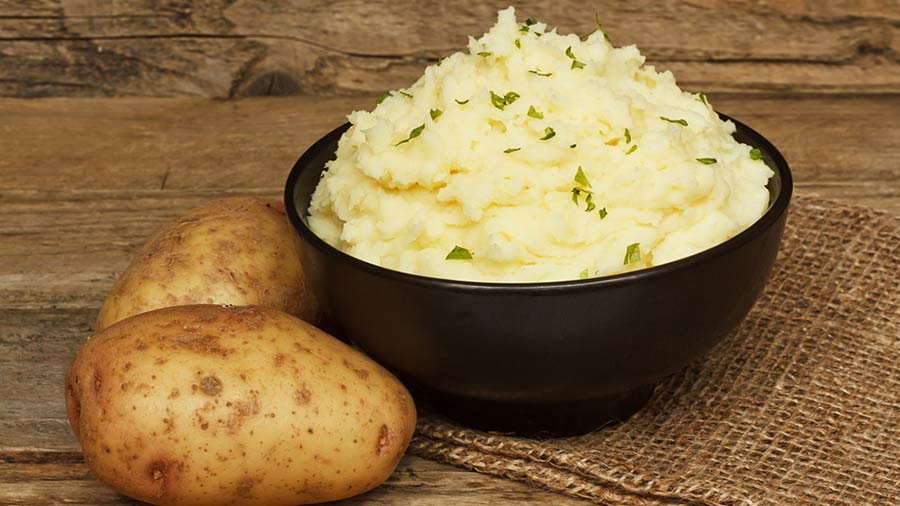 A dollop of fluffy and creamy mashed potatoes is a must-have with that lip-smacking turkey. Here's how to make it:
Ingredients
Potatoes: 500g
Whole milk/fresh cream: 1 cup
Unsalted butter: 50g
Black pepper: 1 teaspoon 
Kosher salt
Method 
Wash and peel the potatoes. Cut them into small squares and wash them thoroughly under running cold water a few times to remove the starch
Submerge all the pieces in a bowl of water and add salt generously
Over medium flame, cook the potatoes well until each cube is tender. Drain the water and wash the potatoes in hot water again. Allow it to cool down
When the potatoes have cooled down completely, mash the potatoes thoroughly with a fork or a food masher to a paste-like consistency
Add butter and continue mashing. Then add the lukewarm whole milk or fresh cream (diluted with lukewarm milk to form a runny consistency) to the potatoes. In a circular motion, beat the mashed potatoes for 5 to 10 minutes with a beater
Add pepper and continue the beating. The mash should start getting fluffy. Once you have your desired consistency, place the mashed potatoes in a serving bowl. Garnish with some herbs and serve
Tips
Remember to wash the potatoes thoroughly as the starch needs to be removed to make the mashed potatoes fluffy
Baking powder can be added to the milk and cream for a fluffier consistency 
Candied yams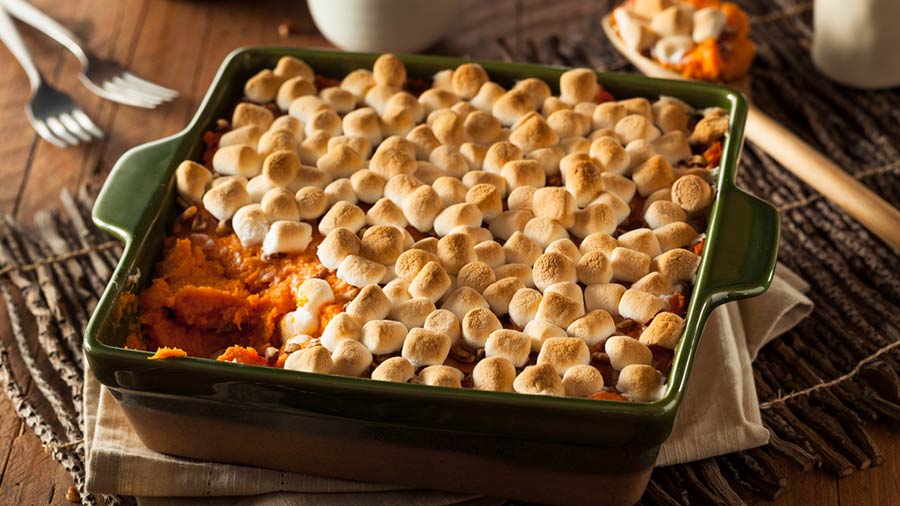 Candied yams is another signature Thanksgiving dish that we cannot do without on the big day. Topped with marshmallows, this sweet dish brilliantly pairs up with savoury roasted turkey. 
Ingredients 
Sweet potatoes: 500g
Unsalted butter: 50g
Cinnamon powder: 1 teaspoon 
Sugar: ¹/2 cup
Mini marshmallows: 2 cups
Method 
Wash and peel the sweet potatoes. Slice them into circles and arrange them on a greased baking tray
In a bowl, whisk some butter, cinnamon powder and sugar
Pour the butter mixture into the sweet potatoes and coat each slice as evenly as possible
Preheat the oven to 400°. Put the tray in and bake for 15 minutes. Take out the tray and give the yams a good stir. Put them back in for another 15 minutes. When the yams are tender and caramelised, take them out of the oven
Spread the marshmallows evenly on top and let them bake for another 5 minutes till the marshmallows have melted. Serve hot!
Where can you find marshmallows in Kolkata? 
Marshmallows can be easily found at candy shops in city malls or confectioneries in New Market. 
Pumpkin pie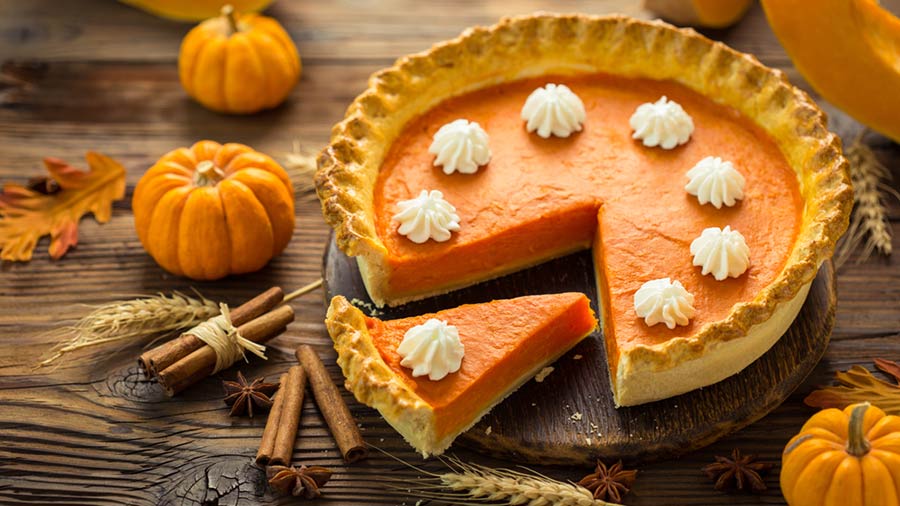 Did you know that since the 17th century, pumpkin pie was mentioned as one of the official Thanksgiving dishes in the cookbook, American Cookery, by Amelia Simmons? This means that if you are going for a classic Thanksgiving spread, a delicious pumpkin pie should be a part of that dinner table. Here's the easiest recipe to make one at home.
Ingredients 
Ripe to overripe pumpkin: 1kg
Condensed milk
Eggs: 2
Cinnamon powder: 1 teaspoon 
Ginger powder: ¹/2 teaspoon 
Nutmeg powder: ¹/2 teaspoon 
Salt: a pinch 
Store-bought pie crust or digestive biscuits 
Whipped cream for garnishing 
Method 
Wash and peel the pumpkin. Cut into half and remove the seeds
Chop the pumpkins into small cubes and boil the pieces till they are well-cooked
Drain the water and allow it to cool for about a minute
With the help of a food masher, mash boiled pumpkin cubes into a fine paste
Now pour the condensed milk, cinnamon, ginger and nutmeg powder and mix well
Add the two eggs one by one. Add some salt and mix
You can pour this into the store-bought crust and bake in a 180° pre-heated oven for 15-20 minutes
If you cannot find a crust, take about 200g of digestive biscuits and grind them. Add butter and milk until it forms a dough
Spread it evenly on a pie tray and pour the pumpkin mix. Bake it for 10-15 minutes
Once the pie is baked, cut it into pastry slices and garnish with whipped cream. Dig in!