Solid chocolate Easter eggs, marzipan eggs, nougat eggs, chocolate bunnies, cakes, cookies — the options for sweet Easter treats are endless. With the festive weekend just around the corner, Kolkata's popular bakeries are all stocked up with treats ahead of Easter Sunday.
Here are My Kolkata's picks of Easter goodies from the city's favourite bakeries and confectioneries, and it features unicorns!
Nahoum and Sons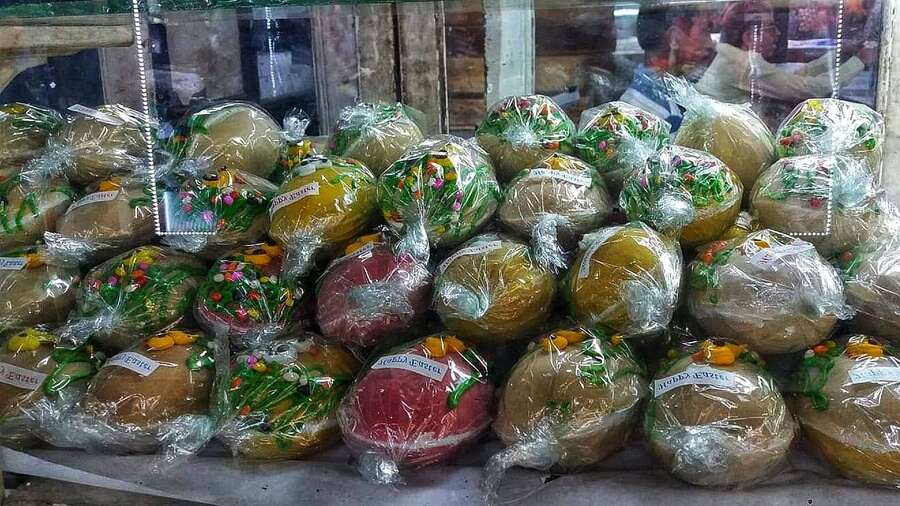 Easter eggs at Nahoum's
When it comes to traditional Easter treats, the classic Jewish confectionery at Hogg Market (New Market) is the first to come to mind for most Kolkatans. Nahoum and Sons was among the first to introduce Easter eggs, Hot Cross Buns and marzipan treats to the city. To this day, people crowd the store to get hands on their special festive items — so stocks don't last long!
Top picks: Small solid chocolate Easter eggs, marzipan eggs, large marzipan eggs with candies and chocolates inside, Hot Cross Buns, Easter baskets
How to order: Store pickup only
Price range: Rs 60 - 1,000
Saldanha Bakery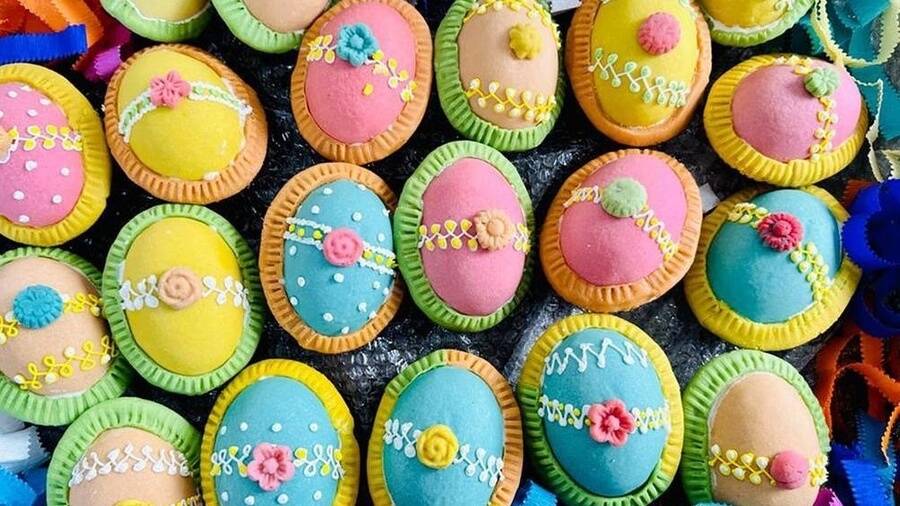 Marzipan eggs at Saldanha
Saldanha, another classic city bakery — about 93 years old — is a pioneer in nougat and marzipan Easter eggs. The special marzipan eggs, stuffed with chocolates and marzipan goodies are available in three sizes, and they also have sweet and spiced Hot Cross Buns, solid chocolate Easter eggs and Easter baskets.
Top picks: Family-size nougat Easter eggs, Minion and Emoji Easter eggs, chocolate nougat Easter eggs
How to order: Store pick up, delivery available in select areas in Kolkata. You can also call on 9831701085 / 9830917617 / 033-22174032 to order
Price range: Rs 20-1,000
Kookie Jar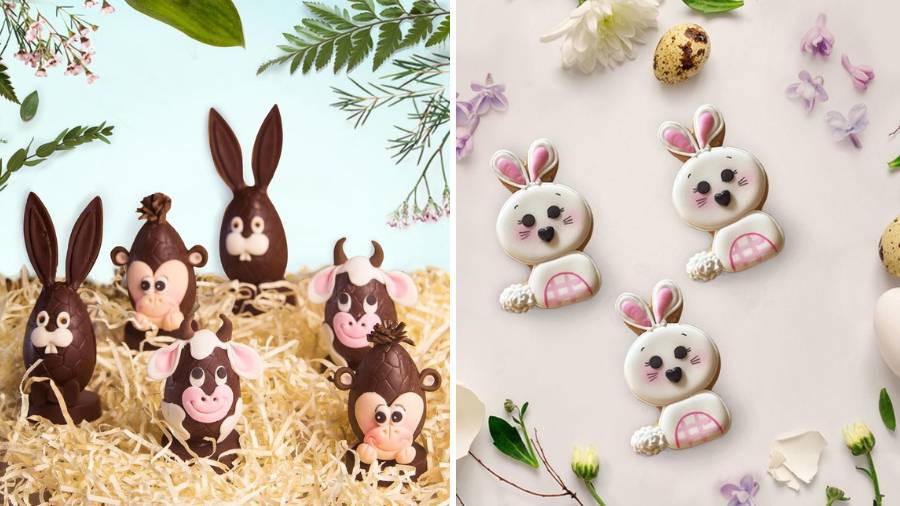 Animal-inspired Easter eggs and Easter Bunny cookies at Kookie Jar
Ready for a cuteness overload? Kookie Jar has revealed its Easter treats and each one is pretty as a picture! From bunnies and cows to unicorns, their range of animal-inspired Easter eggs can feature in any child's (and adult's) food dreams.
Top picks: Animal-shaped pinata Easter eggs and cookies, exotic nuts eggs
How to order: Store pickup and through food delivery apps
Price range: Rs 150-2,600
Flurys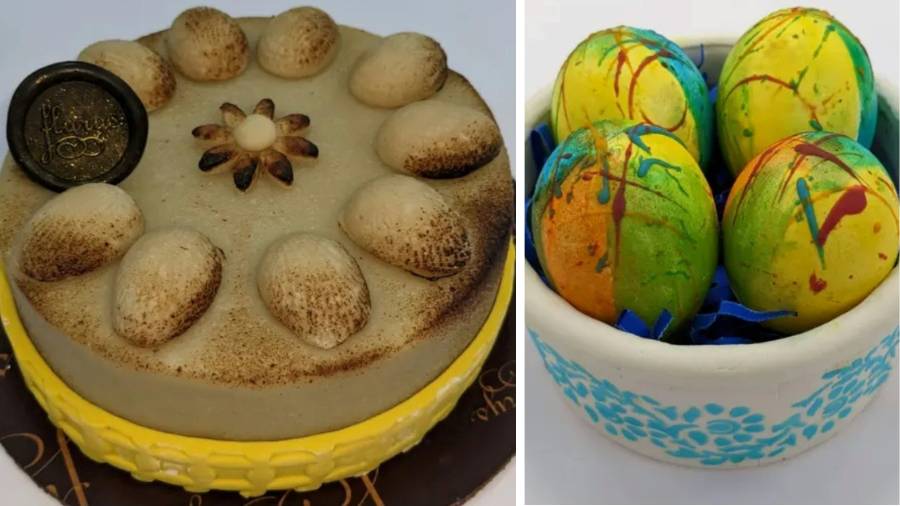 Simnel Cake and real-shell chocolate Easter eggs at Flurys
It is definitely looking a lot like Easter at Flurys! The vintage Kolkata bakery's Easter ad shows a little pink rabbit, skipping and jumping to announce the Easter menu. Like past years, this time too, they have the Simnel cake — a traditional rich fruit cake with a layer of marzipan — on their menu. There's an assortment of other treats, from chocolates to fondant eggs and more.
Top picks: Simnel Cake, assorted fondant coated chocolate eggs, nougatine eggs, real-shell chocolate eggs, Easter special cookies
How to order: Store pickup and through food delivery apps
Price range: Rs 95-1000
Krazy for Chocolates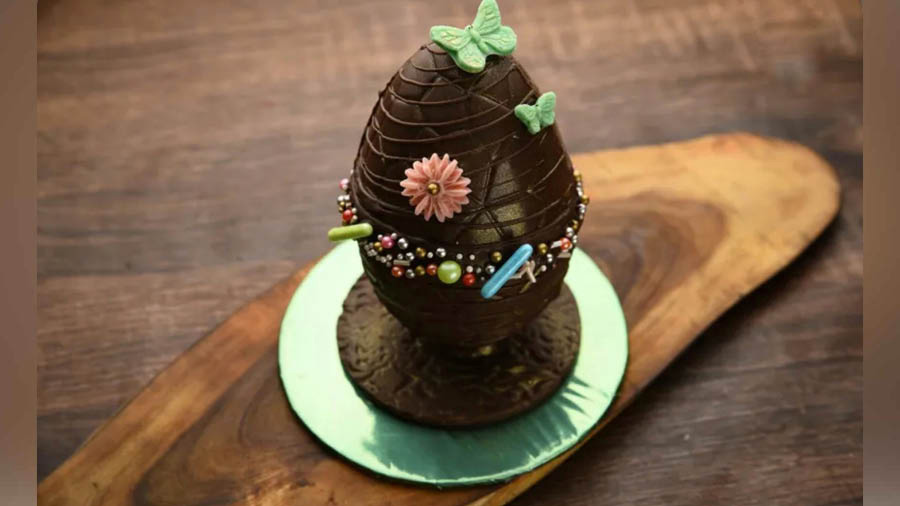 If you are crazy for solid chocolate Easter eggs, then Krazy for Chocolates should be your go-to place this season. The chocolate confectionery has announced its offerings for Easter, and the selection features white chocolate and dark chocolate eggs, and also what they call a Big Easter Egg Bouquet, which is a large chocolate Easter egg filled with chocolates.
Top picks: White chocolate and chocolate Easter eggs filled with Nutella and praline chocolates, Big Easter Egg bouquet with chocolates inside.
How to order: Store pickup and through food delivery apps
Price range: Rs 90-350