Diners today are exploring new experiences that not only offer them a variety of food options, but an out-of-the-world ambience as well. Naturally, theme-based restaurants are the latest to have gained popularity among Kolkata foodies. My Kolkata brings you four more eateries with unique themes:
Get a joyride at The Bikers Café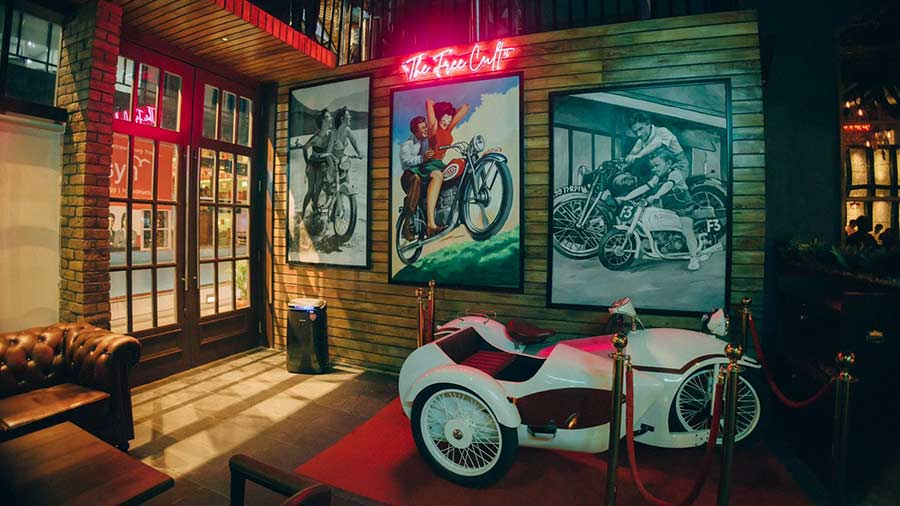 Interiors of The Bikers Café
The Bikers Café, launched in 2012, explores the history and lifestyle of bikers with its décor and ambience. This place has been an attraction to many simply because of this concept. The menu also reflects delicacies enjoyed by the bikers during their journey. Owned by Sanjay Rajinder Yadav, Rakhi Yadav, Manoj Rathi and Shraddha Rathi, the café mostly attracts a younger crowd, who also enjoy the cafe's live music and band performances. "We are avid bikers and have travelled the world's most popular destinations on motorbikes. We realised there was an increasing demand for cuisine that connects with travellers and we acted accordingly," said Rathi.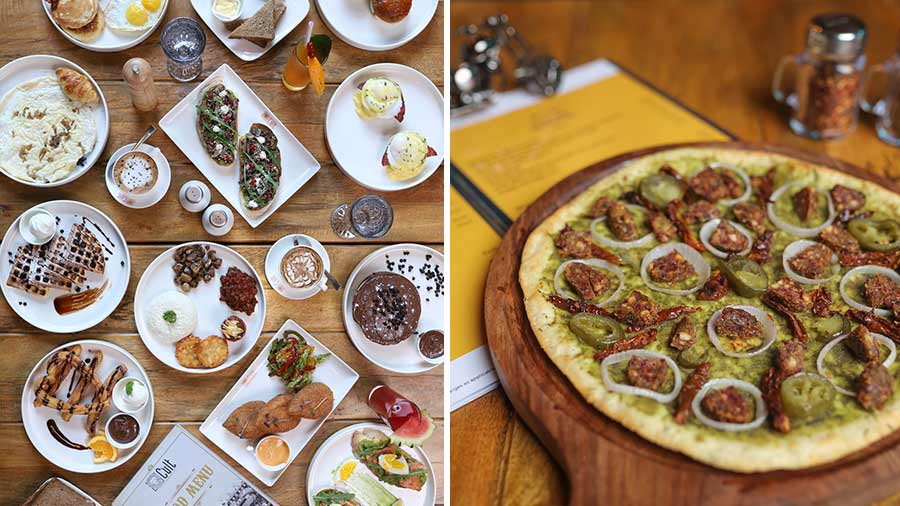 Dishes on offer at the cafe
You can opt for a range of dishes including Bikers Chicken Fusion Discovery, Bikers Delhi-6, Spanish Breakfast, cold-pressed detox juices, vegan smoothies and more. 
Timings: 8am to midnight
Address: The Bikers Cafe, 31 Elgin Road, 1st Floor, Kolkata 700020
Price for 2 (approx): Rs 700 
Explore the deep seas at Kouzina Marine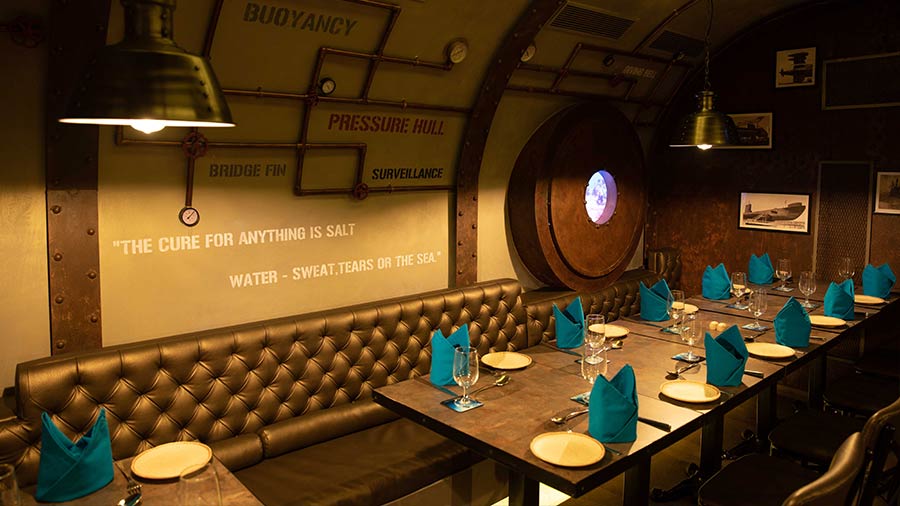 Kouzina Marine
Remember reading Jules Verne's Twenty Thousand Leagues Under the Sea as a child? Now, live the experience at Kouzina Marine. This one-of-a-kind vegetarian restaurant brings you the luxury of dining underwater in a submarine. Launched in 2018 by Rishi Singhal and Mohit Harlaka, this restaurant quickly gained attention for its unique concept. And, who doesn't want some underwater photos for their 'gram, right?
"We have picked intricate design elements to make the decor as authentic as possible, so that you can truly and thoroughly enjoy the deep-sea dining experience. More than an experience, it's an exploration. You can pick from a plethora of vegetarian dishes prepared to perfection by our culinary experts," said Singhal.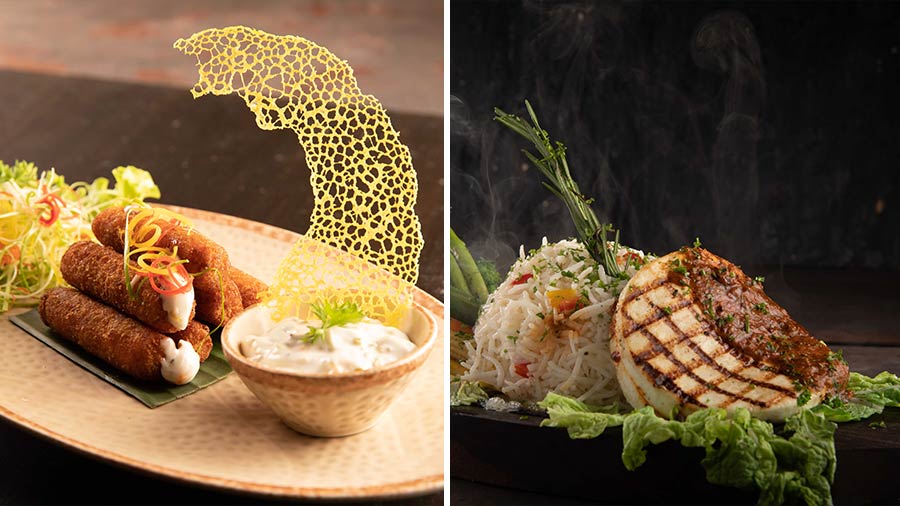 Visitors can try scrumptious global cuisine at this restaurant
Diners can dig into scrumptious global dishes like Cheese Fondue, Afghani Soya Chaap, Lasagna Soup, Khao Suey and Jaipuri Sabzi Churi Mirchi, among many others.
Timings: noon to 11 pm
Address: BD 29, Salt Lake City, Sector 1, Kolkata - 700064
Price for 2 (approx): Rs 1,200
Catch the culinary train at Keshariya Junction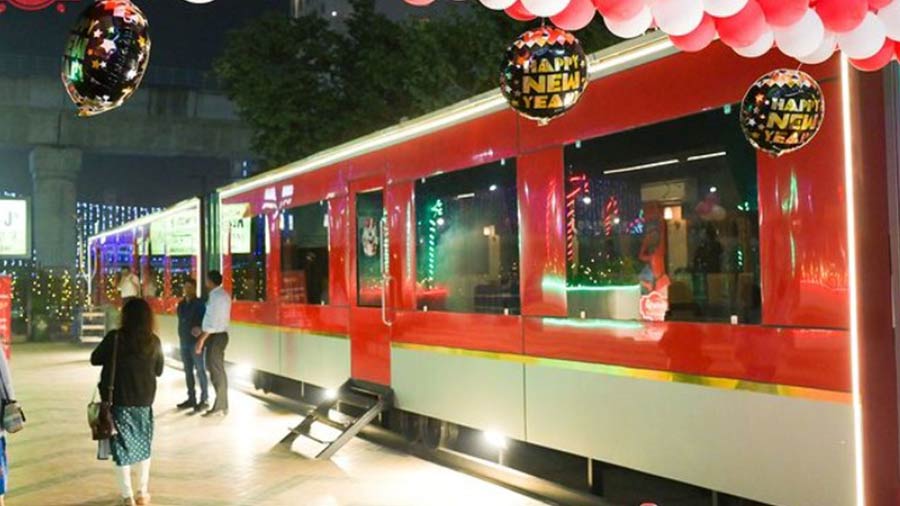 Keshariya Junction - the train themed restaurant at Axis Mall
Kolkata's local train-themed restaurant, Keshariya Junction, aptly replicates the setting of a local train. Launched by Amit Kumar Shyam and Shrestha Mukherjee in October, 2022, you'll find their Keshariya Express waiting on the platform to welcome diners all day. Shyam said, "Walking inside the restaurant feels like you're entering a modern interpretation of a train, which also brings waves of nostalgia, as it is adorned with posters of films set on trains. The outdoor area features a replica of a platform, setting the tone for a perfect evening. One can also take selfies with cult movie scenes from Coolie or Dilwale Dulhania Le Jayenge. Youngsters, families or love birds can pick their spot depending on their mood to enjoy a great open-air ambience."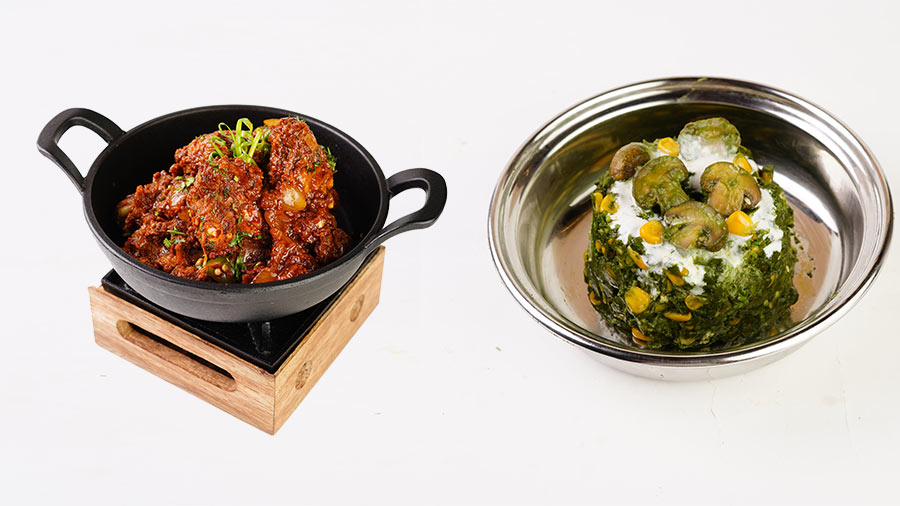 Sample innovative Indian dishes at this restaurant
While at Keshariya Junction, remember to taste their signature dishes, like Reshmi Murgh Malai Puchka-Pudina Pani , Sarso Wali Mahi Malai and Gajar Ka Halwa, to name a few.
Timings: 11am – 10pm
Address: Axis Mall, Ground Floor, Gate No -2, Newtown Kolkata, 7000156
Price for 2 (approx): Rs 1,000
Travel the world at Travelistan Café
Want to travel the world, but don't know where to start? Visit Travelistan Café at Golf Green to meet like-minded travellers. This travel-themed café was started in 2018 by Arijit Dutta and Paramita Gain. "Travel begins with life, and life begins with travel. Anything that is related to travel — food and culture — we encourage that," said Gain. This quaint café is laden with memories that you cherish while travelling. There's a photo of a bus on one of the walls. The rows of green plants remind one how close travelling is linked to nature.
Gain added, "We host events that are related to travel, such as photography exhibitions, travel talks, screening travel documentaries etc. We have a mini library full of fiction and non-fiction books based on travel. We also have a tent stay for adventure travellers at Ajodhya, Purulia, named Manbhum Camp." So you can eat and decide on your next vacation from the café!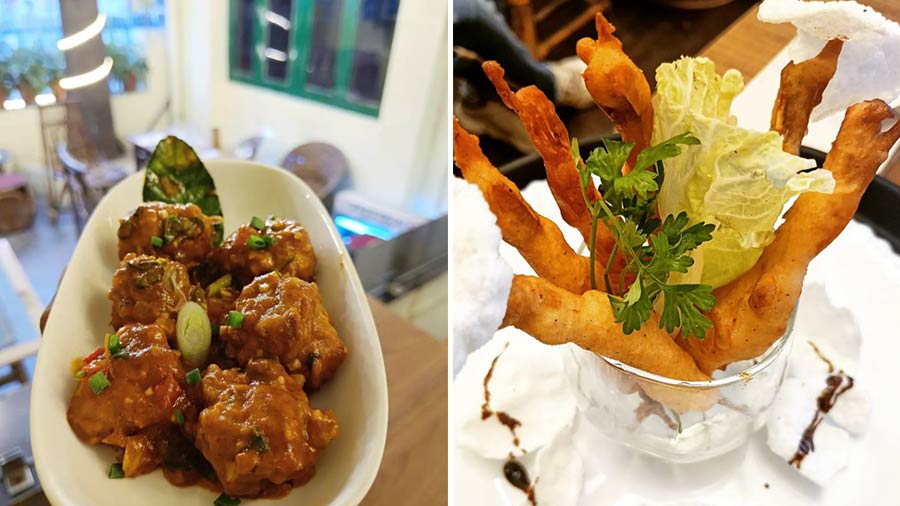 This quaint café serves food that you cherish while travelling
Some of the items on the menu include Russian Salad, Prawn Tempura, a speciality of Japan, Chicken Mosedang, a spicy salad from Tripura, Daab zuzu and special Travelistan steamed sandwich.
Timings: 11am to 11pm
Address: SD-9, Shyamoli Housing Estate, Uday Sankar Sarani, Golfgreen, Phase-1, Kol-95 Near Doordarshan Bhawan
Price for 2 (approx): Rs 500