Imagine sitting on a table reliving Uttam Suchitra's iconic motorbike moment from Saptapadi, or checking out the menu while enjoying a private film screening with friends… Sounds good, right? Restaurants in Kolkata today are not only striving to offer the best service to their customers, but are also providing the perfect ambience to relax and light up your Instagram feed. My Kolkata brings you five such eateries with unique themes.
Comic capers at Tintin & The Brussels Club
When pictures run out from the 'gram, head to Tintin & the Brussels Club to rustle up some likes and hearts. After first opening in 2018, Tintin & the Brussels Club overcame all odds the pandemic threw and reopened last September in south Kolkata's Lake Terrace. The interior of the restaurant has images from the Tintin comics on its walls. The table tops are laid with comic covers, while Tintin's pet, Snowy, playfully makes special appearances in photos strewn across the wall. The restaurant regularly organises homely Tintin-based meet-ups, quizzes and celebrates special occasions with its Belgian cuisine.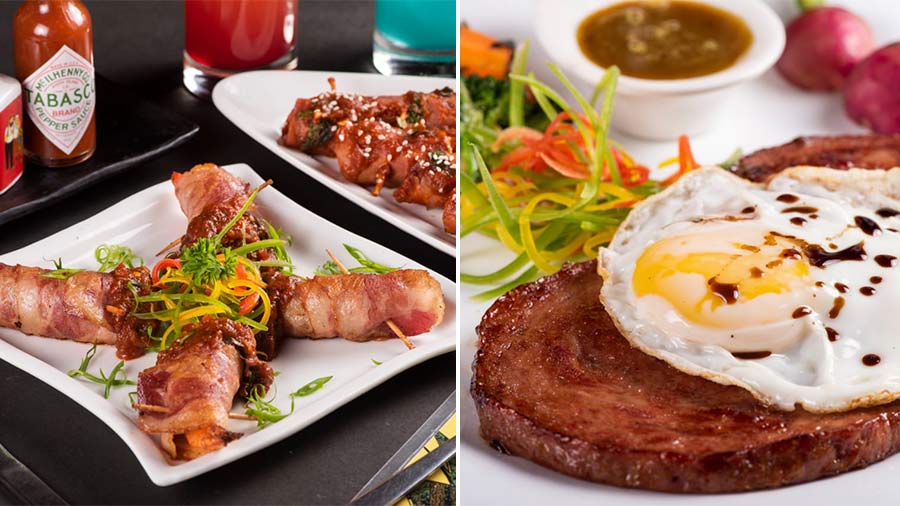 Tintin & The Brussels Club specialises in Belgian cuisine
Barnali Sen Sarma Ghosh, owner of the cafe, said, "I wanted to start a boutique restaurant with an international character that is also popular in Bengal. We are die-hard fans of Tintin. After taking the Tintin trail in Belgium, we decided to start this restaurant and make a proper nostalgic ambience for Tintin fans here in Kolkata." Here, one can indulge in food items like Belgian Mushroom, Belgian Pork Chicory, Belgian Stew, Tintin Special Mocktail, Liquor Cheesecake and more. 
Timings: Noon to 10.30pm 
Address: 104, Hemanta Mukhopadhyay Sarani, Lake Terrace, Kolkata - 700029
Price for 2 (approx): Rs 800 
Get spooked at The Annabelle House
This one is not for the faint-hearted. The look and feel of The Annabelle House are sure to send chills down your spine. Bloody handprints greet you the moment you enter the building on Jadavpur Central Road, and soon you'll find yourself in a deserted graveyard after walking up a few steps.
There are enough elements — the lights, music and the decor — to scare the wits off you while relishing the tasty Chinese cuisine they serve at this eatery. Don't forget to take a selfie with Annabelle up the stairs!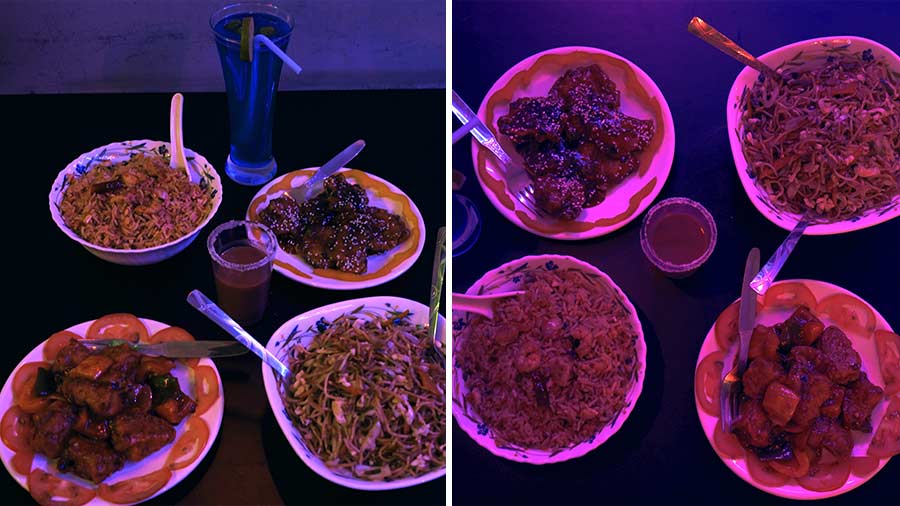 The Annabelle House serves up tasty Chinese fare
Avishek Singh, owner of the cafe, said, "Kolkata did not have a horror-themed café till date. So, we decided to come up with one along with good quality food."
Timings: 2pm to 10.30pm
Address: 4/42/1, Bijoygarh, Jadavpur, Kolkata - 700096
Price for 2 (approx): Rs 500
Take the Uttam-Suchitra route at Saptapadi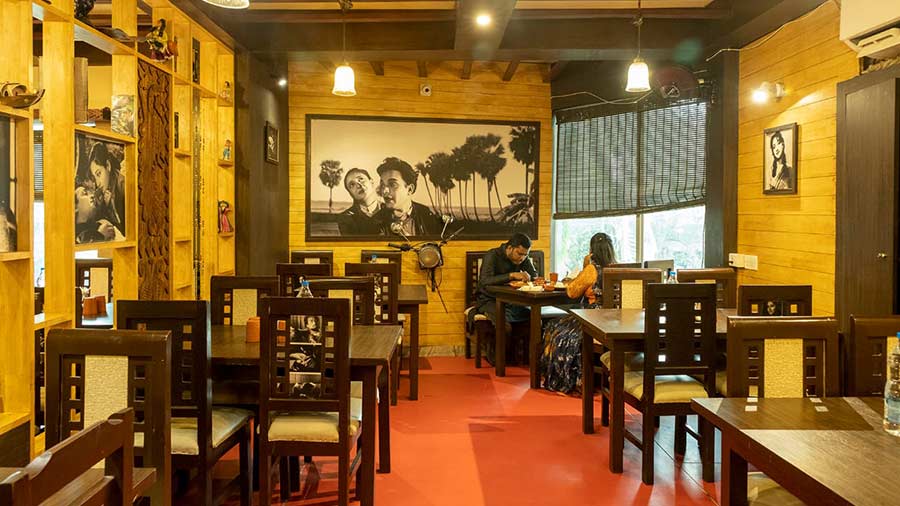 The interior of Saptapadi
Who can forget the iconic song, Ei Poth Jodi na Shesh Hoye, from the Uttam Kumar-Suchitra Sen starrer Saptapadi. So, if you're a fan, all roads will lead you to this Bengali restaurant at Hindustan Park. A theme restaurant based on the iconic duo, Saptapadi was launched in 2011 by Ranjan Biswas and Swarup Mondal, and has garnered a lot of appreciation since then.
Talking about it, chef Ranjan said, "From personally tailored menus to the artfully designed dining room, Saptapadi is an elegant expression of Bengali emotion. Here, every dish speaks for itself. In an attempt to revive our tradition and lost recipes, the platters have been made in an innovative way to entice our patrons."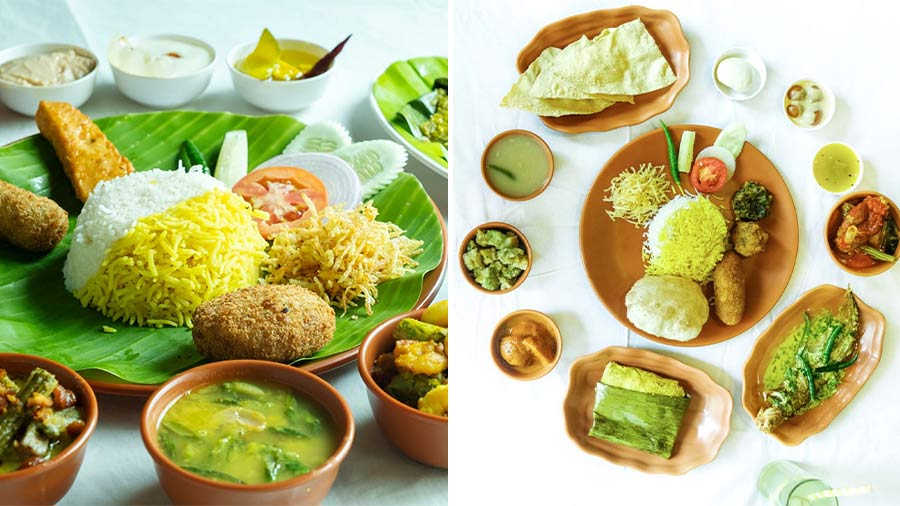 Get the best of Bengali cuisine at Saptapadi
When in Saptapadi, relish some Lichu Lonkar Sorbot, Murgi Chire Cepta, Moori Fish Stick, Mangshor Ghoti Gorom, Lichu Lonkar Payesh and Ice Cream Singara.
Timings: Noon to 10.30pm
Locations: Salt Lake, Baghajatin, Purna Das Road
Price for 2 (approx.): Rs 1,200
Go eco-friendly at The Canisters'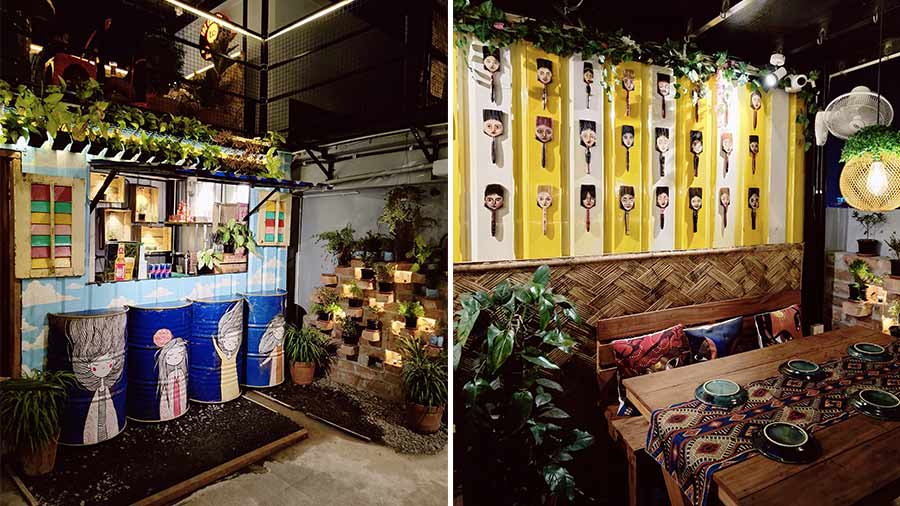 The cafe is decorated with upcycled scrap material
This Instagrammable café has interiors made of upcycled scrap material like discarded drums and windows. It boasts of a beautiful rooftop seating and is also pet friendly. Founded by Subhajeet Debnath and Pritam Roy, this café is pocket-friendly too. You can visit it for work purposes or to enjoy some stand-up comedy and live music.
Subhajeet said, "The name Canisters' denotes the cans that we have used to decorate our cafe." Pritam added, "The cafe is made up of scrap materials with a power-packed ambience. We try to provide a fun ambience for fine dining with family and friends."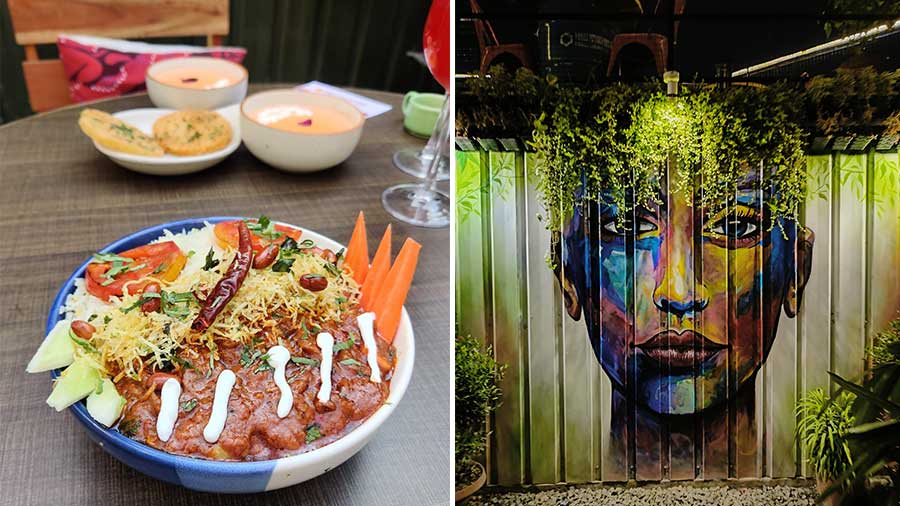 Increase your hunger and reduce your carbon footprint at this eco-friendly cafe!
Some of The Canisters' signature dishes and drinks include Sunset in Autumn, Mutton Kosha Pizza, Baked Nolen Gur Yogurt and Harissa Bayers, to name a few.
Timings: 1pm to 11pm
Locations: Kalikapur and Salt Lake
Price for 2 (approx): Rs 800
Plan a private movie date with food at Cine Cafes
Love watching movies but don't get a chance to enjoy them at leisure at home? Well, book your personal theatre experience at Cine Cafes and enjoy the flick with your gang over delicious food. The idea of private screening of movies was the brainchild of Kunal and Nandini Gupta, the owners of cafes in Salt Lake, in 2021.
"During the pandemic, we realised that the craze for watching movies and web series was on the rise. But doing the same at home with comfort was not easy. So, we came up with the idea of introducing a cafe that would provide private screening in an auditorium set-up with food, beverages and hookah. We also provide a private butler, who is ready to serve at the press of a button," Kunal elaborated.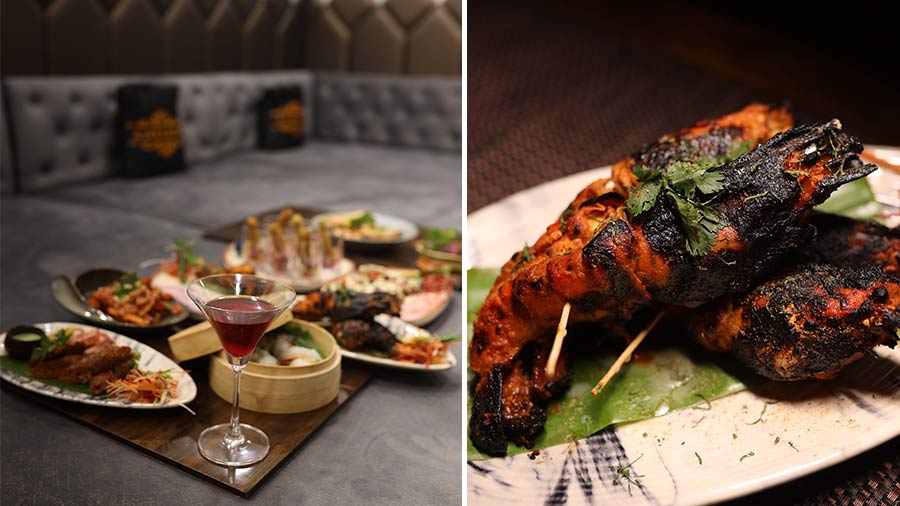 A spread laid out at one of the private screening rooms
While you are watching your favourite movie, do check out their signature dishes like Black Charcoal Dumpling, Clay Oven Baked Corn, Khajoor Shake and more.
Timings: Noon – 11pm
Location: Salt Lake Sector II and Sector V
Price for 2 (approx): Rs 1,500