In Mark Mylod's deliciously diabolical 2022 film, The Menu, Chef Julian Slowik encourages his diners not to eat, but to taste. Several reviewers and filmgoers have rightfully viewed this menacingly gentle command as being emblematic of the narcissism of celebrity chefs and big names in global fine dining, many of whom are often held responsible for taking the joy out of food by conflating the act of eating with mere consumption. (Perhaps, in another universe, a less unhinged Chef Slowik would have asked his diners not to consume, but to taste – although, one suspects, that would have resulted in a markedly less engrossing film.)
But what would happen if we took Slowik's exhortation and applied it elsewhere?
For instance, what if we applied it to Bengali cuisine – specifically traditional Bengali home cooking, the multi-course, degustational structure of which, one daresay, makes it a harbinger of the famed restaurant format now known as the tasting menu?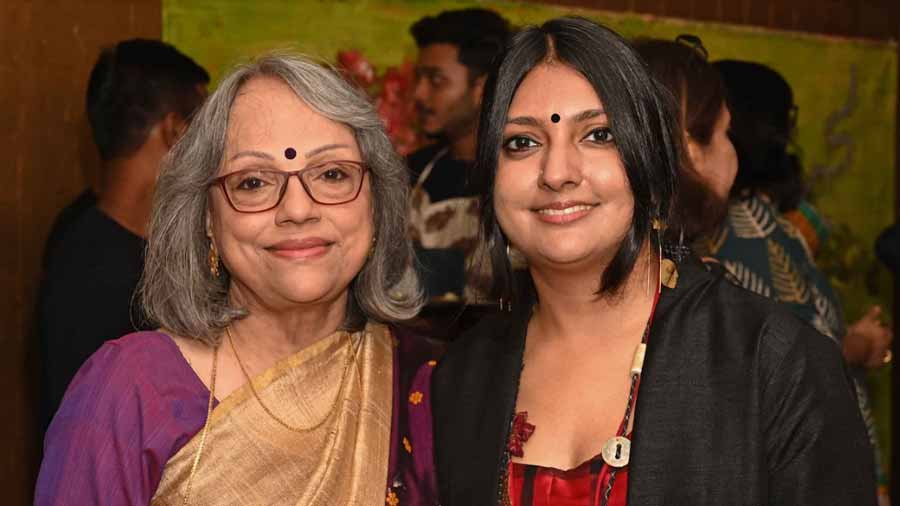 The founders of Sienna Cafe, Shanta Ghosh (left) and Shuli Ghosh, at whose residence the dinner was held
Recipes that are beloved yet rarely seen outside of Bengali homes: Auroni Mookerjee
Indeed, the hallmark of mealtimes in Bengali households across societal strata is their mindfulness regarding the format of the courses. The food is served in a specific order – with significant markers being balance, nutrition, a varied use of flavours and, of course, taste. This structural evolution arguably makes Bengali food the only cuisine in the subcontinent to follow such a design – and it was this unique aspect of our region's food that the Sienna Cafe kitchen team endeavoured to highlight at a dinner for Vir Sanghvi and other delegates of the recently-concluded Apeejay Kolkata Literary Festival, hosted at the residence of Sienna proprietor Shanta Ghosh.
Helming the menu was Sienna's executive chef, Auroni Mookerjee, who, with his teammates Avinandan Kundu and Koyel Roy Nandy, has long been a champion of the region's offerings in terms of produce. They try, through their tasting menus, to "always do [their] progressions in a particular order to honour the 'Bangla ranna' way of eating."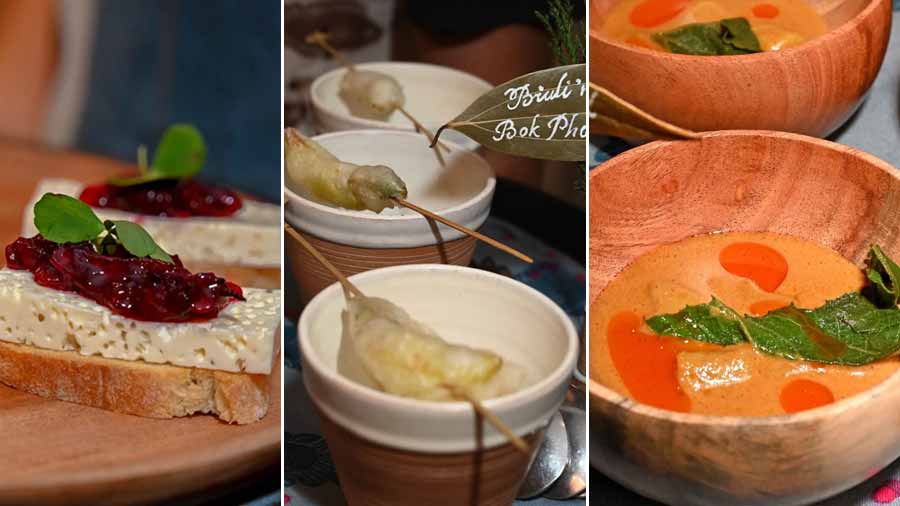 (L-R) Dhakai Ponir with Tok Dhyarosh, Bok Phool-er Bora with Biuli'r Dal, Chitol Muitha'r Jhol
Interestingly, it was the conversation between the New York restaurateur Roni Mazumdar and veteran journalist Vir Sanghvi, hosted by My Kolkata at The Glenburn Penthouse last month, that partly served as inspiration for the menu designed for the delegates' dinner. "We have attempted to create a menu that covers both East and West Bengal, highlighting distinctly regional ingredients and recipes that are beloved yet rarely seen outside of Bengali homes," said Auroni.
And so, the menu, in several ways, paid homage to the Bengali way of eating, starting with Dhakai Ponir served with a Tok Dhyarosh (roselle) jam, and a Bok Phool'r Bora with Biuli'r Dal. The vegetal essence of the bok phool served as a proverbial doffing of the hat to the ingenious bitter element with which Bengali meals begin, and which primes the palate for what is to follow.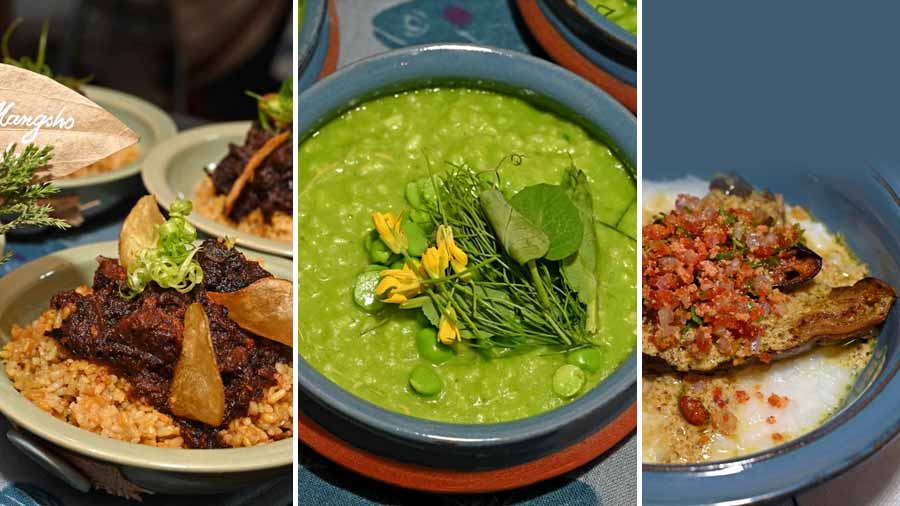 (L-R) Kala Bhuna Mangsho with Bhuna Khichuri, Koraishutir Khichuri, Shorshe Begun, Bori and Gola Bhaat
Koraishutir Khichuri to a Shorshe Begun with Bori and a Chingri dish with Thankuni Pata
Every succeeding course served as a reminder of the well-roundedness of a Bengali meal – from the shaak, shobji, torkari or maach-inspired courses, to the richer courses consisting of mutton, chicken and bhuna khichuri. So delegates enjoyed everything from Ranga Aloo with Posto and a Koraishutir Khichuri to a Shorshe Begun served with Bori, a Kachki Maachh with Maachher Dim, and a Chingri dish with – wait for it – Thankuni Pata. (The last three dishes mentioned were all accompanied by Gola Bhaat.)
The exquisite Chitol Muitha'r Jhol, for its ingeniously moist texture, deserved a special mention on a menu where each course seemed to hit the spot. Much like the delicate balance maintained in a Bengali meal, the courses tread a fine line between highlighting some ingredients that are popular in Bengali restaurants, others that are not, and, most significantly, leaving out a few, equally popular, elements that would encumber a menu such as this.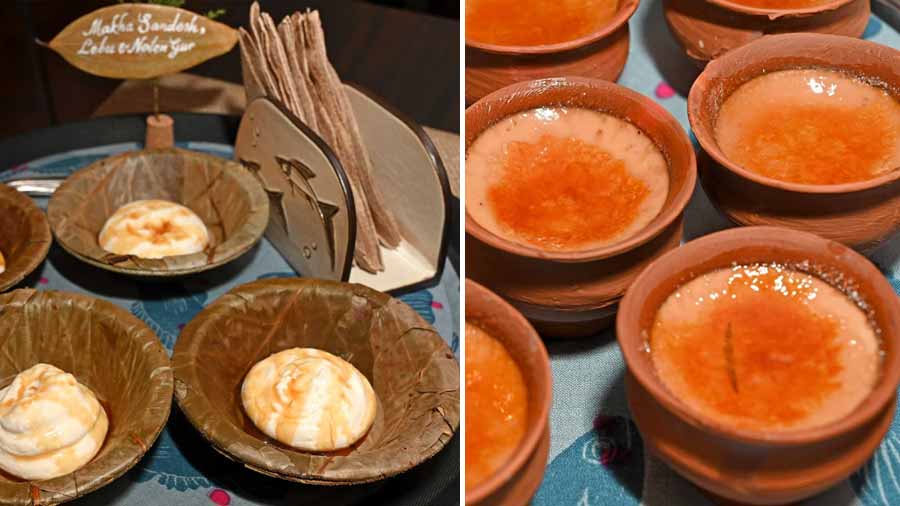 (L-R) Makha Sandesh with Lebu and Nolen Gur, Doodh Cha Crème Brûlée
Auroni cooks some of the most delicious food in the country without anyone noticing: Vir Sanghvi
The courses of Kala Bhuna Mangsho, Laal Morog-er Jhol and Guti Aloo'r Dom – all accompanied by Bhuna Khichuri – served as a perfect tribute to the tailend of a traditional meal that so many in Bengali households look forward to. Cutting through the richness of these courses was the Chalta'r Tok that was served with fragrant Golap Jaam (the flavour of which Auroni describes as "Rooh Afza meets Riesling"). Wrapping up the splendid meal were a Makha Sandesh course served with Lebu and Nolen Gur, and a favourite on the Sienna weeklong specials menus – the Doodh Cha Crème Brûlée. This was arguably a degustation menu at its original best – and a welcome step towards changing how Bengali food, at its simplest and most delicious, is not only viewed, but also eaten.
What did Vir Sanghvi think of the meal? "I have already said that Auroni cooks some of the most delicious food in the country without anyone noticing," said Vir, who featured Auroni on his recent list of India's best young chefs. "This bears testament to that, and I look forward to seeing what else he comes up with in the future."