The Grand Dame of Chowringhee is all set to lay out a grand spread.
The Oberoi Grand will pay homage to its erstwhile Indian specialty restaurant, Gharana, by hosting a nawabi dawat that will feature traditional recipes with authentic flavours. Once renowned for its regal Indian cuisine, Gharana, now a banquet hall, will come to life again for a three-day pop-up event from Friday- Sunday, September 22-24.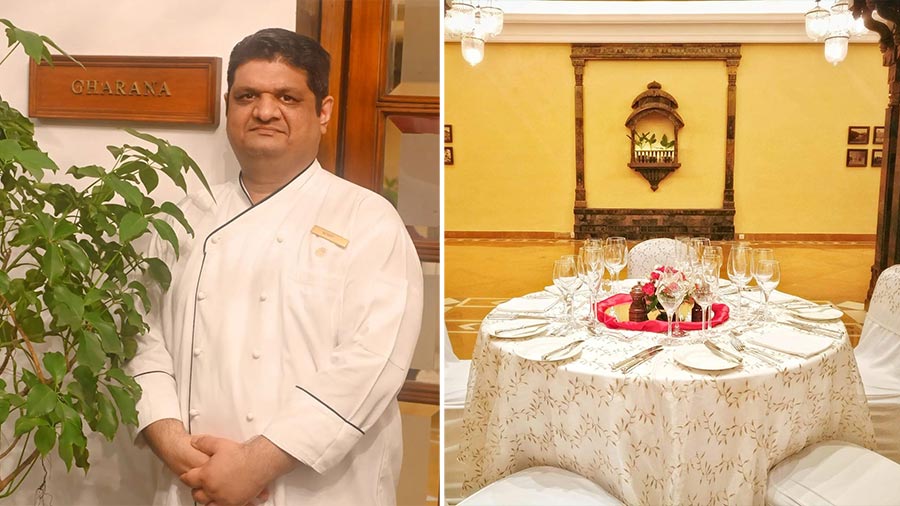 Chef Sumit Kedia, senior executive sous chef, The Oberoi Grand, Kolkata and (right) Gharana at The Oberoi Grand
Chef Sumit Kedia, senior executive sous chef, The Oberoi Grand, Kolkata, has taken the lead to revive the royal recipes of the princely states of India, recreating the Awadhi and Mughlai cuisines for the Dawat. "The revival of the Gharana at The Oberoi Grand is an ode to the erstwhile Gharana restaurant, which used to be the talk of the town for its regal flavours. The Gharana pop-up is aimed at reinventing the cuisines of royal kitchens and forgotten recipes," said Kedia, who has been with The Oberoi Group since 2005.
Dishes of the nawabs and nizams such as shorbas, kebabs, qormas, qaliya, kulfi falooda and more will feature on the special menu. The Oberoi Grand promises to offer an experience of the exquisite flavours with a touch of royal tradition and etiquette or tehzeeb, including the practice of washing hands in a provided pot before the meal.
My Kolkata got an exclusive tasting experience from the menu and here's what you can expect from the pop-up.
Shuruaat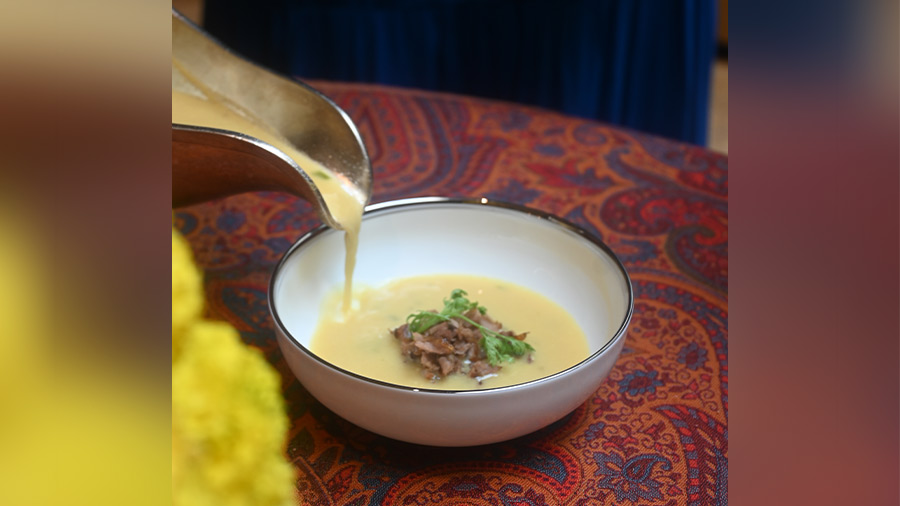 Yakhni
Courtesy The Oberoi Grand
The a la carte Dawat menu begins with a modest selection of four soups. Vegetarians can savour the Saufiyani Shatavar ka Shorba, a spiced asparagus broth flavoured with roasted fennel seed powder, or the Zaffrani Subz Shorba, a vegetable broth with dynamic flavours of whole spices and the aromatic touch of saffron. Non-vegetarians can relish the Murgh Badami Shorba, a broth of slow-cooked chicken and almonds, or the Yakhni, which is a lamb broth flavoured with Kashmiri spices and laced with yoghurt. The Yakhni has a rich taste yet feels very light which further works as a wonderful appetiser.
Khazana-e Kebab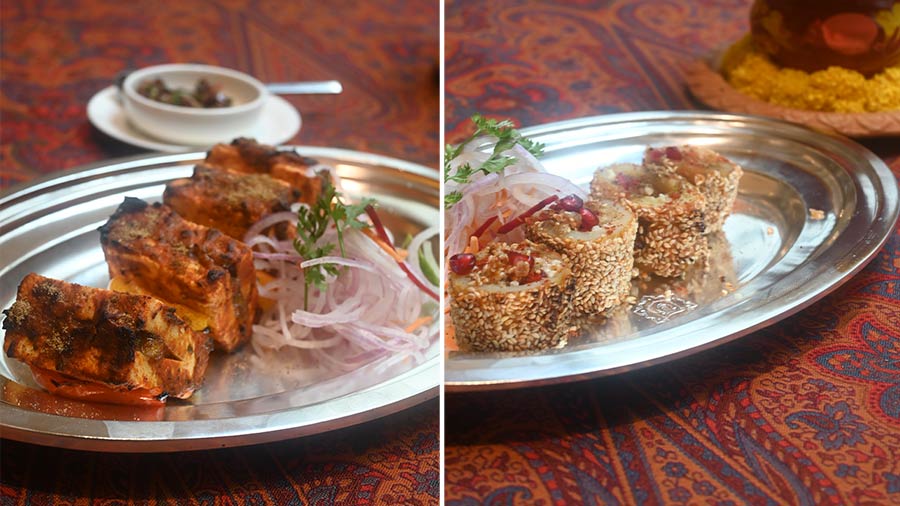 Tohfa-e-Noor and Nazaket-e-Aloo Tilnaz
A nawabi dawat cannot be complete without a delectable range of kebabs. The pop-up menu features four vegetarian and five non-vegetarian kebabs. Vegetarian kebabs include varieties of potato, corn and cottage cheese kebabs like Dahi ke Kebab, Makki Akhrot ki Seekh, Tohfa-e-Noor and Nazaket-e-Aloo Tilnaz.
The non-vegetarian variants include bekti, prawns, chicken and mutton kebabs like Peshawari Mahi-e-Gulfam (bekti), Sarson Wali Jalpari (Prawn), Murgh Surkh Angaar, Kakori Kebab and Gosht ki Galawati.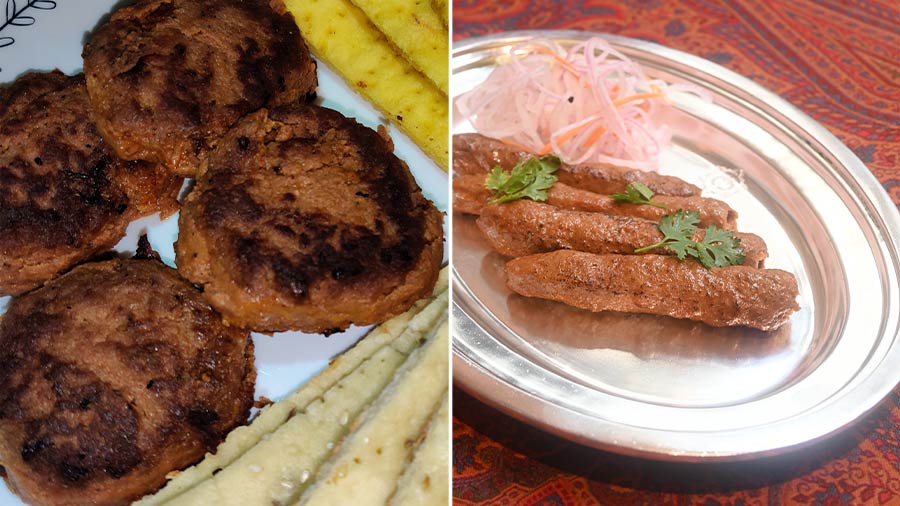 Gosht ki Galawati and Kakori Kebab
Jaismita Alexander (left)
The Gosht ki Galawati is a 17th-century recipe from the kitchen of Nawab Asaf-ud Daula. The melt-in-the-mouth kebabs are infused with a blend of over 25 rare spices, and saffron. The kebabs offer a perfect kebab experience with its smooth texture, rich aroma and flavour. It was our favourite!
Shakahari and Samishahari
For the main course, vegetarians can choose from Paneer-e-Hazrat Mahal, Bharawan Dum Aloo, Shahi Baingan ka Safed Bharta, Bageechey ke subzi and Gobhi 'Musallam'. We tried the Shahi Baingan ka Safed Bharta, which is a dish cooked to perfection! The smoky flavour of the charcoal-roasted mashed brinjal emerges well with the onion, spices and yoghurt. Anyone who enjoys a baingan ka bharta will definitely love this royal version.
Non-vegetarians have an array of fish, prawns, chicken, and mutton dishes to choose from, including Gosht 'Koh-e-Awadh' Qorma, Bhopali Murgh Kofta Rezala, Murgh Kundan Qaliya, Nizami Dum ki Machli, and Mallika-e-Dariya. The Murgh Kundan Qaliya from Awadh is a golden curry prepared using 'Lazzat-e-Taam', a secret spice blend from the royal khansamas, infused with saffron and garnished with gold leaves. The chicken is cooked to a perfect tenderness with a pleasant harmony of spices that doesn't overdo the flavours.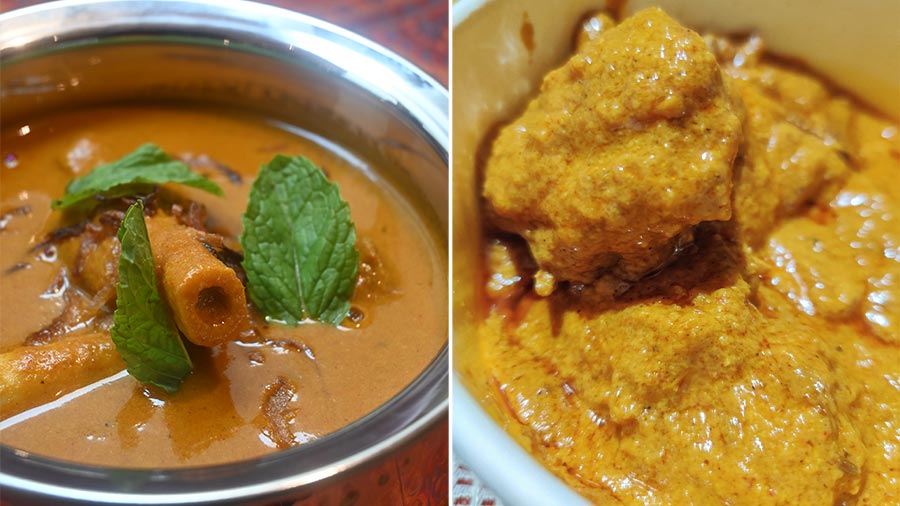 Gosht 'Koh-e-Awadh' Qorma and Murgh Kundan Qaliya
Jaismita Alexander (right)
The Gosht 'Koh-e-Awadh' Qorma has tender and juicy braised lamb shanks in caramelised onions, cardamom and saffron sauce. The dish is slow-cooked to the point where the meat falls off the bone, and is best enjoyed with rice or Indian bread.
Saath Mein
The menu includes a selection of accompaniments like Jahangiri Chholey — an age-old recipe of chickpeas revived from the royal kitchens; Dal Moradabadi— a unique moong dal recipe from the period of Prince Murad, son of Shah Jahan, topped with a special chaat masala, coriander leaves, green chilies, onions, tomatoes and a dollop of ghee; and Dal Gharana — black lentils simmered for 24 hours, topped with cream and home-churned butter.
Chaawal aur Roti
To complement the main course, one can stick to Saade Chaawal (steamed Basmati) or Pulao (jeera rice or peas pulao) or opt for an elevated experience with Lucknowi Mutton Biryani or Subz ki Tehari. While Lucknowi Mutton Biryani needs no introduction, the Subz ki Tehari is a vegetarian alternative cooked with a well-balanced combination of spices and vegetables.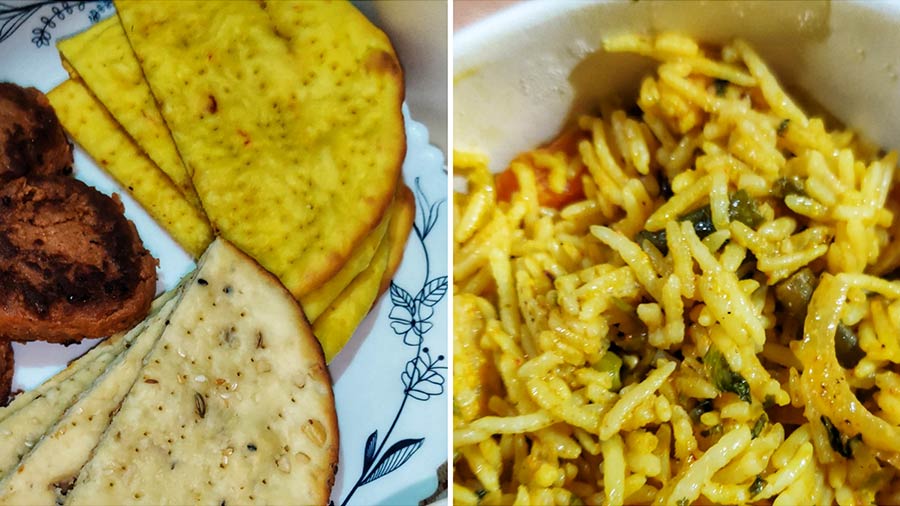 Sheermal and Bakarkhani, and Subz ki Tehari
Jaismita Alexander
Pair your chosen dish with a variety of seven royal bread options, including Sheermal, Bakarkhani, Palak ki Roomali, Varqi Paratha, Dahi ki Roti, Hari Mirch Lahsun ka Paratha, and Khameeri Roti. We tried the Sheermal and Bakarkhani and loved how both had a flavour and texture of their own, while being subtle enough to complement the gravies.
Meetha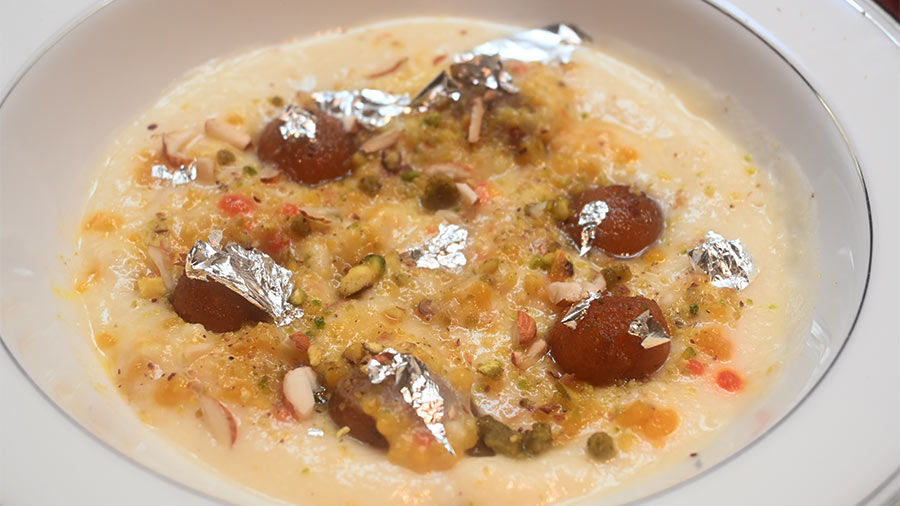 Zauk-e-Shahi
The royal Dawat concludes with a serving of a dessert… or four! Pick from Kesar Pista Phirnee, Zauk-e-Shahi, Khubani Shahi Tukra and Kulfi Badshah Pasand. The Shahi Tukra was a melange of the traditional dessert with naturally sweet apricots stewed to softness. The Zauk-e-Shahi was a sweet surprise with mini gulab jamuns or khoya dumplings in a thickened milk sauce flavoured with saffron and pistachio. The balanced sweetness makes for a wonderful end to the royal meal making your tummy full and heart happy.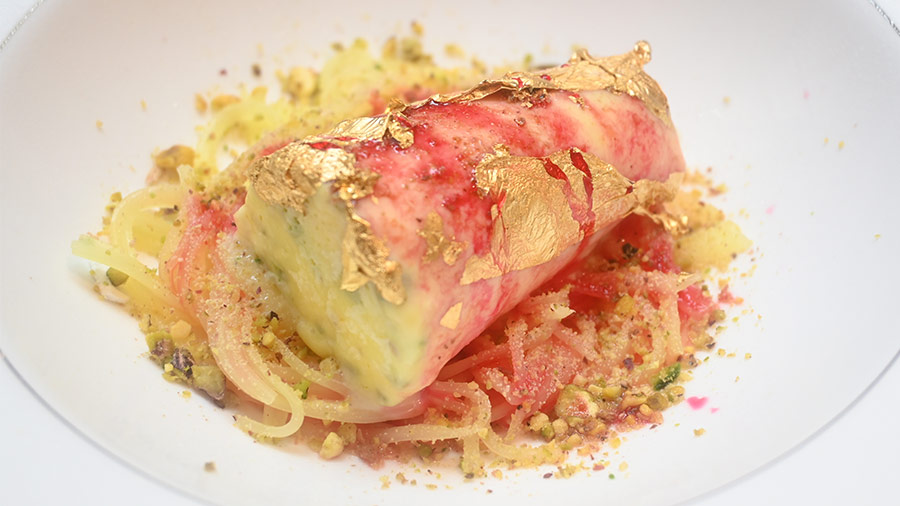 Kulfi Badshah Pasand
At a glance
· Dates: Join the nawabi culinary journey and step back in time to the glorious days of the Gharana on September 22, 23 and 24 (Friday-Sunday)
· Meal for two: Rs 4,000 plus taxes approx, a la carte
· Timings: 7-11pm (Dinner)
· Contact: +91 33 2249 2323 for reservations