Paris has long been known as the gastronomical capital of the world, yet Paris doesn't have as many roads or lanes with names of chefs as Kolkata does! About nine lanes of the city carry the name of the head cooks of yesteryear and they exist even today — few still with their old names and some with names that have changed over time.
Sealdah's Chakku (Chhaku) Khansama Lane and Park Circus' Chamru Khansama Lane still bear their old names. However, at Taltala, Karim Bux Khansama Lane is now known as Karim Bux Lane and Misri Khansama Lane is Marquis Lane. Pachu Khansama Lane at Raja Rammohan Roy Sarani is now Debendra Mukherjee Row, while Nimu Khansama Lane near Calcutta Medical College is Eden Hospital Lane. Piru Khansama Lane in Chitpur is now Turner Road, Miyanjaan Khansama Lane near Taltala is Nawab Abdur Rahman Street and Gadai Khansama Lane off Ripon Street is Elliot Lane.
The journey of the khansama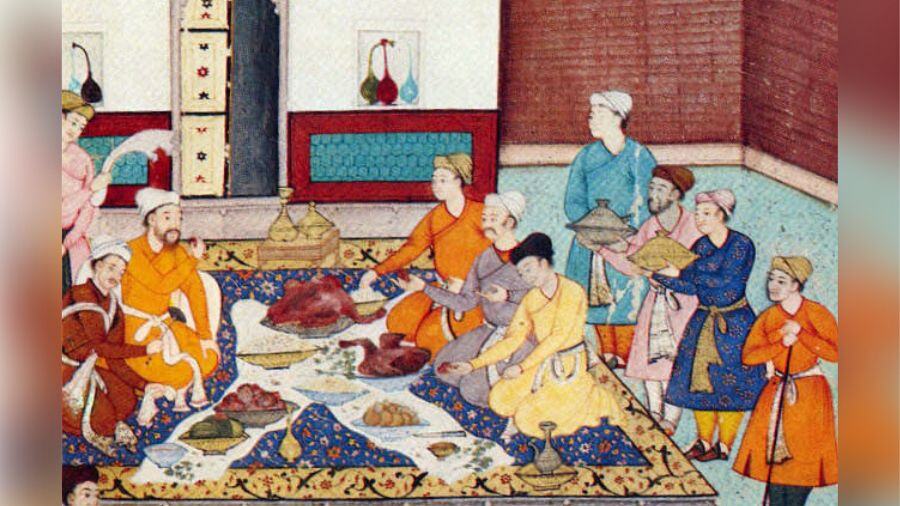 A banquet for Babur, 1507, in a painting from circa 1590
Wikimedia Commons
Khansamas used to be in-charge of the kitchen of the nawabs of Mughal India. Usually Muslim, they often belong to the Sheikh or Pathan communities and were known not only for their culinary skills, but also for their innovation. The nawabi khansamas are credited with many dishes that are now part of the cuisine, but were originally created as per the palate of the master. It is said that the seekh kebab, which many think derived its name from the skewers used in roasting the meat, was named after Sheikh Shahnawaz, the khansama of Nawab Siraj ud Daulah. Shahnawaz is said to have invented the dish for his master. 
Europeans arriving in India were in awe of the affluent lifestyle of the nawabs, and after the Battle of Plassey and the fall of the nawabs, several British officers started emulating the lifestyle. Living in the style of the nawabs, even young officers would have a contingent of household staff and servants, which included khidmatgar, bawarchi, masalchi, behara, darwan, bhisti, zamadar (jemadar), hukabardar, tailors, gardeners, and more — a bevy that often cost them their entire salary.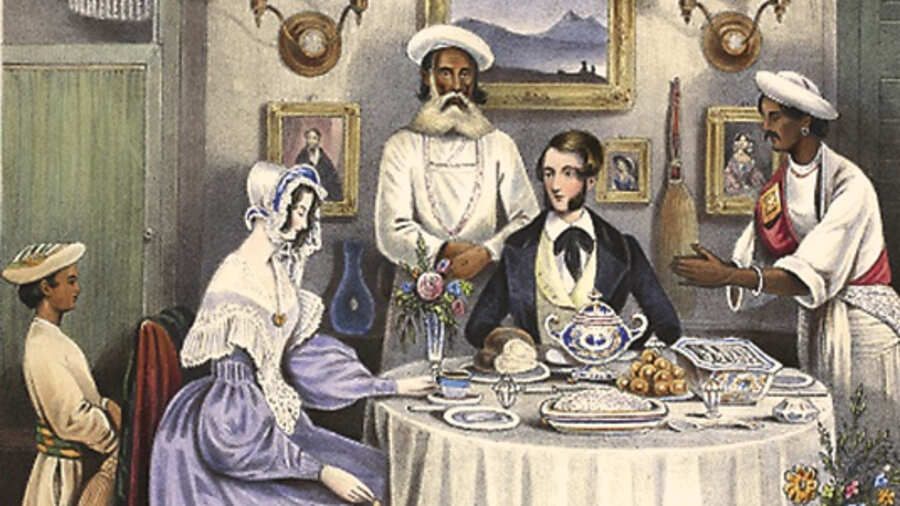 The Breakfast. A young married couple having a meal with servants in attendance. Lithograph by J. Bouvier. Sketches illustrating the manner and customs of the Indians and the Anglo-Indians. London, Thomas McLean, 1842.
Wikimedia Commons
By then, however, the khansamas were firmly established in the kitchens of their British lords. With their innovative skills, they quickly mastered continental cuisine, and added a subtle Indian touch to the bland dishes. This put the khansamas in demand and the kitchen of a British officer would be incomplete without one. While many of the other servants lost their jobs, the requirement of a good khansama was on the rise and they were considered jewels in British Calcutta's culinary crown.
Sheikh Karim Bux, for example, was employed in the kitchen of Governor General Lord Dalhousie in 1848. He then went on to serve seven Governor Generals as head khansama until Lord Minto. Acknowledging the service of Karim Bux, Minto got an oil portrait made and installed it beside the staircase in the northeast corner of Governor House.
Kolkata's khansama 'paras'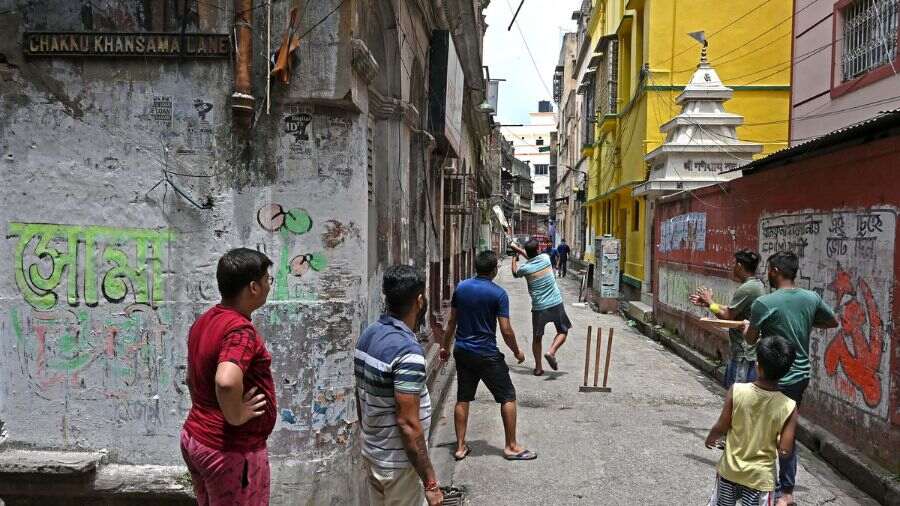 Chakku Khansama Lane at Sealdah
Amit Datta
The increase in demand for khansamas prompted more and more people from villages known for established khansamas to travel to the city. The neighbourhood of present-day Mudiali used to be the residence of most khansamas and was known as Khansama Para. The ones who found success and wealth in their profession would shift from Khansama Para to other parts of the city. And often the areas they shifted to would be named after them — eventually. Like Chamru Khansama Lane, which was named after Chamru Khansama, who was known for his biryani and Mughlai dishes and moved from Khansama Para to Park Circus.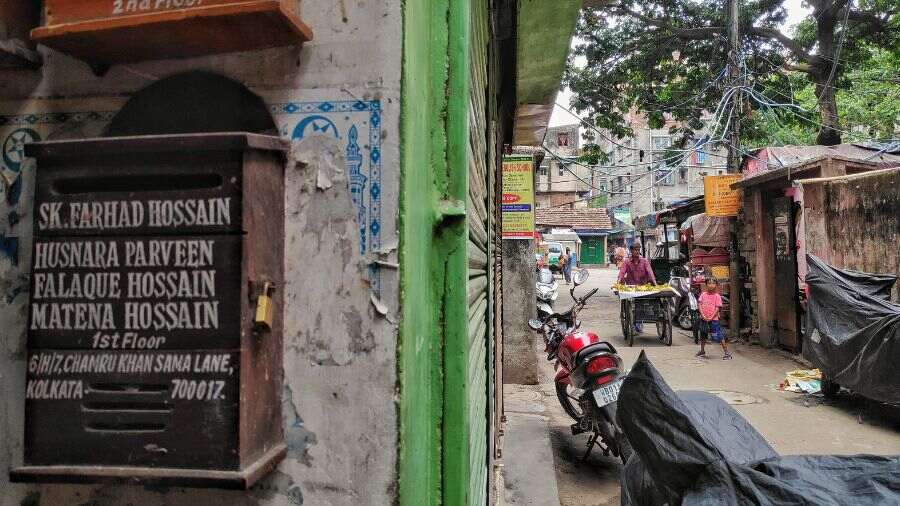 Chamru Khansama Lane in Park Circus
Soumyajit Dey
Kolkata has never been conservative in appreciating the skills and mastery of people and artisans irrespective of their professions. Like the 'khansama lanes', there are quite a few lanes of Kolkata which were named after tailors, or ostagar as they were known back then. When Wajid Ali Shah moved to Kolkata, he is said to have arrived with a huge contingent of staff, which included tailors as well. For better prospects, some of them moved to north Kolkata where the babus used to spend lots of money on their clothing. Sovabazar Rajbari accommodated some of these tailors around their estate and area — the area is still known as Darji Para.
Gulu Ostagar Lane and Lalu Ostagar Lane (now known as Abinash Mitra Street) bear the names of two famous tailors from that time. Budhu Ostagar Lane, Nawabdi Ostagar Lane and Miyajaan Ostagar Lane are some of the other lanes in central Kolkata, named after tailors. Likewise, Ramhari Mistri Lane, Ramkanta Mistri Lane and Akhil Mistri Lane commemorate some skillful artisans of the 19th century.