In the movie Ratatouille, we see the ill-tempered food critic, Anton Ego, shocked into a slack-jawed schoolboy grin after his first bite of Remy's ratatouille, which takes him back to a childhood favourite made by his mother. It's a moment that stayed with every one of us. Not just because we thought Ego needed to be shaken out of his churlishness but also because we're all familiar with that moment – the moment a spoonful takes us back to our mother's dining table, or our grandmother's kitchen… the flavours and the flashback all coming together in a delicious memory.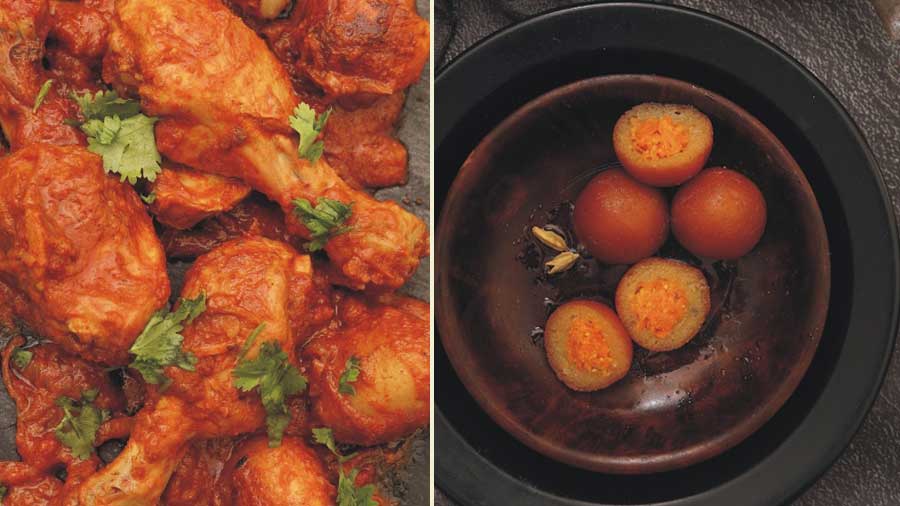 Rajababur Chicken and Carrot Pantua. 'Whenever my friends came over, the smell of the cooking would drive them wild, and everyone would get a little portion of whatever was being cooked,' said Killick Datta, who attended Cathedral and John Connon School in Mumbai. He would rush home every day for lunch. 'I was the only student who did that! I would jump into the car, burst into the house to find food on the table. There was the usual 'dal-bhaat-bhindi bhaja' or some vegetable I didn't like, followed by the good stuff like 'mangsho'. Then I'd dash back to school to be able to play a little or catch up on the gossip,' reminisces Killick
More than a hundred recipes that Ma had written over the years
Thamma's Cookbook of Indian Homestyle Delicacies, a 200-page, hardbound book of recipes, is a result of Killick Datta's hankering for the tastes of his childhood. However, it is Tina, his American wife, who spearheaded the project. "We were in Kolkata last year and we started cleaning out the cupboards to organise things. I pulled out a plastic bag with yellowed sheets of paper in it. They were written in Bengali but I assumed they were recipes because some of them had headings in English, like 'Chicken Tikka'. There were more than a hundred that Ma had painstakingly written over the years."
The book became a tribute to Killick's mother – Rekha Datta – by her four grandchildren, now young adults, who were able to learn about their Bengali roots through the meals she cooked when she visited them, first in California and later in Singapore. They begin the book by penning culinary memories associated with their grandmother, who can no longer travel because she's old and frail. If there's one thing they all agree on, it's that none of them were set to be extraordinary cooks but that Thamma inspired all of them to at least try their hand at it.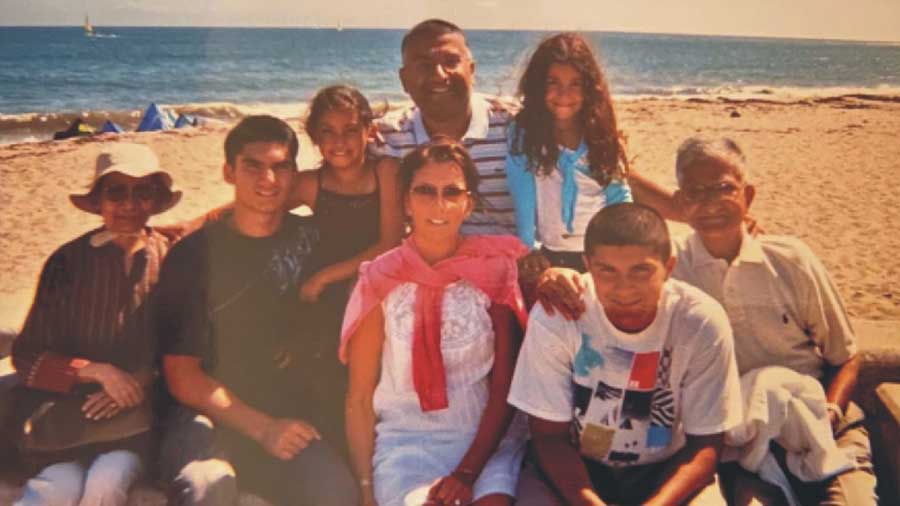 Rekha Datta (far left) with her family. She would visit her son for three months in summer to get away from the Mumbai monsoon, and two months in winter. She luxuriated in the lives of her grandchildren, and would simply sit with them for hours, watching them playing tennis even though she was not a sportswoman
Sophia discovered, contrary to what she'd assumed, that the recipes were very easy, with the steps lucidly spelt out. Thamma's fluffy, yellow Basanti Pulao has become a staple for Sarah and it's the one thing she's going to learn to make before she leaves for college. Their elder brothers, Shudhi and Shovan, haven't taken to cooking prolifically, but the aroma of certain spices take them right back to their Bengali roots.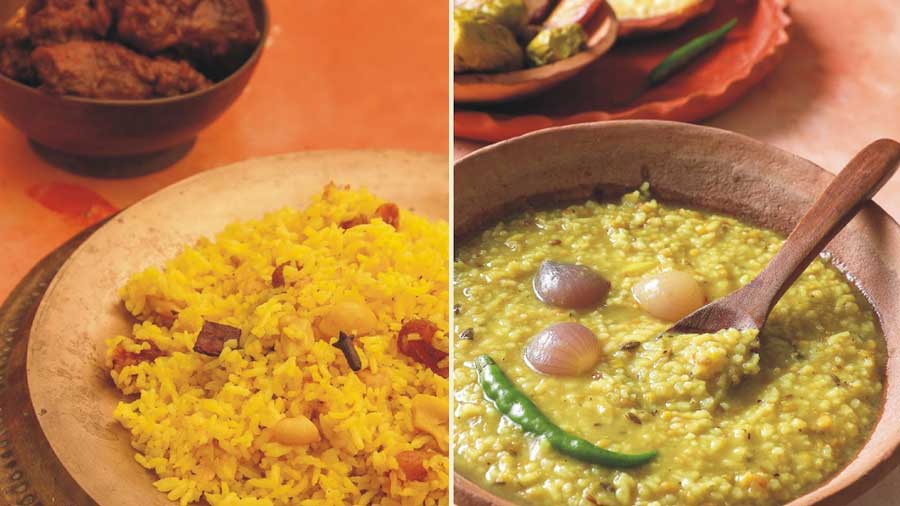 Basanti Pulao and Khichudi. 'Whenever it rained, I knew there would be khichudi and begun bhaja and jhoori aloo bhaja,' said Killick Datta
Appetisers, snacks & salad to sweets, dessert & chutney
"Ma made comfort food. And sometimes she would do things like add curry powder to a Kung Pao chicken recipe and say 'Just try it'. It was never meant to be artsy but it always blew our minds. Then I married an American and I thought, 'Good God am going to be stuck with burgers for the rest of my life'," laughs Killick, who is co-founder of international fashion marketing brand, Global Brand Partners.
Luckily for him, nothing could be further from the truth, because Tina rather enjoys Indian food and is particularly partial to her mother-in-law's daal. It was one of the first dishes she learnt to cook when she married Killick 25 years ago. Tina sought the help of Bengali friends and family in Kolkata to decipher and translate the recipes. It took six months to sort through all the recipes to shortlist the family favourites. A hundred recipes have been divided into various sections – Appetisers, Snacks & Salad; Rice & Daal; Vegetables; Fish; Meat, Poultry & Eggs; Sweets, Dessert & Chutney.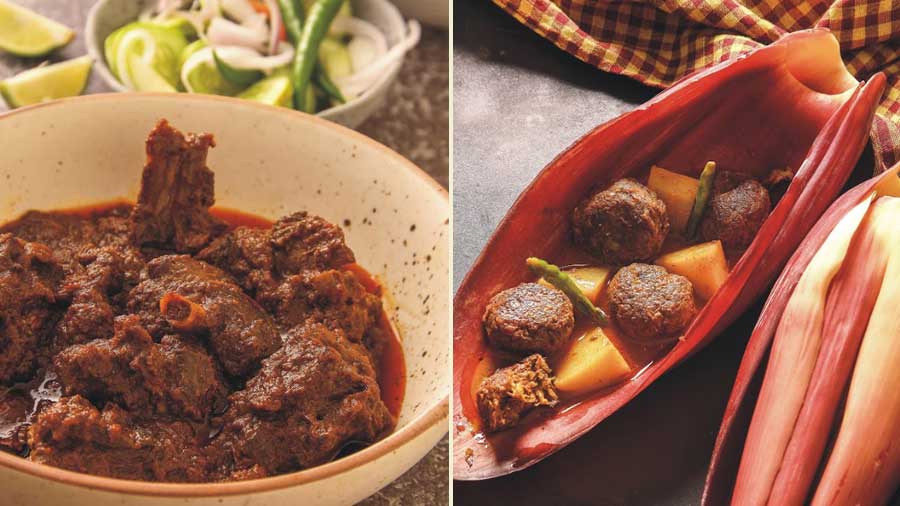 Kosha Mangsho (L) and Mochar Kofta. 'I used to talk to my dad about business and mum would only talk about food. They would come to the airport to pick me up when I came home from college and my dad would ask me to tell her to make Kosha Mangsho and she always would, even if the ingredients weren't available,' laughed Killick
"The vegetarian section of this book used to be forced on me with thappar and kaan-mola. But the Aloo Gobi, Aloo Dum and paneer curry became my favourites, and my wife learnt to cook those," says Killick, who left the country when he was 16 and is now based in Singapore.
He recounts how his mother had not spoken a word in seven months after his father passed away last year. When Thamma's Cookbook arrived, hot off the press, he took it to her immediately and showed her every page. He asked her what she thought of it, not expecting a reply. "Incredible," was her response. The first word she had spoken in seven months.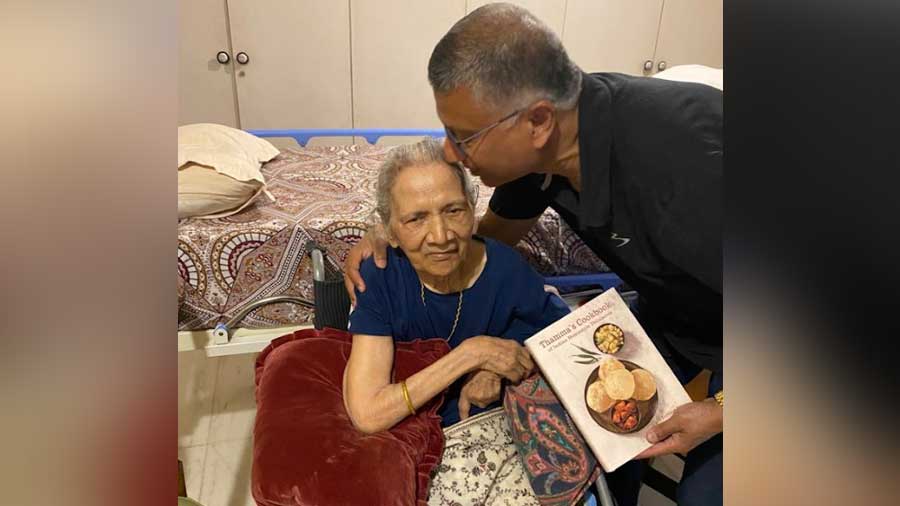 Killick Datta and his mother, Rekha, with the book she inspired
"And then we convinced her to attend a family wedding in the evening, even though she's been in a self-imposed exile for five years. She didn't even want to be home early and eventually was up till 3am!" said Tina.
Let food be thy medicine indeed.