Mango Mushroom Bruschetta
 Ingredients: (02 portions)
 French Loaf 1 pc
 Olive oil to drizzle
 Ripe Mango 1
 Button Mushroom 6 pcs
 Basil leaves, a handful
 Salt and Pepper to taste
Method:
 Cut the French loaf into thick slices and toast on a salamander.
 Smear olive oil on top.
 Prepare a mixture of brunoise of mangoes, brunoise of button mushrooms, shreds of basil and seasoning.
 With a spoon evenly spread the mixture on top of the toasted bread slices.
 Finish with some more olive oil drizzling.
Serve on a board.
Crispy Lotus Stem In Alphonso Chilli Sauce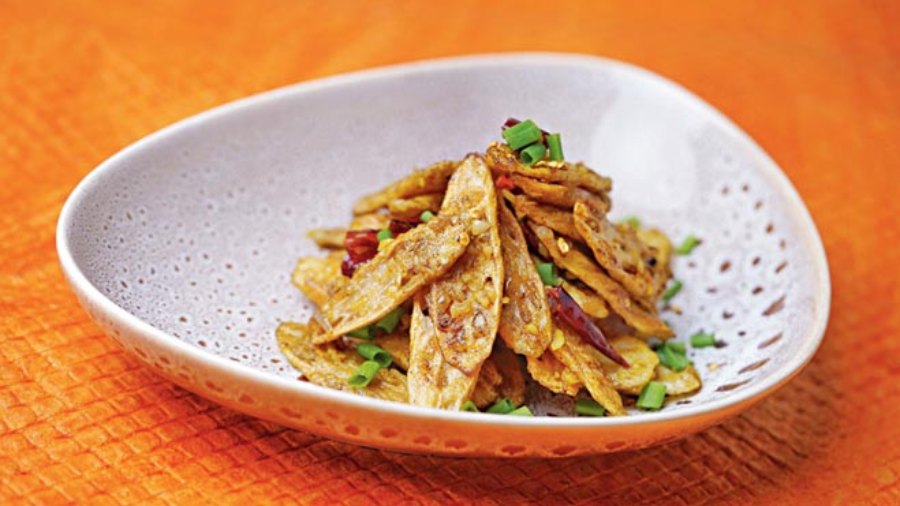 Ingredients: (02 portions)
For the batter:
Refined flour 01 cup
Seasoning to taste
Refined oil 2tbsp
Water as required
For the sauce:
Refined oil: 15ml
Finely chopped garlic: 2tbsp
Finely chopped ginger: 1tbsp
Finely chopped onion: 3tbsp
Alphonso pulp: 1/2 cup
Water as required
Roasted slitted red chillies: few nos.
Seasoning as required
Sesame seed to finish
Finely chopped spring onion to garnish
Method:
Finely slice the lotus stems and wash in lukewarm water.
Prepare a thin batter with the ingredients mentioned and dip the lotus stem slices and crisp fry to golden colour and keep aside.
Heat refined oil on a pan and add the ingredients for the sauce one by one and prepare a thick dry sauce.
Add the crispy fried lotus stem and toss, adjust the seasoning, finish with sesame seeds, garnish with finely chopped spring onions and serve hot.
Lobster In Mango Cream and Parsley Sauce
Ingredients: (02 portions)
Lobster 04 pcs (125g each)
Butter 15g
Finely chopped garlic 2tbsp
Finely chopped celery 2tbsp
Finely chopped parsley 2tbsp
Stock as required
Refined flour to thicken
Himsagar mango pulp 3/4 cup
Cream 50ml
Seasoning to taste
Finely chopped parsley leaves to finish
Method:
Boil the lobster with little vinegar, cool, de-shell and slice.
In a pan, prepare the sauce by adding ingredients one by one as mentioned. After adding refined flour, add the sliced boiled lobsters and cook and adjust the seasoning.
Take off from heat and add mango pulp and cream one by one and stir. Finish with finely chopped parsley leaves.
Serve hot.
Kolkata Cabin Style Aam Diye Machher Chop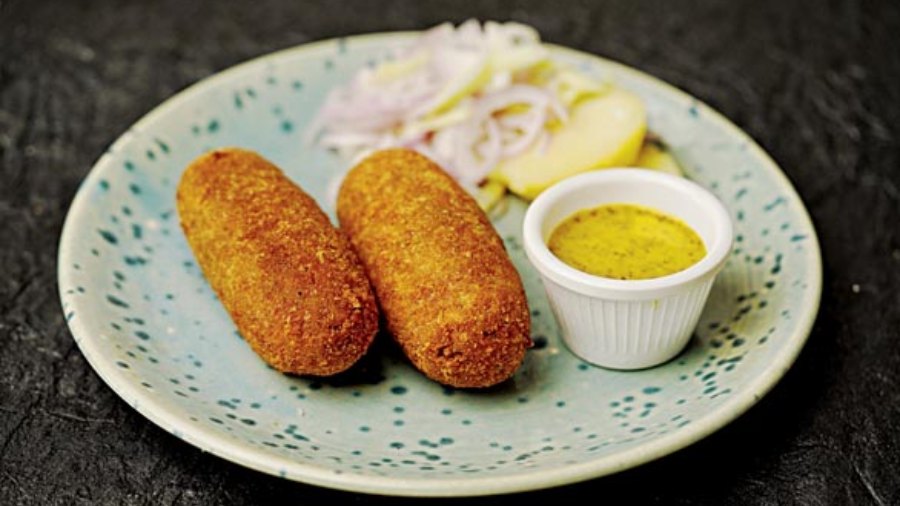 Ingredients: (02 portions)
Fish chop mixture:
Fish trimmings 200g
Mustard oil 30ml
Cumin seeds to temper
Finely chopped onion 4tbsp
Ginger-garlic paste 2tbsp
Finely chopped tomato 1pc
Turmeric powder 1tsp
Red chilli powder 2tsp
Coriander powder 2tsp
Mashed potato 1 cup
Seasoning to taste
Raisins to enrich
Peanuts, a handful
Golden fried onions
Garam masala powder 1tbsp
Raw mango ½ pc
Finely Chopped Green Chillies 3-4 pcs
For coating:
Egg 1 pc
Arrowroot as required
Breadcrumb to coat
Refined oil to deep fry
Method:
Marinate the fish trimmings with lemon juice, salt and water for 20 minutes.
Take out after half an hour, pat dry and keep aside.
Take a pan and prepare the mixture with the mentioned ingredients one by one.
Cool the mixture and add the finely chopped raw mango and finely chopped green chillies.
Shape like thick cigars, coat and crumb with breadcrumb.
Deep fry till golden, serve hot with kasundi and salad.
Fish In Thai Green Mango Curry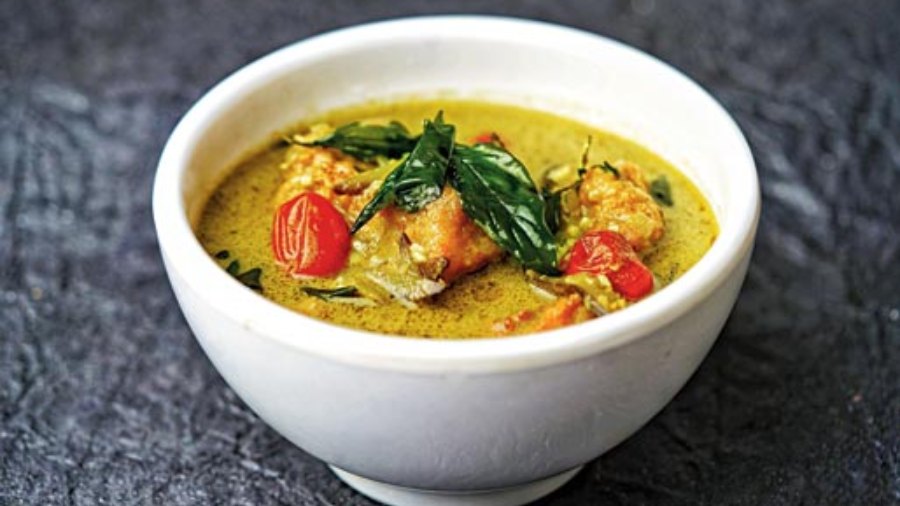 Ingredients:
Beckti Fillet 300g
First Marination:
Water
Salt 2tsp
Lemon juice 1 no
Second marination:
Garlic paste 2tbsp
Ginger paste 2tbsp
Seasoning to taste
Batter:
Egg 1 no.
Cornflour ½ cup
Water as required
Refined Oil to deep fry
For the curry:
Refined oil 20ml
Finely chopped garlic 2tbsp
Finely chopped galangal 2tbsp
Finely chopped onion 3tbsp
Finely chopped lemongrass 2tsp
Thai green curry paste 2tbsp
Thai chilli paste 1tbsp
Potato dices 1 potato
Raw papaya few pcs
Finely sliced raw mango 1 mango (medium)
Stock as required
Coconut Cream ½ cup
Kaffir lime leaves 3 to 4
Cherry tomatoes 6 to 8
Thai basil few leaves
Method:
Cut the fish fillet into thick cubes, add the first marination for 20 minutes, wash and pat dry and marinate for the second time for another half an hour.
Coat and deep fry.
Prepare a curry by using the ingredients one by one.
Before finishing, add the fried fish pieces and simmer a little, adjust the seasoning.
Garnish with fried Thai basil leaves.
Grilled Chicken with Panch Phoron Mango Chutney Reduction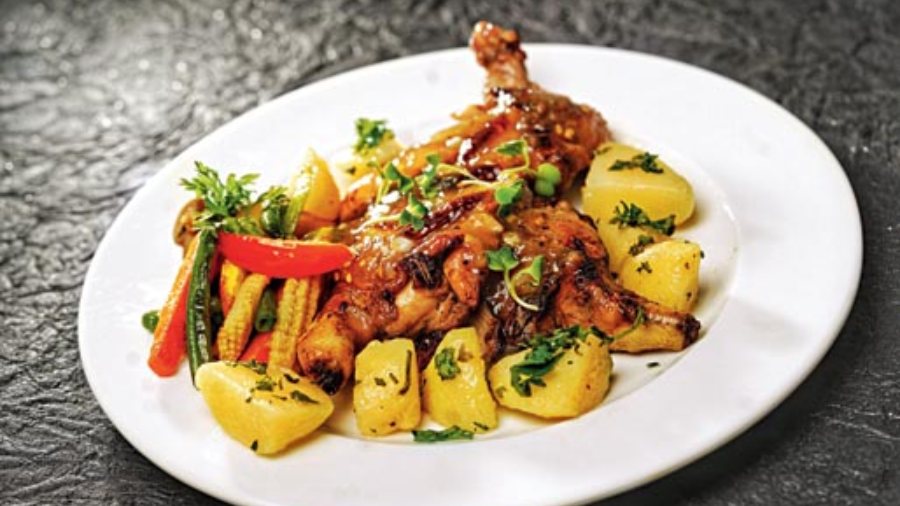 Ingredients: (02 portions)
Whole English dressed chicken 1pc
Marination:
White wine 70ml
Finely chopped garlic 2tbsp
Finely chopped onion 3tbsp
Finely chopped carrot 2tbsp
Finely chopped celery 2tbsp
French mustard 2tbsp
Worcestershire sauce as required
Seasoning to taste
Refined oil and butter to grill
For the sauce:
Grated raw mango 1 pc
Sugar 30g
Refined oil 15ml
Panch phoron 2tsp
Red chilli whole 2 to 3 nos
Finely chopped garlic 2tbsp
Finely chopped onion 3 tbsp
Stock as required
Seasoning as required
Butter to finish
Microgreens to finish
Method:
Cut the English dressed chicken into four pieces and pat for grilled chicken.
Marinate the chicken for at least two hours and grill on a griddle till fully done.
Boil the grated raw mango and drain, prepare a chutney with it by adding sugar and water.
Heat oil, temper with panch phoron and red chilli whole, add garlic, onion, cook, add the chutney cook.
Add stock as required, adjust seasoning, finish with butter.
Arrange the grilled chicken pieces on a platter or pour the chutney reduction.
Serve hot with accompaniments.
Raw Mango Salad With Bengal Mustard Dressing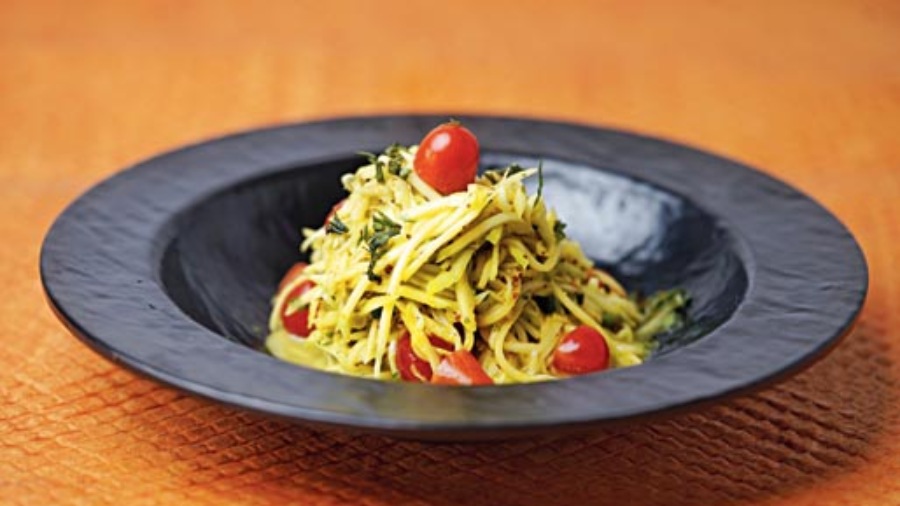 Ingredients (02 portions)
Raw sweet mangoes 2 nos
Cherry tomatoes few nos
Dressing:
Kasundi 30ml
Mustard oil 10ml
Finely chopped green chillies 4 to 5
Finely chopped coriander 2 tbsp
Rock salt to taste
Powdered sugar to taste
Method:
Finely slice or peel (with spaghetti peeler) the kancha meetha aam.
Prepare a dressing with all the mentioned ingredients except mustard oil.
Arrange the peeled or sliced mangoes on a salad bowl, add halved cherry tomatoes and pour over the prepared dressing.
Sprinkle the mustard oil on top for more pronounced flavour and serve.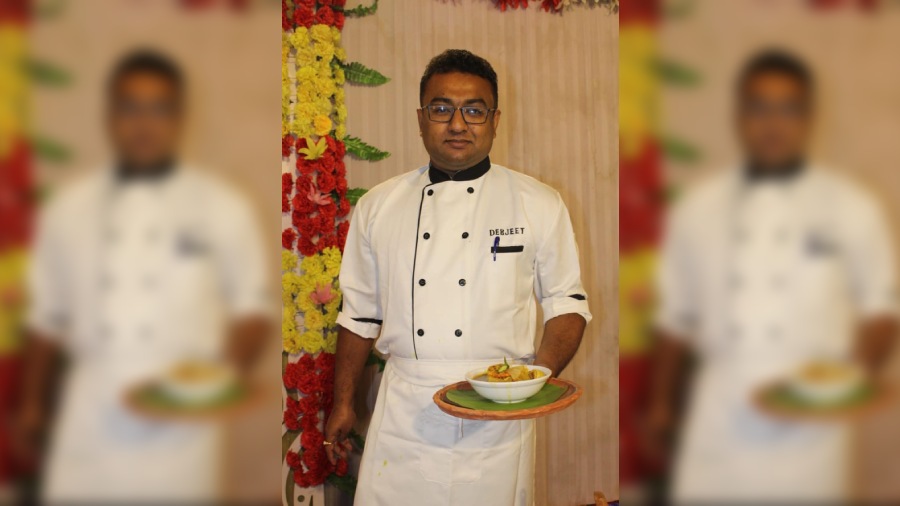 Chef Debjeet runs his catering service called Passion 4 Hospitality