The other 364 days can be all about snatching the remote, sneaking the chocolates, giving major eye rolls and channeling your inner Feluda to snoop and 'inform' the folks, but on Bhai Phonta, it's all about love, love and love for the jigar ka tukra sibling. And what's a better love language than indulge in a gala spread to celebrate the bond? This Bhai Dooj, My Kolkata brings to you a few recipes that will ensure a tight hug and perhaps an extra gift from your sibling.
Quick Kaju Pulao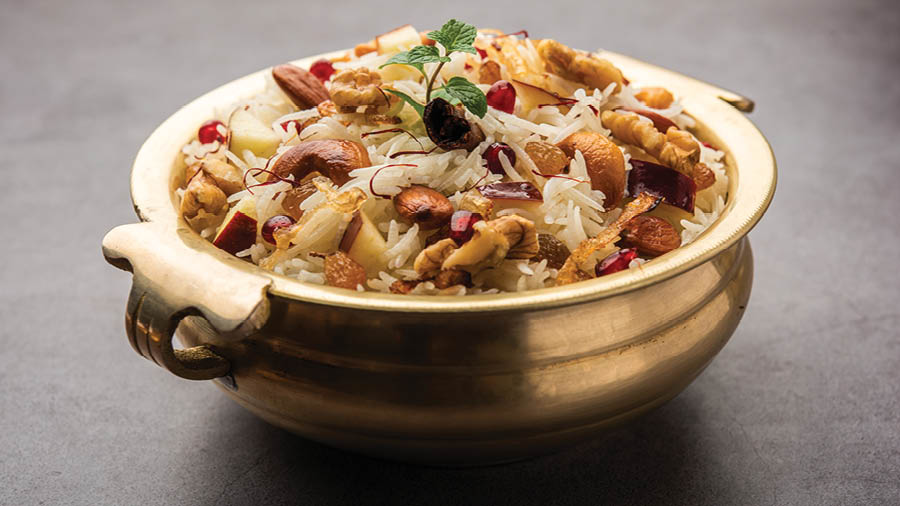 Representational Image
Shutterstock
A simple pulao that will compliment the rich flavours of Pork Kosha.
Ingredients
Cashew: 10-15 pieces
Basmati rice: 1 large cup
Cardamom: 2-3 pieces
Bay leaf: 2 large
Sugar: To taste
Salt: To taste
Ghee: 3-4 tablespoons
Recipe
Wash basmati rice and soak in room temperature water for 15 minutes. Strain excess water
Fry cashew in ghee until golden in a kadhai
In the same kadhai, add some more ghee and temper the cardamom pods and bay leaves
Add rice and saute until the rice is translucent
Add lukewarm water and cover. Cook until the rice is ready. Don't forget to stir at regular intervals
Add salt and sugar and mix well. Cook for another 1-2 minutes to dissolve sugar properly. Serve hot
Hing-Gota Roshun Pork Kosha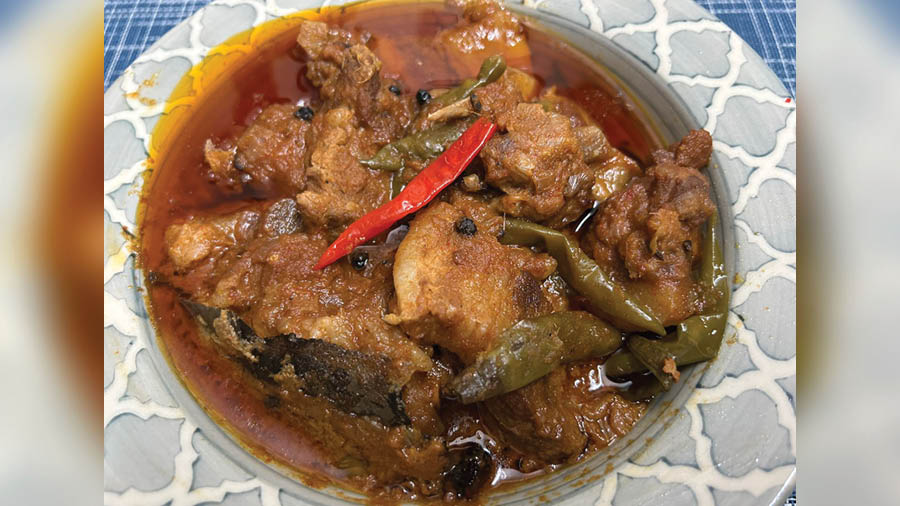 Pooja Mitra
An offbeat pork recipe that's spicy, aromatic and simply delicious.
Ingredients
Pork: 1kg (70:30 meat-fat ratio)
Hing (Asafoetida): 1 and ½ teaspoon
Whole garlic: 1 medium
Onion paste: 2+1 tablespoons
Garlic paste: 1 + ½ tablespoons
Ginger paste: 1 + 1 tablespoons
Green chilli paste: 2 teaspoons
Kashmiri red chilli paste: 2 tablespoons
Kashmiri red chilli powder: 1 teaspoon
Turmeric powder: 2 teaspoons
Coriander powder: 2 teaspoons
Bay leaf: 1 large
Mustard oil: 3 tablespoons
Hung curd: 4 tablespoons
Salt: To taste
Recipe
Wash pork and strain excess water
Marinate pork with 2 tablespoon onion paste, 1 tablespoon garlic paste, 1 tablespoon ginger paste, 2 tablespoons green chilli paste, 1 tablespoon Kashmiri red chilli paste, 1 teaspoon Kashmiri red chilli powder, 2 teaspoons turmeric powder, 2 teaspoons coriander powder, 4 tablespoons hung curd, 1 tablespoon salt, and 1 tablespoon mustard oil. The suggested marination time is overnight or at least 1 hour
In a pressure cooker add two tablespoons of mustard oil and heat well. Add bay leaf and hing, and temper the spices
Now add 1 tablespoon onion paste and saute well
Next goes ½ tablespoon garlic paste and 1 tablespoon ginger paste. Saute well
Add the marinated meat and whole garlic, and mix well with the spices. Turn the flame high and fry the meat for 2-3 minutes
Turn the flame low and put the lid loosely. Allow the meat to cook and curd to release water for another 25 minutes. Stir at regular intervals
Add lukewarm water as per your gravy requirement and salt
Cook on low flame for 3-4 whistles. Check seasoning and serve piping hot
Prawn Salad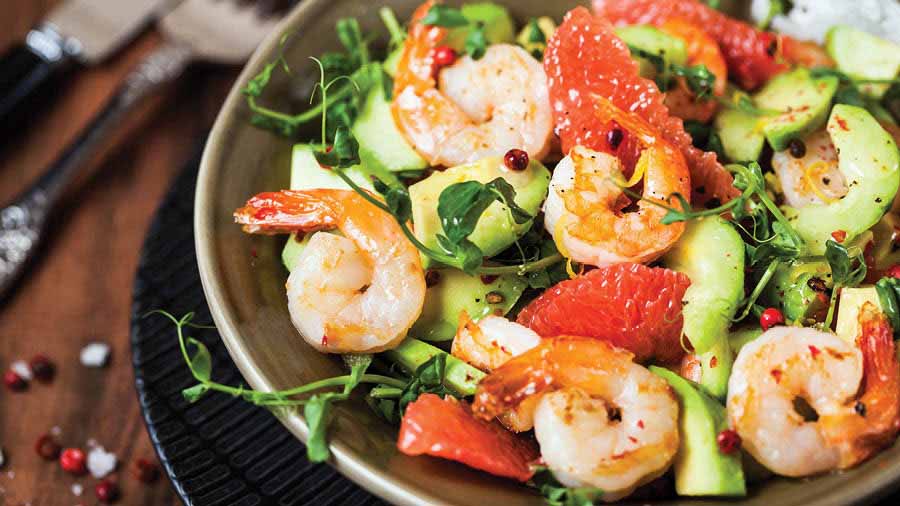 Representational Image
Shutterstock
A chingri recipe, but in a healthy, salad form.
Ingredients
Prawns: 10-15 pieces
Finely sliced cucumber: 1 large
Finely sliced tomato: 2 large
Finely sliced onion: 2 large
Finely sliced green tomato: 1 medium
Finely sliced gondhoraj lemon: 1 large and semi ripe
Lemon juice: 4-5 tablespoons
Chilli flakes: 2 teaspoons
Crushed black peppercorns: 2 tablespoons
Pink salt: To taste
Ginger juice: ½ teaspoon
Lemon zest: ½ teaspoon
Butter: 2 tablespoons
Recipe
Marinate prawns with some salt and black pepper. Heat butter in a pan and toss the prawns
In a mixing bowl, add all the ingredients and give a good mix, and your salad is ready
Moong Dal Halwa Canape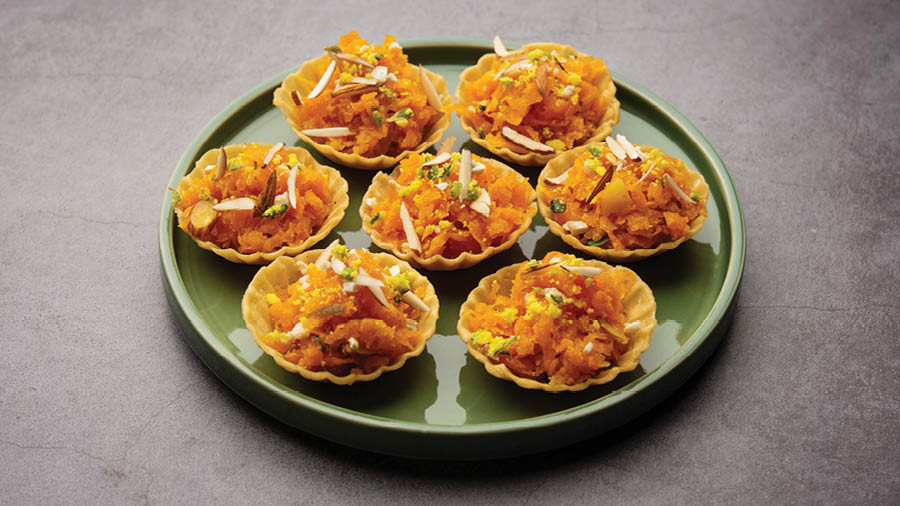 Representational Image
Shutterstock
Have you tried the festive favourite Moong Dal Halwa, but as a canape?
Ingredients
Store bought canapes: 10-12
Moong dal: 100-150 gm
Ghee: 6-8 tablespoons
Finely chopped cashew: 10
Finely chopped raisins: 10
Halved almonds: 10
Cardamom powder: 1 teaspoon
Rose water: ½ teaspoon
Full fat milk: 500 to 700 ml
Condensed milk: 4-5 tablespoons
Powdered sugar: To taste (4-6 tablespoons)
Recipe
Dry roast moong dal for 2-3 minutes on low flame and keep aside
Add ghee in a kadhai and heat. Add moong dal, cashew and raisins and saute for about 2 minutes
Now add powdered sugar and mix well. Saute for 2-3 minutes or until sugar caramelises
Add cardamom powder and saute for 4-5 seconds and then add milk. Mix well and cover on low flame. Stir at regular intervals and cook the milk and dal mix until dal is cooked and the outcome is that of a soft and gooey halwa
Add condensed milk and rose water and mix. Cook for 2 minutes and turn off the heat. Allow the mixture to cool a little
Take a canapes and pour dollops of halwa in each canape. Garnish with almonds. Serve the ready halwa canapes or keep them in freezer for 15-20 minutes and serve chilled