Siblings might have their cars parked at bicker-town all year long, but come Bhai Phonta, it's all about celebrating this unique bond and making the day a memorable one. If you are still wondering how to make this Bhai Phonta special for your sibling, remember that nothing beats scrumptious home-cooked dishes. So pull out your apron (and the chef's hat to add some flair) and cook up a storm for this special day.
'Petai porota'
Are you ready to wow your sibling on Bhai Phonta? Master the art of making petai porotas at home and surprise your brother or sister.
Ingredients:
All-purpose flour: 300 gm
Ghee
Salt
Vegetable oil
Recipe:
Take the flour in a mixing bowl and add a pinch of salt to it. Make a dry mix
Add lukewarm water and some ghee, and knead the flour into a soft dough. Cover with a moist cloth and allow the dough to rest for an hour
Uncover and gently knead once more and divide into 4 parts
Make balls from the dough and coat them in ghee or oil and cover. Let them rest for 20-30 minutes
Now roll out each dough ball and make it as thin as possible. Once done, start pleating as one would pleat a sari. Roll from one corner to make a circular shape
Brush some oil and let them rest for another 15-20 minutes
Heat the tawa and cook each porota on low flame first and then on low to medium flame
Add enough oil to fry the porota
Once the porotas are all crispy and golden brown, remove them from the tawa and place them on a flat surface to do the petai part, which involves beating and slapping the parotas down. Once that's done, tear them into pieces before serving
Beef malai kebabs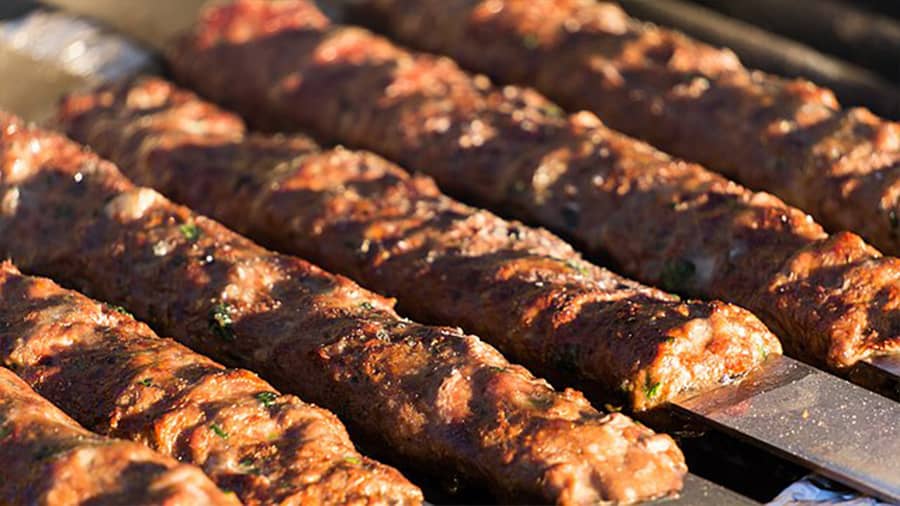 Representational photo
Wikimedia Commons
If you are looking for a dish that pairs perfectly with petai porotas, then look no further than beef malai kebabs. Just add some lachha salad on the side and dig in!
Ingredients:
Minced beef: 500gm
Beresta or fried onion: 1 small cup
Grated raw papaya: 2 tablespoons
Ginger and garlic paste: 2 tablespoons
Finely chopped green chillies: 2
Roasted black pepper powder: 1 teaspoon
Roasted whole dry red chilli powder: 1 teaspoon
Full fat cream: 4 tablespoons
Egg: 1
Flour: 2-3 tablespoons (Only if needed for binding)
Lemon juice: 1 teaspoon
Salt
Ghee
Recipe:
Mix all the ingredients and leave aside for 30-40 minutes
Give a preferred shape to the kebab
Heat ghee in a non-stick pan and cook on low flame for 20-25 minutes. Serve hot with your petai porotas!
Mutton 'kala bhuna'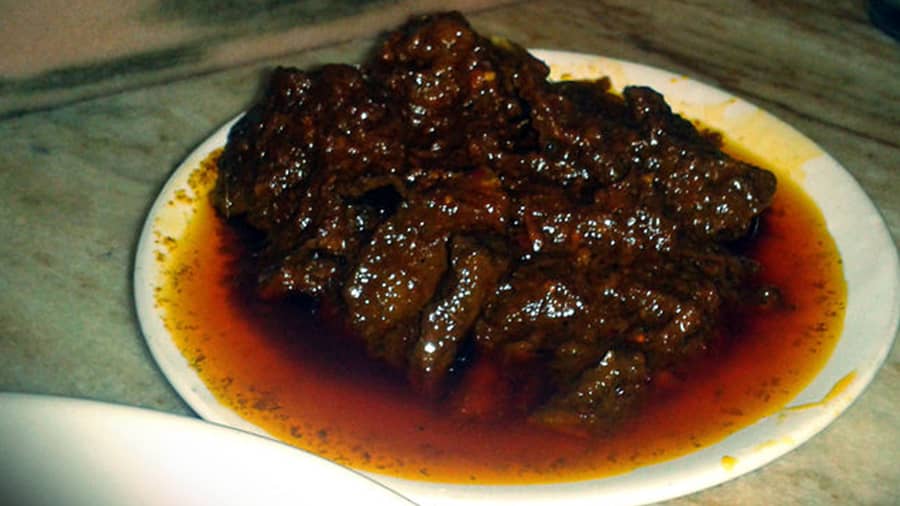 Wikimedia Commons
No Bengali celebration feels complete without a heavenly mutton preparation. Then why leave it out on Bhai Phonta?
Ingredients:
Mutton: 1kg
Beresta: 1 cup
Finely chopped onion: 1 large
Ginger and garlic paste: 3 tablespoons
Green chilli paste: 1 tablespoon
Chilli paste with one small roasted tomato and two whole dry red chillies: 3 tablespoons
Roasted garam masala powder: 1 tablespoon for marination, 1 for garnishing
Whole garlic: 1 small
Slit green chillies: 2-3
Turmeric powder: 1 teaspoon
Red chilli powder: 1 teaspoon
Kashmiri red chilli powder: 1 tablespoon
Strong liquor tea without salt: ½ cup
Cumin and coriander paste: 2 tablespoons
Bay leaf: 2 large
Whole dry red chilli: 2
Whole garam masala: 1 teaspoon
Salt
Sugar
Mustard oil
Ghee
Recipe:
Marinate the mutton pieces with beresta, ginger and garlic paste, garam masala powder, green chilli paste, tomato and red chilli paste, turmeric powder, red chilli powder, Kashmiri red chilli powder, cumin and coriander paste, salt and ghee. Keep it aside for a minimum of 2 hours and preferably, overnight
Add mustard oil and ghee (70:30 ratio) in a kadhai or pressure cooker and heat well
Add the bay leaves, whole dry red chillies and whole garam masala and sauté well
Add chopped onions, a pinch of salt and sugar. Keep cooking until the onions are golden brown
Add the mutton and the whole garlic and start cooking on low flame for about an hour. For the first 15 minutes, keep the kadhai or cooker uncovered and then put on a lid. If it is a pressure cooker, don't lock the lid
Once the mutton has cooked well and the spices have changed colour, add the liquor tea and cook for another 30 minutes on low flame
Add about enough warm water to make the gravy and cook for another 30-40 minutes on a kadhai or until 2 whistles in the cooker
Check the mutton and seasoning, add ghee and garam masala powder. Your mutton kala bhuna is ready!
Tip:
Slow cooking on a kadhai, preferably an iron one, adds to the flavour and colour
Gulab jamun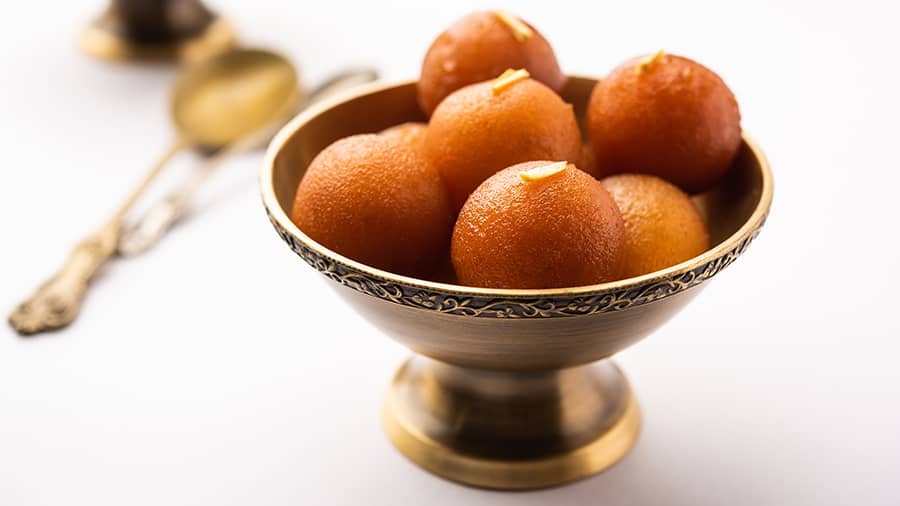 Shutterstock
On happy days like Bhai Phonta, mishtimukh is essential. Give this sweet day the sweetest ending with homemade gulab jamuns.
Ingredients:
Readymade gulab jamun mix: 1 packet
Semi-thick sugar syrup: 1 large bowl
Full fat milk: 1 cup
Ghee
Vegetable oil
Recipe:
Follow the instructions at the back of the packet to make the gulab jamun dough. Add ghee while kneading the dough
Rest the dough for 10 minutes. Meanwhile, heat oil and ghee in a kadhai
Make small or medium-sized balls from the dough and deep fry them on low to medium flame until light brown
Take them out of the kadhai and dip the fried balls in sugar syrup immediately. Keep them in for a minimum of 15-20 minutes
Strain the syrup. Plate the gulab jamuns and sprinkle some chopped dry fruits or even some vanilla ice cream. Serve hot or chilled