One December afternoon, my Editor forwarded me a PDF that at first glance looked like the menu of a pizza pop-up happening somewhere in the city. A more focused read raised an obvious question: Where in the city was this happening? The PDF went into detail about 12 variations of pizzas that were available — there was a 'True Italian Sin' that dressed the pizza with caramelised pineapples (blasphemy for some!), one which was topped with an intriguing medley of spinach and potato, one whose sauce was inspired by chicken butter masala, another that incorporated three different types of cheese. There were eight other options — but without the tiniest hint of its location.
"Pizza Dojo is a speakeasy of sorts — you don't know the location of the pop-up until you've registered," says Rahul Maheshwari, the man behind the endeavour. Rahul's idea for Pizza Dojo came to him a few years ago when he attended a speakeasy in New York. "A few of my friends from work told me about this bar in New York, gave me a location and asked me to meet them there after work. When I reached the location there was no bar in sight!" he laughs. All Rahul found was a broken-down building that bore no resemblance to the picture that was painted, not realising that the bar was behind the facade.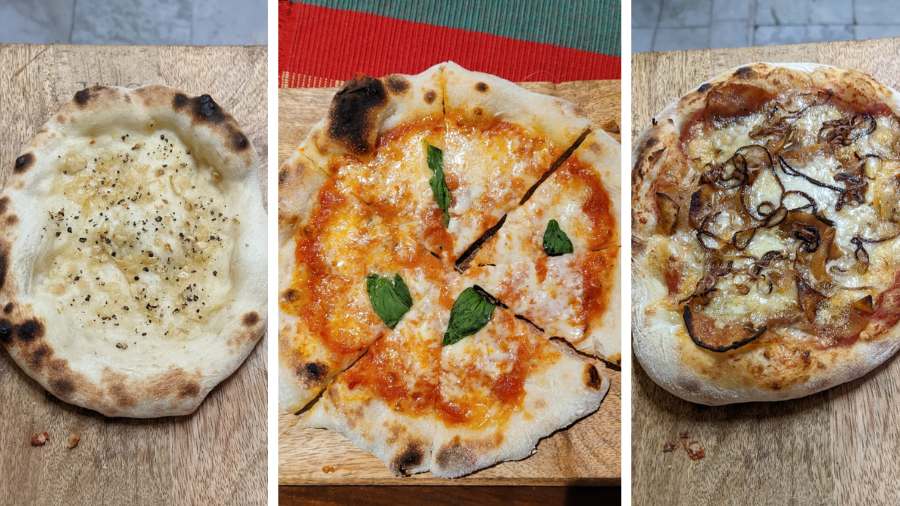 Garlic, Three Cheese, and Caramelised Onion Pizza at Pizza Dojo
Lygeia Gomes
"When I went back the next day, I saw the bar that everyone was talking about. There was beer flowing from taps that looked like regular taps, a menu written on a blackboard that could be erased at any time and an exit that led to a back alley that everyone could escape from should the cops come," says Rahul. What intrigued Rahul was the idea that only people who knew about the bar could visit it. And it's that aspect that he incorporated into Pizza Dojo when it first began. "Dojo is a place where you keep practising on getting better. No competition. Just self betterment."
In order to attend the Pizza Dojo pop-up, one needs to register well in advance. "I have pop-ups every other week of the month — usually on the second and fourth Saturday," says Rahul, who runs Studio Pomegranate when he's not flipping pizzas. While registering one first fills up a form choosing which slice they would like to bite down on before waiting patiently for the date, time and venue to sneak into their inbox (usually a few days before the event).
"I try to do an omakase experience. So, I send out a form to people so they can choose their pizzas and then I make the ones most preferred. I make hand-tossed pizzas and top them with ingredients that are all locally sourced," he says. A few of the pizzas I had the pleasure of trying were a Pepperoni which was specifically made with burrata cheese for a better experience, the True Italian Sin which was as sinful as its name and the Spinach and Roasted Potato Slice that was surprisingly scrumptious. Other popular picks are the Fungi Pizza which uses both Shiitake and button mushrooms, the Sausage and Onion Pizza and the Chicken Meatball Pizza.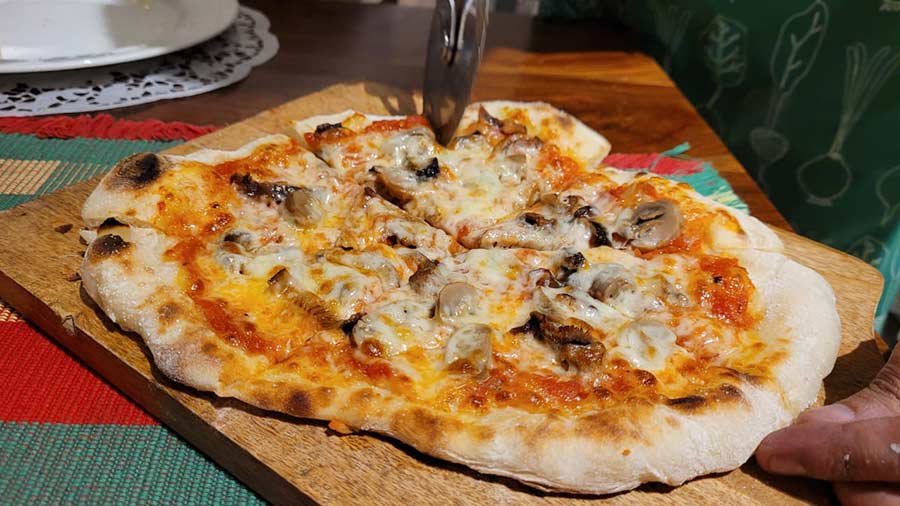 The Fungi Pizza is one of the most popular picks
Rahul serves no snacks apart from a few crunchy items (only because his wife Priti makes him!) because he prefers that the pop-up is only and only about the pizzas. "The one thing that I would like people to eat apart from my pizzas is the dips I make," he says. There's a heady mustard dip that sports a good kick along with pickled radishes that make sure no pizza crusts are leftover!
"What I want to do is make good pizza and have a good conversation. I keep the guest list small — only six people can attend it since I have a dining table that seats six," he says. And it's true — at a Pizza Dojo pop-up, one will get good food and good conversation.
Register for the pop-up here.