With Christmas and the New Year knocking on the door, it's time to savour some turkey delights. From roast turkey and turkey meatballs, to a turkey festival and more, My Kolkata lists six eateries in Kolkata where you can find the best fowl this season.
What's Up! Cafe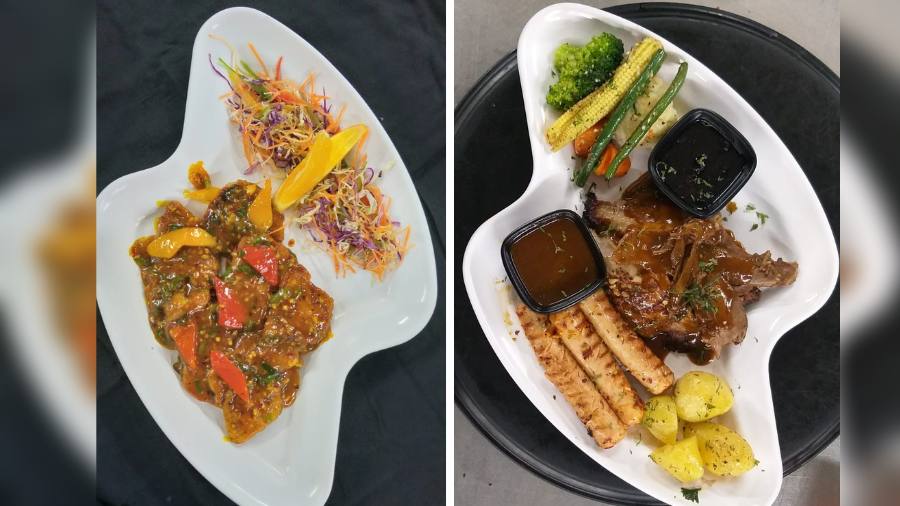 Honey glazed turkey and (right) roast turkey with cranberry sauce
Courtesy What's Up! Cafe
What's Up! Café is back with the sixth edition of its Turkey Festival. You can enjoy a delicious menu featuring the bird while dipping your feet in a jacuzzi on their rooftop. They also have live music in the evenings. Chef Sanjay says, "During the Christmas and New year period, we try to bring back the exotic food which symbolises the festive spirit and people enjoy having turkey — as it is considered as a Christmas delicacy. It takes 35 to 40 minutes to prepare a single dish and about two hours for the whole turkey, which is served a la carte. One can have it with wine or a cocktail."
Look out for: Turkey Meatballs, Turkey Meatloaf, Turkey Casserole, Turkey Stroganoff, Turkey in Black Bean Sauce, Turkey Bolognese
Dates: December 22, 2022 – January 2, 2023
Address: 122/A, Southern Ave, opposite Nazrul Manch, Golpark, Hindustan Park, Keyatala
Time: Noon – Midnight (Festive hours may vary)
Price for 2 (Approx): Rs 1,500 without alcohol
Tintin & The Brussels Club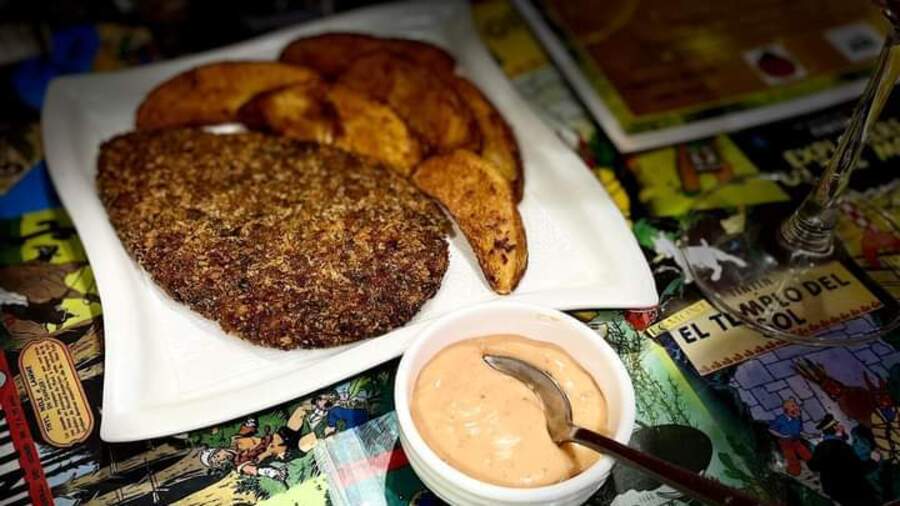 Turkey cutlet
Courtesy Tintin & The Brussels Club
The popular Tintin-themed Belgian joint in south Kolkata, Tintin & The Brussels Club, brings a Christmas and New Year food fiesta with a range of turkey delights. According to chef Sudipta Majumder, "We have been serving turkey since 2018, especially during this festival. We have noticed that the Turkey Cutlet and Roast Turkey are people's favourites. We introduced turkey to bring something new to our menu. Normally, a turkey starter takes 10-15 minutes and a main course dish takes 20-25 minutes to prepare. We have introduced Creamy Grilled Turkey in Belgian style and Turkey Pasta Carbonara for the first time this year."
Look out for: Turkey Soup, Turkey and Bacon Salad, Turkey Cutlet, Ham Wrapped Turkey, Turkey Pasta Carbonara, Creamy Grilled Turkey, Roast Turkey (served with mashed potato, mashed sweet potato, veggies and garlic bread)
Date: December 23, 2022 – January 2, 2023
Address: P-104, Hemanta Mukhopadhyay Sarani
Time: Noon – 10.30pm (Festive hours may vary)
Price for 2 (Approx): Rs 900 without alcohol
Chapter 2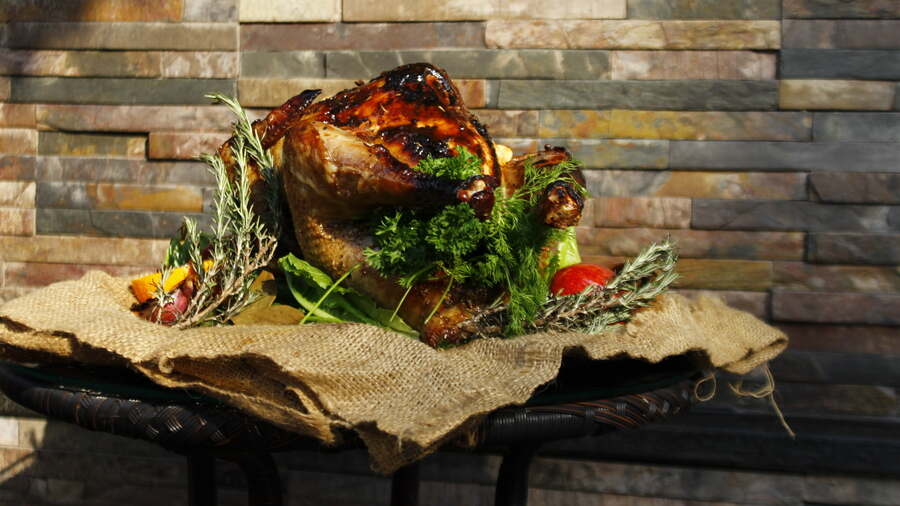 Whole roast turkey
Sourav Nandy
The crown of the festive menu at Chapter 2 in Southern Avenue is the turkey. In the words of the owners and of chef Sushanta Halder, "For the Christmas special, turkey works well. It is mostly available in five stars, but we have been bringing it to our restaurant for the last few years. It takes around three hours to make the turkey. We roast a whole turkey, then slice it, and serve it with various sauces, sauteed vegetables and mashed potatoes. For Christmas, people love turkey, especially with cranberry sauce."
Look out for: Turkey Roulade in Mushroom Sauce and Roast Turkey (with cranberry, maple or orange glaze)
Date: Until January 15, 2023.
Address: P-377 Hemanta Mukhopadhyay Sarani, Southern Avenue
Time: 12 noon – 11 pm
Price for 2 (approx): Rs 1,000 without alcohol
JW Marriott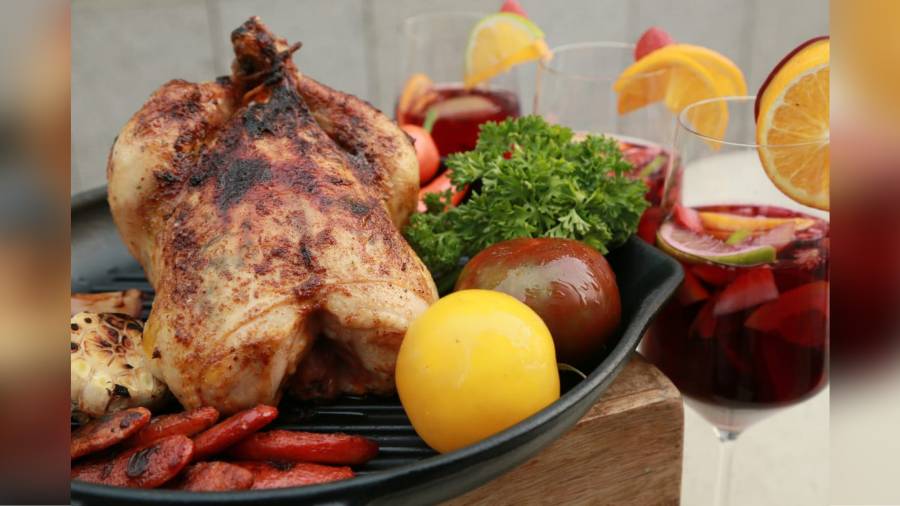 Oven roasted turkey
Courtesy JW Marriott
The star hotel has been serving the fowl since its inception. Talking about preparing the bird, Prakash Chettiyar, executive chef at JW Marriott Kolkata, says, "Turkey is a special meat, its texture and flavour is very different from other poultry. It [preparation] depends upon the size, but the rule of thumb for cooking a turkey is 13 minutes per pound. So, our 16-pound turkey is estimated to cook in about 3 1/2 hours. However, some factors, like bringing the bird, cooking with an empty (un-stuffed) cavity, and leaving the legs un-trussed will contribute to much faster cooking. We keep improvising."
JW Marriott is known for its lavish buffets and the bird is a part of it this season. However, they accept a la carte requests from the visitors too.
Look out for: Grilled Turkey Roulade filled with Cranberry and Hazelnut and Classic Roast Turkey with Sweet Potatoes, Root Vegetables, Pepper and Cranberry Jus.
Date: December 23, 2022 - January 1, 2023.
Address: 4A, JBS Haldane Ave, Tangra
Time: noon – 11 pm (Festive hours may vary)
Price for 1 (approx.): Rs 2,799 for lunch/brunch and Rs 2,699 for dinner
The Irish House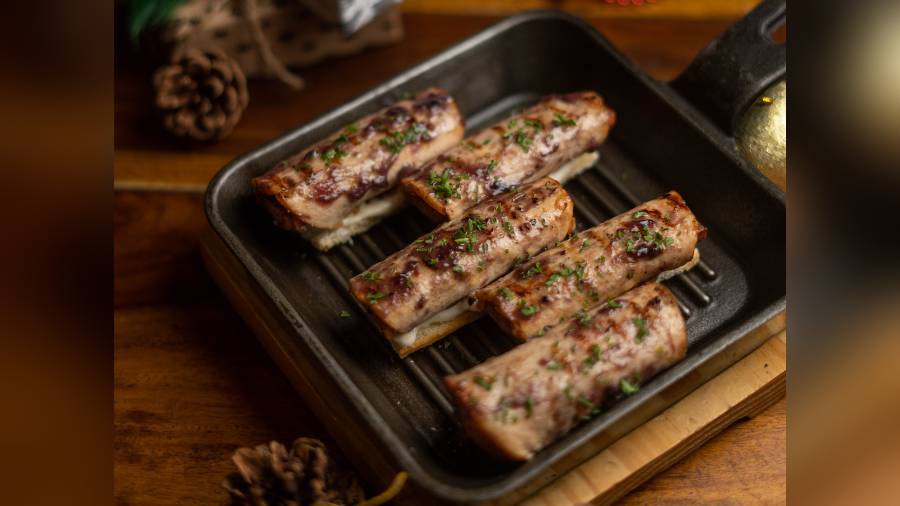 Turkey Kane
Courtesy The Irish House
Fancy enjoying a turkey dish with a glass of chilled beer? Head over to The Irish House! Talking about introducing turkey to the Christmas menu, Somnath Roy, senior sous chef, says, "Since Irish House opened, every Christmas week we serve turkey as it's a common preparation during the festive season. It takes 15-20 minutes to prepare a dish which is available a la carte. Cranberry sauce and roasted winter vegetables are good accompaniments to the turkey."
Look out for: Turkey Kane
Date: December 22, 2022 onwards
Address: 5th Floor, Quest Mall, 33, Syed Amir Ali Ave, Lower Range, Beck Bagan, Ballygunge, Kolkata, West Bengal 700017
Time: Noon to midnight Sun-Fri and noon to 1 am on Sat (Festive hours may vary)
Price for 2 (Approx): Rs 2,500 without alcohol
The Glenburn Penthouse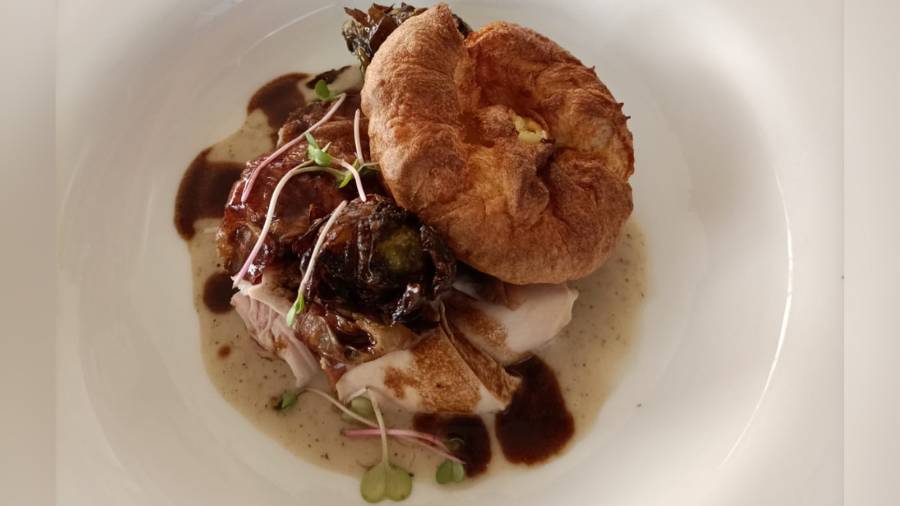 Roast turkey, bread sauce, crispy brussels sprouts, unexpected Yorkshire pudding, roasting juices
Courtesy The Glenburn Penthouse
The Glenburn Penthouse recently kicked off the festive season's celebrations with a rooftop Christmas Soiree. They have a delicious a la carte menu featuring turkey dishes for the season as well as a lunch and dinner buffet for Christmas and New Year. The main attraction on the menu is the roast turkey. While the a la carte menu is available during normal opening timings, you need to pre-book for the buffets.
Talking about Glenburn's continental festive menu and the special roast turkey, celebrity chef Shaun Kenworthy, who curates the menu, said, "It's (roast turkey) a traditional British turkey dish. When I first came to Calcutta, it was like the biggest shock to me — everybody going out buying Christmas cake and eating turkey. Usually I brine a turkey for two days before I cook it. Then to roast a turkey, it depends on the size, it's anywhere between three to six hours."
Look out for: Roast Turkey
Date: Until mid-January for the a la carte menu and pre-booked buffets for Christmas and New Year
Address: Kanak Towers, 7A, Russell St, Park Street area, Kolkata, West Bengal 700071
Time: 12.30-3.30pm and 7-11pm daily
Price for 1 for the buffet: Rs 4,000 without alcohol and Rs 6,000 with house wines
Price for 2 for the a la carte: Rs 4,000 without alcohol
To book for buffet: Call 86175 39147