Durga Puja is just around the corner and the city is buzzing with anticipation. But the large crowds, loud music and bright lights might not be everyone's cup of tea. So, if you're planning to avoid the festive chaos or simply want to unwind, a short staycation could be an option. My Kolkata brings you a few properties in and around the city that make for the best weekend getaways.
Raajkutir Kolkata - IHCL SeleQtions
Raajkutir Kolkata recreates the colonial era of Kolkata with a sprawling estate built across 13.5 acres of land. Designed as a traditional Bengali 'Rajbari', with a vast traditional uthon (courtyard) and a monumental entrance flanked by sculptures of lions, the property exudes royalty. As you enter the bari, you see a typical 19th century setting. The majestic rural Bothtola, with sacred threads hanging from an old Banyan tree, also houses a Durga idol. You can enjoy your evenings at Raajkutir appreciating regional arts, participating in immersive workshops, nature walks and a tour of the night sky. 
From October 1-5, a Bengali-themed buffet, Raajbari Bhuribhoj, will be on offer, priced at Rs 1,799 (Rs 899 for children). Find more deets, click here.
Website: www.seleqtionshotels.com/en-in/raajkutir-kolkata/
Category: Mid-range to luxury 
Distance: 9km approx (from Park Circus)
Location: 89C, Narkeldanga Main Road, Kankurgachi, Kolkata - 700054
Vedic Village Spa Resort
Embrace the essence of Durga Puja in the lap of nature at Vedic Village Spa Resort. The resort is offering a day package – Sharodiyar Dayout – between September 29 and October 5, which includes all meals, games and various activities, priced at Rs 1,899 for adults and Rs 999 for children.
For those checking in, pick from rooms, suites or villas. The villas come fully furnished and are rented out on a per night basis. They are spacious enough to house a big group of people, so it's great for two or three families or a big group of friends. The main staycation attractions at the resort are its swimming pool, artificial waterfall and the Ayurvedic spa.
During the festive season, you can sample the Mahabhoj Thali at Bhoomi starting at Rs 2,199 or the Sharodiyar Bhuribhoj, starting at Rs 999.
Website: https://www.thevedicvillage.com/
Category: Mid-range to luxury
Distance: 25km approx (from Park Circus)
Location: Shikharpur P.O., Bagu, Rajarhat, Kolkata - 700135 (ahead of the Eco Space roundabout)
Calcutta Bungalow
Calcutta Bungalow is a window into the past. Located in a close-knit neighbourhood in Shyambazar, the heritage bed-and-breakfast has a 90-year-old facade that keeps the charm of old-world Calcutta alive. Its six well-appointed rooms have names like Jatrapara, Mochipara, Boipara and so on. There are courtyards and rooftops for long adda sessions too. Calcutta Bungalow also helms Calcutta Walks and Calcutta Collectables that aim at preserving the history of the city. They organise city walks that illustrate the tales behind the oldest facades in the city while Calcutta Collectables is a souvenir shop for guests to take home a piece of 'Calcutta'. Don't forget to say hello to the house cats Snowy and Patchy.
Calcutta Bungalow has a special menu on offer from October 1-5 that will serve 'Puja Bhog' and 'Puja Thali' — a quintessential festive fare. Both vegetarian and non-vegetarian options are available and walk-ins are welcome as well.
Website: https://calcuttabungalow.com
Category: Mid-range
Distance: 10km approx (from Park Circus)
Location: 5 Radha Kanta Jew Street, Fariapukur, Shyambazar, Kolkata - 700004
The Rajbari Bawali
Be a part of this bonedi barir pujo by availing special staycation or daycation packages between October 1-5. The Rajbari Bawali has 300 years of tales to narrate. Built by the zamindars of Bengal, the bari reflects opulence, style and grace that the era embodied. The rooms have four-poster beds and plush furniture. The most intriguing room is however The Piano Room — where sumptuous food marries scintillating music. If you've had a tryst with the ivories, you're free to play a couple of songs. Apart from breathing in the history that lies in every nook and corner of the rajbari, you can attend a sundowner on the Ganges, take up culinary and pottery classes, participate in yoga sessions and even go on romantic dinner dates.
Website: http://therajbari.com
Category: Luxury
Distance: 32km approx (from Park Circus)
Location: Village and P.O. North Bawali, 24 Parganas (South), West Bengal - 700137
The Glenburn Penthouse
Located atop Kanak Towers on Russell Street, The Glenburn Penthouse offers one of the best skyline-friendly views. From the discreet residence, you can spot Victoria Memorial and Howrah Bridge. Built in 2018, the Penthouse has nine suites — four Grand Bengal suites and five spacious suites — all done up in elegant interiors, a host of curated artworks and a stunning Hindustan wallpaper that rolled in from Paris.
The heart and soul of a dining experience at The Glenburn Penthouse revolve around tea. You'll get to sip on the most fragrant teas from Darjeeling's (Takdah) Glenburn Tea Estate. While the resort isn't doing anything different for the festive season, their tasting menu, curated by chef Shaun Kenworthy, is luxury on a plate. They also have a cafe on the ground floor.
Take a virtual walkthrough right here.
Website: https://glenburnpenthouse.com/
Category: Luxury
Distance: 3km (from Park Circus)
Location: Kanak Towers, 7A Russell Street, Kolkata - 700071 (opposite Jeevan Deep Metro station)
Ibiza The Fern Resort & Spa
Ibiza The Fern Resort & Spa
Ibiza The Fern Resort & Spa, inside master township Merlin Greens, is an ideal getaway for a dose of fun. A short drive from the city, the 20-acre trendy resort houses five categories of rooms with scenic views (regular to premium). Relax by the pool with a splash of cocktails, play a bout of indoor games with your fam and friends, take a walk around the calming lake and enjoy the sunsets, watch the swans and listen to the rare birds or visit the spa facilities for a day of self-care — Ibiza has a host of activities up its sleeve.
For the festive season, the resort has announced a special Durga Puja offer from October 1-5, which includes three meals along with multiple complementary unwinding activities like swimming and boating. Additionally, special arrangements like dhaki, baul performances, karaoke sessions, tree plantation workshops and movie shows will also be held to amp up the festive mood.
Website: https://www.fernhotels.com/the-fern-ibiza-resort-and-spa-kolkata
Category: Mid-range to premium
Distance: 30km approx (from Park Circus)
Location: Kriparampur, P.S. Bishnupur, Diamond Harbour Road, West Bengal - 743503
Bawali Farmhouse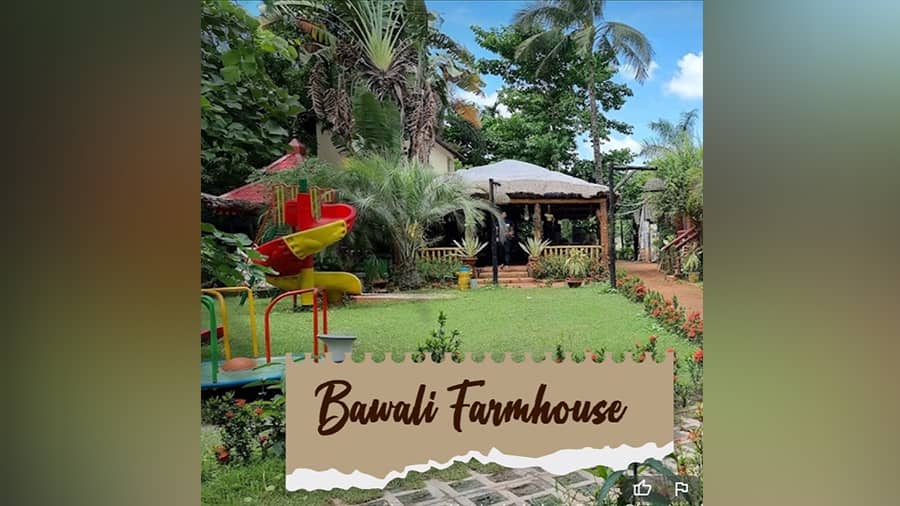 www.bawalifarmhouse.in
Bawali Farmhouse is a tranquil hideout a little over an hour away from Kolkata, subject to traffic. It stands on four acres of green cover and has 25 themed-rooms — from rooms inspired by the Zamindari era to Rabindranath Tagore's plays to cave-inspired rooms and adventurous tents. At the farmhouse, there's plenty to do. Visit bagan baris in and around the area, go for a boat ride, indulge in birdwatching at the Burul Bird Sanctuary or take a tour of the sugar mills from the '70s. During the festive season, enjoy a traditional meal based on recipes from the forgotten flavours of Bengal.
You can also choose to go on a picnic or a quick day trip to Bawali Farmhouse, spending the day boating, fishing, swimming, playing field sports, checking out the plant nursery and more. There's a special senior citizen package on offer that includes pick-up and drop.
Website: www.bawalifarmhouse.in
Category: Budget
Distance: 30km approx (from Park Circus)
Location: Bawali — Rania Road, Hasnecha, Raypur, West Bengal - 700137
Breathing Earth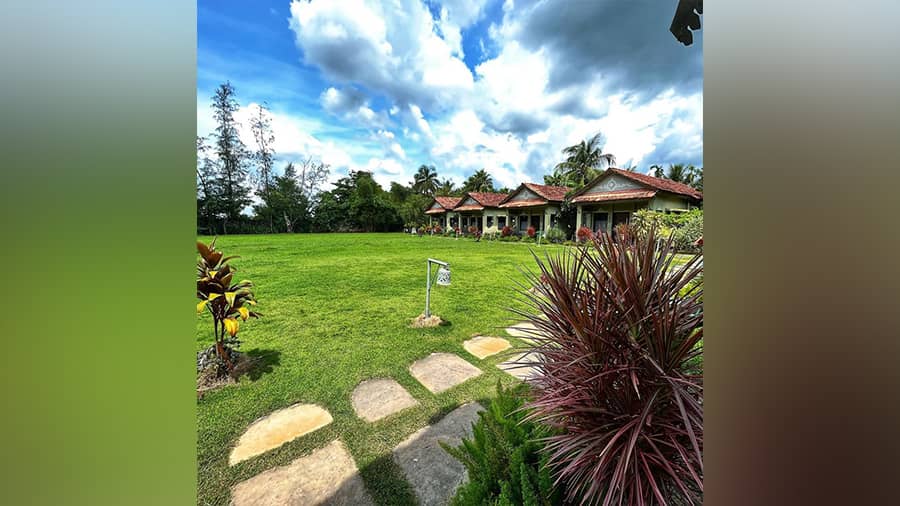 Breathing Earth
Head to Breathing Earth if you're looking for an adventurous weekend! The resort has an adventure corner with a number of thrilling experiences from zip-lining, kayaking and paddle boating to land and water zorbing, rope bridges across water bodies and rock-climbing walls. The resort is located in the lap of nature so you can go out for long strolls if you're not the adventurous kind or simply sit back in the room and enjoy the touch of Bengal that its interiors carry.
Website: https://breathingearth.in/
Budget: Budget to mid-range
Distance: 37km approx (from Park Circus)
Location: Village Beledanga Usthi Rd, Kalaria, Ushti, West Bengal - 743375
Seal Villa
Another bagan bari-turned resort, Seal Villa, is an ideal destination for a calming weekend. It can accommodate about 6-10 people overnight and 10-25 people for a day picnic or small events. Even though the villa is an age-old structure, the owner Rini Seal has decorated it with contemporary amenities and interesting upcycled furniture. It has a swimming pool, an orchard, a manicured garden, many upcycled gems and a host of Rini's own DIY projects like lamps, furniture and lanterns. The villa is pet-friendly, so feel free to take along your furry friends!
Seal Villa is completely booked for the upcoming festive season but it's a great option to bookmark for later. Read more about the property right here.
Category: Budget (if booked as a group)
Distance: 20km approx (from Park Circus)
Location: Ghosal Para Lane, Manikpur, Harinavi, Kolkata - 700149 (about an hour's drive from central and south Kolkata)